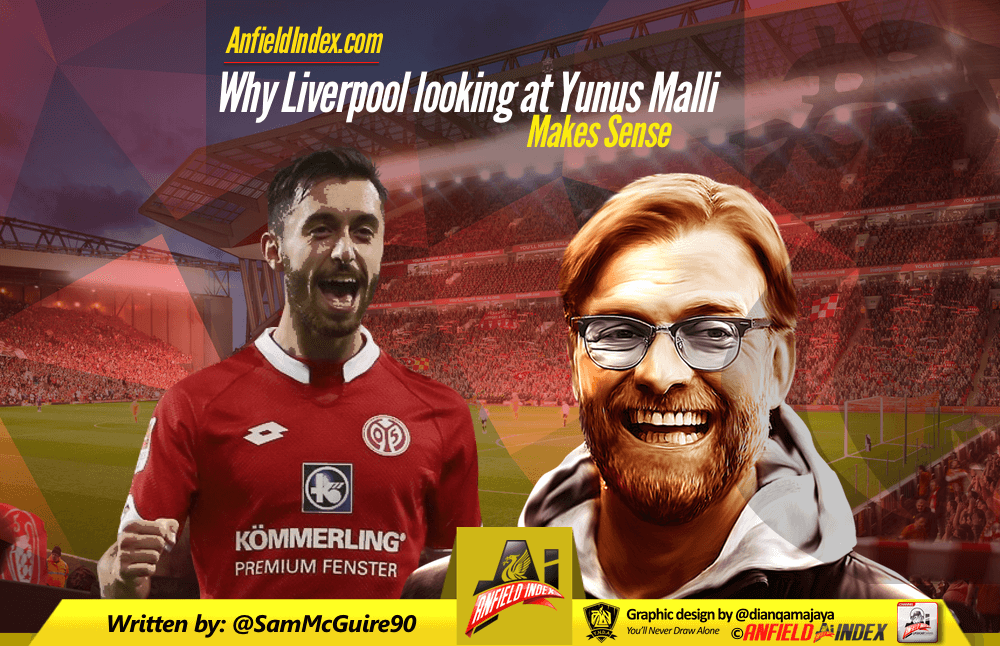 Why Liverpool looking at Yunus Malli makes sense
Ever since Jurgen Klopp was appointed as manager, Liverpool have been tentatively linked to about 90% of the players plying their trade in the Bundesliga. No doubt he arrived at Anfield with a list of players he wanted the recruitment team to cast an eye over. So far the Reds have signed Joel Matip, Loris Karius and Ragnar Klavan from teams in Germany. If reports are to be believed that number will be rising in January with the likes of Niklas Sule, Jonathan Tah and Julian Brandt all being linked.
However, the Twitter account Scouts in Attendance claim Liverpool have had scouts at a number of Mainz 05 games keeping tabs on Yunus Malli. The Turkish international has been linked to Spurs, Bournemouth, Leicester, Dortmund and Liverpool in the past and looked set to leave Mainz in the summer but a move never materialised. He's carried over last seasons fine form and to date has 6 goals and 5 assists in 1210 minutes of play as well as a goal and an assist in the Europa League. He's showing that he's no one season wonder.
The 24-year-old has just the 18 months remaining on his deal and could be available for as little as £10 million. In today's market that's nothing and in the long-run could turn out to be a bargain. Mainz may not want to sell but the alternative sees them potentially miss out on receiving anything for the player if he decides to run down his contract.

Why Yunus Malli?
While Malli isn't good enough to displace any of the current attacking trio he could be a good supplement to the attack. He could stand in for both Firmino and Coutinho if possible as well as being able to play a deeper role, in theory at least, linking the midfield to the attack.
The Mainz number 10 is a bit of an all-rounder. He can take set pieces; free-kicks, corners and penalties. He can play a variety of positions; as a number 10, left of the attack, right of the attack, false 9 and centre-midfield. He's intelligent and diligently undertakes his responsibilities off of the ball as well as on it. He's creative and he's a goal threat, although it has to be said a lot of his goals come from the penalty spot. The most important aspect though is the fact there's room for improvement. There's enough meat on the bone for Klopp to work his magic and make him an even better player, and it's something that bodes well for the Reds.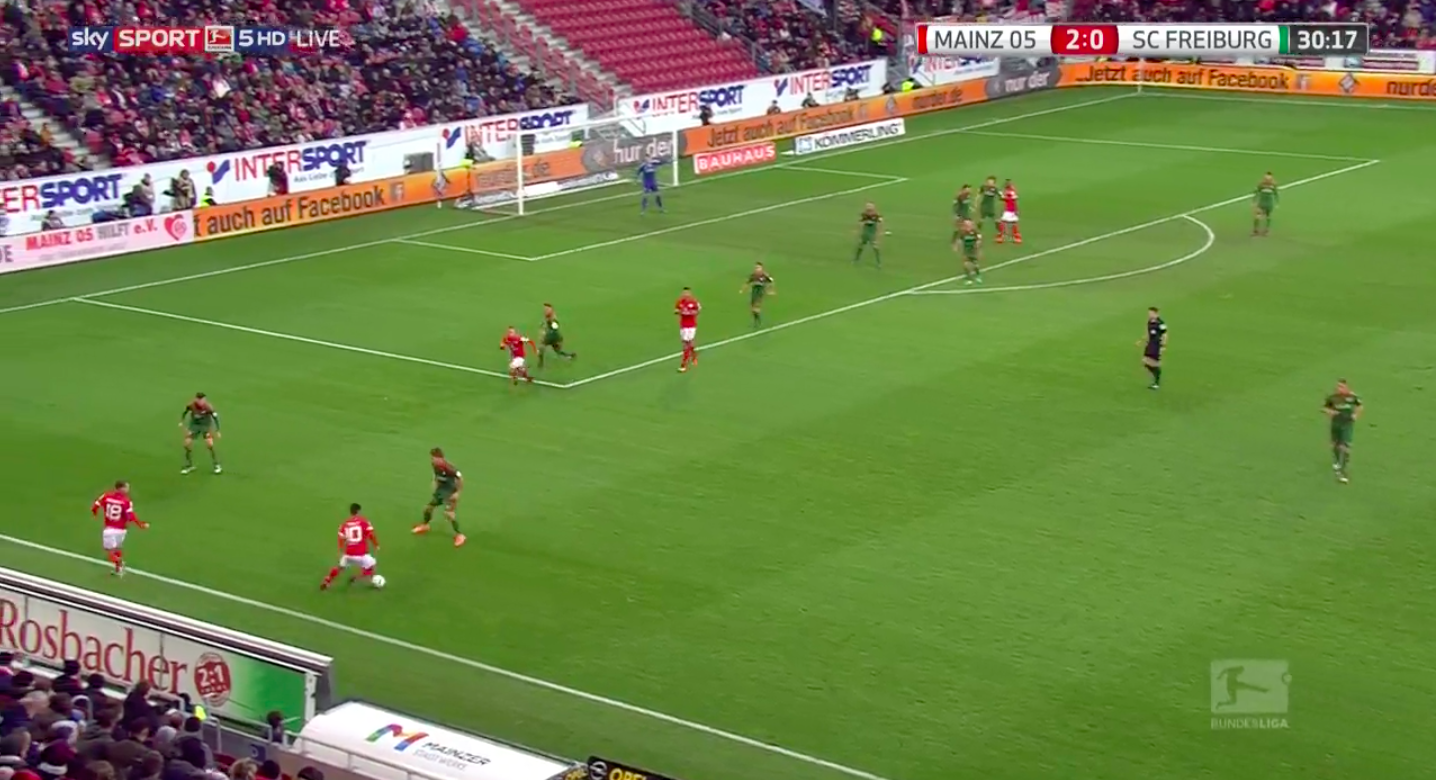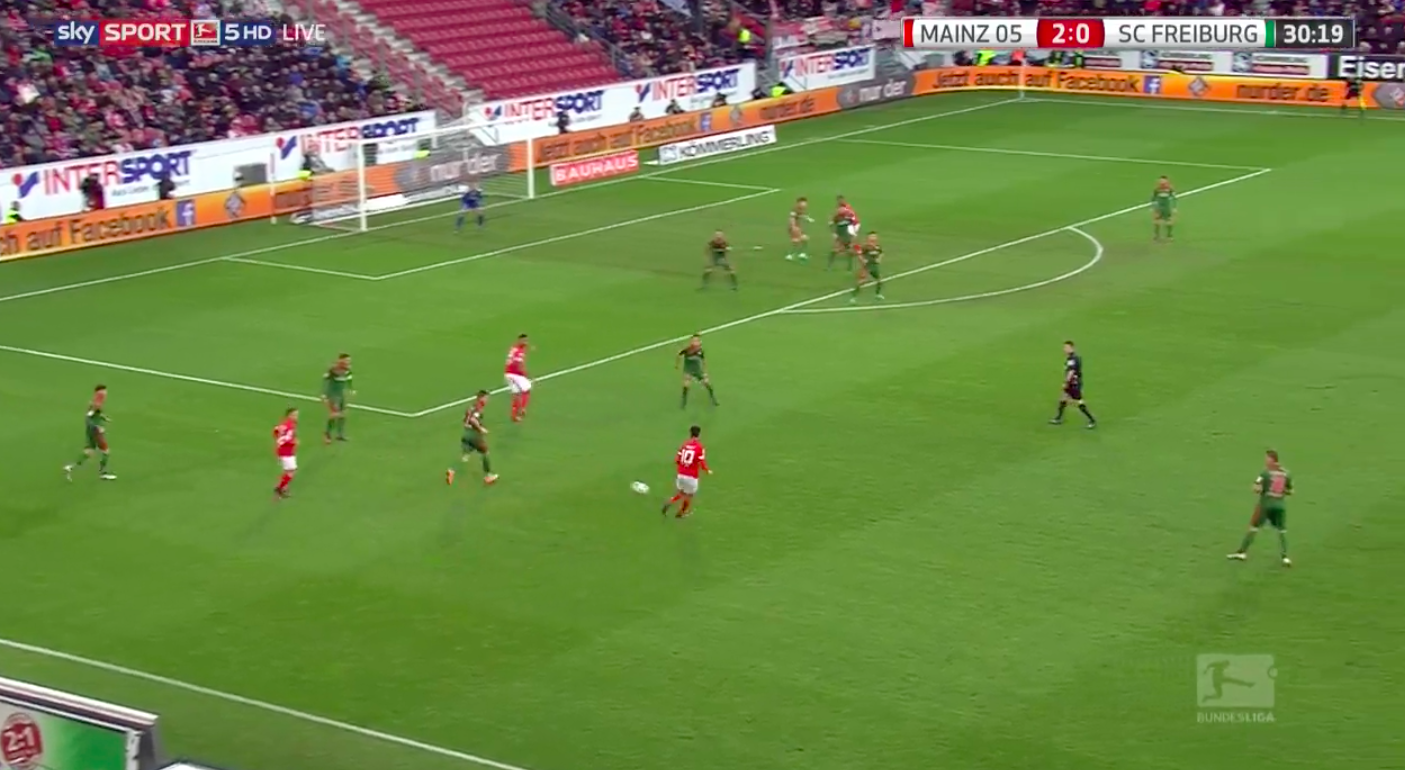 Malli has primarily played as a number 10 for Mainz so far this season. However in the first picture above we see him in a position Liverpool fans would associate with Philippe Coutinho. He effortlessly drifts inside before playing an early pass to the Mainz man in space before the Freiburg defenders have time to react or set themselves properly. It's nothing amazing but it does show how quick thinking Malli is as well as the fact he has the ability to execute a well weighted pass. The Mainz movement created the passing opportunity, can you imagine the opportunities he would get with the movement of Sadio Mane and Roberto Firmino?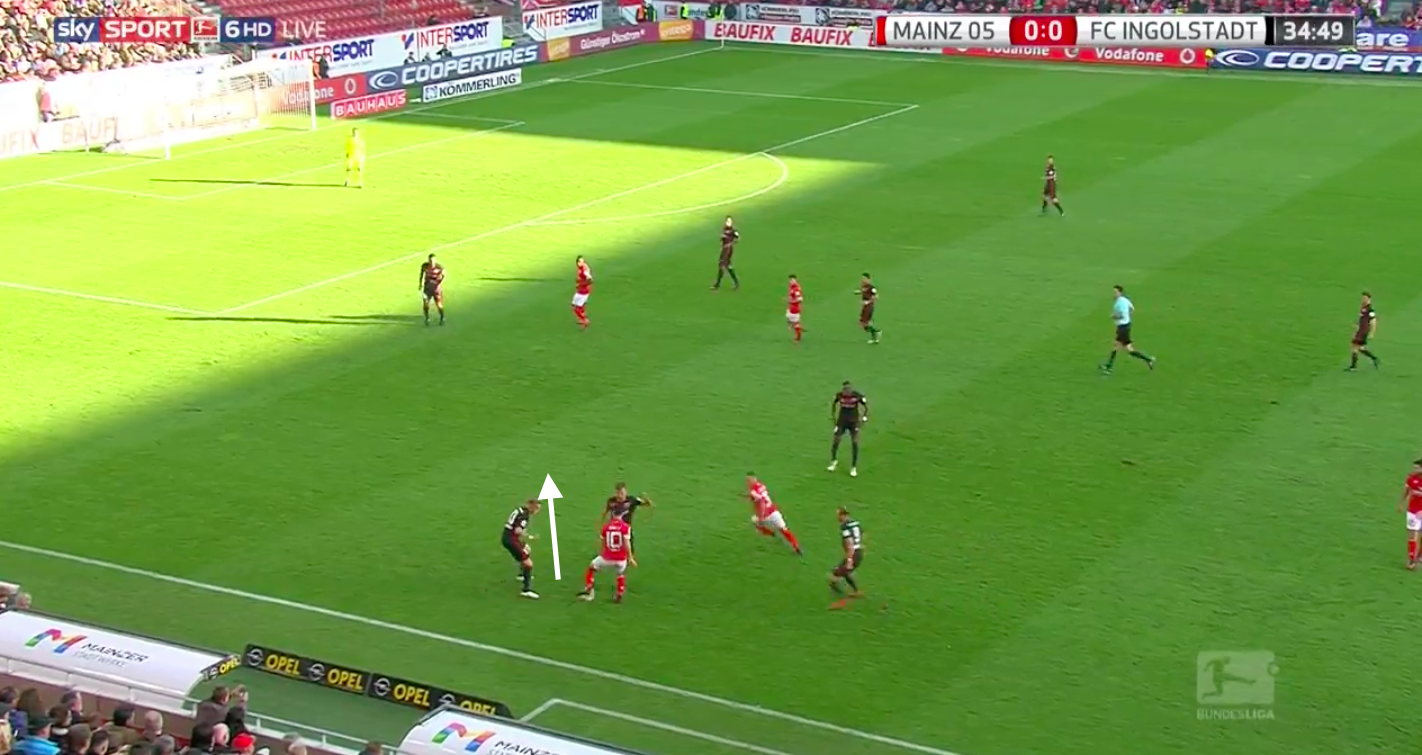 This time it's Malli's quick feet, composure and press resistance which is on show. The Mainz playmaker picks the ball up on the left, rolls it onto his left and plays a pass between the Ingolstadt players which gets his team running at the oppositions defence. Again, it's nothing spectacular but it shows how he's looking to get the ball forward and despite the fact three Ingolstadt players are closing him down he calmly plays a pass forward instead of taking a safer option. He's a progressive player.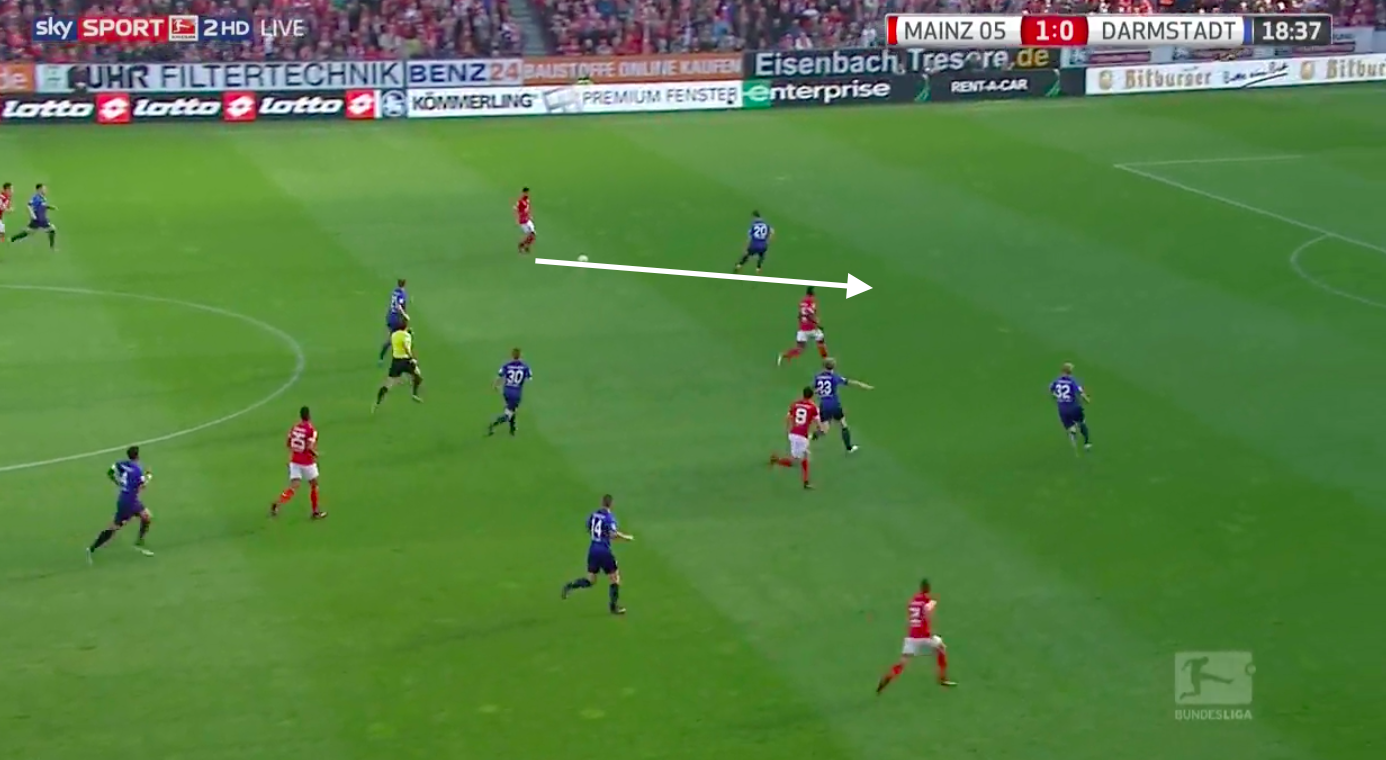 Malli's awareness is what also stands out when watching him play. In this picture he's receieved the ball and instead of taking a touch and potentially letting Darmstadt get players back he plays a first time pass into the path of the Mainz attacker. It's simple but it's effective. But not many would play that pass first time, especially not on their weaker foot.
Defensively he looks to intercept passes and he does harass the opposition. He's not in the same league as Firmino, Coutinho, Sadio Mane or Adam Lallana but he's got enough about him defensively to be able to play in a Jurgen Klopp pressing system. Even more so when it's not the erratic 2015/16 version but instead the refined 2016/17 one. He completes just the 69.7% of the 26.7 passes he attempts but with a creative player you expect them to be playing risky passes and therefore there hit rate will be below the norm. What would be interesting though is to see how Malli adapts to seeing more of the ball. The Liverpool attackers all attempt 40+ passes per 90.
All in all Malli would be a good signing for the reported fees. We've already seen in the absence of Philippe Coutinho how the dynamic changes because there's nobody in the squad stylistically like the little Brazilian. I'm by no means saying Malli is, or will ever be, as good as Coutinho but he'd be a good squad option.