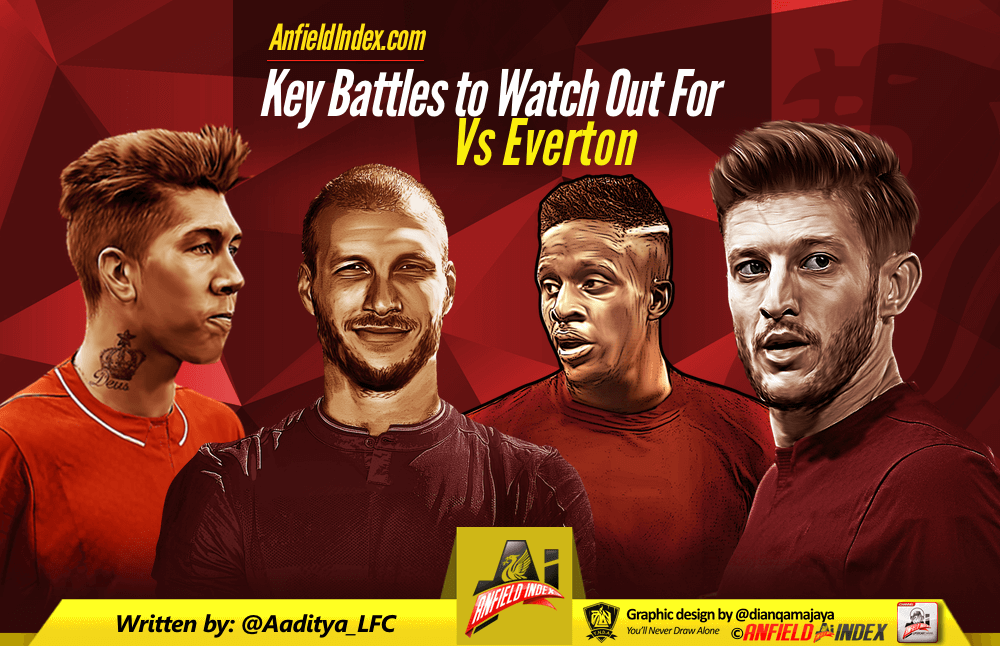 Everton v Liverpool Preview - Key Battles
It doesn't get much bigger than this. Well maybe it does, for Liverpool, but definitely not for Everton. Derby day is among the most special of the season and this time, both sides head into the big day in good spirits.
The Blues arrested an awful run of form with a big win against Arsenal on Tuesday and Liverpool won their first game in three with a clinical display at the Riverside Stadium against Middlesbrough.
But as the old cliche goes, in games like this, form goes out of the window. It is about the side that handles the occasion better and despite all the off-field banter, manages to impose itself on the opposition.

This is Jurgen Klopp's first Goodison derby and he will have happy memories of the 4-0 thrashing his team handed out to the neighbours at Anfield earlier this year.
In all likelihood, the Reds will miss the services of Joel Matip again and Emre Can is still a doubt for the game.
Here are some key battles that could decide the outcome of the game.
Gareth Barry v Adam Lallana
Lallana is in red-hot form. There are no two ways about that. In his absence due to the injury picked up on England duty, there was something missing about the Reds' displays – that spark, that guile in midfield. Once he has come back, he has shown his quality.
What has changed about Lallana is the fact that his end-product in the final third has gone up manifold. The move into midfield has worked wonders for Lallana and as Jurgen Klopp said, he is getting into those positions where he can score goals. In the process, he has solved a huge problem that we have faced in the last few years when we just weren't getting enough goals from midfield.
But the challenge that faces Lallana on Monday night is as tough as they will come in this league. Gareth Barry has shown that despite his age, he is still an astute defensive midfielder.
Barry's importance to Everton is magnified by the absence of their captain Phil Jagielka. Along with Leighton Baines and Ashley Williams, Barry brings experience to the Everton squad and his presence in midfield frees up the likes of Ross Barkley and James McCarthy to move forward and get on with more creative duties than just keep doing the dirty work.
Ramiro Funes Mori v Divock Origi
Like Lallana, Origi is also a man in tremendous form. He has scored a goal in each of his last five outings for Liverpool and for our sake, one can only hope that it will continue on Monday.
Origi has all the tools to become a top-class striker for us. He is strong, can hold the ball up, but is terrific with the ball at his feet as well. His pace could well be a huge asset against an Everton defense not particularly blessed in that respect.
Jagielka's suspension adds some spice to the game as well. It means that Funes Mori is almost certain to start and he has some bad history with the Liverpool fans.
He damaged Origi's ankle ligaments in that 4-0 thrashing in April and his kissing the badge while leaving the field after the red card did not really go down well with the Anfield faithful.
Origi as well, had his progress stalled by that injury. It has taken him a while to get back to shape and fire for the first team. On a personal level, the young Belgian would want to show Funes Mori that he is a tough lad who loves a challenge.
The gauntlet was set the Argentine's awful challenge in April. The response will be seen on Monday night.
Seamus Coleman v Roberto Firmino
After two horrible games against West Ham and Bournemouth, we saw the Firmino that we've grown used to seeing in the second half at the Riverside. He was buzzing, pressing the Boro defenders, moving around the pitch to get the ball off his team-mates and there was even time for some showboating.
But let's face it, the move to the left wing after Philippe Coutinho's injury has not done Firmino any good. It sort of restricts his movement, given the tactical shape of the side.
But his hunger and work-rate were there for all to be seen at Teesside after a woefully lethargic display against West Ham at Anfield.
Coleman on the other hand, is among the best right-backs in the league. He is defensively solid, but his biggest strength is to nullify opposition wingers by going forward himself, as much as he can.
He showed that against Arsenal, as he got Everton's equalizer just before half-time. That galvanized Goodison and the Toffees went on to win it.
Goodison won't really need galvanizing on derby day but if anyone can do it, it is a fans favourite that Coleman is.
Romelu Lukaku v Ragnar Klavan
Klavan has had a solid 135 minutes of football under his belt, since replacing Lovren at half-time against West Ham last weekend. Especially against Middlesbrough, he stood up to the challenge brilliantly, particularly in the first half.
In Lukaku, he faces a strong, bulldozing striker who on his day, is a nightmare for any defender to deal with. Lukaku is muscular, he can shrug off defenders with his strength, he is skillful with the ball at his feet and he is extremely quick.
So there is enough of a challenge for Klavan to have his hands full. But the big Estonian has shown that he does not get easily fazed and his composure and ability to keep his head when put under pressure will be tested to the hilt by Lukaku.
James Milner will be our left-back again and Klavan will have a little extra responsibility as he will have to cover for Milner on the occasions when he gets caught out of position, as players playing in unnatural positions tend to.