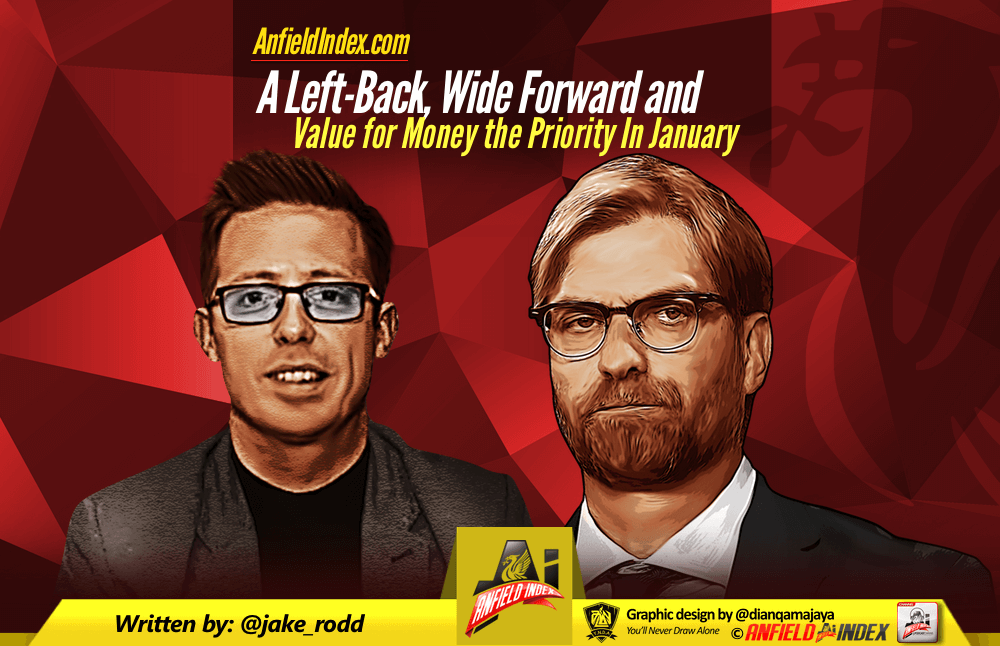 A Left-Back, Wide Forward and Value for Money the Priority In January

Liverpool head into the January transfer window safe in the knowledge that their start to the 2016/17 Premier League season has reached, and possibly surpassed, the expectations of the majority. Coming out of the Merseyside derby on Monday night, Liverpool find themselves 12 points better off than after the same amount of fixtures last season – an achievement made all the more impressive when considering that the fixture list, after the Anfield redevelopment, is considered by many to be more challenging than that of last year. Nevertheless, Antonio Conte's remarkable management of a transformed Chelsea side has taken the shine off of Liverpool's impressive start – Jurgen Klopp's sit six points adrift from the league leaders.
This Premier League season remains in its infancy, however, and reinforcements to the Liverpool squad in January would, in all likelihood, aid Liverpool on their way to realising their ambitions of a Champions League return next September.
Jurgen Klopp, however, may take some convincing – the charismatic German makes no attempt to his his disapproval of the January transfer market, claiming that, often, the players in demand are not available and, if they are, their price tags are extortionately high. Many January deals, then, are unlikely – if players are to arrive it will be likely a response to urgent requirement, thus indicating two possible target positions.
James Milner, perhaps the embodiment of diversity, has filled the void left by the tactically inept and erratic Alberto Moreno. Naturally, the 30 year old has performed well, contributing offensively with vision sharpened by his time in midfield whilst limiting defensive errors to a minimum. It is unlikely, though, that Milner represents a long-term solution at left-back. Lacking pace and being dominantly right-footed, Milner is destined to a return to midfield, either as a starter or regular substitute. In January, then, is is likely that the search for a traditional left-back continues, with Jetro Willems and Jonas Hector possible targets if the search for summer transfer targets is to be resumed.
Alternatively, the upcoming African Cup of Nations could influence transfer plans. Sadio Mane, Liverpool's annual acquisition from Southampton, has injected pace and directness into Liverpool's side where previously it was lacking – his absence must be accounted for. Without Mane, Liverpool run the risk of replicating the toothless side of the years gone-by, bereft of any cutting edge and without much threat as a result. The Senegalese forward, in addition to scoring goals and creating chances with the ball, creates an abundance of space for team mates using his movement alone – he has become a crucial cog in the Liverpool machine. Ideally, Daniel Sturridge would fill the gap on the right-hand side, however it is unwise to place any faith in the 27 year-old's fitness for any prolonged period of time – an unfortunate circumstance that could well force Klopp's hand in the transfer market.
Target speculation is rife as ever, with many citing Brazilian Alex Texeira, the winger of choice last January, as a likely target in a sequel to the events of 2016. It does seem likely that any wide-birthed forward solution will come from the market – there is little to suggest that Liverpool's academy is ready to contribute a regular starter for the senior side – and this, given Milner's predictably stable performances at left-back, should be the priority.
Nevertheless, Klopp should not, and will not, feel forced to dip into the market if prices are simply too high – Sheyi Ojo has recently returned from an injury and, although inexperienced, could benefit from the opportunity presented by Mane's absence. Indeed, Klopp's tendency to place faith in youth in times of need could well make this the most likely outcome, provided Liverpool employ the same 4-3-3 system and Daniel Sturridge remains unfit.
January represents an opportunity for the reds to kick on from a convincing start to this years Premier League. A left-back and wide-forward are priorities but, if no solution can be found for reasonable prices, expect solutions from inside the Liverpool squad.