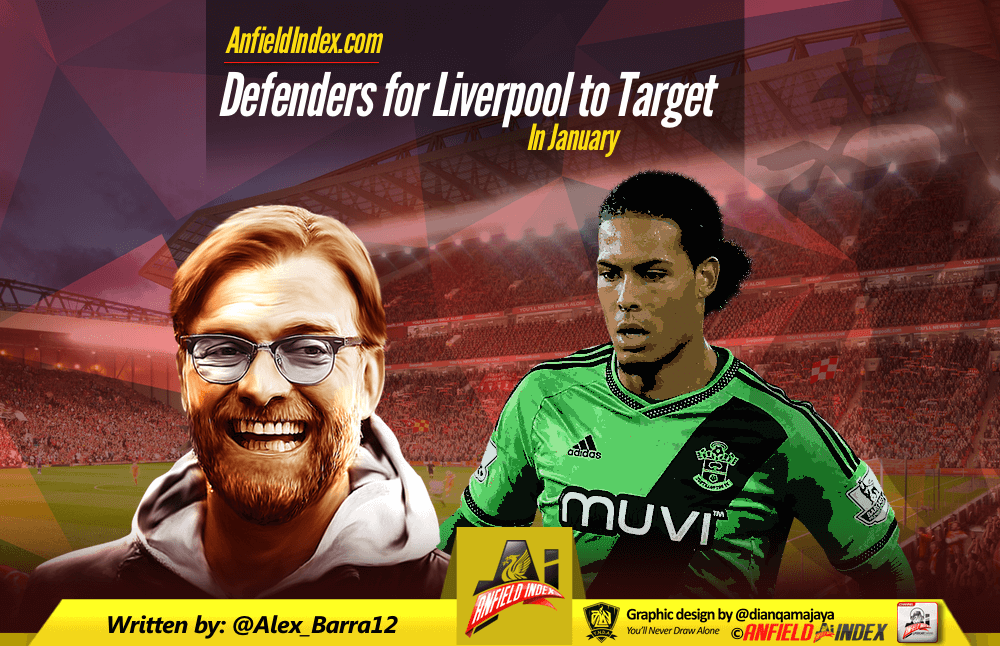 Defenders for Liverpool to Target in January
Virgil van Dijk
Perhaps the most obvious choice; given Liverpool's affinity with buying Southampton players as of late; but Virgil van Dijk may well be the one key Southampton player Liverpool actually spend money wisely on. Of course, Sadio Mane and Nathanial Clyne were shrewd, if not slightly over-priced; but van Dijk has the potential to fix a glaring problem in Liverpool's lineup; having a partner for Joel Matip that can be relied upon. The travesty that occurred against Bournemouth displays the glaring fact that Dejan Lovren simply isn't good enough for a side with the ambitions that Liverpool have under Jurgen Klopp; and while the former Saint is a reasonable selection for a backup centre half; sharing the duty with Joe Gomez when he returns to fitness; it should be the current Saint that Liverpool go all out for to fix their defensive problems.
Many will be familiar with the Dutchman's exploits given his exposure in the Premier League and popularity among Liverpool supporters already; and while the Reds would be returning to their favourite shopping selection on the South coast and raid Southampton once more, it would be entirely worth it. Rumours from Dutch newspaper De Telegraaf state that Liverpool have scouted van Dijk's every appearance for Claude Puel's Southampton side this season and are preparing a £25 million pound bid, while others suggest that Liverpool aren't in for the 6 ft 4 centre back; which would be a shame, given that he possesses an innate power in his frame; one that sees him outmuscle the powerful centre forwards in the Premier League (though he does tend to engage in Martin Skrtel-esque wrestling matches inside the penalty box during corners) while retaining the ball with a grace not generally seen among centre-backs of his size. He also betters Dejan Lovren in most defensive statistics: clearances, interceptions, tackles, blocks, and the amount of times he's dribbled past per game. While Lovren possesses the better passing accuracy (86.3 to Virgil's 84%), van Dijk is much better defensively: and is thus his near-perfect upgrade.
Jonathan Tah
But, if the pursuit of van Dijk doesn't come to fruition, there are plenty of options out there with which Liverpool can improve the heart of their defence. Another player that's been linked with Liverpool recently; and has drawn considerable interest among Liverpool's fanbase is the 20-year old German centre half Jonathan Tah; who stands at a slightly smaller 6 ft 3, yet is no less physical or technically capable than the above-mentioned van Dijk. Perhaps possessing less grace on the ball due to his frame; looks most certainly deceive; his prowess on the ball is comparable to that of other ball-playing centre backs – in fact, he's quite comparable to Vincent Kompany from Manchester City. Comfortable in possession and a rock when being ran at; his inexperience can cause him to lose his head if he doesn't regain control or – especially poignant – he doesn't have a reliable partner alongside him. Alongside Aleksander Dragovic this season, he's looked calm and composed. The standout statistic is the amount of passes he makes per game: 50.5, three more than van Dijk, yet it's still twenty less than Dejan Lovren: perhaps going a way to showing how important Liverpool's centre-backs are during the build up. He's rapid when closing down, though sometimes a bit hasty; but at the tender age of 20, he's got plenty of improvement left in him. That being said; make no mistake – Jonathan Tah is ready to step-up to a starting place in a Premier League title challenging team.

Niklas Stark
One of the more abstract names on the list: the 21 year old has actually only played in centre-back for half of the season: starting five games in the heart of defence; while he's played seven in defensive midfield for Pal Dardai's Hertha Berlin side. Boasting the best passing accuracy out of the quartet (84.9%, bettering van Dijk and Tah who are tied at 84%), it's his ability to take the ball out of the heart of the defence, lay it off to a teammate and instigate quick attacks that stands out most about Stark. Not laboured on the ball, and decisive as they come, the young German will certainly make himself known as either a staunch defensive midfielder or a combative centre half able to play out from the back: and it's the latter where he should thrive for Liverpool should he arrive in January.
That ability to deputise in defensive midfield would be a welcome addition to a side currently lacking in defensive midfielders: an injury to captain Jordan Henderson would severely hamper Liverpool's flow in the build-up where he's excelled this season, bringing the ball out from the back to the get it moving quickly to the dynamic front three. Stark would be the perfect foil for a Premier League side that likes to park the bus: able to bring it out through the midfield and break the lines: as Joel Matip has done this season. He's physical, too, able to hold his own in the tackle – second only to Jonathan Tah's 2.8 tackles per game – with an average of 2.6. And, similarly to Tah, he has age on his side: something which Jurgen Klopp would relish in.
Stefan de Vrij
The final name on the list is someone many will be familiar with from his exploits in the 2014 World Cup: Stefan de Vrij earned a move to Lazio from Feyenoord off the back of Louis van Gaal's selection of de Vrij in his back three for the Netherlands in Brazil. He's earned plaudits in Italy as one of the leading lights at the Biancocelesti: a dominant figure in defence that is adept at reading the game, getting to the ball quickly and getting it out of the defence with minimal fuss. A interesting alternative to the other young centre-backs in the Serie A – the likes of Alessio Romagnoli and Jeison Murillo – who like to play the ball out of defence more than the Dutchman; he leads the aforementioned trio in interceptions per game (2.8 – the closest is Niklas Stark with 2.5) and while interceptions are often a misleading statistics: de Vrij is someone who can be reasonably judged from his ability to read the path of the ball. He allows himself to be exposed very little; often getting the better out of strikers in 1v1 positions; and while he makes the least amount of passes of the bunch; he's hardly incapable off of the ball. If Liverpool are looking for a defender first and foremost: then de Vrij fits the bill to a tee.