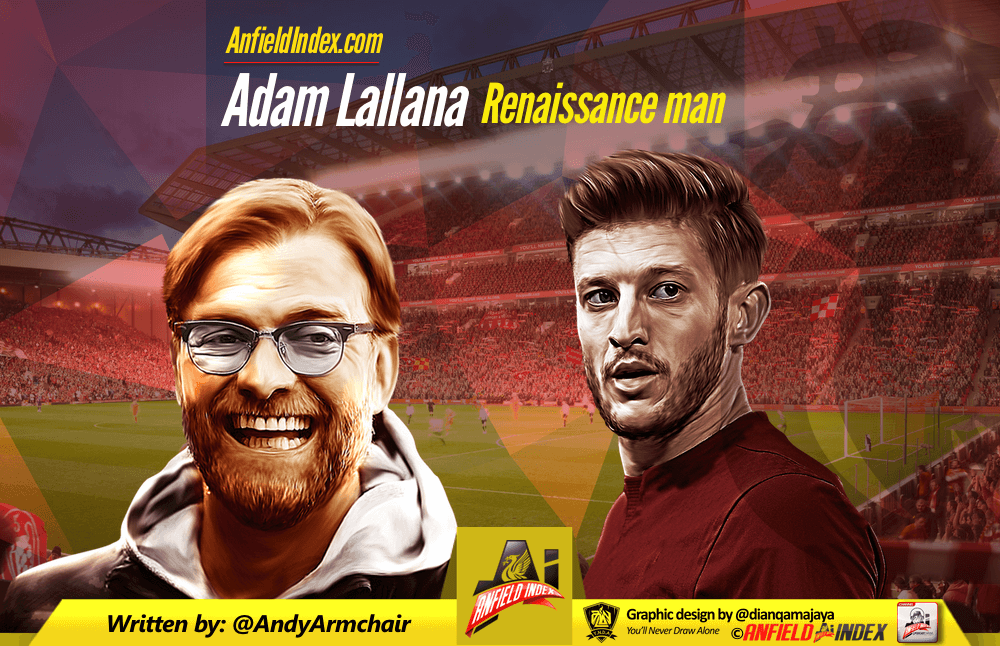 Adam Lallana - Renaissance man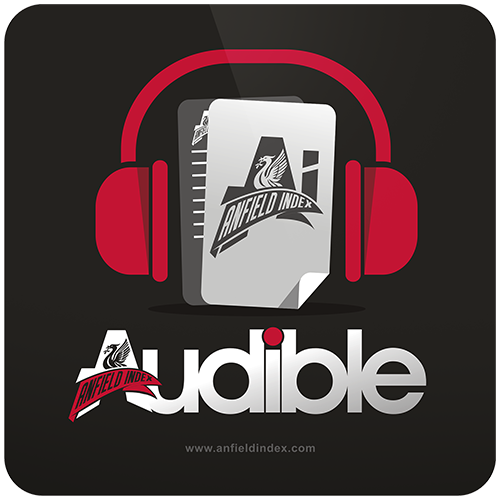 Listen to this article via @AIAudible !
Adam Lallana is a player that has divided opinion since his £25m move from Southampton to Liverpool in 2014. His technical ability and work rate have never been in question, but his effectiveness within the team and end product were always seen as an issue.
I described Lallana as a 'nearly' player – nearly scored, nearly set up a goal, nearly, but not quite. Whether it be as a winger or in the 'number 10 role' behind a striker, his lack of assertiveness in possession often let him down. In such a decisive area of the pitch, he was indecisive; simply not direct enough and his over indulgence on the ball cost attacking impetus. His biggest strength, his technical ability, was his biggest weakness because his tendency to dwell in possession of the ball meant the moment was too often gone for his team. What was noticeable was that he would often get into very good positions, but his lack of killer instinct rendered them meaningless.
Looking back now, it's easy to say he was simply getting into those positions too early because since his switch to a deeper role, he is arriving in the same positions that bit later and without the time to dwell, is reacting more instinctively. It's not exactly genius, but a great call by Jürgen Klopp to change Lallana's starting position to make the most of his technical abilities and tireless work rate, as well as alleviate much of his weakness that was the over indulgence  in attacking areas. The subtle change in the time he is now arriving in the box has facilitated him becoming more ruthless and chalking up a very impressive Premier League goal and assist tally so far this season.

His recent performance in the win away to Middlesbrough was rightly hailed. In the space that was created in the second half of that match as Boro tired, Lallana gave a masterful display and it was a prime example of how his positional change has added layers to his game. His involvement in the goals, proof of how much more direct and clinical he has been on the ball this campaign.
The Merseyside derby was a different affair, a scrappy and scruffy match that wasn't as conducive to his skills. That's not a criticism, just a simple fact that certain game situations don't suit certain players. Though the effort he puts in throughout a match is excellent, this was more of a war of attrition at times. The Everton game plan to be aggressive and make the match a scrappy battle worked well in largely neutralising Liverpool's attacking threat, so it wasn't the platform to showcase what Lallana has provided so often this season.
However, the fact that there is now a level of expectation on him to impose himself on games and have such a level of influence on proceedings is testament to how far he has come in the eyes of many Liverpool supporters. His first season at Anfield was a huge disappointment and he failed to come anywhere close to justifying his transfer fee. Last year, there were some signs of improvement under Klopp, but he was still frustrating to watch in attacking areas, too often killing the momentum of counter attacks and continuing to underwhelm in his end product. Many would happily have sold him in the summer and I am sure many expected him to be part of a clear out, but Klopp wanted to keep him and clearly saw something to work on.
Credit must go to Klopp and his staff for keeping faith with the player spotting his suitability for a positional change. However, credit must go to Lallana for truly making the transition a success: the willingness to work and learn, to adjust and develop; clear indication that with the right attitude and aptitude, a particular skills set can be maximised. Further challenges lie ahead for Lallana to prove he can not only maintain this level of performance, but also continue his progression and do it at International level too, if the opportunity to do so in a similar system arises. For now though, it's full credit to Adam Lallana for turning opinions around on him because he's earned it.