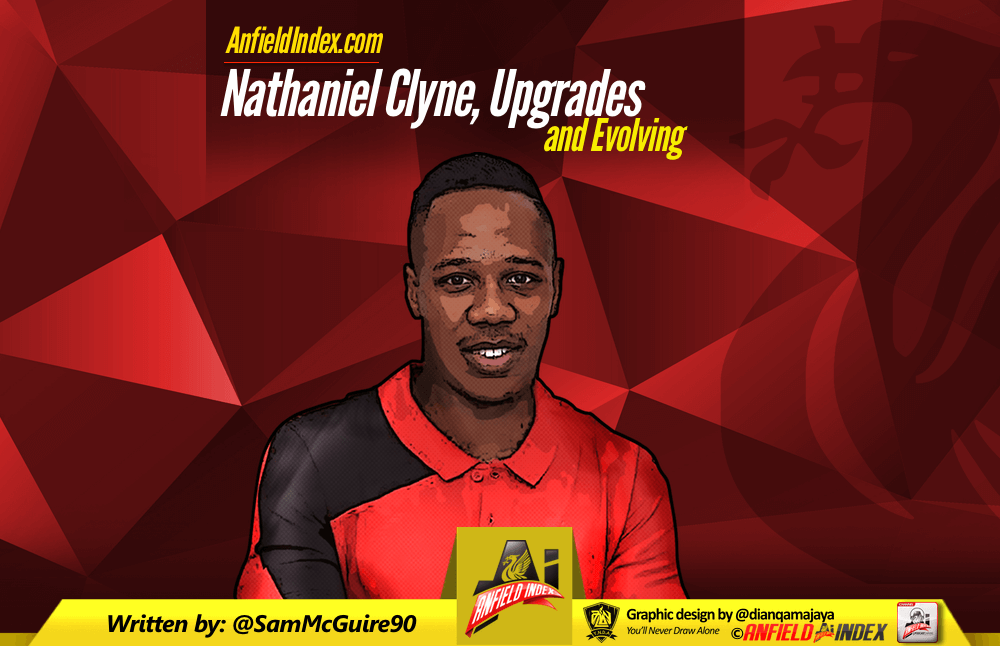 Nathaniel Clyne, Upgrades and Evolving

How good is it being a Liverpool fan right now?
Klopp's men sit second in the league after the dramatic late win in the derby. We're the top scorers in the Premier League with 41 goals but what's even more impressive is how we have continued to impress despite some noticeable absentees. Daniel Sturridge, Joel Matip, Emre Can and Philippe Coutinho have all missed matches and while performances may have dropped off a little, we're still picking up points.  As cliche as it sounds, it's a sign a potential champions.
I may be getting ahead of myself, what with Chelsea being in ominous form after winning eleven consecutive matches, but there are certain things you just can't ignore. We found a way to win against Sunderland and Everton as well as come from behind against West Ham side who had capitalised on our mistakes. In previous years we probably take 3 points from those matches but this time around we picked up 7.
It's a good place for fans right now. Make no mistake about it, we're one loss away from mass hysteria but right now when I'm writing this the mood is positive. There's a belief in the team.
However, If we're to get used to this feeling again, one we took for granted under Rafa Benitez, we need to be looking to upgrade at every given possibility. Football is perpetually evolving and we should be too. If there's a tea lady out there capable of making even better brews then hire her. All successful teams do it. It's what turns good teams into great ones and great teams into world class ones. I want Liverpool to be in that latter category and for that to happen I know you need a bit of a killer mentality. There's no room for sentiment if you're looking to conquer the world. You can't rest on your laurels.
Ask any Liverpool fan what area of the team they'd want to improve and the top two answers would be centre-back (depending on the week Lovren has had) and left-back. One area that seems to get overlooked is right-back simply because others in defence are bigger problems.
But with this in mind it's perhaps time to talk about Nathaniel Clyne. The former Southampton man signed for £12 million in the summer of 2015 much to the delight of Liverpool fans. We finally had a right-back who wasn't Glen Johnson. It was like every Christmas and birthday rolled into one. A right-back who knew how to play football. However, after watching him for close to 18 months now I've come to realise I may have overhyped him. He's not bad and I'm not saying he is but at the same time he's not what I'd built him to be in my head. There are clear limitations to his game and if Liverpool are to really kick on there's every chance he will be a victim of the success.
He appears to be easily bullied in the air. It's expected though, he's not the tallest or the biggest so that weakness to his game is understandable. My biggest concern is his use of the ball. Liverpool are now a possession orientated side and near enough every single player in the starting XI needs to be comfortable with the ball at their feet. Clyne seems anything but that though. He often looks like he wants to get rid of the ball but doesn't know how to and then when get works a crossing opportunity it's wasted. People may cite the cross for the Coutinho goal agains Arsenal and the one against Bournemouth which Origi inexplicably missed or perhaps the one against 'Boro which lead to the opener for Lallana. While those three crosses were great they were also the exception to the norm.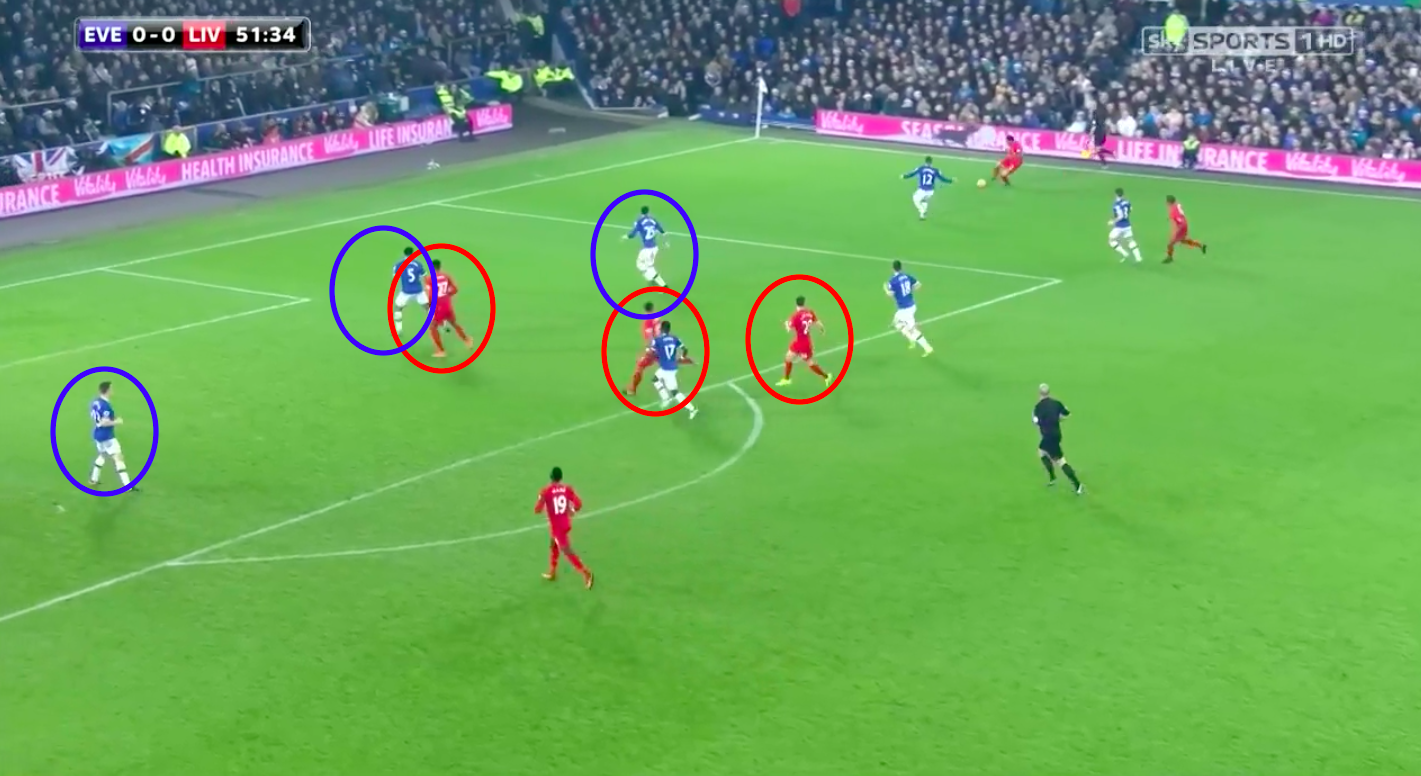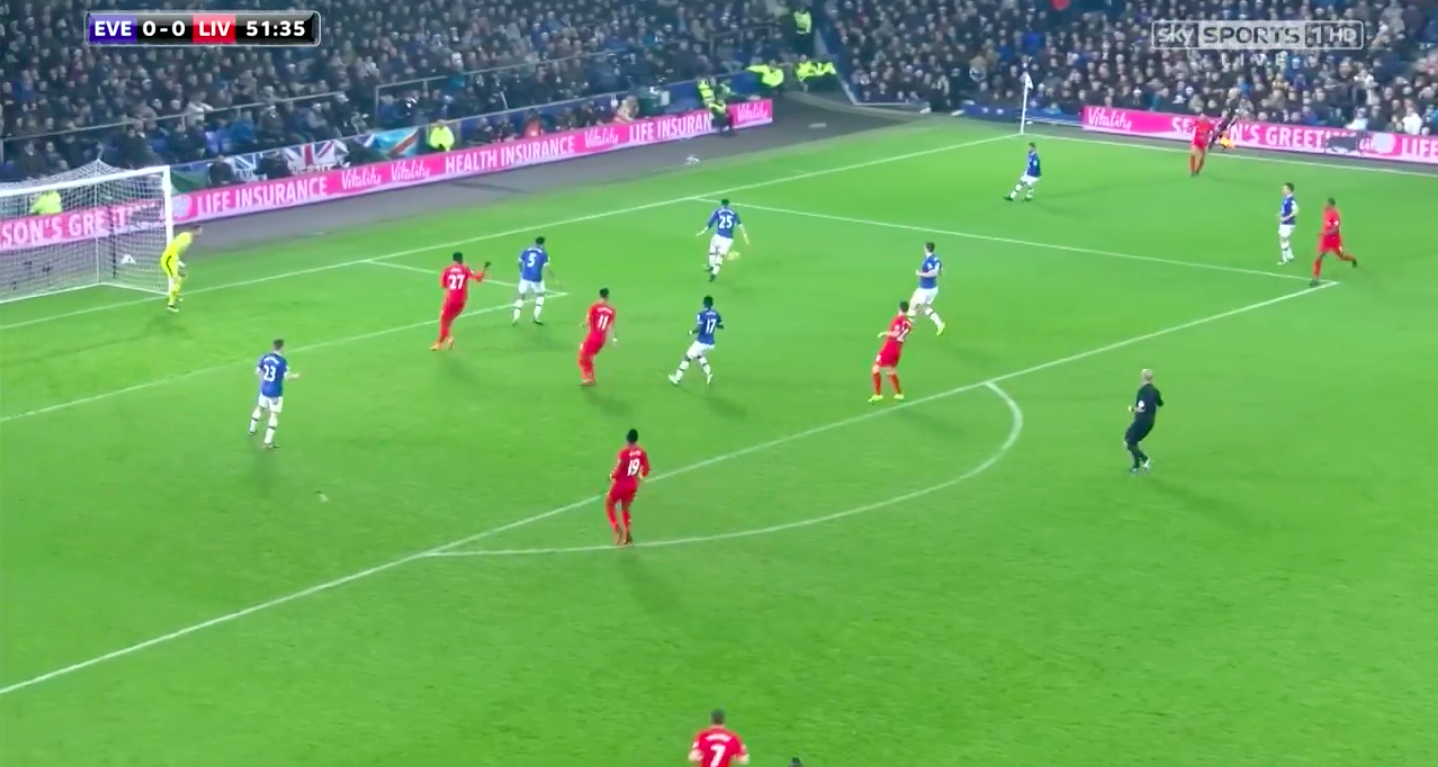 In the derby Clyne has the opportunity to put a cross in with both Lallana and Firmino supporting Origi centrally. It may be 5 vs 3 in Everton's favour in the penalty area but a good ball into the area, preferably into a central area, and Liverpool have the numbers to cause problems. Clyne's ball doesn't even beat Funes Mori and is easily cleared.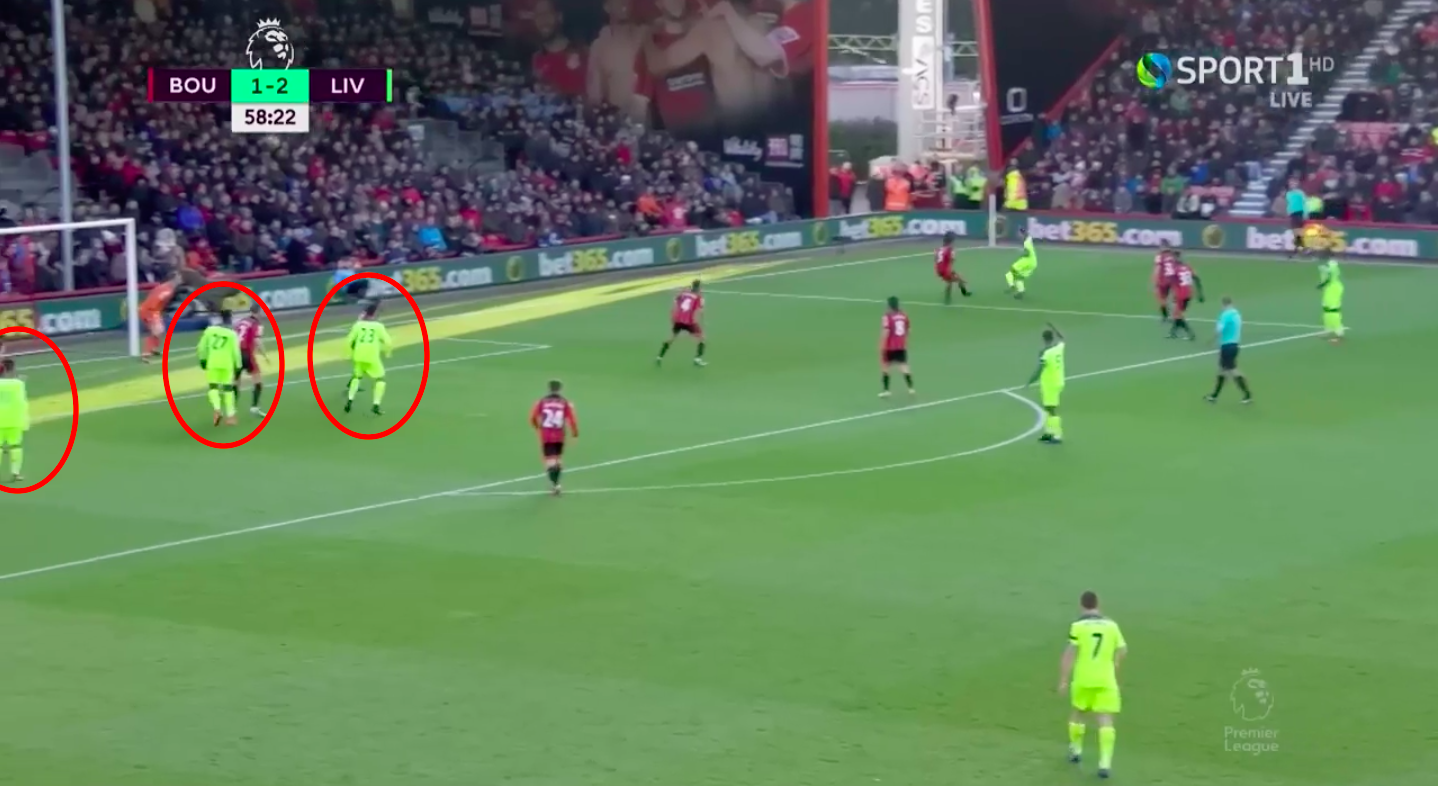 Similar to the Everton one. Liverpool have bodies in the box with Firmino, Origi and Can all central. It's effectively 2 vs 3 in there and the player marking Firmino is a midfielder. Put that ball in and there's every chance we win the header. But again Clyne's cross is blocked by Ake before it even gets into the area.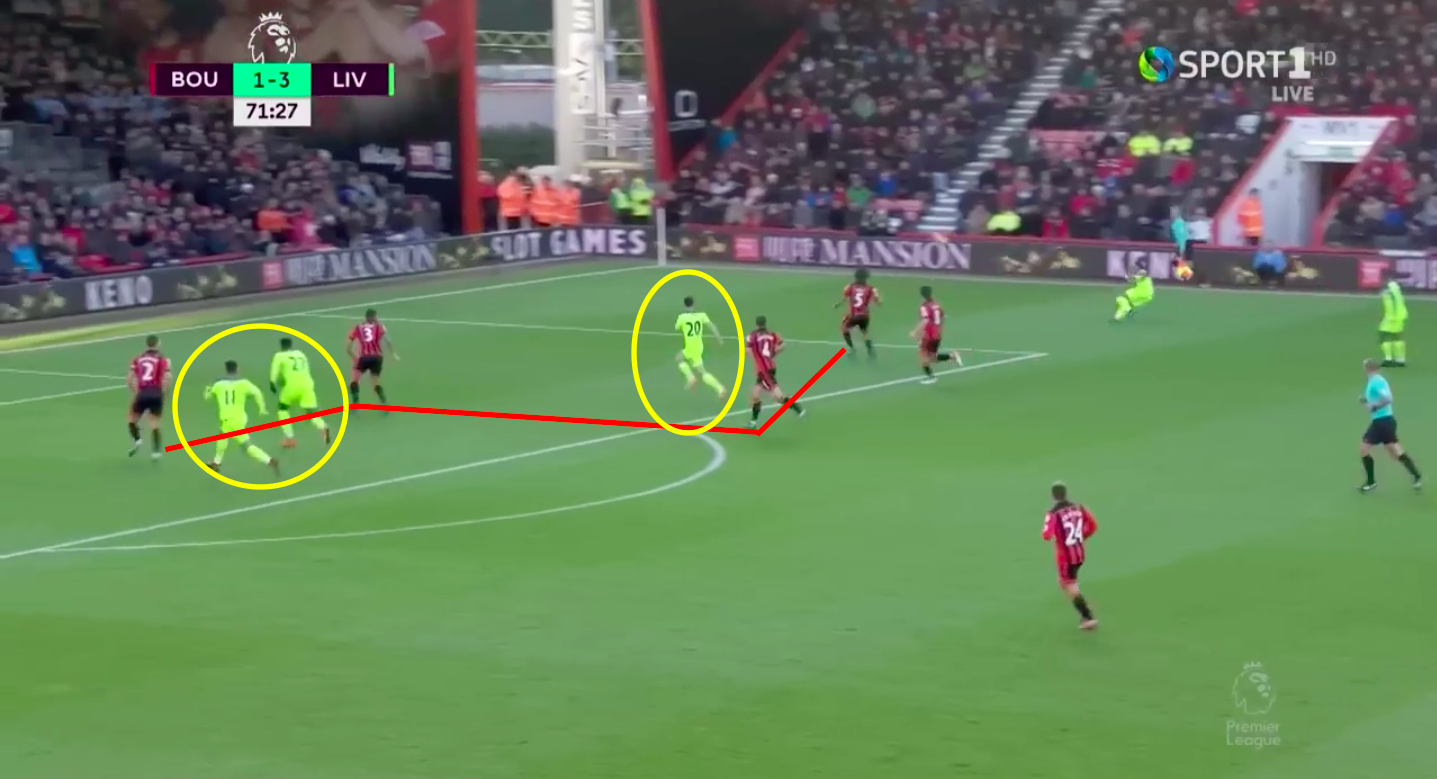 Again against Bournemouth, the red line highlights the home side's back four. They're stretched and disjointed and Liverpool have three players (Firmino, Lallana and Origi) making a run into the area. Clyne could play a pass in behind Ake into the path of Lallana. He could whip the ball in low and hard or simply float it in. Instead he ends up overhitting the cross and Milner just about stops it going out for a throw in.
It's a positive the fact he's getting into these areas to deliver these crosses but his delivery is so scatty and so erratic. It's hard to ignore it at times no matter how hard I try. This season so far Clyne is attempting 50.2 passes per 90 up from from 38.7 passes per 90 at Southampton. He's seeing more of the ball and it's perhaps why it's now more noticeable. Clyne is afforded a lot space and freedom down that right hand side. He's at times a right winger and he's playing in one of the most important areas of a Jurgen Klopp system. Yet his final ball and general composure is disappointing. How long can he's doing a job be suffice?