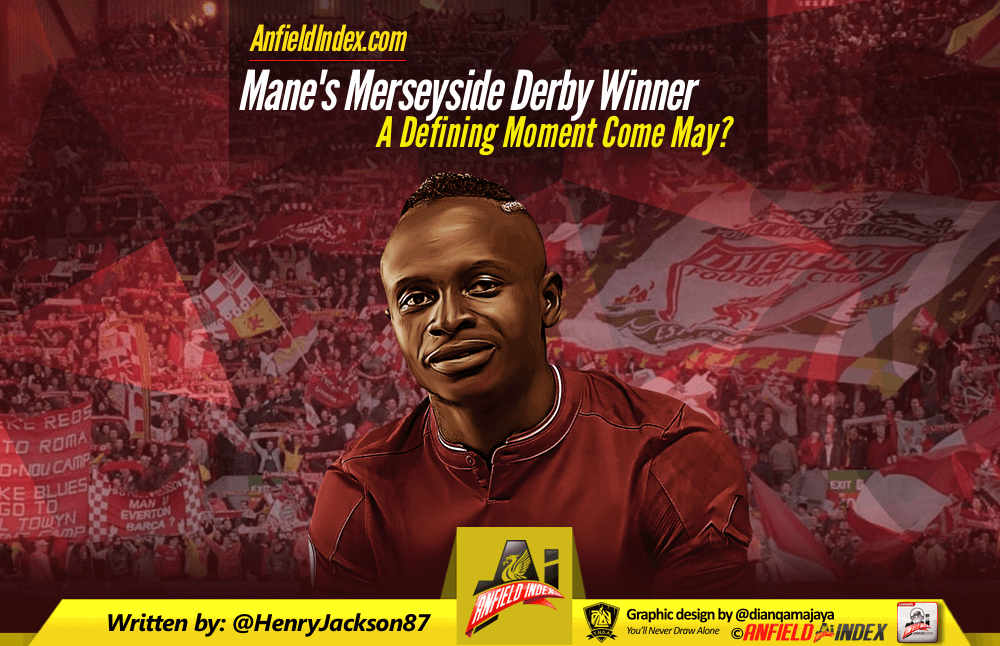 Mane's Merseyside Derby Winner: A Defining Moment Come May?
Those thumpings of Leicester, Hull and Watford were a joy, as were the pleasantly surprising wins at Arsenal and Chelsea, but none come close to what we witnessed against Everton on Monday.
A stoppage time victory away to your local rivals, in which the away end goes ballistic, is just perfect. You don't sleep for hours after the game due to the flow of adrenalin, title rivals are left seething at one point turning into three and anything feels possible.
These are the moments you have to cherish as football fans, because heartbreak is never too far away. If you can't get carried away by victories of this ilk, perhaps take up a different hobby.

Sadio Mane's dramatic winner at Goodison Park brought back wonderful memories of some of the most iconic Liverpool goals of the Premier League era.
Both Gary McAllister and Dirk Kurt scored similarly unforgettable last-gasp efforts at Goodison Park, and there were also comparisons to be drawn with dramatic winners by Kuyt, Fernando Torres and Yossi Benayoun in 2008/09, against Manchester City, Portsmouth and Fulham, respectively.
That's before we even consider the numerous times Steve Gerrard scored late on to send the Liverpool supporters into raptures.
Often, these goals have felt like possible season-definers – goals that you hope to look back on in May and say, "that's the moment we won the title" – but that has never come to fruition, in terms of the title.
I don't need to tell you that Liverpool are still desperately looking for a maiden Premier League crown, and while Chelsea are undeniable favourites to lift the trophy in May, it is impossible not to feel some kind of new belief after Mane gave us the most memorable of Christmas presents.
The forward's 94th-minute tap-in really did feel big, but unlike last season's 4-3 win over Borussia Dortmund, as one of many, many examples over the last 20 years, Jurgen Klopp's side must make sure it feels as important as it possibly could come the end of the season.
If Liverpool do win the league – every time I even think about that happening, I cannot even fathom the celebrations that would occur, and the emotion that such a triumph would bring – their 1-0 victory in the 227th Merseyside derby will be seen as one of the key moments of the campaign.
The injection of belief that Monday's victory will give Klopp and his squad cannot be underestimated. They will have felt on top of the world after the game, and will now believe they are right back in the mix again.
I just hope their Christmas party wasn't too raucous, and that livers haven't been damaged as much as many of ours no doubt were after the game. Nathaniel Clyne, James Milner and Georginio Wijnaldum downing Jagerbombs would not be appreciated.
One thing that should not be ignored is that Liverpool's late show at Goodison will have hurt Chelsea, even though they would no doubt never want to freely admit that.
They were seconds away from going eight points clear at the top of the table, but Mane's goal will have flattened them a little. Hopefully, it could impact on their own confidence levels, although that may just be wishful thinking.
Matches like Monday's are the games that champions win – ones where superior teams don't quite get going throughout, but nick a win right at the death. They don't panic, and have total faith in eventually breaking down their opponents. If you watch the build-up to Mane's winner, Liverpool are so calm. There is no desperation to get the ball into the box, and everything is done in very measured fashion, which is a very positive sign.
Throughout the 1990s and 2000s, we had to sit and watch Manchester United do this exact thing on endless occasions under Alex Ferguson. You knew what was coming every time, and while praising Liverpool's biggest rivals doesn't always sit well with some Reds, it is hard not to show them some begrudging respect.
Arsenal's "Invincibles" were the same, as were Chelsea at their peak under Jose Mourinho, and even last season's unlikely champions Leicester had that air of ruthlessness about them.
Liverpool did it during their most successful period, and it is something that has been engrained in foreign giants such as Barcelona, Real Madrid and Bayern Munich for many years now.
It is such a key skill to have, and one that takes time to perfect. It has escaped the Reds for so long now, barring the odd sporadic late goal here and there, but Klopp is changing that. They had to dig deep at Swansea, with James Milner's late penalty saving the day, while a likely 0-0 draw become a 2-0 win at home to Sunderland.
They have also picked up seven points away to Arsenal, Chelsea and Tottenham, despite late onslaughts from their opponents that would have seen them crumble in the past.
Of course, Liverpool haven't yet fully mastered this, as the meltdown at Bournemouth showed, but days like that are becoming more and more of an anomaly.
For all we know, Stoke may get a draw or a win Anfield on December 27th, Man City may demolish Klopp's men four days later or Sunderland could stun them on January 2nd. If that happens, so be it, but as things stand, Liverpool have got themselves right back into the title fight.
Chelsea are going to take some stopping, especially given their lack of injuries and no European football, but they will suffer a blip of their own at some point.
That late win at Goodison is a victory we will always treasure, regardless of whether or not Liverpool win the league, but if they do triumph in May, it will be extra special.
It was the classic sign of champions, and potentially the defining moment of the season. This team is made of stern, title-winning stuff now, whether you want to accept it or not.