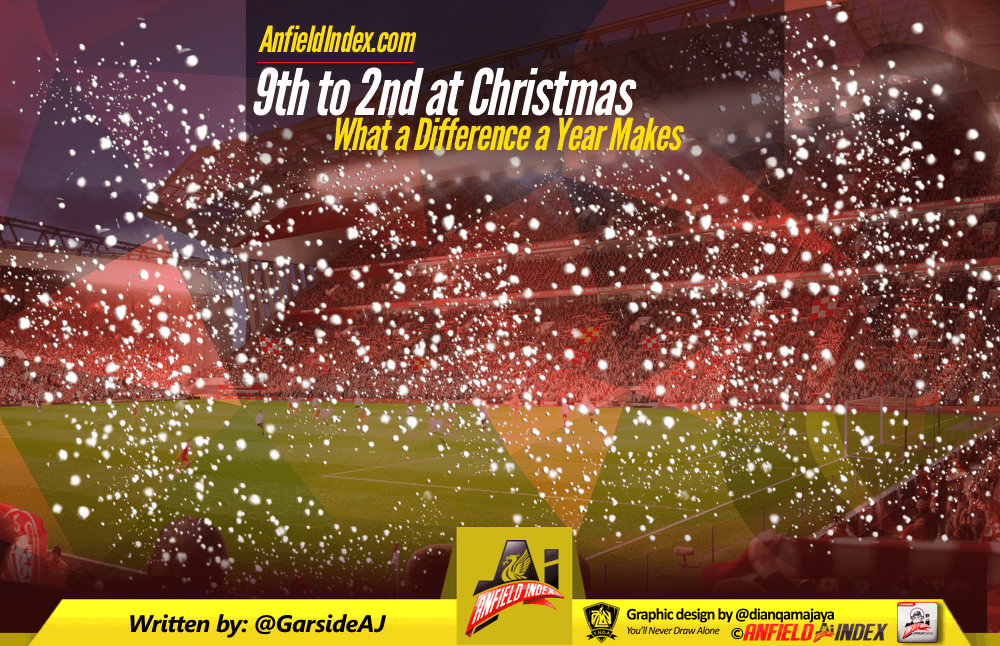 9th to 2nd at Christmas: What a Difference a Year Makes
Twelve months ago, Liverpool were sitting ninth in the Premier League table with just twenty-four points from the first seventeen games. Jurgen Klopp had been in charge for just two months, and hadn't really had the effect that we all hoped. In fact his record was worse than his predecessor Brendan Rodgers, averaging just 1.33 points per game in his first nine league games compared to 1.5 for Rodgers in his last eight.
Going into Christmas, we had scored just nineteen goals (just over one per game) and conceded twenty-two – a negative goal difference. Philippe Coutinho was Liverpool's top league goal-scorer with five goals, but £32.5million signing Christian Benteke was failing to hit the heights we had all hoped when he was bought in pre-season.
Don't get me wrong, it hadn't been all completely bad since the German had taken over. In amongst his three league wins were comfortable victories over Chelsea at Stamford Bridge and Manchester City at the Etihad; the latter of which was one of the best performances of the season, perhaps bettered only by the 4-0 drubbing over Everton in April.

The season hadn't started brilliantly though; two home defeats at the hands of West Ham United and Crystal Palace, a battering at Watford, a defeat against Newcastle – who remember went on to be relegated – and most humiliating of all: a 3-1 beating by Manchester United at Old Trafford.
Certain players who were struggling under the management of Brendan Rodgers had began to show why they were at a club like Liverpool once Klopp took over, notably Brazilian Roberto Firmino who had been signed in the summer from German club 1899 Hoffenheim for just over £21million. The forward had struggled to settle in to life in England up until that magical Sunday night in Manchester at the start of November. Firmino got his first Liverpool goal (he went on to score another nine league goals in the second half of the season) in his best performance in a Liverpool shirt. No question.
Fast forward twelve months, and look at the difference a year makes. Come Christmas Day 2016, we will be sat in second place in the league table with a healthy thirty-seven points from the first seventeen games. At 2.17 points per game that is the best pre-Christmas points per game ratio of any Liverpool season in the Premier League era, and the third best in terms of points (1996: 38 from 19 games, 2008: 39 from 18 games).
Out of the seventeen games played we have won eleven of those; including wins over Chelsea, Everton and Arsenal ALL away from home! Chelsea are six points clear at the minute, but they have collected on average fewer points from the games against the big six (1.8 points per game compared to 2).
We have scored forty-one goals in the first seventeen games, that's more than double the amount we had at this point last season. We have also conceded two goals fewer, meaning a significantly positive goal difference – the second best in the league.
So we can see that over the past year, the circumstances are very different at Liverpool Football Club. But why?
Well, firstly I think that it is important to remember that Klopp had a full preseason with his players this season, compared to nine days between his appointment and his first game last year. The Klopp style of play is starting to become evident in his Liverpool side; the high press is obvious in every game, the creativity in midfield and the speed of the counter-attack. Klopp has also been able to bring in some of the players that he wants at the club to improve our squad: Joel Matip, Saido Mane and Georginio Wijnaldum being just three of those players.
Another reason is one of those players mentioned above: Joel Matip. The Cameroon centre-back has made a huge impression on the Liverpool fans in his first six months at the club and has become a rock at the back. We haven't lost a game with Matip at the heart of the defence as yet this season. The German-born defender is one of the calmest defenders I have ever seen while in possession of the football. Marrying that with his impeccable tackling ability and ability in the air, he is a vital part of the Liverpool machine.
If I was to just choose three reasons why I think the start to this season has been so much better than last, the third would be Adam Lallana. The England international is undoubtedly going through his best spell since joining Liverpool from Southampton, and is arguably in better form now than he was when he left St. Mary's. The twenty-eight year old has contributed to twelve goals to far this season (6 goals, 6 assists), and is well on the way to his best Premier League season in that department. Lallana always seems to be the player that can create something in a dead game, he seems to be the spark that brings the game to life. Perhaps the injury to Coutinho has helped him in some way, but he has suffered himself this season so deserves all the plaudits he is getting.
I can't go through this article without mentioning the contributions from Jordan Henderson, Coutinho and Mane. The three of them have all been vital to Liverpool so far this season; Henderson with his leadership, Coutinho his creativity and Mane his goals. Liverpool will need these three, as well as Matip and Lallana to keep performing in the New Year if they harbour title hopes this season.