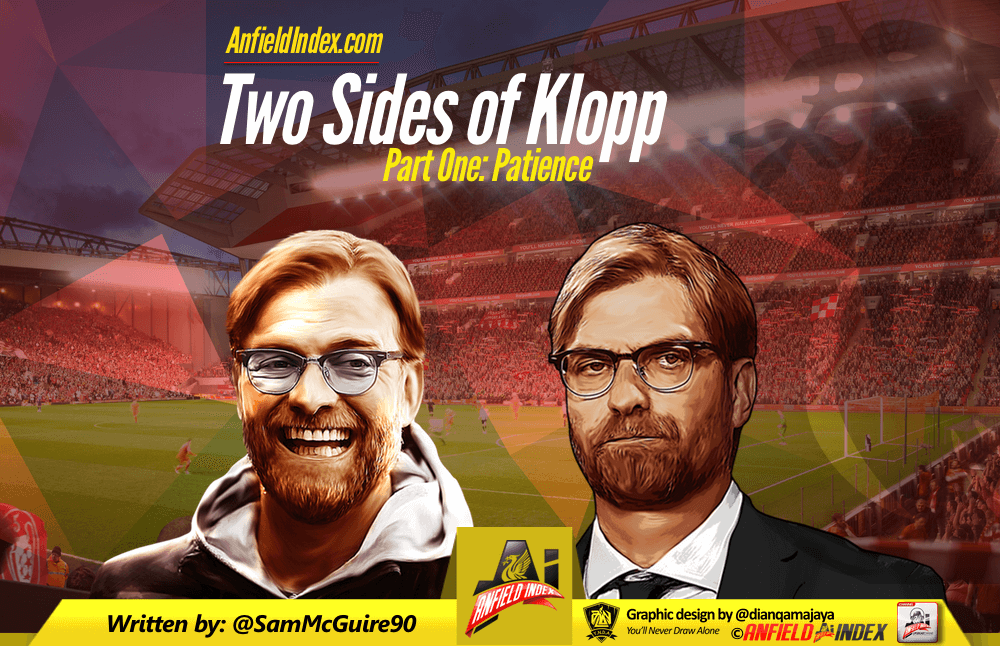 Two Sides of Klopp - Part One: Patience
For all that he's done throughout his career there are still people who believe Jurgen Klopp is a one-trick pony. There's a misconception that his playbook had just the one page; the blitzkrieg approach. Pundits and media alike questioned the long-term viability of it because teams who sat back reportedly nullified it. After a few questionable performances it was confirmed*. Jurgen Klopp had been found out. He'd been exposed. His recipe for success was exclusive to the Bundesliga. The Premier League was too good to fall into the trap.
But then Klopp, after having the team for a pre-season, showed he's in fact one of the most versatile coaches in world football. Liverpool are second in the Premier League and have come up with solutions to defeat any and every team/tactic in the league. Go toe to toe and play football against Liverpool and they'll decimate you with their pace in attack and quick transition play. Sit deep against the Reds and they'll work the ball around until an opening appears and they strike. In this piece we look at how the latter has been effective as of late.
There's a patience and a maturity in this Liverpool that fans aren't accustomed to or familiar with. It's also a part of their game which often goes under the radar.
Following on from the win against Everton, a lot has been made about the raw pace Sadio Mane showed to spring into action to net the winner. The pace he's added to the attack is phenomenal and it's because of this what went before it has gone unnoticed. Liverpool put together 11 passes before the Sturridge effort hit the post. Liverpool switched the play twice and stretched Everton, but in a much more measured approach.
Mane's Winner against Everton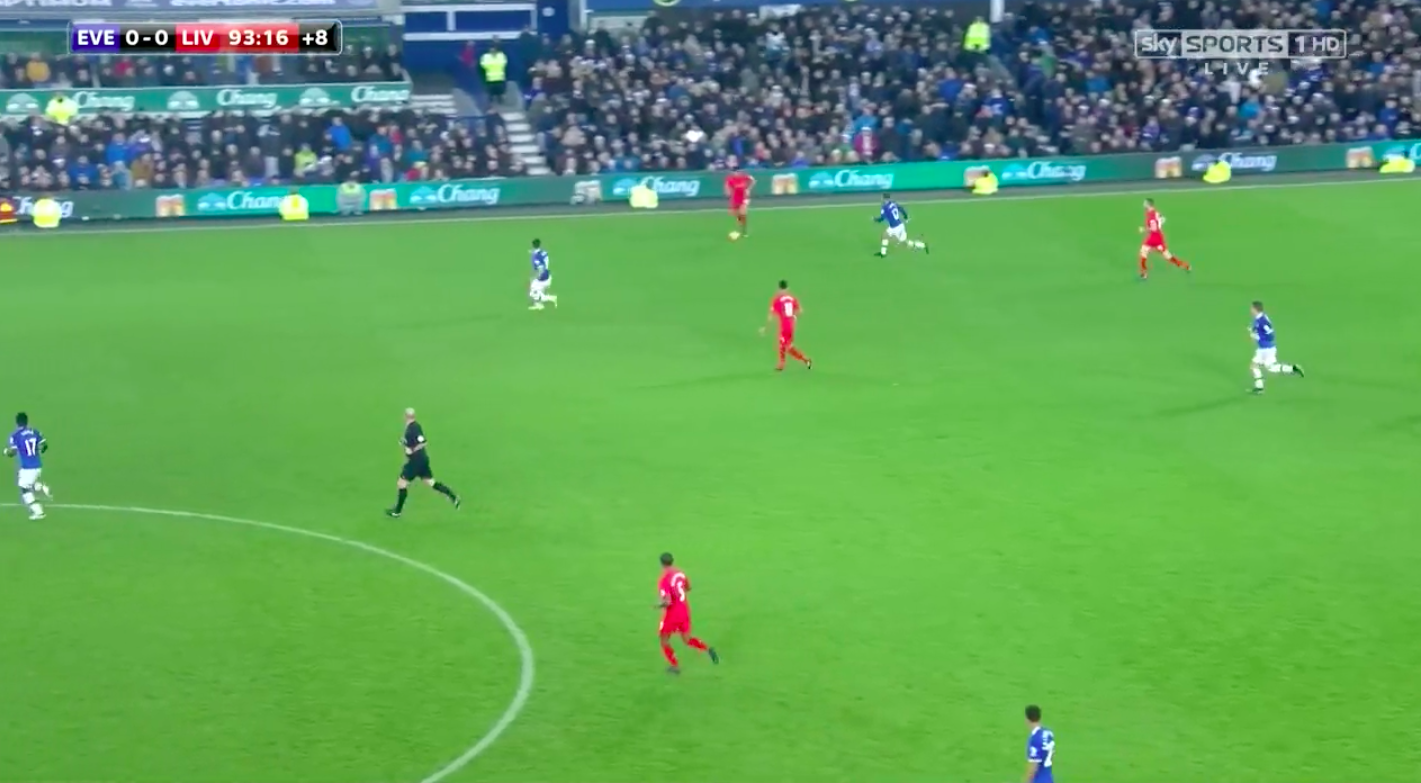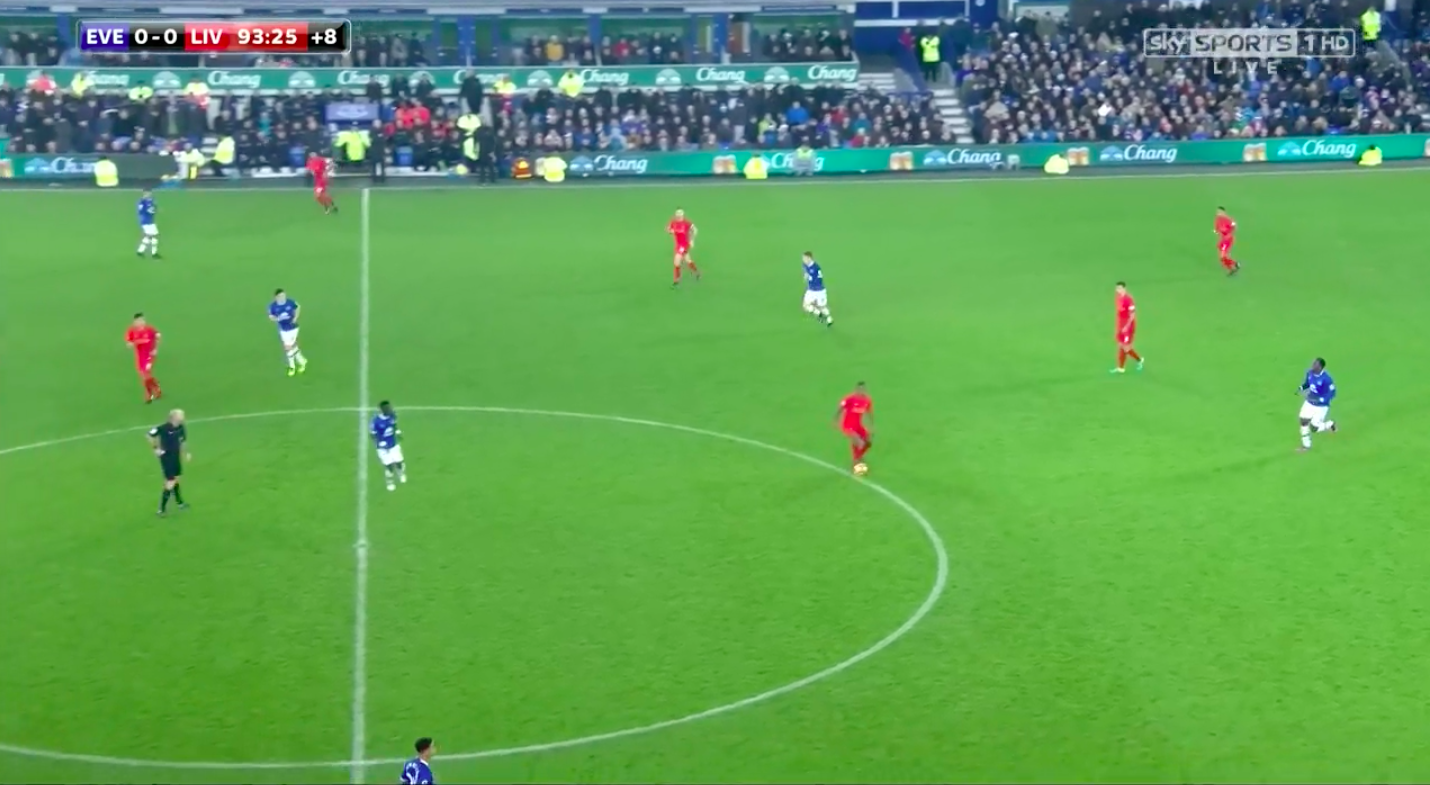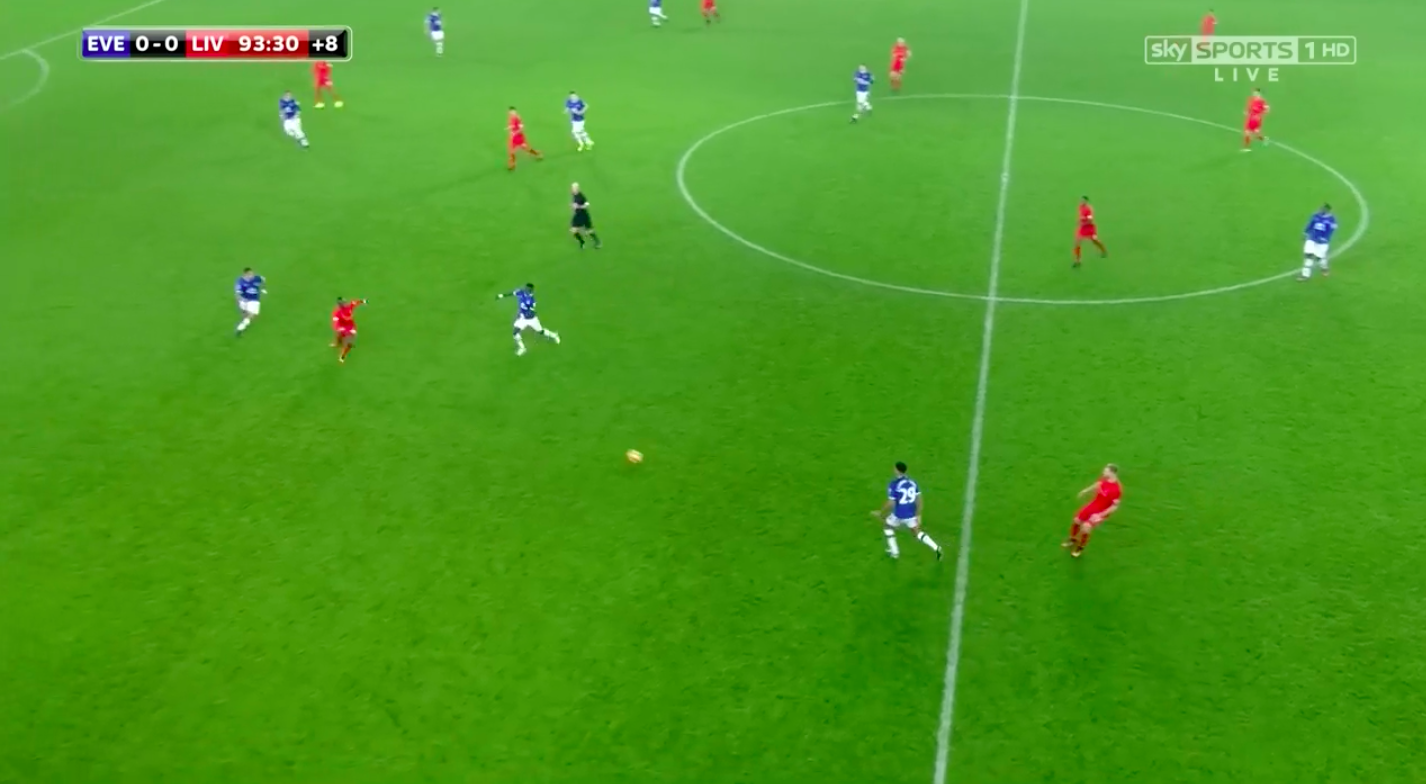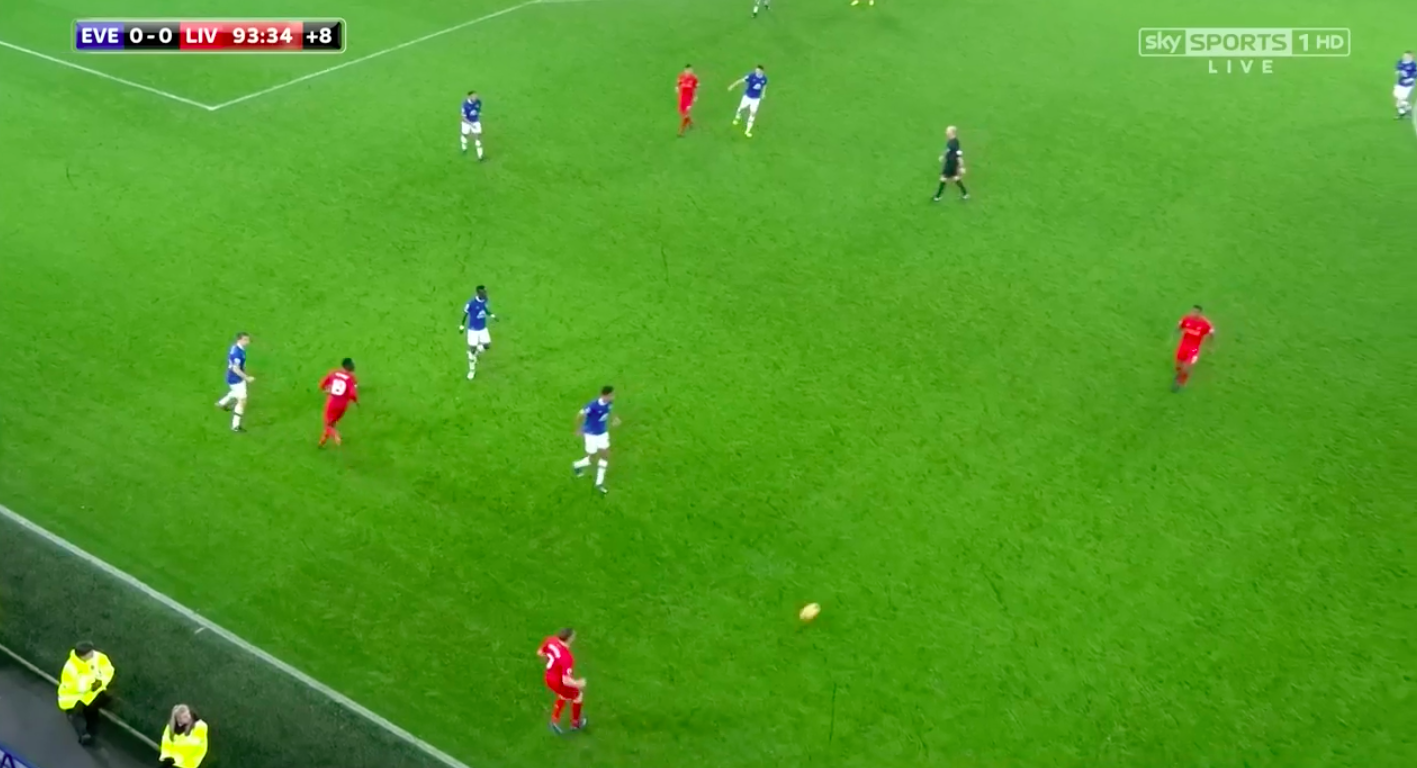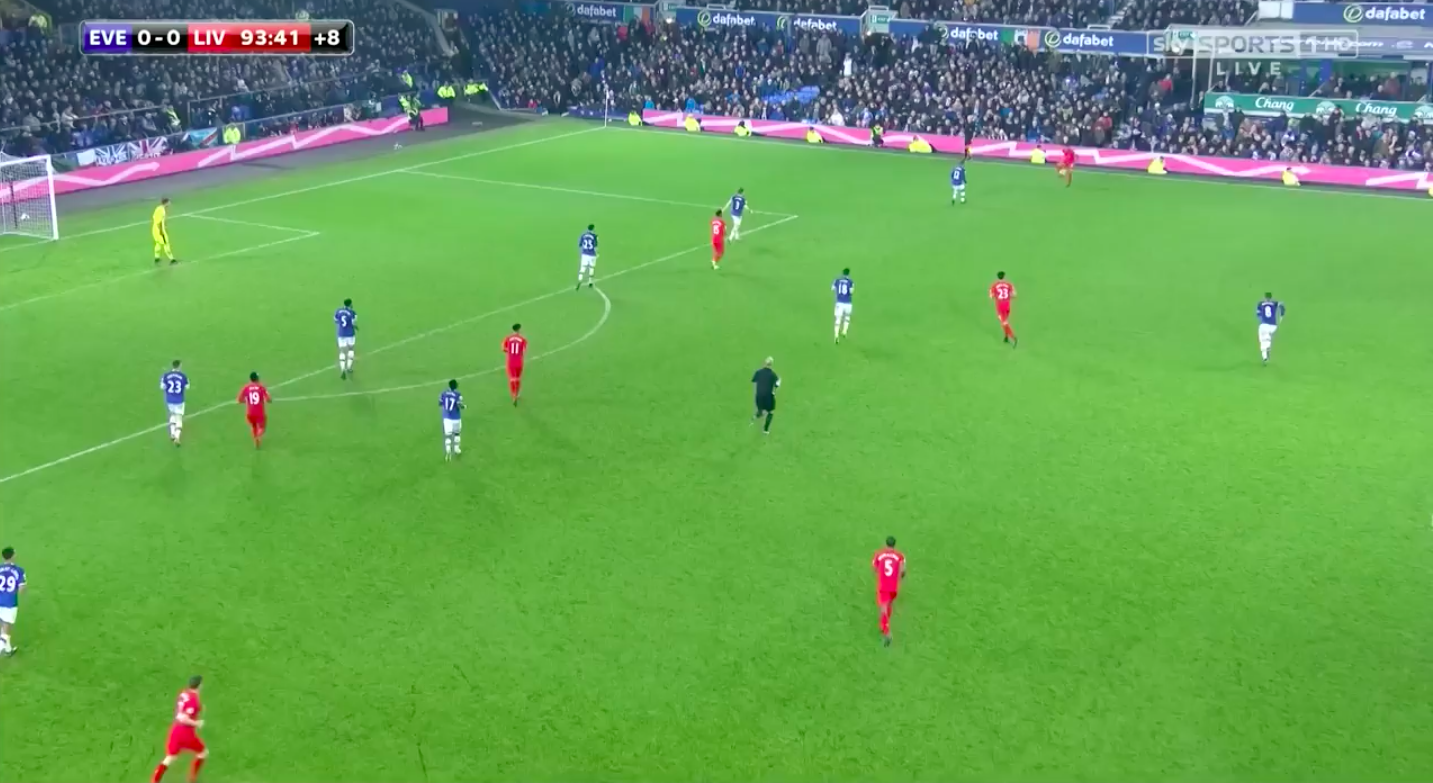 In the above pictures you get to see the various areas on the pitch that Liverpool hit with their passes in the buildup to the goal. They built from the back as a team and this patient approach paid dividends in the end. They slowly worked the ball from Nathaniel Clyne's side of the pitch over to James Milner's, before a switch from Wijnaldum got Clyne back on the ball deep in Everton's half. In the final screenshot you see the home side have a narrow back four but then a stretched midfield four because of Gini's pass. They weren't able to shuffle over as a team and this resulted in spaces as well as a lot of one on one duels for the Reds to capitalise on. Sturridge dropped off and dragged Baines with him and Emre Can ran into the area and took Barry with him. That opened up the space for Sturridge to drive into.
It's all rehearsed. It's Klopp's design and it's natural for the players now. But they're only able to do this so effortlessly because of the patient build-up which allows the players to position themselves in key areas. It's like a big game of chess.
Adam Lallana's Opener against 'Boro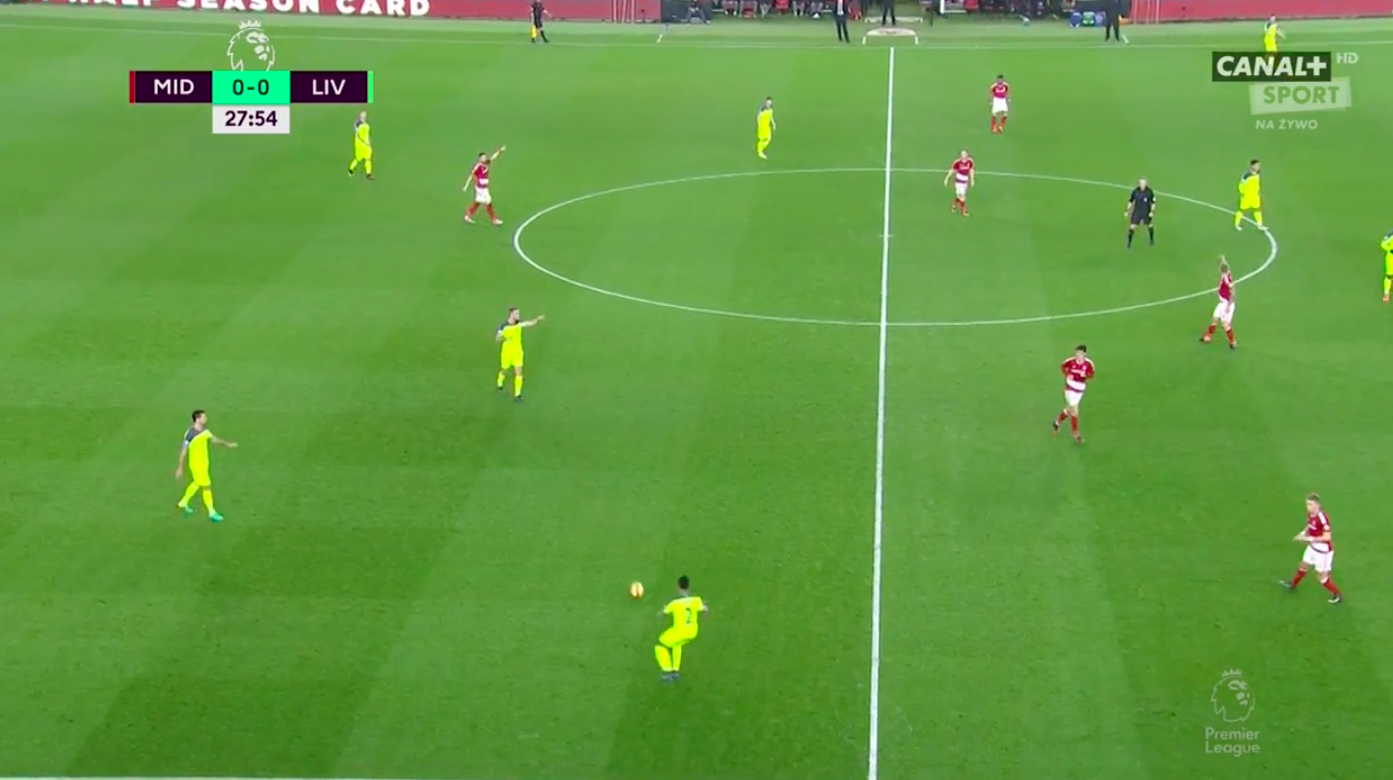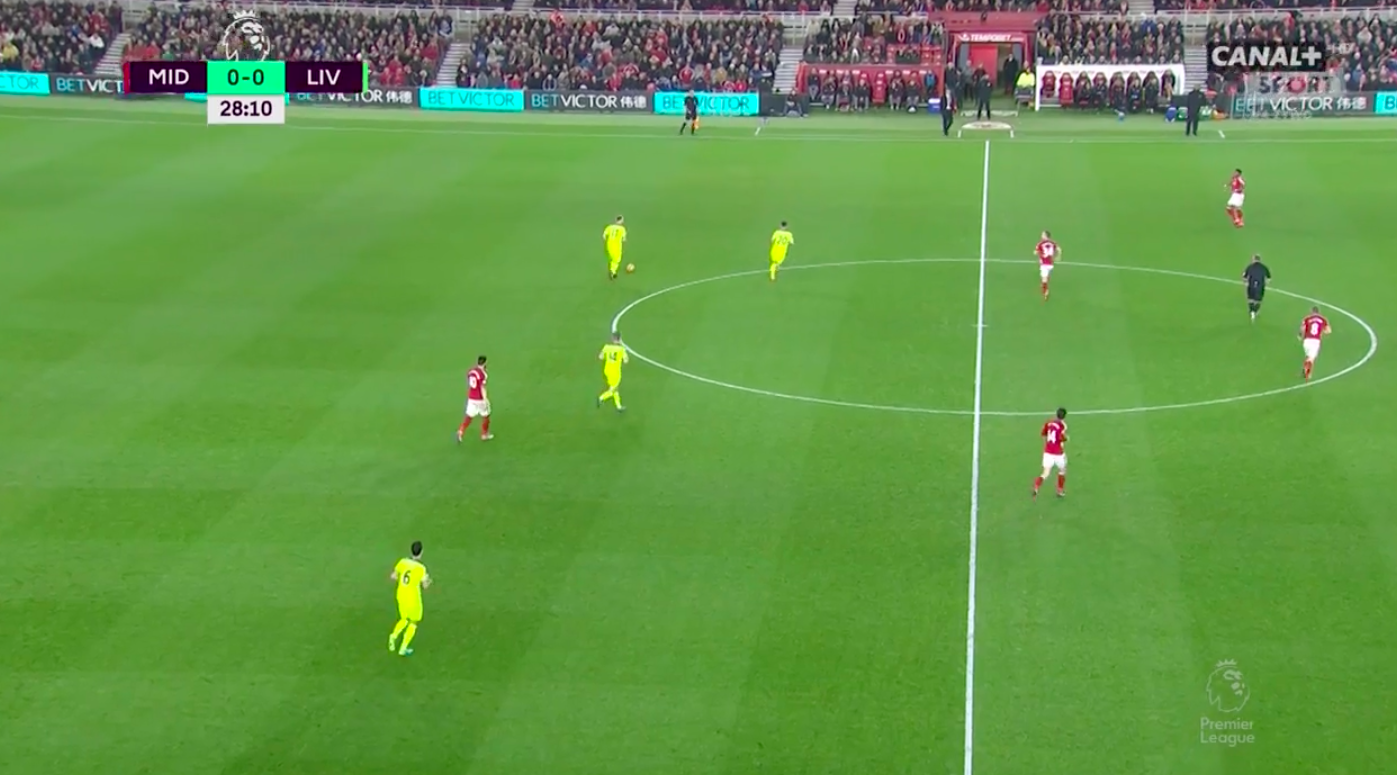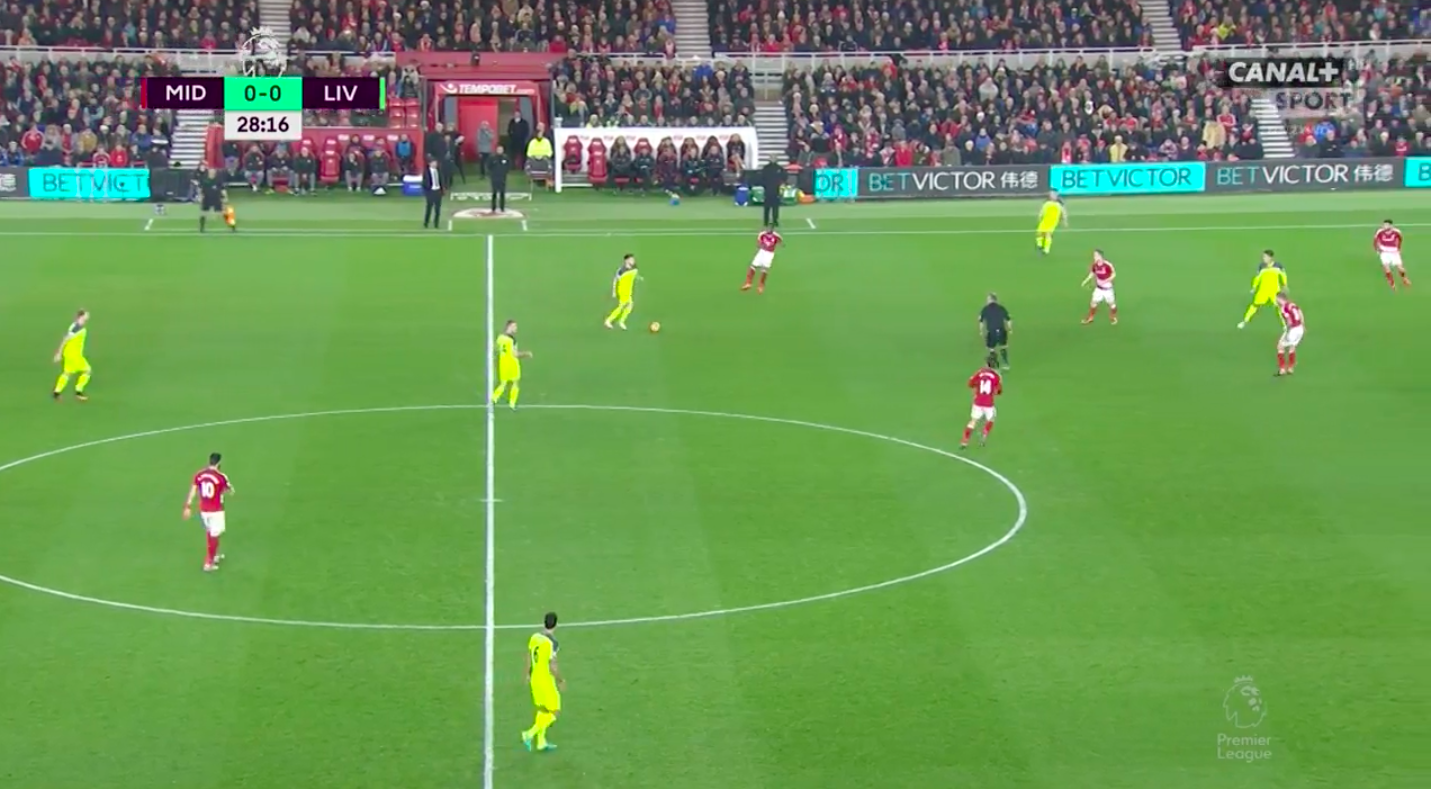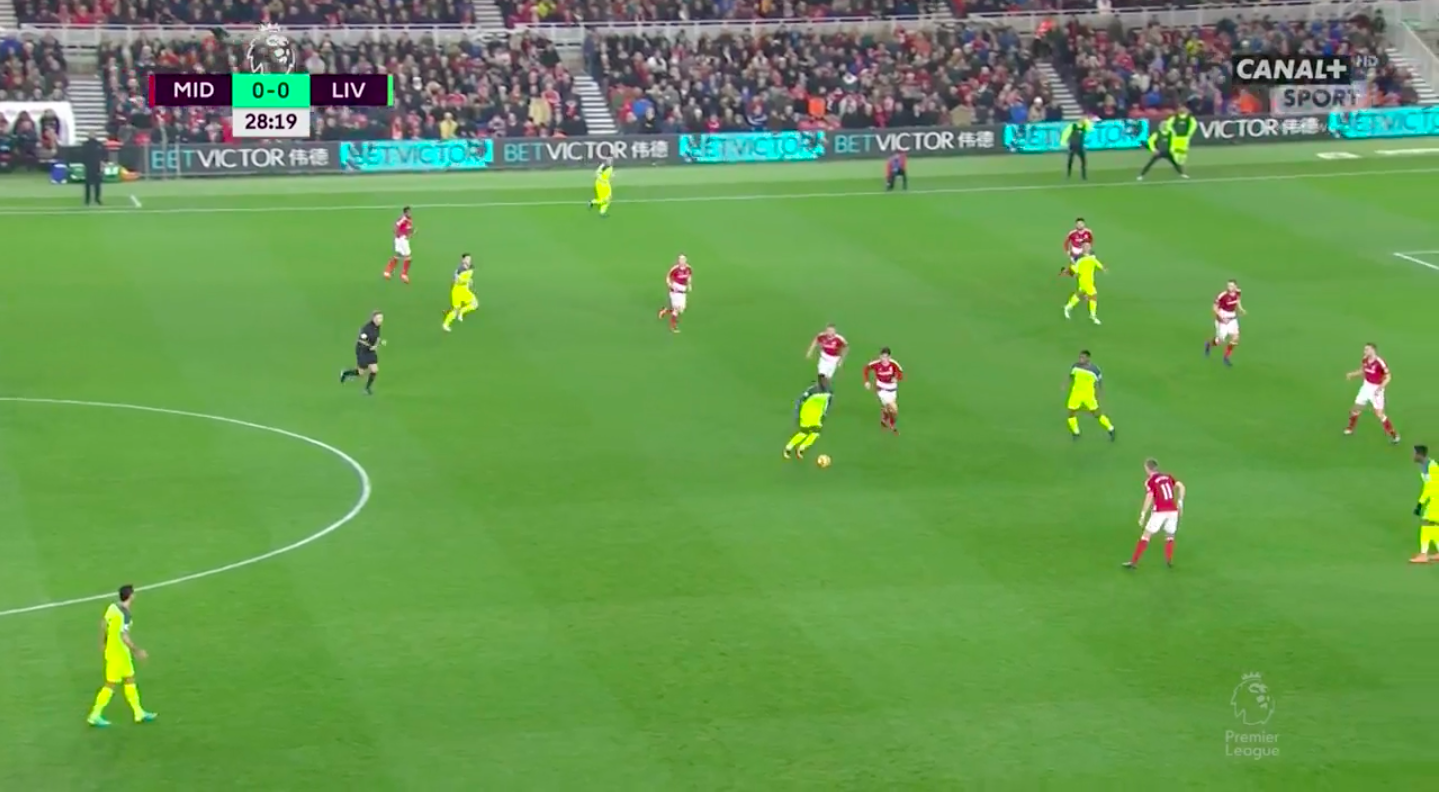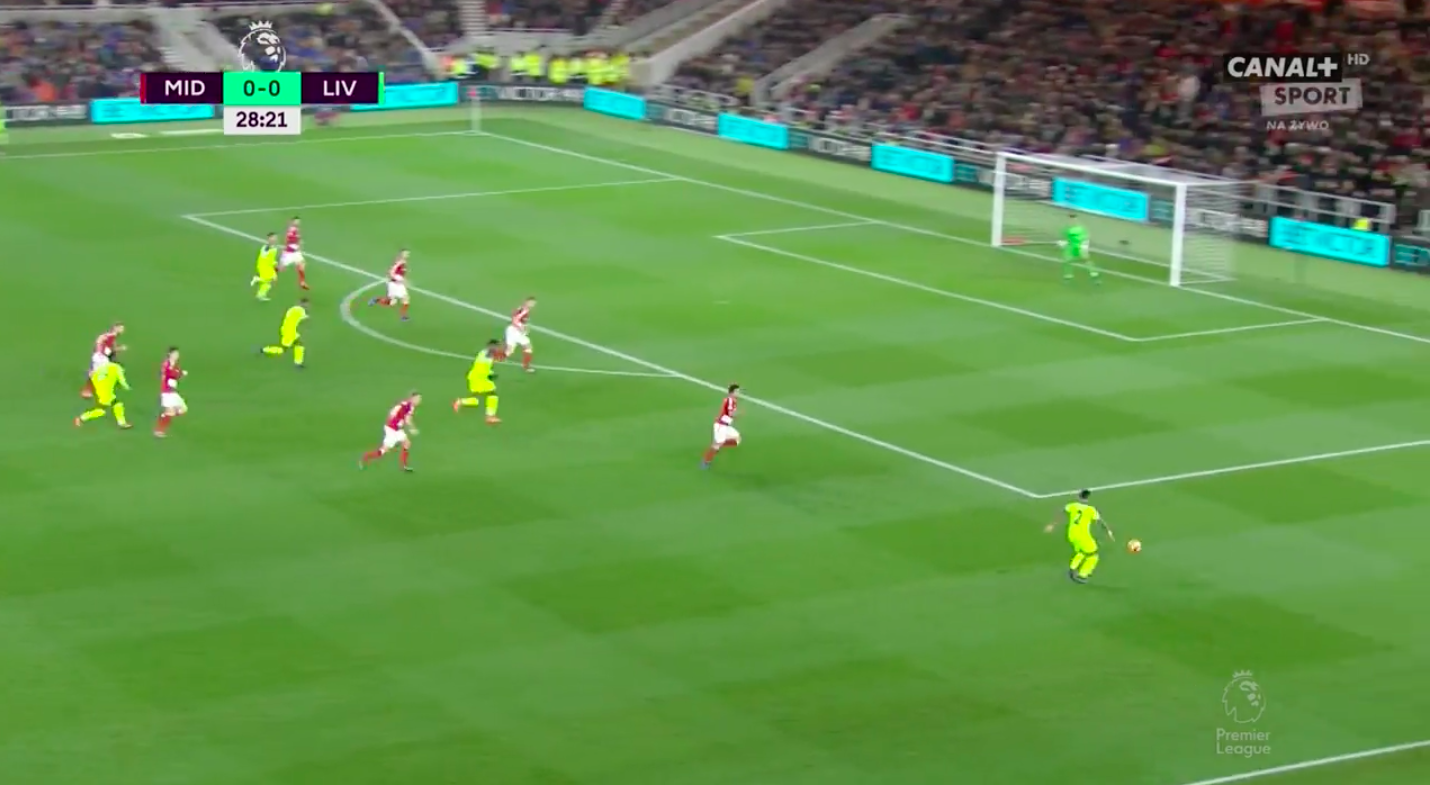 The opener against 'Boro saw Liverpool string together a twelve-pass move. Watching it in real time it's easy to get lost in the quick ball by Mane to Clyne which has the home side scurrying back, but they aren't able to prevent Clyne whipping the ball in for Lallana to head home. Liverpool again work the ball from right to left and then quickly back to the right-hand side. Almost as if there's a pattern to their play.
Klopp has shown there are many layers to his approach. Liverpool aren't just a swash buckling, all guns blazing side that many pundits would have you believe.