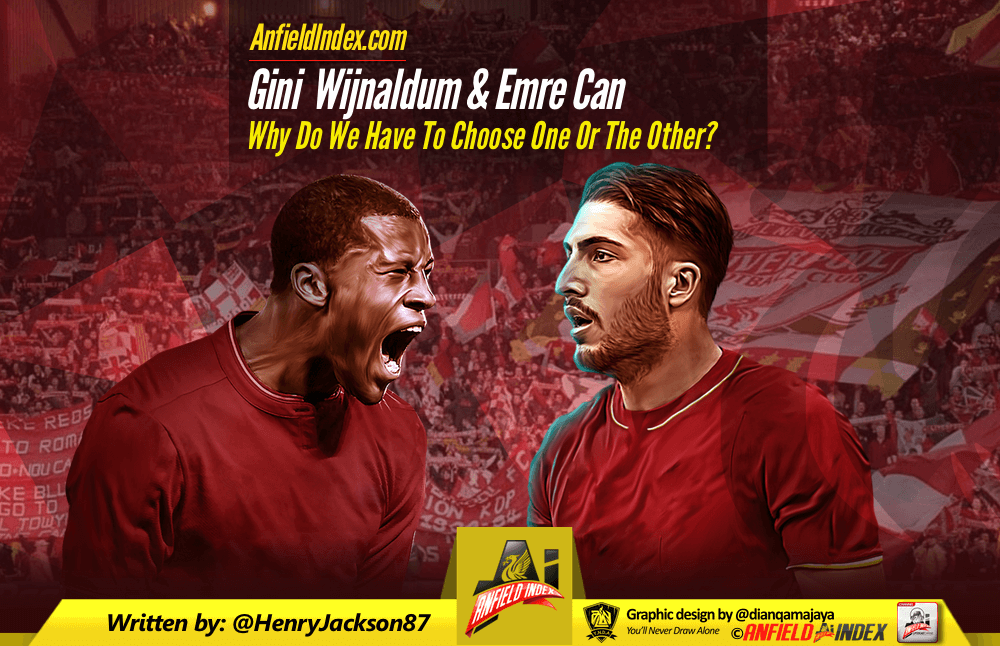 Gini & Emre: Why Do We Have To Choose One Or The Other?
Imagine not being able to love both Steven Gerrard and Xabi Alonso at the same time. Or Sami Hyypia and Jamie Carragher. That would be mad, wouldn't it? Bizarrely, however, this is the position we find ourselves in with Liverpool's current midfield generals Georginio Wijnaldum and Emre Can – two brilliant but hugely contrasting footballers.
Given the tribal nature of the modern fan, a fair chunk of supporters seem to either be on Team Gini or Team Emre, and nothing will change in that respect, regardless of what they do on the pitch.
We see this left, right and centre nowadays, of course, but this one feels different for some reason. Maybe because they are both such gems, and such likeable personalities. There is a concerted effort from those guilty of taking sides to shower their favourite one with praise, and play down and criticise everything else the other does. It is playground stuff.

There is absolutely nothing wrong with having certain players you like more than others – we all do – but once your opinion becomes blinkered, it is no longer one that can be respected. A select few actually end up being happier if one has lost possession than if they score, simply because it backs up their argument for a split-second. I know how obscene that sounds, but I genuinely believe that's the truth.
The question is: why can't both Wijnaldum and Can be adored at the same time? They are certainly both worthy of adulation.
Gini
Wijnaldum is very much a purist fans' favourite – the type of player who will not be fully appreciated by those who don't study matches closely enough. That is in no way a dig at those who don't rate him – every football-lover watches the game in a different way.
His game is built around a high level of intelligence, expert reading of the game and an ability to make everything look simple. He is also a real physical presence – something he doesn't receive enough credit for, due to his 5"9 frame. The 26-year-old has actually been a very different player to the one we were expecting Liverpool to sign in the summer, with the attacking flair he showed at Newcastle replaced by dependability and steel in the middle of the park. It would be nice to see a little more from him in the final third – he has just one goal for the Reds so far – but it isn't a major issue because of Liverpool's other attacking options.
Wijnaldum may be fairly unspectacular a lot of the time, but his importance to this Reds side cannot be questioned. He helps make them tick, and brings understated leadership qualities to a young team. The former PSV Eindhoven captain feels like a player who helps teams win trophies, much like Ronnie Whelan, Didi Hamann and other unsung heroes of the past. It is nice to see him slowly winning more admirers, with his superb display against Everton arguably his best showing for Liverpool to date.
Emre
If Wijnaldum's game is built around a slick, under-the-radar style, Can's is all-action and box-to-box. You always notice him, which can be both a blessing and a curse.
The German has suffered a disjointed season to date, looking a little rusty after injury, but his vast potential should never be questioned. At just 22 still – he is younger than Kevin Stewart, which never ceases to amaze – he has so much maturing to do, and he could become a phenomenal player for Liverpool, if they keep hold of him in his prime. While Can may sometimes be accused of lacking a brain, this is very unfair, and he has shown great discipline in 2016/17.
Barely a thing was said about his inch-perfect stoppage time tackle on Romelu Lukaku in the win at Everton, but it was a key moment that epitomised how important Can has become defensively. Minutes later, Sadio Mane fired home the winner, and Can's moment of brilliance was forgotten about.
His sheer physical frame makes him an intimidating opponent, and while he can sometimes look cumbersome, once he gets going he is blessed with Yaya Toure-esque pace and power.
Can's contribution at the other end of the pitch has also been impressive this season, with the 22-year-old scoring three times. He registered the same number of goals in his first two years at Anfield, which perfectly highlights his new-found end product.
The young German isn't perfect, and he can frustrate, but he has so many positive attributes to his game that any dislike towards him seems a little baffling.
Love Them Both
If you genuinely don't rate either Wijnaldum or Can, then that is your opinion and it should be respected. One of the beauties of football is disagreeing with one another, despite watching exactly the same 11 players run around a pitch. We all no doubt prefer one over the other – Gini edges it for me – but for there to be this strange Gini vs. Emre tussle going on within the fanbase makes no sense.
We should feel lucky to have them both in Liverpool's squad, with the duo likely to be integral players this season. The fact that one probably wouldn't make Klopp's strongest possible starting line-up is testament to the personnel now at his disposal.
Wijnaldum and Can will both have good and bad spells throughout the season – wait for their respective haters to revel in their potential dips in form – but they will contribute to Liverpool's success for the foreseeable future.
Instead of squabbling over who is better, and almost celebrating when one does something bad, we should get behind two different but very influential players.