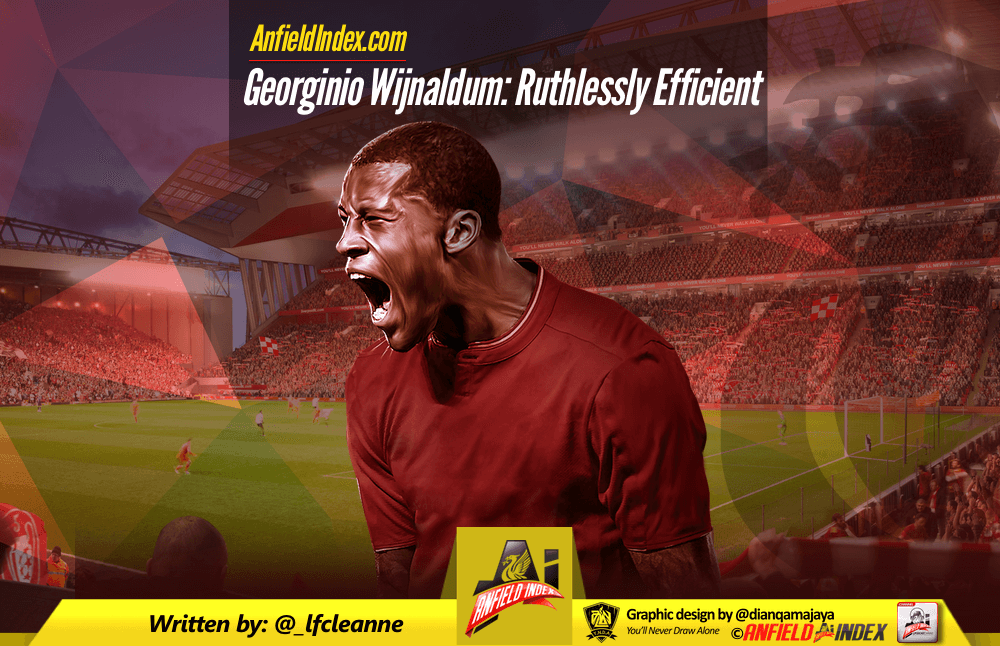 Georginio Wijnaldum: Ruthlessly Efficient
When Georginio Wijnaldum signed for a fee of £25 million, many saw him to be another attacking midfielder within the side, raising questions about what he could bring to the table given the current array of talent already at Klopp's disposal.
During his Newcastle days, Wijnaldum's form was hugely inconsistent. Dipping in and out of games, he struggled to show his qualities on a week in week out basis. However, since moving to Anfield we have seen a completely different side of the 26 year old.
It's easy to go under the radar when playing alongside the likes of Philippe Coutinho, Roberto Firmino, Adam Lallana and Sadio Mane, whose attacking prowess have placed Liverpool as the Premier League's top goal scorers. However, frequent shouts of "what does he offer the side?" are a far cry from the cohesion Wijnaldum gives in the middle of the park.

Growing in confidence, Wijnaldum makes everything look so effortless. Always willing to receive the ball in high pressure situations, he quickly dispenses it forward and sets Liverpool on the attack. He is not a high profile, eye-catching performer but he does fulfil an important role in the side.
Withdrawn Role
Dubbed as an attacking midfielder by trade, many wouldn't have expected Wijnaldum to fulfil such a withdrawn role. The Dutchman provides the decisive link between the midfield and attack, displaying solid and classy performances while remaining disciplined in his positioning.
You will rarely find him out of position, yet when the opportunity arises he will get himself in the box – as shown by his goal against Watford.
Nonetheless, Wijnaldum does need to work on his ruthlessness in the final third. There were times against Everton where the 26 year old was in a threatening position, but instead opted for the easy ball back to Jordan Henderson much to the frustration of the away supporters.
11 goals in 40 games for Newcastle highlights his ability to produce in the final third. Thus, with just one goal to his name since his summer move, it has been somewhat of a disappointment for fans not to see him contributing with more goals. I'm sure with time, it will be a more regular feature of his game.
Under-appreciated
There are some parallels to be drawn between Wijnaldum and the criticism Jordan Henderson has found himself under during his Anfield career. The ex-Newcastle midfielder's influence goes largely unnoticed amongst fans, and he warrants an awful lot more credit than what he is currently receiving.
Likewise, he is putting in the type of performances that Joe Allen did last season, but with more of a presence and drive about him. While Allen's displays won him plaudits with fans, there is little appreciation for Wijnaldum. Under-appreciated.
Wijnaldum isn't a player that will necessarily steal the headlines, but he is proving to be vital to Jurgen Klopp's side. His nonchalant playing style is a joy to watch and with only Nathaniel Clyne making more appearances so far this season, it is clear that Klopp sees the £25 million midfielder as a key cog in the side.
Gini provides a calm and collected presence to a thoroughly ruthless attacking force. While he flies under the radar, his presence in the midfield is key to this Liverpool side. It's time people take notice.