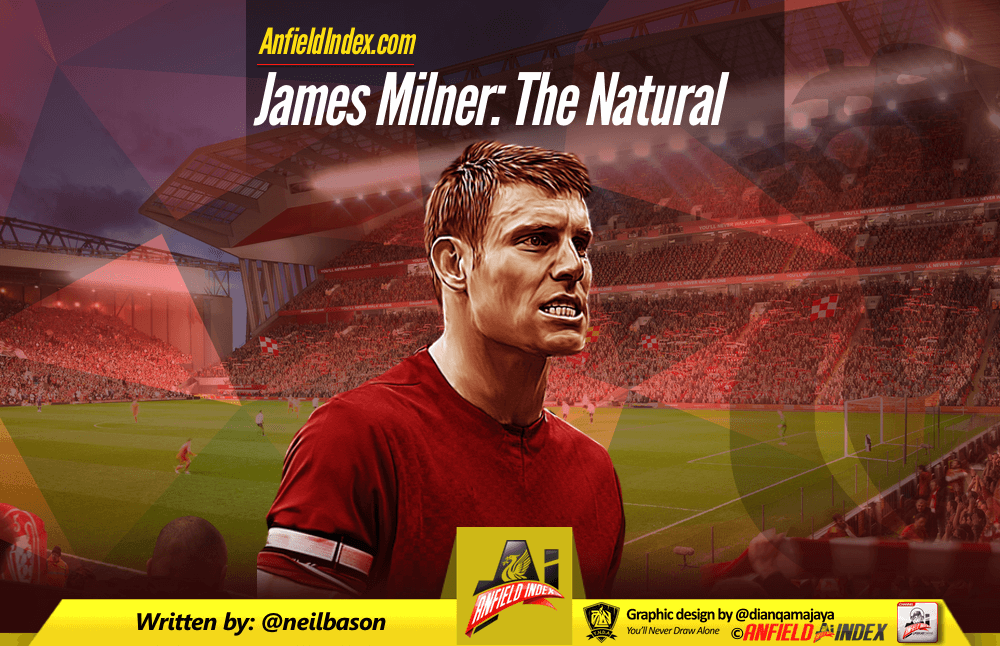 James Milner: The Natural
"I am a Liverpool player and what the manager asks me to do I will do. Ultimately, if he thinks that is the best thing for the team then I will do it." James Milner, August, 2016.
There it is. The quote that, for me, cements the fact that what we have in our experienced, tireless and ever-willing number seven is something to be treasured and lauded.
I can't imagine many other players being so ready to shift positions, particularly to one closer to their own goal, where there's a fair chance they'll be pitting their raw defensive nous against the opposition's faster and trickier players, whilst trying to stay with the defensive line, and bomb forward whenever possible for 90 minutes… at thirty years of age!
The way James Milner has taken to the left-back position is a revelation. I imagine the doubts lurking within that opening quote stemmed from personal question marks as to whether, as a player, he could do a job there as effective as he delivers in midfield. He needn't have worried. From his very first stint as the new Liverpool left-back, Milner has silenced all doubters and elevated himself into the top bracket of full-backs past.

In this first half of the season, his performances have never dipped. The determination and work ethic of the man are qualities that will always be embraced by the Liverpool faithful, and anyone having watched Milner play for even a fleeting moment will have been instantly struck by said qualities. However, the seeming ease at which he hasn't just settled into life as a full-back, but has made the transition look like something he was born to do is quite phenomenal.
There were understandable question marks about the shift. Did he have the pace for the job? Could we really attack the new season with a player seen as a 'makeshift' defender?
Yet where we are now as a club, and where Milner is as a player, make any initial doubts   laughable in hindsight.
As further testament to the measure of the man, he didn't approach this new role lightly. Milner took the time to devour hours of match footage in a bid to ensure his positional awareness improved. If only some of our other full backs had had such dedication to the job.
When Alberto Moreno arrived at the club, I'm sure like many others I thought we might have found our long term left-back. A lad who could do the basics well, and also add another element to our expansive attacking play. What followed wasn't what was expected. I've been a long-time admirer of the much maligned full-back position. Over the years I have counted Steve Nicol, Jim Beglin, Rob Jones, and even, David Burrows as my favourite red. I studied these players and the art of the defender, and the instant thing that becomes apparent about Moreno when watching him play is that he is no defender. Defender's don't tackle like that, they don't jockey like that, and they don't get caught out of position like that, or at least not that often. I don't want to lay into Moreno too much as I think he could have another role to play at the club, however, the way James Milner has shone since stepping into the position alleviated any need I felt that in the January window a new left-back was crucial.
A lot was made about Moreno as an attacking threat, and he has undoubted pace with which to threaten the opposition, but in Milner I see an equal, if not greater, attacking threat. What he lacks in pace in comparison to Moreno, he makes up for with a sharp footballing brain, a midfielder's engine and vision for the creative pass that so often unlocks a defence. These qualities in combination with the dynamism of Jurgen Klopp's brand of football mean he gets the chance to play in the opposition half frequently over the course of 90 minutes, and it's here where he obviously feels more at home. James Milner has approached the change of position in exactly the right way. Get the basics right at the back and everything that happens in the attacking third is second nature.
Milner is the player that simply goes about his business with minimal fuss and maximum effort. He sometimes makes mistakes, he sometimes does great things, but he always gets back to his feet, gets back in position and goes again, every single time.
If the season was to end today my vote for player of the year would go his way. Making an unnatural position seem like the most natural thing in the world, making me forget the blunders that have plagued the role in recent times, and making me once again take a Liverpool full back to my heart make that the easiest decision in the world.