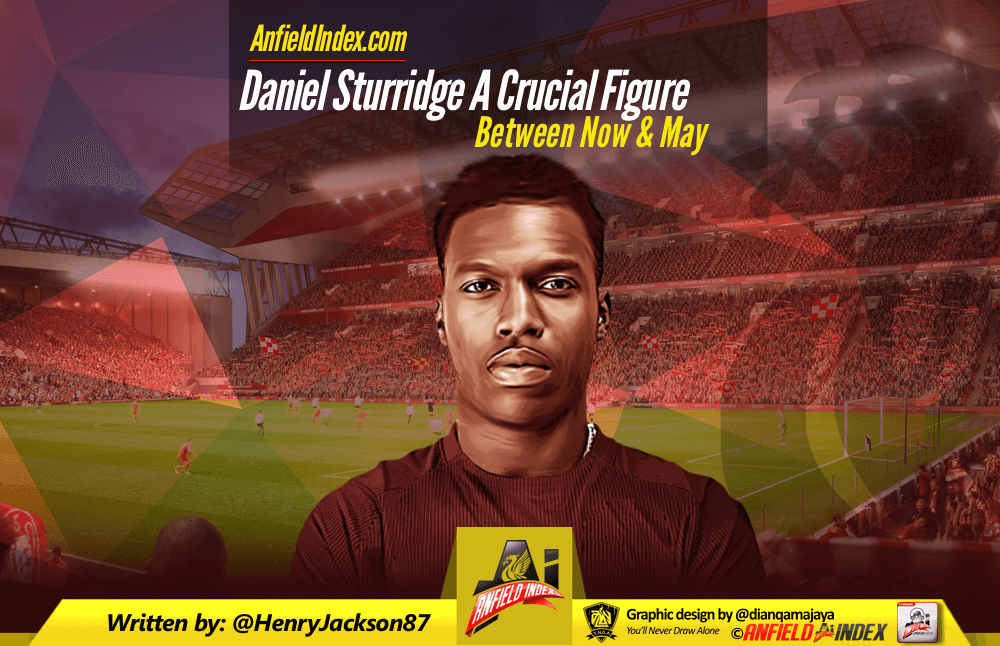 Daniel Sturridge A Crucial Figure Between Now & May
Without Daniel Sturridge, Liverpool would not have beaten Everton at Goodison Park. It really is as simple as that.
The 27-year-old was introduced late in the day at the home of the Reds' local rivals, and every time he got the ball, it felt as though something may happen.
He looked bright and unpredictable, and you sensed that he was the last person Everton's defenders wanted to see enter the fray, with legs and minds tiring.

It was Sturridge's run and shot that led to Sadio Mane firing home Liverpool's most important goal of the season so far – who else is still on cloud nine after that? – and the former's reaction to the goal was further proof that he is not the arrogant, disinterested, self-centred figure that many portray him as.
He knew what an important moment it was, and it was great to see how much it meant to him.
2016/17 has been a frustrating one for Sturridge for a number of reasons, having always been a definite starter in his first three years on Merseyside.
He has found himself kept out of the team by the majestic front-three of Mane, Philippe Coutinho and Roberto Firmino, and when Coutinho got injured, so did he. Divock Origi took his opportunity instead, scoring in five consecutive games, and it has arguably pushed Sturridge further down the pecking order.
The former Manchester City and Chelsea man hasn't had much luck in front of goal, failing to score in the Premier League to date, although four goals in as many League Cup appearances displayed his brilliance.
And this is what Sturridge is: brilliant.
He may well be the Reds' most gifted footballer, and even if you sway towards Coutinho, Firmino or maybe even Adam Lallana in that debate, Sturridge is very close behind.
When fit and firing, he is nearly as good as any striker in the league, perhaps with the exception of Sergio Aguero and Diego Costa, and someone with his class in the final third is integral to any squad.
It has become fairly clear that Sturridge is far from suited to Jurgen Klopp's tactical demands at Anfield, and this could well be his final season at the club. A player of his ability deserves to be playing every week, but he can't have too many qualms about that not happening at Liverpool.
That doesn't mean he can't play an enormous role between now and May, though.
As legs tire, key players drift out of form and certain matches call for certain starting line-ups, Sturridge is going to feature heavily. That is, of course, assuming he doesn't yet again fall foul of the injury woes that have blighted his career since 2013/14.
He can unlock a defence like few others, and in terms of finishing, he is far and away the best that Liverpool have in their ranks. If a chance felt to anyone on the final day of the season, with the Reds a goal away from clinching the title, Sturridge would be the go-to man by far.
Origi may suit Klopp's style better, and is a great young talent, but ask opponents who they would rather face out him and Sturridge, and there is only going to be one answer. Similarly, opposing fans watching him are filled with similar levels of dread whenever he has the ball at his feet.
If the Reds are going to win the Premier League title this season, there are going to be moments when some individual class makes all the difference. Sturridge did just that at Goodison Park, and he will do it again.
His detractors will no doubt claim that it was "a scuffed shot that was lucky to hit the post", but he had the belief to take on a man and try his luck from distance, in the final seconds of a Merseyside derby. He never shies away, contrary to some of the nonsense written about his mental game.
The 2-2 draw at home West Ham could easily have been different if Liverpool had had Sturridge available from the bench, but alas, he was injured. In the goalless draw at Southampton, his brilliance should have seen Nathaniel Clyne score a late winner, but the right-back headed wide.
So much has been written about how divisive Sturridge is, both as a player and a person, which remains a real mystery.
Yes, he might not be as warm and instantly likeable as someone like Coutinho or Lucas Leiva, but you only have to see how highly the youngsters think of him to realise what a team player he is. He is forever acting as a mentor to them, and he did the same with Raheem Sterling and Jordon Ibe when they were at Liverpool.
He is a naturally self-confident person, especially when it comes to rating his own footballing ability, but when was that such a crime? Great players have giant egos – some just hide it better.
The England striker deserves so much love from the Liverpool fanbase – 57 goals in 104 injury-hit appearances is some record – and he will play a far bigger role between now and May than many are predicting.
He sprinkled some magic onto Liverpool's performance against Everton, and without him, they would now be even further adrift of Chelsea at the top of the table.
With everyone fit and on top of their game, it is still hard to find a place for him in the team, but if you think a fit Sturridge won't contribute in the coming months, you are about to be pleasantly surprised.
Enjoy his brilliance before he has moved on to pastures new.