 Two Sides of Klopp - Part Two: Pace
For all that he's done throughout his career there are still people who believe Jurgen Klopp is a one trick pony. There's a misconception that his playbook had just the one page; the blitzkrieg approach. Pundits and media alike questioned the long-term viability of it because teams who sat back reportedly nullified it. After a few questionable performances it was confirmed*. Jurgen Klopp had been found out. He'd been exposed. His recipe for success was exclusive to the Bundesliga. The Premier League was too good to fall into the trap.
But then Klopp, after having the team for a pre-season, showed he's in fact one of the most versatile coaches in world football. Liverpool are second in the Premier League and have come up with solutions to defeat any and every team/tactic in the league. Go toe to toe and play football against Liverpool and they'll decimate you with their pace in attack and quick transition play on the counter attack. Sit deep against the Reds and they'll work the ball around until an opening appears and they strike. In this piece we look at how the former has been effective as of late.
Talk after the derby was about how Everton flew out of the blocks and looked to pin Liverpool back. But in all honesty, did Everton ever look in control or was it just wasted energy? Pressing isn't just running as so many pundits seem to imply. There's an intelligence that many teams are yet to master. Liverpool controlled the entire 90 minutes. They used Everton's eagerness and lack of pressing intelligence against them and showed brain beats brawn.
The Counter against Everton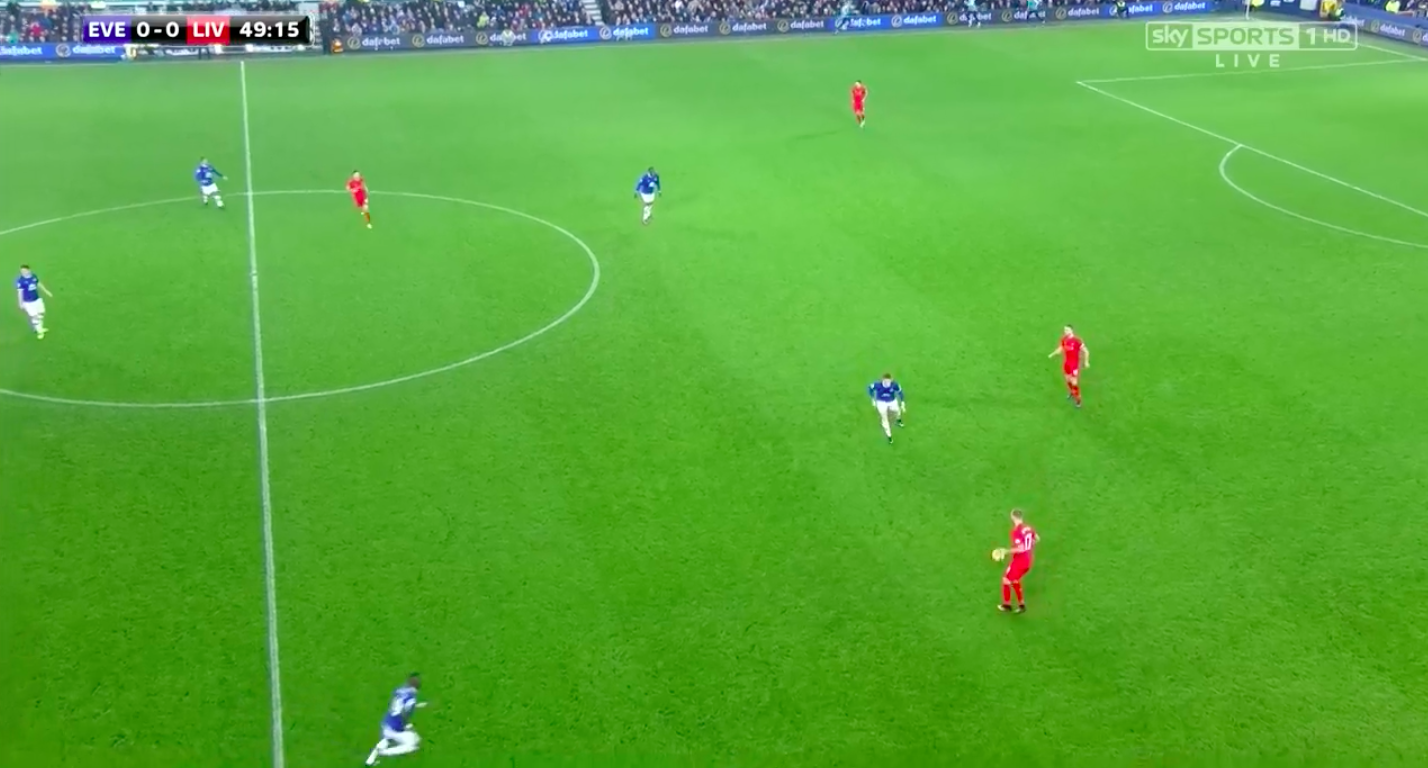 Liverpool are looking to build from the back. Jordan Henderson has dropped between the two centre-backs to make it a back three. Everton look to press. Ross Barkley vacates his centre-midfield position and tracks Henderson. Enner Valencia then breaks from his right midfield position to shut down Klavan. The Estonian has a simple pass on though because Barkley isn't where he should be.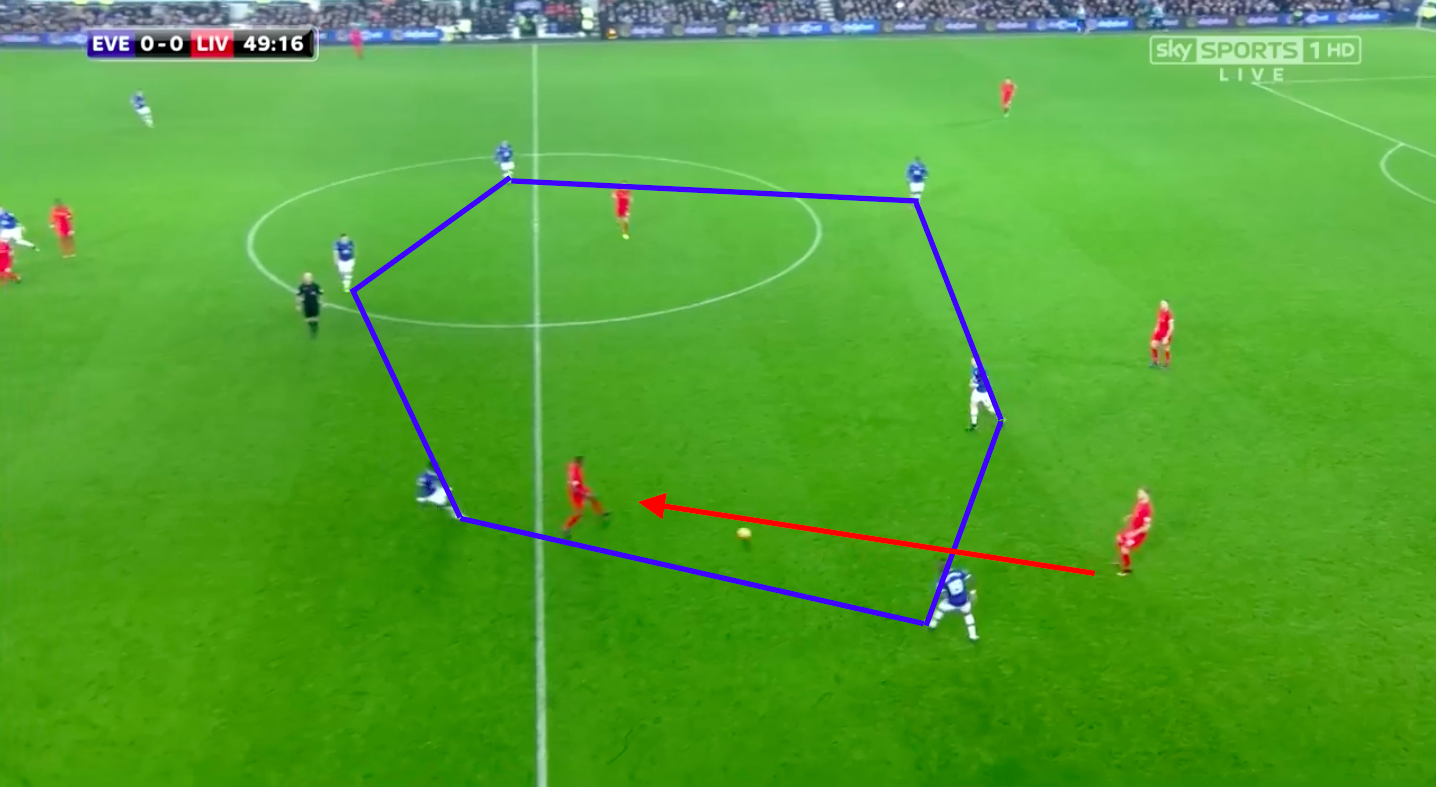 Gini drops into the vacant position in midfield with Gueye following. As you can see from the picture above Everton have six players 'pressing' but they're all a little out of sorts because they're not blocking off any passing lanes. So it's simple for Liverpool to play football. The home side have been teased into pressing higher up which opens up the space for Liverpool.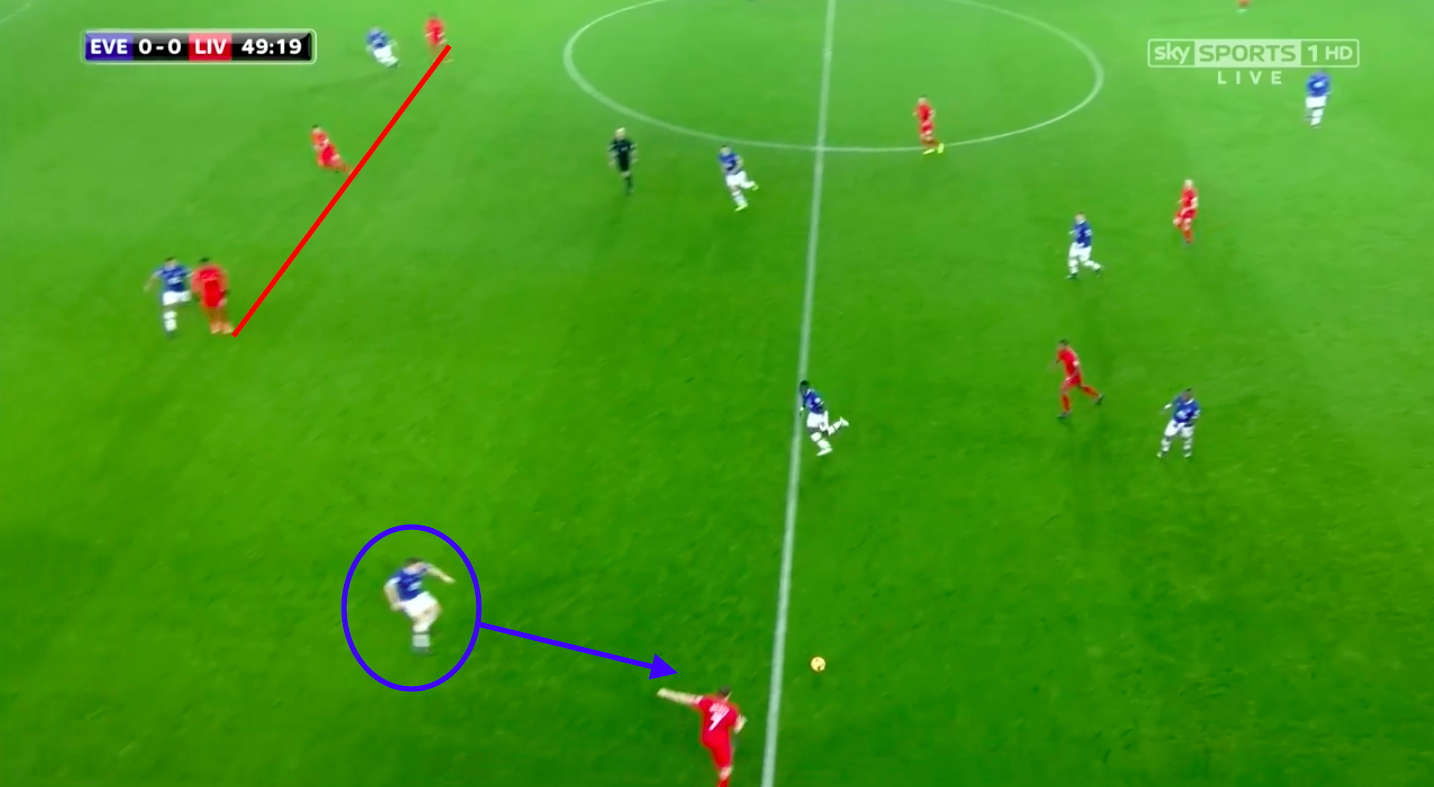 Gini plays the ball to Milner who is able to hit a first time ball to the Liverpool attack who, because of the dodgy pressing, are 3 vs 2 against the defence. Coleman has been forced to shut Milner down but can't make up the ground. Valencia was off pressing Klavan and Gueye tracked Wijnaldum. The Everton defence pushed up in relation to the press and there's now space in behind for the pace of Mane, Origi and Firmino.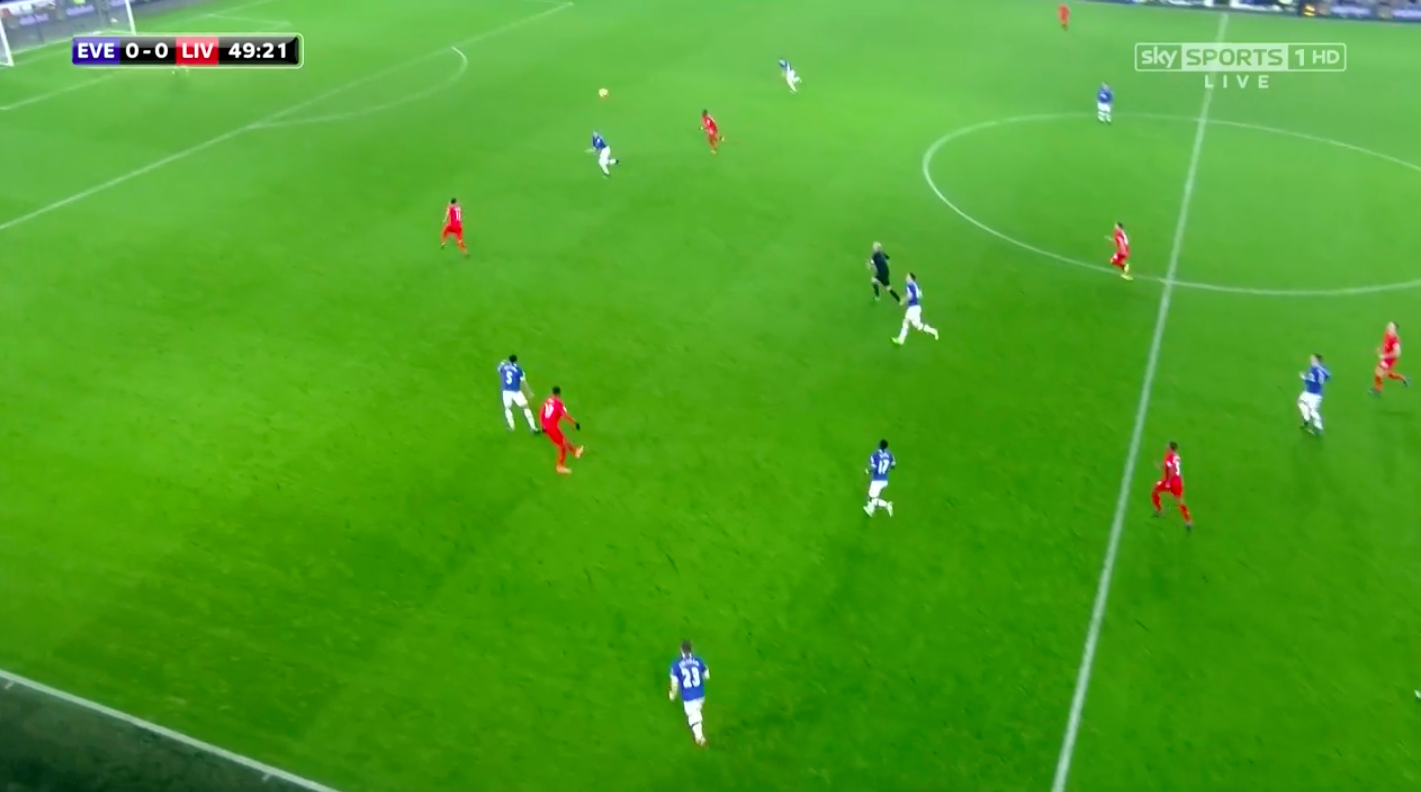 It's not usually something associated with Liverpool but one long ball over the top and they're in on goal. Firmino should probably score but sees his shot saved. But this all came about after Liverpool exposed Everton's brainless press.
Against 'Boro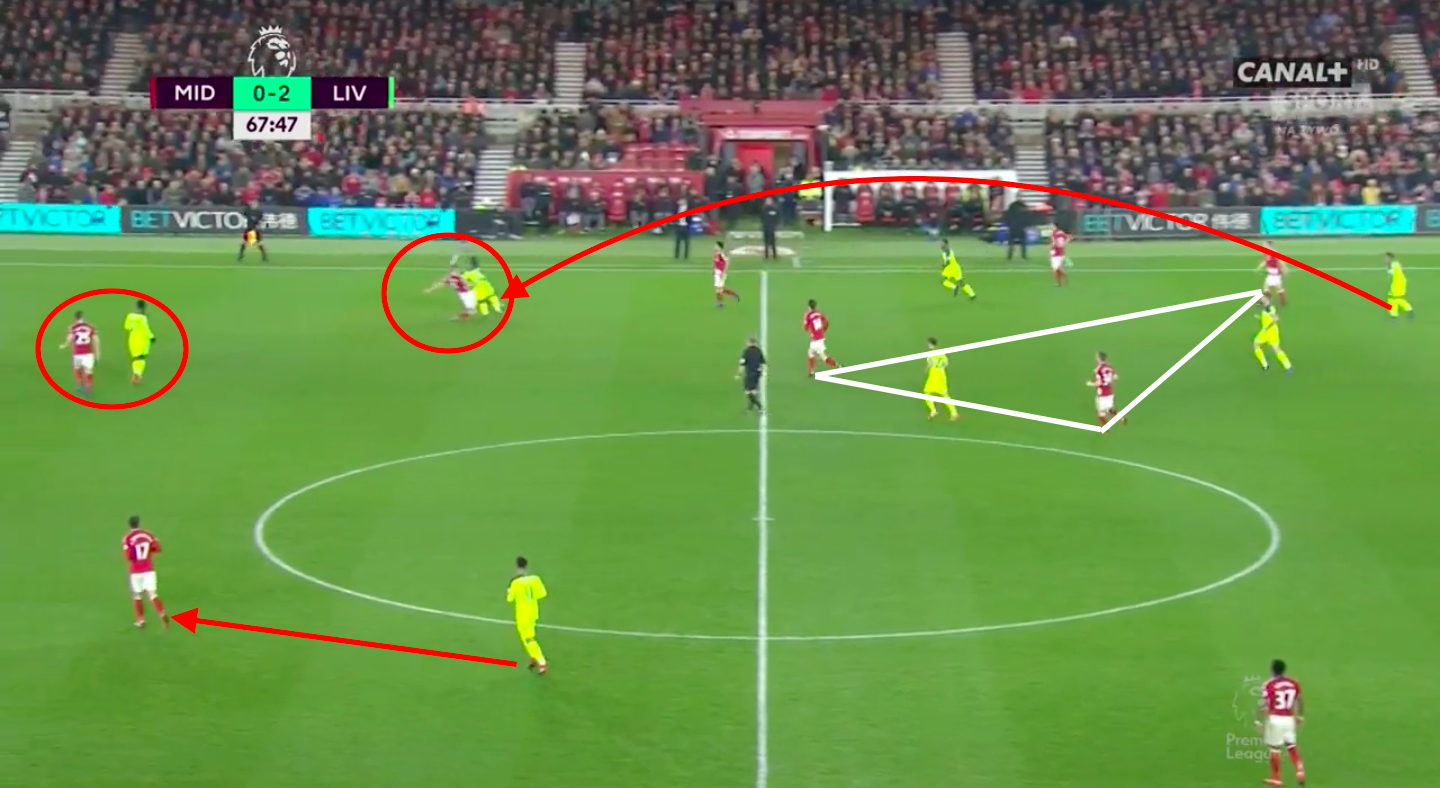 The Middlesbrough centre-midfield is linked by a triangle. They've attempted to press Liverpool and in the process left Firmino, Mane and Origi against Chambers, Gibson and Barragan with the entire half to run into. The trio of 'Boro players get drawn to the ball and push up in an attempt to regain possession in the Liverpool half. However, a lofted pass from Clyne takes their entire midfield out of the game and Liverpool are immediately on the attack. Mane skips away from the Gibson challenge and races into the space.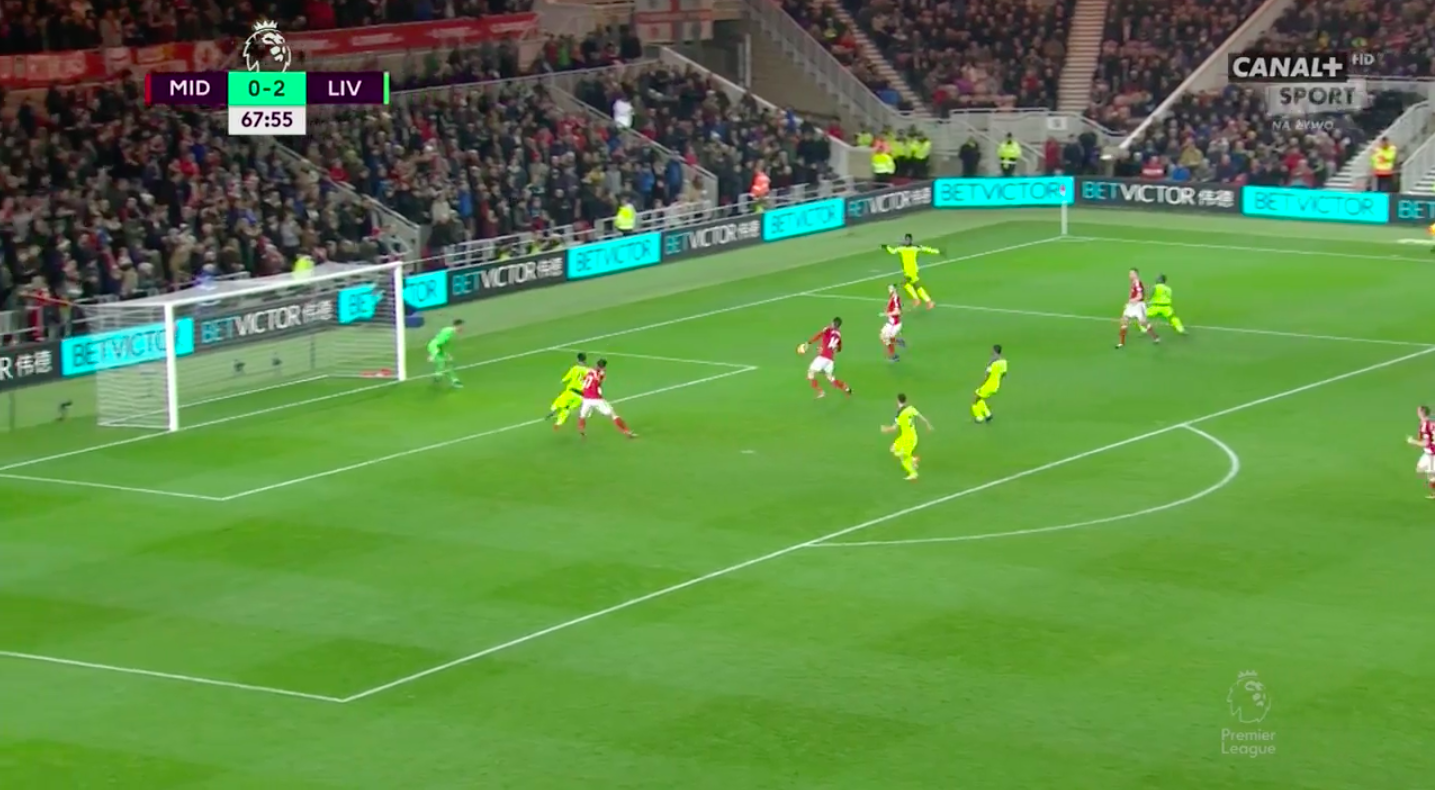 Mane plays in Origi who finds himself in a lot of space in the area. The Belgian then fires the ball across goal for Adam Lallana to tap home. Look how many LFC players are in the box and look how much room they're all in. That's the beauty of a counter. It also shows how flexible these players are. From possession-based football to counter in the blink of an eye. Liverpool sucker teams into pressing and then they blitz them. Klopp's not been found out. He's evolved.