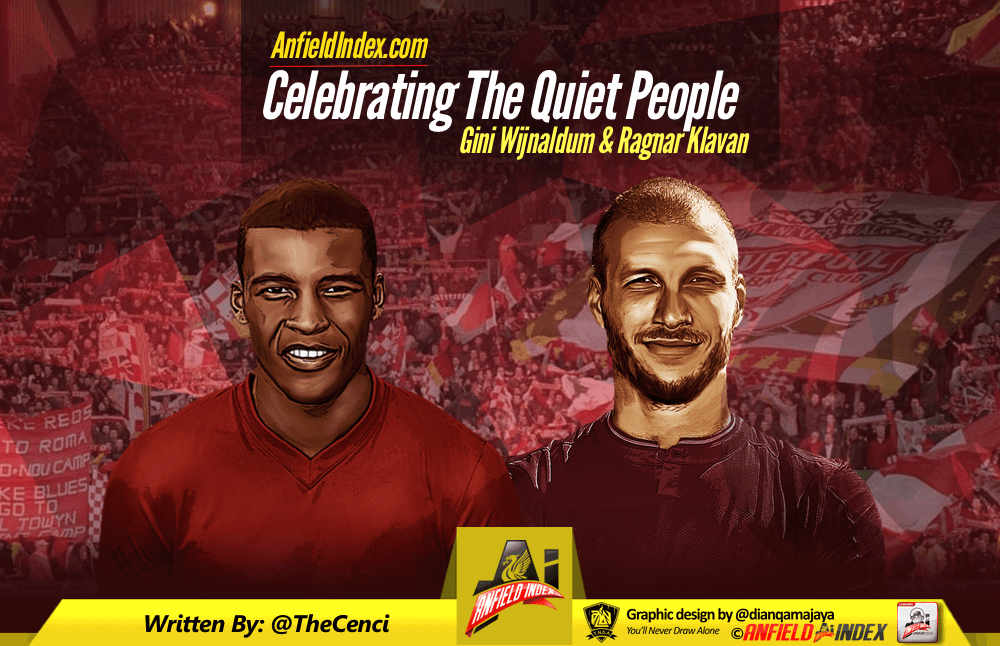 Celebrating the Quiet People: Wijnaldum & Klavan
The recent victories against Middlesbrough and Everton have thrust the usual names into the spotlight. Adam Lallana took the headlines in the North East and, a few days later, fans of both colours were all about Sadio Mane, either with a deep, nourishing love in their hearts or with a 'jammy redshite bastard' tone.
I'd like to drag these stars from the stage for a minute and focus on those in the background. It's Christmas after all. Share the wealth.
For every Mane there is a Gini Wijnaldum quietly operating behind him. For every Joel Matip moment of cool assurity there is a background member of the coaching staff throwing balls at him and trying to kick him
Let's go back in time first.
Think back to 1986 if you have sufficient years with which to do so. It's easily one of my favourite seasons and living those days as game followed game and tension built on tension with a mixture of a joy and panic was unforgettable. We won the Double. They nearly won the Double but didn't. I'm still nervous about it now, thirty years later.
With any mention of the Double winning side you're probably thinking of the famous images of that campaign. Maybe it's Kenny bringing the ball down and leathering it in at Stamford Bridge to give us the League or Rush knocking over the camera in the goal at Wembley. Others with darker minds may recall Brucie diving over a Kevin Ratcliffe pea-roller at the Anfield derby or the awful games we played at the start of the season which left the lads needing a miracle to catch Everton and West Ham.
That season was full of heroes. Hansen captaining the first Double winning side in decades. Kenny becoming the only player-manager to do so and in his first season, Molby's penalties or the mercurial Rush scoring about 285 games in the last ten games. Or something. Kenny's grin, Craig Johnston's bunny hop on the Wembley turf and trophy and trophy.
How many of you thought of Kevin MacDonald?
Actually, how many could pick Kevin MacDonald out of a line-up?
And yet the midfielder was integral to the run-in that saw the Reds take 34 points from the remaining 36 to defeat Everton in the last minute. Again.
The Scot made 25 of his 40 appearances that season, scoring just three goals. It doesn't sound much, does it? A bit part player who eventually lost his place to Steve McMahon yet still took his place on the pitch in the 1986 Cup Final.
This isn't just my view. Kenny Dalglish never tires of singing his praises and often states that he was as important as Rushie and Hansen. This was not necessarily shared by the fans. Joe Fagan bought Kevin to replace Graeme Souness. A bit like replacing Suarez with Balotelli -an impossible job – and while he got around the pitch he could never live up to that billing.
Still, we won two trophies and Everton didn't. The players and staff knew what he did even if we didn't.
Background players are vital and it's often the uncelebrated player who are applauded everywhere but the terraces.
A modern comparison would be Ragnar Klavan. The Estonian was torn to pieces at Turf Moor back in August, but hasn't put a foot wrong for the Reds ever since. It didn't start well for the lad and when Jurgen puts the 5' 8" Lucas at centre back ahead of him, you start to wonder just where Ragnar gets his game.
But has there been any caterwauling from him? Has his agent moaned? Has he issued a 'come and get me' plea to anyone? Nope. He's simply waited for his chance and taken it wonderfully. A possible man of the match candidate in his first derby and a wonderful Cruyff turn at West Ham when everyone and everything around him was going nuts.
And yet it's Joel Matip who is lauded from all quarters – quite correctly, of course. I'm considering naming my house after him – rather than the unassuming 31-year-old. Klavan is just as important to the Red cause but seems to be happy for his team-mate take the curtain calls.
It may not be the same thing as he wasn't cheap but Gini Wijnaldum has a similar serenity. His role is an unglamorous one compared to his midfield colleagues, but we've missed him when he's not been there.
I'm aware that Anfield Index began life as a stats site, but I've never been a fan of such things – preferring to watch the game rather than count it, but a central midfielder leaving the pitch with 96% passing completion in a winter Goodison derby is frankly incredible. With tackles flying in all over the place, a team looking to constantly get on the front foot and a hostile crowd calling them all sorts and the lad still gives a performance like that. Yes, we all went mad when Mane scored and loved every Red soul on the pitch but it's the Dutchman's work rate that makes at least some of that possible. Emre Can lets you know he's on the pitch. Gini Wijnaldum plays silently like a cog in a machine.
He might be young fans' seventh or eighth favourite player but here at Matip-Wijnaldum Towers, he's ranks much higher.
My favourite player of all time is the shyest of men. The Liverpool legends of Dalglish, Keegan, Smith, Hughes and Souness etc. were all loud on the pitch and not scared of a camera, but they would have won fewer trophies had it not been for the work of Ray Kennedy.
The same is true of the background staff. Rafa's Liverpool were never the same when Pako Ayestaran left and I get the feeling that Jurgen Klopp's power would be diminished slightly should Zeljko Buvac look elsewhere. He's certainly hugged a lot by the first team players at the end of a game. I'm a big fan of Buvac. Mostly because he looks like a Serb Poldark. He just needs a massive white open-necked shirt and a moody stare across the Cornish coast.
Our background staff have always been vital and publicity shy. Men like Roy Evans, Reuben Bennett and even Bob Paisley just got on with their jobs and were often more important than the lads on the pitch. Ronnie Moran is just about my favourite Red of all time and he encapsulated the unassuming approach. If I had to describe the personification of my particular strain of Redness it would be Ronnie. Absolutely love him.
So, while Sadio, Philippe and Roberto get the headlines let's remember that they are nothing without the machine acting behind them.
So, Lucas is great. Leave him alone.
Have a good one.