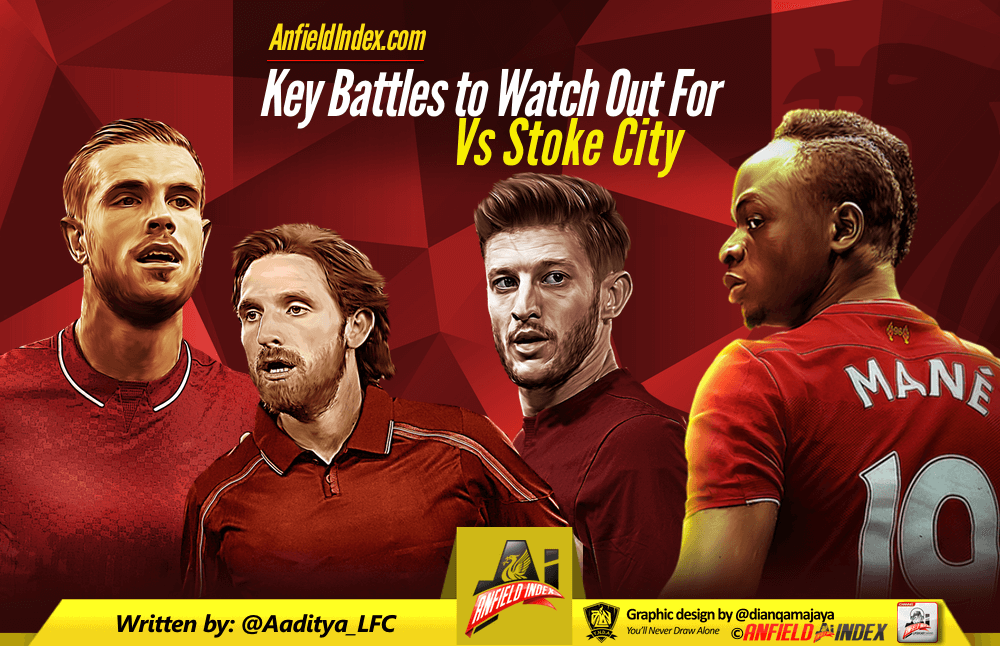 Liverpool v Stoke City Preview: Key Battles
For the first time in six years Liverpool don't play a game on Boxing Day. In 2010 it was only because bad weather didn't allow a game at Blackpool, that the Reds not play on 26th December.
But this time the revenue and the money from television has given the fixtures a spin, and the tradition of all ten teams playing on Boxing Day has been discontinued.
Instead, the Reds welcome Stoke City to Anfield on the 27th, in the first of three games they will play in seven days. Liverpool head into the game full of confidence after they snatched victory in injury-time in last week's Merseyside Derby.

Daniel Sturridge is back and so is Emre Can. Philippe Coutinho and Joel Matip continue to miss out for Liverpool.
Here are some key individual duels that will decide the outcome of the game.
Adam Lallana v Glenn Whelan
Lallana will be our most important player in this game. He was ineffective in the derby, but that is just down to some games being less suited to a certain style of play.
The general scrappiness of the derby meant that Lallana could not get on the ball and actually set our attacks away. But this is a game in which he must stamp his authority.
There aren't many better sights in the Premier League right now than when Lallana is weaving his way through defences and getting into some stunning positions.
Weaving his way through and using his skill, he has done a lot before, but now, he is using those tools to get into positions where he can score or assist goals.
Whelan has been a wonderful servant for Stoke and he will be the one tasked with stopping Lallana. When Lallana drifts to different sides on the pitch, Whelan will have to track his run as the Klopp plan will always be to get runners going forward from midfield and overloading the penalty area.
Sadio Mane v Erik Pieters
This will be the first of Mane's last stretch of Liverpool games before he heads off to join his Senegal team-mates for the Africa Cup of Nations after the game against Sunderland on January 2nd. His confidence will be sky-high after scoring the winner in the derby.
Largely, he was our best attacking player on show at Goodison. He was elusive, used his strength and as always, his biggest asset was his sheer speed. What also stood out was the hunger.
Once Daniel Sturridge's shot trickled to hit the woodwork, Mane was on the move, anticipating the rebound and eventually gobbling up the opportunity, but getting into such positions in itself is an art.
Pieters has been one of Mark Hughes's more important players and he has made the left-back spot his own, staving off competition from Marc Muniesa and Phil Bardsley.
In recent weeks, Pieters's marauding forward runs have been a feature of Stoke's play. But at Anfield, the task will be more about doing his primary duty – to defend against the opposition winger.
This time, the opposition winger in question is one in red-hot form and there is little doubt that Mane will want to sign off with a bang before he goes away on international duty.
Jordan Henderson v Joe Allen
Together, the pair have probably taken more stick from Liverpool fans than most other players. Allen left Liverpool in the summer and playing in an advanced midfield role, has been racking up the goals.
The Welshman has five Premier League goals this season – more than he did in the entirety of his three years at Liverpool, as he seems to have found a new lease of life in the no. 10 role.
He will come up against a familiar face in the opposition midfield. Henderson too, though, is playing a different role to the one that he did when Allen was at the club.
He is the deepest-lying of our midfielders and he screens the back four rather well. Henderson's biggest asset is that he can run all day; he has had to curb that given the fact that he is playing in a position that requires more tactical discipline than most other positions on the pitch.
There is a criticism being levelled against Henderson that he doesn't pass the ball forward enough – sounds familiar eh, Joe?
But that is his role in this team. He is there to break up the opposition's play and play the simple passes to the more creative players like Lallana and Roberto Firmino. He has done that perfectly so far this season.
For Allen, his intelligent pressing is well-known around Anfield and that will be important as he will look to stop Liverpool building from the back through Henderson.