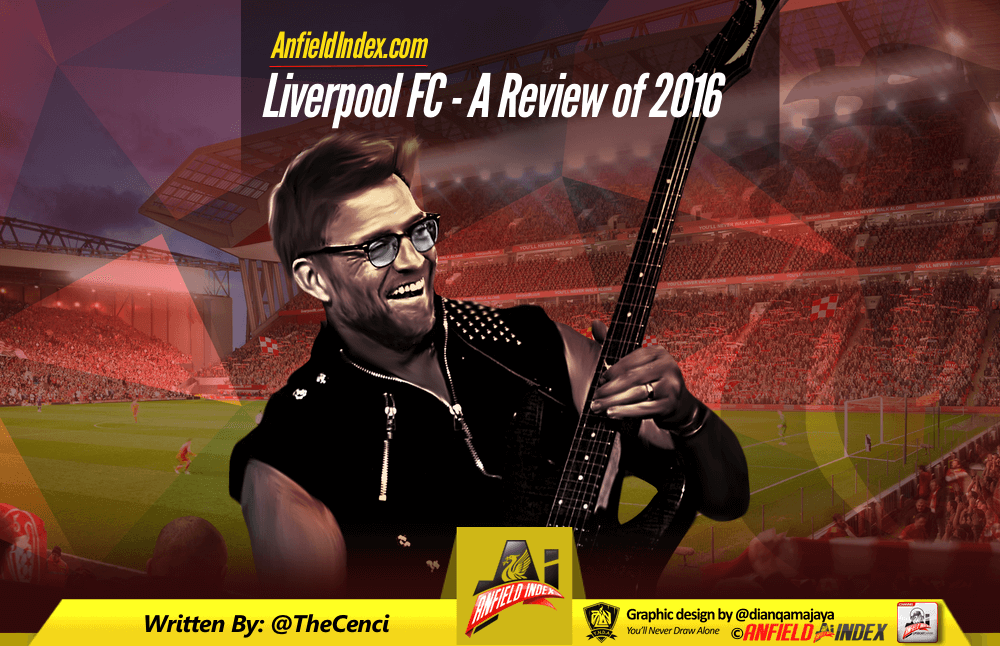 Liverpool FC - A Review of 2016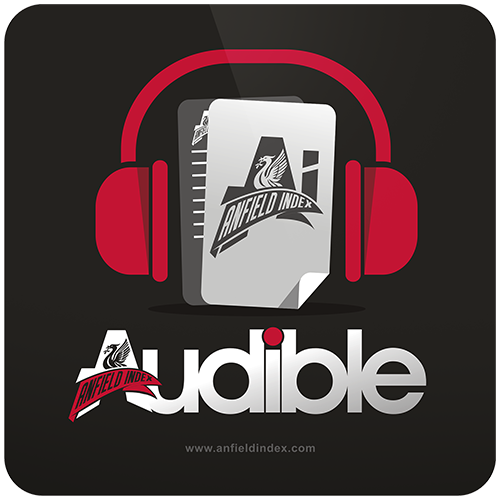 Listen to this article via @AIAudible !
With another trip around the sun completed and the festive period behind us (by the time you read this), let's look at the Red year and see exactly what we have and haven't learned.
January
A brand new year lay ahead. A time for renewal and rejuvenation. A chance to draw a line under everything and begin again with the fresh wash of a new year across our backs.
It took ten minutes for Liverpool to concede a goal and another eighty before we lose our first match of the year as West Ham bully the Reds at Upton Park.

A few days later, we chalk up a 1-0 win at the Britannia in the League Cup semi -final where Liverpool run Stoke all over the park. There's heavy competition for a place in the injury room as Coutinho and Lovren pull their hamstrings and Kolo Toure doesn't look too clever come the final whistle. We lose the second leg but go through on penalties.
The FA Cup is next and the BBC are desperate for a story as we face Exeter on a cold Friday night. They nearly get one too as we go 1-0 and 2-1 down before Brad Smith earns a replay. My mate Andy's Dry January lasts just eight days. Happily, the Reds win the replay.
The strangest game of the season comes at Carrow Road where Adam Lallana scores a winner with a mishit shot that takes lots of bounces and three years to go in to earn a 5-4 win. Jurgen knackers his glasses in the celebration. This will become a theme.
The United and Arsenal games are disappointing. The Gunners score from a poorly defended cross where three players lose headers in the Liverpool box. The Reds come back to earn a point thanks to Wee Joe. Roberto Firmino scores his best Liverpool goal.
Rooney scores from United's only shot on target as we fall at home to them again. We draw West Ham in the Cup and play out a goalless draw.
Elsewhere, Andre Ayew is hideously overlooked in the Queen's Honours while Leicester are 13 points ahead of Liverpool. These two things may be related.
February
We lose the FA Cup replay to West Ham in the last minute but the Europa League is back. We beat Augsburg 1-0 on aggregate in one of the dullest home games ever witnessed. Their Estonian centre-back looks good though.
We batter Aston Villa 6-0 but only take a point at home to Sunderland. The latter game is only secondary as many fans left the ground after 77 minutes in protest at planned ticket price increases. FSG eventually back down and a plan to 'Clap on 77' to thank them is mercifully shouted down by a volcano of laughter and derision. Thanks for not ripping us off, lads.
Earlier this month, the Reds are battered by Leicester who look like, well, champions on a freezing night at the KP Stadium. My mate orders a brioche bun with his burger before the game and hasn't lived it down since. Cobs not brioche. Bloody wools.
Liverpool lose the League Cup final thanks to some shocking penalties. City are no great shakes and we batter them in the League the following week where Jon Flanagan kicks Sterling up in the air and is hugged by Jordan Henderson for doing so.
March
We win at Crystal Palace and comedian Mark Steel blocks both The Runner Podcast host Sachin Nakrani and I on Twitter as a result when we remind him that the term 'thieving Scousers' isn't quite the lexicon of a left wing man-of-the-people comedian. We lose at Southampton despite being two goals up before someone called Sadio Mane comes on and turns into Sadio Mane. The main topic is the two games against Manchester United in the Europa League where we drub them 2-0 and hold on for a 1-1 draw at their place. Philippe Coutinho edges closer to deification.
April
Divock Origi has the game of his life in Germany as the Reds draw with Borussia Dortmund before the Redmen ease past them with a comfortable 4-3 win at Anfield (work with me on this one. I still haven't recovered). Dean Lovren shoves a million insults up a million arses as he nets the winner and breaks the world high jump record seconds later. Elsewhere, we annoy Spurs by holding them to a draw and beat Bournemouth.
The Anfield derby comes and Mamadou Sakho performs his final good deed for the club in a 4-0 win. Everton's Flores Mori gets a red card for common assault on Origi at 2-0 and pumps his chest in what is the most Everton thing ever performed. I bet your team mates were elated at playing for 40 minutes with ten men with Coutinho running them to pieces, mate.
Another European final awaits in a magnificently inappropriate stadium as the lads see off Villareal despite losing the first leg. Emre Can having a stormer.
May
Liverpool beat Sevilla 1-0 in the Europa League thanks to a Daniel Sturridge wonder goal. Victoria Coren invites me to dinner and Jurgen calls to tell me that it's time I took the number 8 shirt.
Leicester win the league but the main stat belongs to Aston Villa's Jack Grealish, who started 16 games that season and lost every single one of them.
June
Hopes are high at the 2016 European Championships in France when England are drawn with Russia, Wales and Slovenia. The Three Lions manage to get out of the group thanks largely to a late Sturridge winner against Wales. Manager Roy Hodgson decides to spend the day sightseeing in Paris instead of watching next opponents Iceland and later claims to 'have been lulled into a false sense of security.' The inevitable happens and Roy falls on his sword with a statement he knocked up in the dressing room before the press conference. England appoint Sam Allardyce and nothing can go wrong there.
July
Liverpool buy lots of boss players as they ready themselves for next May's inevitable title win. They also go on tour and meets lot of fans who are dead happy and smiled and sing a lot.
August
Liverpool kick off with an incredible win at the Emirates as Arsenal are torn to pieces by Coutinho, Mane and, unusually, Lallana. However, we're dragged down to Earth with a defeat at Burnley where Andre Gray, whose praises I've sang for two years, bites me on the arse and scores. We hammer Burton in the League Cup where the travelling Kop are allowed to stand! A draw at Tottenham follows. James Milner takes over from Moreno at left-back and looks a) great and b) knackered
September
Bring on the Champions! And then send them back with their tails between their legs. Lucas already claims the assist of the season. Jordan Henderson beats Chelsea on a Friday night and Hull are dismissed 5-1. Derby County too are annihilated where even Ragnar Klavan scores.
Sam Allardyce is sacked as England manager for buying a pint of wine.
October
Liverpool win every game in October apart from against a Man United side who start well and then hang on for a point. We win 4-2 at Crystal Palace and Alan Pardew blames the referee for giving us a penalty last year when Christian Benteke was fouled and netted the pen. The Dad Dancer forgets that Benteke now plays for him. Progress in the League Cup continues with a fine performance at home to Spurs where Daniel Sturridge shines.
November
Watford arrive at Anfield and try to play a high tempo game. They're 3-0 down at half time. Gini Wijnaldum scores his first for the club and celebrates like Marco Tardelli. A point at Southampton is hard earned as is a late win at home to Sunderland where Origi scores the first of his five in five games. Coutinho is injured which in turns reduces the impact of Firmino.
Ben Woodburn reignites the soul of the game by becoming the youngest scorer in our history and has a thousand old men wondering if their boots still fit.
December
Bournemouth are hammered for a bit then our heads go and we give in. We also lead at West Ham but only end up with a point where Ragnar Klavan performs the side step of the season when bringing the ball into midfield. Adam Lallana is in magnificent form in Middlesbrough and Sadio Mane ebullient at Everton as the Reds go six points behind Chelsea who seem to have made a Faustian pact with Beelzebub. At the moment (Editors Note: article written 23rd December), we have a point more than at the same stage in 2013-14.
My mate Olly (11) reckons we can win the League. He is wise and noble.
I don't know what happens at Stoke or City as it's only 23rd December. Feel free to add your own entry. Let's just say we win both games 8-0.
Elsewhere, Andre Ayew celebrates his 27th birthday. Shockingly, there are no street parties to celebrate this glorious event.