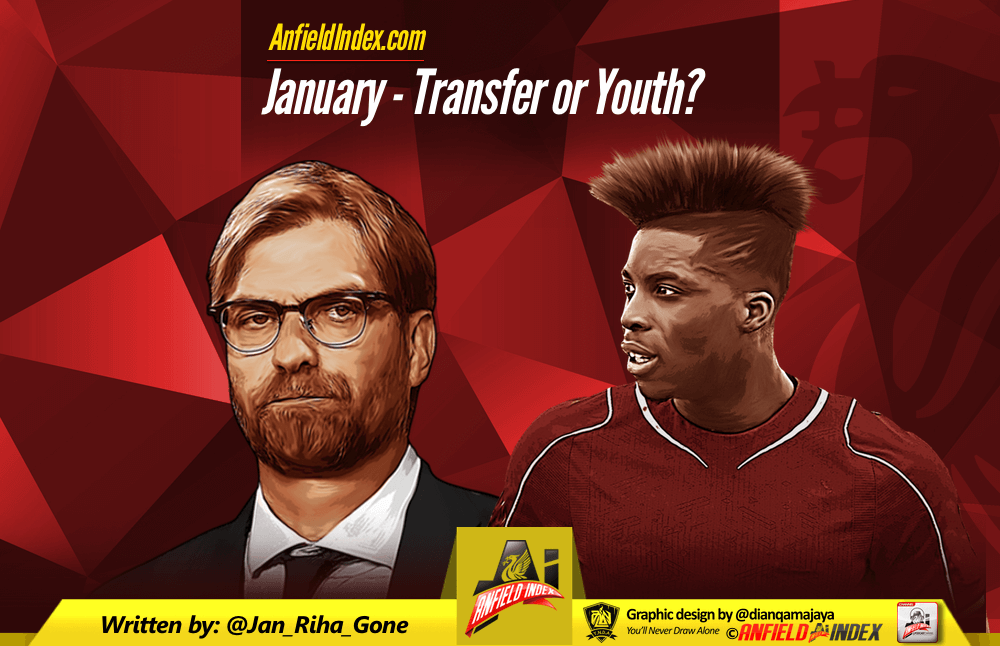 January - Transfer or Youth for Liverpool?
Is there a reason to buy players in January? Isn't it better to show your true believe in your own squad and the players you have right now and wait until the summer, when there is more time for everything?
I believe that any sort of signing helps in a certain way, even if it's a failure from a footballing perspective in the future. With any new signing coming in, there is a new impuls, excitement from people at the club, from the manager, from the players and especially from the fans. You have to expect that times change and so do people. New player at the club is a sign of hope, sign of believe that you can get better, improve and go for greater things, it means you don't settle for what you have but you want to push for more – you want your player in the position to push harder, train harder, try to be better, show you that he's the better option.
We have to consider a few things coming into January – Mané is leaving for AFCON and he may miss the whole month (potentially 7 matches) and there can be significant fatigue, injury or loss of form in the worse case scenarios, we will have Coutinho back from injury, Sturridge & Origi are fit and it seems they are both in great form and then we have Lallana and Firmino who are consistent and have the lungs of a horse combined with Dirk Kuyt, it seems that's enough options, right? Well we have to také into consideration that Sturridge & Origi have both had injuries out of nothing, Firmino seems to struggle in a certain position in the current systém. But we also have to count on Klopp possibly changing the systém to accomodate the players we have and possibly even improve us – which leads me to my point, if there is a player at the academy/club who can play in Mané's role and a player who we can buy and he fits in there, what is the better option?

In my honest opinion I would like Klopp break his own rule and put more faith in a specific youngster at the club whom he apparently promised minutes. I'm obviously talking about Sheyi Ojo, who without exaggerating is the best player to come through our academy in the past decade. If you are wondering what did I mean by "Klopp breaking his own rule" it's the fact that he believes in bringing in young players to a side that is playful, happy and in a great spirit. He doesn't believe in substituting on a young 18 years old player into a game where we're chasing a team leading against us. Which in my opinion is a great approach, but you have to be very careful as every player needs something different and managers like Conte and Klopp in particular prove, that mentality and state of mind is absolutely everything in football.
You have to know in which situation you can put a young player in, there are two perfect examples from the past few years at LFC. First one is Kenny Dalglish putting on Raheem Sterling in a game against Wigan with 7 minutes to go and freedom to just show what he's got after an awful match and he sparked up the crowd and his teammates with what he has shown inside the few minutes he's been on the pitch. The exact opposite is the debut of Brad Smith against Chelsea, where Rodgers put him on in 59th minute and played him out of his position, in a really hard away game vs a strong opponent when we were again chasing a 1-2 lead.
In both of these cases you could see different mentality of the players, Sterling had freedom and trust of his manager and wanted to show he can do something and he believed in his own ability. Smith was put on and he wasn't absolutely ready for that occasion and that 'responsibility' Rodgers gave him, it was like throwing a child into a pool and letting him drown.
There is an awful prejudice that new modern winger or a wide forward is a player that is fast, has good dribbling, lacks and product and in most occasions plays to cut inside onto his stronger foot.               Ojo is probably the prime example of this not being true, he has incredible upper body strength for a 19 years old yet is faster than the majority of Premier League fullbacks and has absolutely stellar dribbling technique and variety of skills to beat his opponents and mainly, he produces and he produces consistently at all levels from any sort of position and role. He can play as a starter and keep being the focal point without any fatigue throughout the whole match or come on as a sub in the 70th minute and bring on a little spark onto the pitch. He is from my own opinion the best from the left side as he's excellent at finding certain tendencies his opponent does throughout the match and expose them – by pace or skills. His crossing is accurate as is his passing with brilliant precision and great, unselfish actions make him one of the most unique players. There was always a saying, that for a youth player to deserve a shot at a senior place in the team, he has to be better than the player in his position, I hardly disagree with that, your youth player can seem worse at the time, but his talent and peak level may be way above the other player – it's prehistoric thinking.
Another thing is that these players need continuity, if you give the player a chance in 1, 2 or 4 matches and he does well – and your senior player comes back, which leads to you taking the youth player out of the place, maybe out of the matchday squad, letting him play with the reserves, it destroys them, you waste their most valuable time when they learn the most. Players like Ojo, Ejaria, TAA would be regulars in a league like Ligue 1 and grow into incredibly valuable players. When was the last time there was a player like Ousmane Dembele, Kylian Mbappe, Franck Kessié, Amadou Diawarra, Joshua Kimmich came through the ranks of a Premier League club? It isn't about the league being physically more challenging than the others, it's about the fact that the managers simply don't believe enough in England and that's why a lot of immense talent comes to waste.
You have a player who's proven in the last two years that he is ready for senior, top flight football. That he is ready to bring in assists or score goals, that he is able to work within your systém, that is versatile enough to prove option in multiple positions just like you like it.
It's time to get our mOjo going.