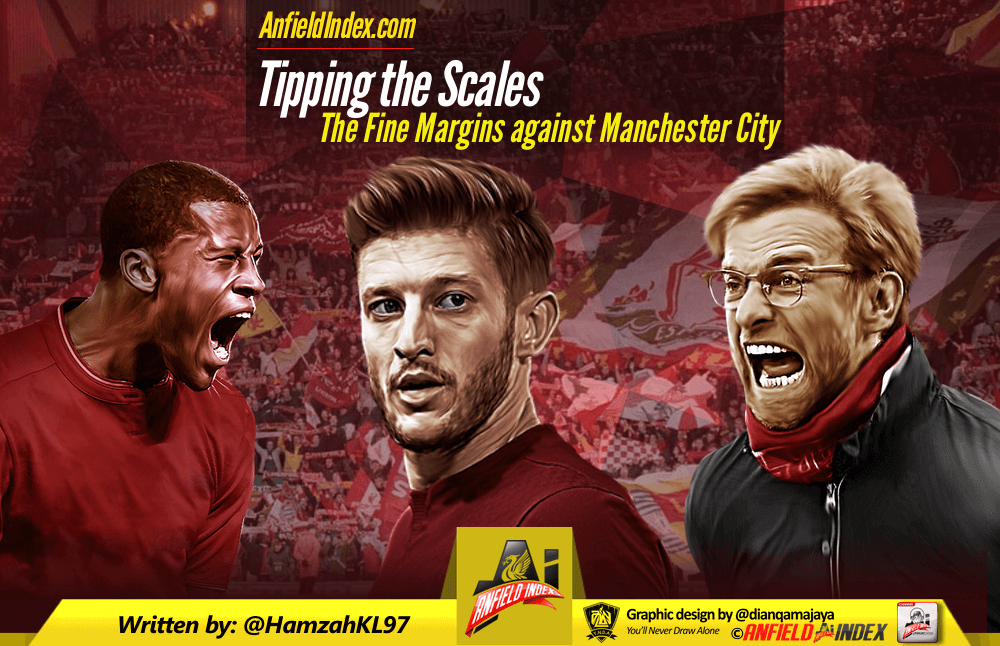 Tipping the Scales: The Fine Margins against Manchester City
Liverpool's New Year's Eve tie against Manchester City has already been noted as a "6-point" match, and with Chelsea already sitting atop the table, with a 6 point gap between them and nearest rivals, Liverpool, which will likely remain when considering Chelsea's upcoming fixtures, this fixture has the potential to go a long way in altering the balance and probability of the 2016/17 Premier League champions.
Pep Guardiola's Manchester City have been both dauntingly impressive, but also, soft at times, over the course of the season. They have only lost on 5 occasions:
2-0 to Tottenham, 1-0 to Manchester United, 3-1 to Chelsea, 4-2 to Leicester and 4-0 to Barcelona.
Yet victories over Arsenal (2-1), Manchester United (2-1) and Barcelona (3-1), show that when playing well, they are near impossible to beat.

How then, should Liverpool approach this match?
Manchester City's losses over the season are not all similar, and thus there is no definitive approach that Liverpool should take; we need only look at how Leicester's aggressive, offensive approach paid dividends, as did the more conservative, disciplined style of Chelsea. The City loss to United as a model should largely be ignored, as City's cup side was playing, so it would perhaps be best to draw from Tottenham's home victory, and their approach.
As we know though, Liverpool's defence is hardly the most robust in the league, and with Agüero expected to return to the Manchester City starting line-up, following his the end of his suspension, it appears that the Premier League's third most prolific striker this season may well cause Lovren and Klavan a fair few issues.
Liverpool's defensive personnel, but also their system, prevents them from being able to employ the same sort of approach that Chelsea successfully did, yet, unlike Chelsea, Liverpool are at home, and enjoy some impressive home comforts too.
Liverpool have scored 25 goals at Anfield this season, and in many of those games, eased off a great deal in the last 30 minutes or so. In 4 of Liverpool's 8 home victories, Liverpool have scored 4 or more goals; when considering this and Liverpool's defensive deficiencies, going punch for punch, with City may well be the best plan of attack.
Yet, as we have seen over the season, Liverpool's style often leaves them open to counter attacks, and with a front four of Agüero, Sterling, Silva and De Brunye expected to start, Liverpool can ill afford to leave gaps in behind, and let Henderson, Lovren and Klavan get exposed. However, one small surprise advantage may lie in Yaya Toure's recent return to both form and favour with Pep Guardiola – whilst he has been impressive in recent matches, his strong performances, and an injury to Gündogan, are likely to force him into the starting XI. Now whilst on the ball he is a destructive force, off the ball, he is known for not being as defensively enthusiastic as his defensive midfield partner Fernandinho – and this is where Liverpool can exploit the Manchester City midfield, on the counter, as it is so attack minded.
In a game such as this, Klopp would likely prefer to start with Firmino as his striker, but as Coutinho remains injured it appears more likely that Origi will start. Manchester City's loss to Tottenham illustrated City's frailties, when the defence was poised against Son Heung-min, a forward with intelligent movement. That being said, if Liverpool are able to keep possession, Firmino will likely be able to move inside a great deal more, as he did against Stoke, where he notched a goal as the reward for doing so.
Herein lies an issue that has been overlooked by many, in the buildup to this match. Both Liverpool and Manchester City are possession based teams, Opta figures revealed that this season, Liverpool have had the most touches and passes in the league, 14,684 and 11,053 respectively, with an average of 63% possession per game. Whilst for Manchester City, their average possession per game this season sits at 61%. Indeed, the game will likely be decided by the team who can retain the ball better, as both sides have havoc-wreaking players, that are best suited to building, sustaining and finishing off high pressure passages of play.
The role of Gini Wijnaldum and Adam Lallana will be crucial in determining the outcome of the match, not necessarily through a tangible goals/assist contribution, but through pressuring Manchester City's midfielders and breaking down any quick moves forward, with the aid of Henderson.
Liverpool's full-backs will also need to play a bigger role in midfield than usual, and perhaps be a tad more restrained, even despite the importance of overloading the Manchester City defence – as the pace of Sterling and Agüero, paired alongside De Brunye and Silva's range of passing, will mean the full-backs may have to squeeze in defence – but here lies an advantage to Origi playing as the sole striker; he remains an outlet ball for when Liverpool retain possession, but as Origi is playing centrally, Firmino can provide cover to his full-back, in a way that Coutinho and Sturridge do not.
With John Stones having taken a knock and being substituted off against Hull, Origi may also provide a challenge to Kolarov, at centre-back, who recently struggled against Hull's Mbokani, and with Otamendi still known for making rash challenges, or having brief lapses of concentration, City certainly could be exposed down the middle – but that's not to ignore City's full-backs, Clichy and Sagna, who haven't truly been tested this season, following Guardiola's move to a back four, after Leicester took their back three apart in the opening five minutes of their game.
But perhaps the key to this game will be – like Leicester, and Liverpool have many times this season – to score early; an early goal would really set Anfield alight, and when Anfield is bouncing, the team responds, usually with another quick fire goal. If Liverpool were to have a two goal lead at halftime, it would simply become a matter of beefing up the midfield with Can, to break down, and disrupt the Manchester City buildup play, and then to attempt to finish the game off with a Sturridge appearance in the last 20-30 minutes as a safety to any Liverpool defensive mishaps, the same way Chelsea broke against an over-committed City side not too long ago..
With all that considered, the New Year's Eve fixture appears to be an enticing one, but a tactical battle that will depend on who can retain and utilise possession the best; it promises to be an entertaining fixture regardless, but may well be crucial come the final structure of the table, at the end of the season.