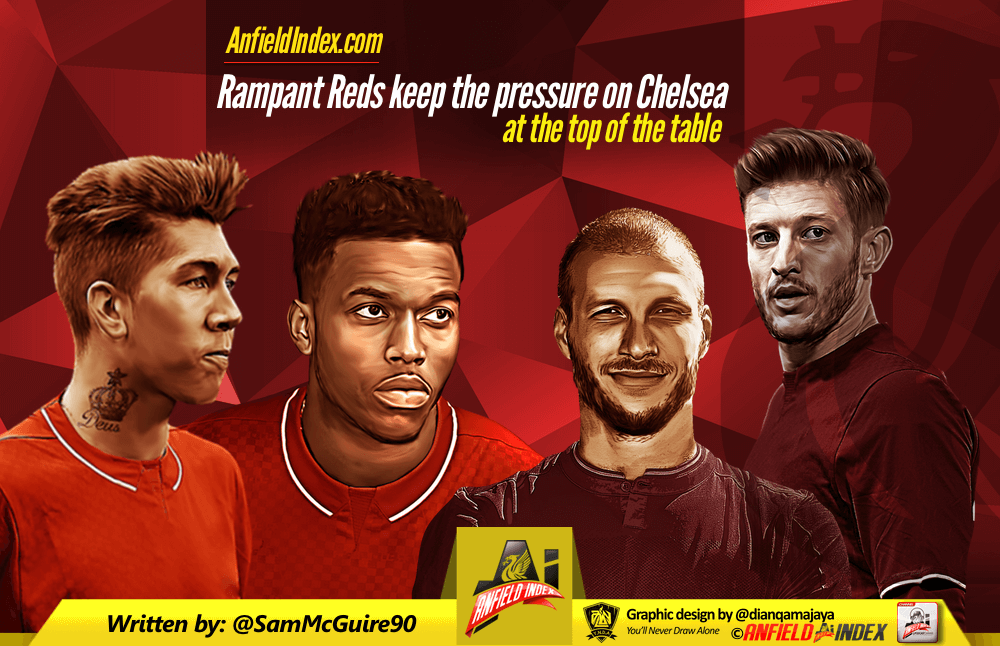 Rampant Reds keep the pressure on Chelsea at the top of the table
It's not a sentence Liverpool fans would have expected to hear this season for various reasons but they did after that emphatic 4-1 win against Stoke. The majority of this squad are the same players labelled as bottlers over the past two seasons but with the pressure on they showed an almost alien resilience. It didn't start off that well though.
A sloppy goal, followed up by chaos in the Reds' defence meant Joe Allen was free in the penalty-area with just the 'keeper to beat. Had it not been for Simon Mignolet Stoke would have been 2-0 up. Liverpool were on the ropes and their defence was non-existent. It looked all too familiar for onlookers at Anfield. But then Liverpool began to dominate in central areas and got their just rewards with a fortunate Adam Lallana goal. Roberto Firmino's fine finish put the Reds 2-1 up at half-time and they came out in the second-half with a purpose. An own goal and a classy Daniel Sturridge finish rounded off a fine performance and on another day it could have been 6/7-1.
Plenty of positives to be taken.

Goals are flowing
Liverpool are the top scorers in the Premier League but Roberto Firmino has been wasteful in front of goal as of late and Daniel Sturridge was without a goal in the league. It wasn't a concern but it was a welcome relief to see both of them score. What made it even better was the confidence both players showed to stick the ball home. Firmino's was with his weaker foot, just minutes after putting an easier chance over the bar. He didn't look like a player short on confidence. Sturridge, who has hit the woodwork numerous times this season, showed composure to round the 'keeper and tap it home. It didn't look like a player without a league goal to his name since April. That's 45 goals in the league already this season for the Reds.
Klavan impressed yet again
Ragnar Klavan signed in the summer for £4 million and after initially impressing he had a few dodgy moments and it looked as though Lucas had jumped ahead of him in the pecking order. However, since the injury to Joel Matip, Klavan has been formidable in defence. He had a few rocky moments against Stoke but let's be honest, who doesn't? Overall he did a fine job, just like he did against Everton. Liverpool certainly need to bring in defensive reinforcements but in the grand scheme of things Klavan has been a shrewd signing.
The Reds come from behind to take all three points
Liverpool don't fall behind that often these days but against Arsenal, Swansea and now Stoke they've come from behind to take maximum points. It's not something they should turn into a habit but it's a good trait to have. If you never know when you're beaten it's difficult to lose. Stoke took the lead but Liverpool still looked in control. The Liverpool of old would have thrown men forward and left themselves short at the back, but Klopp's men are measured in their play. They'll dominate the ball and they'll dominate the space.