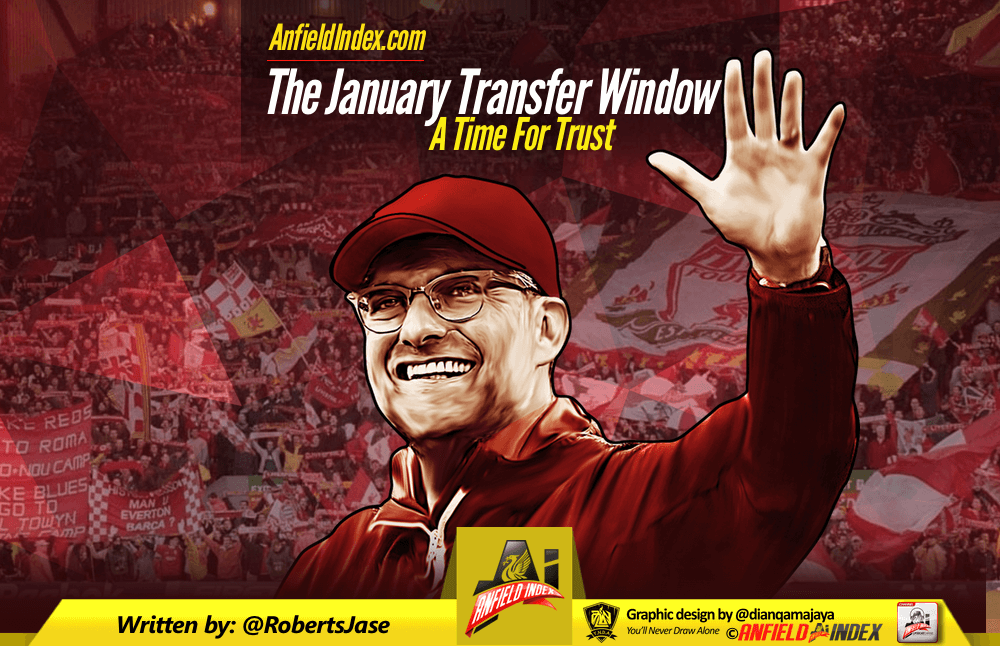 The January Transfer Window - A Time For Trust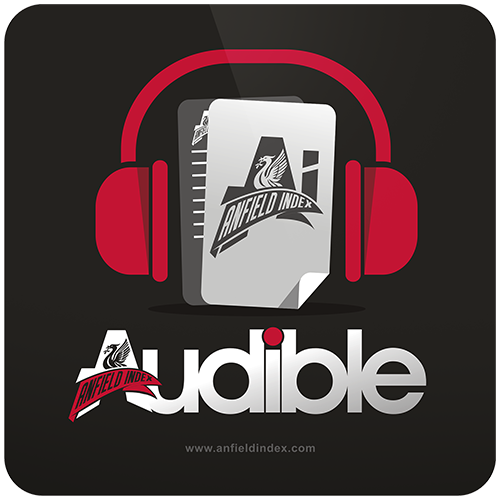 Listen to this article via @AIAudible !
And so the time is upon us once again.
As December draws to a close, the sense of excitement and anticipation increases with the prospect of the of the January transfer window opening once more. Twitter is abuzz as the rumour mill goes into overdrive, irritating clickbait articles spread like a common cold and everyone throws in their two pennies worth as to who their club should or shouldn't be signing.
As a Liverpool fan, transfer windows are as exhausting as they are exciting. In fact, probably more of the former. I mean let's face it, the vast majority of us are know it alls who are desperate to impart our player knowledge on anyone who will listen (and often those who don't want to!) Therefore the transfer window gives many of us the perfect opportunity to make our recommendations on who the club should sign, whilst debating the pros and cons of the players that Liverpool are linked with. Add to that the inherent need and desperation for some fans to have a good old fashioned moan, fuelled every time when an opposition team buys a player that said moaner likes, or in a position that said moaner thinks needs strengthening, and it is little wonder why the transfer window whips so many up into a frenzy.

By the time that the window has closed, emotions are normally running high as people debate (argue) about our transfer activity … or lack thereof … and if the club has done enough to provide the necessary push to achieve their ambitions in the second half of the season.
In past years I have found myself almost distraught as a January transfer window has drawn to a close. From the heartbreak of Fernando Torres joining Chelsea leading to Newcastle shamelessly taking full advantage as we threw money at them for Andy Carroll, to the ridiculous on-off transfer of Yevhen Konoplyanka, the January window can certainly prove testing for those who suffer with high blood pressure!
Whilst many fans yearn for another window that matches the success of January 2013 where Daniel Sturridge and Philippe Coutinho came in and instantly transformed the team, others fear that a quiet one akin to January 2016 where nobody is bought to come straight into the team will damage the progress that we have been making and hurt our chances of challenging for that elusive 19th league title.
Strangely though, this author is calm. I say strangely as I am normally as over-excited as the next know it all and despite my best efforts, I can't help but get caught up in the frenzy. However this time, I feel different. I am experiencing something that has been foreign to me for so long that I can't remember the last time I felt this way.
I feel confident.
Not confident because I am some ITK with "knowledge" of some fantastic, blockbuster signings that we are going to make to blow the opposition away and romp us to Premier League glory. But confident because I trust our manager and the recruitment team to do what is best for the club and to get it right.
The trust that I have isn't blind faith, it is something that has been earned. Take a look at the evidence:
Last January we signed Marko Grujic but on the basis that he stayed at Red Star Belgrade to continue his development and gain experience in winning a league title. Whilst it was undoubtedly part of the reason Red Star agreed to sell, it was mutually beneficial to all parties. Our main target was the Brazilian forward Alex Teixeira, then of Shaktar Donetsk, who Klopp openly admitted that we had made bids for but ultimately refused to meet the demands of the selling club. Jurgen claimed that he and the recruitment team were being responsible with money and whilst it was met with a tinge of disappointment by many who had already seen so many videos of Teixeira on YouTube that they were now convinced that he was the new Luis Suarez (sarcasm … kind of), it was also reassuring to know that we wouldn't be held to ransom like in seasons past.
Fast forward to the summer transfer window and once again, everybody naturally passed immediate judgement on the players who had been brought in. By and large, with a great deal of cynicism.
– Joel Matip garnered a relatively calm reaction in so much as he was a "free" transfer whose ability was unknown by many and those that did know him, largely felt that he was a good – if not great – player. Worst case scenario is he'd come in as a back-up option if he didn't impress enough to be in the first XI every week.
– Loris Karius is highly rated by most people with a keen interest in Bundesliga football, and those that didn't know of him were simply happy that a new goalkeeper was being brought in to replace Mignolet (don't deny it, it's true). The low fee for him was a further bonus.
– "Ragnar who? … Klavan?? … A 30 year old Estonian from Augsburg?? … Surely he will only be a back-up?!?!"
– Sadio Mane for over £30m was seen by some as an exciting addition, but by most as an expensive gamble on a player who is as inconsistent as he is explosive. An unimaginative raid on our old friends Southampton and a head scratcher to those who claimed that much better value can be found elsewhere.
– Georginio Wijnaldum … "a good player but where does he fit in? … Surely we wouldn't spend £23m on someone to warm the bench? … Have you heard what Newcastle fans say about him? He never performs in away games …"
– Alex Manninger … "The guy who played for Arsenal a hundred years ago?!"
Whilst you will likely find people who were more positive about these signings, I'm confident in saying that these comments were the general consensus amongst a large portion of supporters. Especially in relation to the more expensive signings. Add these underwhelmed responses to the fact that the reported value of our transfer outgoings was higher than what we spent on incomings, and you'll have witnessed a degree of apathy about our summer activity. Lots of questions, but not a great deal of enthusiasm.
Hindsight is a wonderful thing though isn't it? Looking back, these responses were an accurate reflection on the reaction of many. But now, 4 months later, the outlook is very different.
Joel Matip is, quite simply, the main man in our defence and his absence from the team sends everyone into a panic, such is his importance and influence.
Sadio Mane is an integral part of the attacking force that has defences quaking in their boots and has helped Klopp equal Kenny Dalglish's record for having a Liverpool team score 100 league goals in just 48 games. Mane is so important that supporters are dreading the impact that him leaving for the AFCON tournament in January will have on the team.
"Gini" Wijnaldum is the man who knits everything together in midfield. Essential to our style of play and seamlessly linking midfield and attack, his influence may go unnoticed to some but he is an integral part of the team and has been one of the players of the season for us so far.
Ragnar Klavan has proven to be an able deputy at centre-back when called upon, putting in a number of decent-to-good performances when he's been brought into the team. He's had some shaky moments and definitely isn't the second coming of Sami Hyypia, however he is a good, solid back-up option for us.
Alex Manninger has not featured for the team so far, but it was made very clear that he was brought in to play a supporting role to the other goalkeepers and some feel that he is working towards becoming a coach.
Loris Karius has been the main source of controversy as he has endured a difficult start in keeping goal for us, losing his place recently due to a combination of poor form and intense media pressure providing an unnecessary and unwanted distraction. Some have already written him off, others are sure that he will come good. Time will tell.
If you like, you can add Grujic to the list as he arrived in the summer after being signed in January. He is very much one for the future and has admitted as much as he adapts to his new surroundings. That being said, he has looked impressive in the handful of games that he has played for us.
The point is that whilst plenty were quick to question our summer activity and in some quarters criticise it, by and large those questions have been answered and the doubts have been quashed. In Mane, Wijnaldum and Matip we have three players who have had a massively positive impact and have significantly improved the team. They have been integral figures in a team that proudly sits 2nd in the table as I write this. In Klavan we have a reliable back-up/rotation option at centre back, and in Grujic we have a very talented young player with a bright future. The only question mark is over Karius. Not a bad return so far, is it?
Of course, there is still much of the season left to go and the only time we can truly judge is when it ends, however going into the January window I am now confident that whoever the club brings in, the chances are they will get it right. Whether we as fans agree with who is signed, how much they cost and where they fit into the team is irrelevant. And if the club decide against bringing anybody in due to a lack of availability or extortionate transfer fees, the same applies.
Klopp and co. have earned the right to be trusted in their decisions. No more Manager vs Committee nonsense, no more panic buys … and no more sleepless nights fretting about transfers for this author. Because ultimately there is a plan, and so far the people in charge of executing it are proving that they know far more than any of us do.
Which is exactly how it should be.