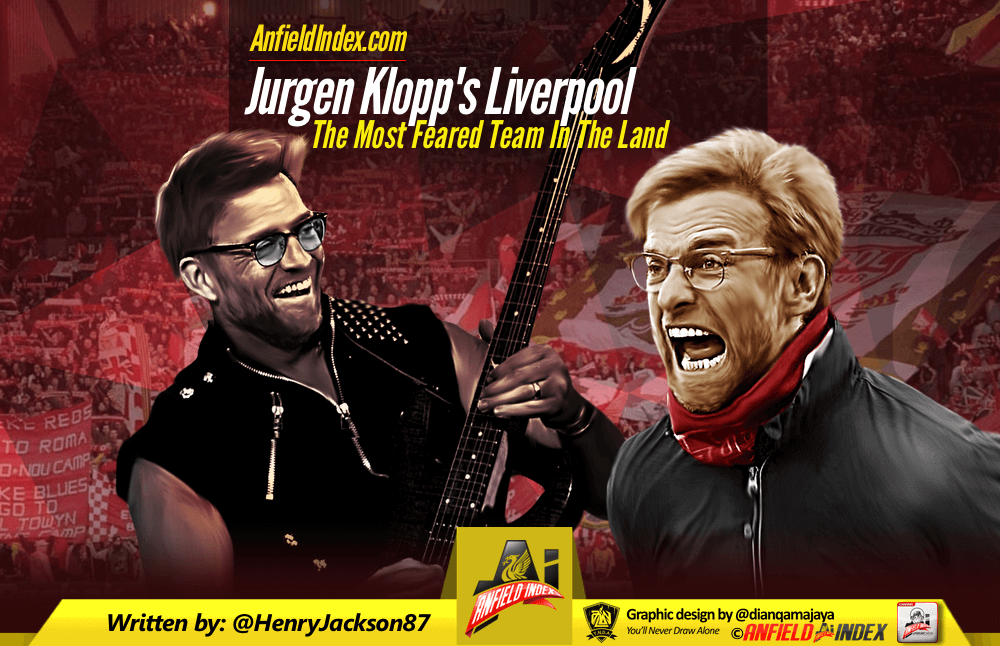 Jurgen Klopp's Liverpool: The Most Feared Team In The Land
When was the last time an opponent took on Liverpool, played their natural game and got the better of the Reds?
When did a game finish and you genuinely thought, "they've gone toe-to-toe with us there, and deserved their win"?
It has barely happened in 2016/17 to date, if at all.

Arsenal were their usual selves on the opening weekend and were dispatched of by Jurgen Klopp's men, and Chelsea were outplayed by a more superior outfit the following month. Liverpool enjoyed similar levels of dominance against Tottenham at White Hart Lane, with the hosts fortunate to get a 1-1 draw.
Other than those three matches, in which the London trio didn't alter their tactics noticeably, it is genuinely hard to think of any side who have had the guts to stick to their preferred philosophy when the Reds have stood before them.
There is one sole reason for this: people are terrified of facing Liverpool.
They are the one team capable of producing a cricket score against a team – there will be an 8-0 or 9-0 sooner or later, I'm convinced of it – with obscene fitness levels and relentless attacking football causing managers sleepless nights.
Chelsea may be top of the Premier League, and deservedly so, but they don't possess this kind of fear factor and aura. They have world-class players, of course, and are more adept at killing games than Liverpool, but they don't suffocate and grind you into submission like the Reds.
Man City looked unplayable in August and September, but their mystique has evaded them for the time being. With Pep Guardiola at the helm, however, they will become a serious force once he has fully adjusted to life in England, much like Klopp.
Arsenal are devastating when they want to be, but are also mentally fragile and one-dimensional, Manchester United are starting to click but don't exactly resemble their all-conquering teams of the 1990s and 2000s and Spurs are expertly-drilled but lacking Liverpool's attacking brilliance.
In fact, seeing the 'mighty' United come to Anfield and barely have an attack summed it all up, with Jose Mourinho happy to play for a 0-0 draw, despite having Paul Pogba and Zlatan Ibrahimovic in his starting line-up.
The majority of the Reds' matches this season have mirrored that game. Opponents have been too scared to commit people forward in the final third, with the fear of leaving space at the other end of the pitch ensuring the most negative approach possible.
Burnley famously won 2-0 back in August, despite enjoying less than 20 per cent of the ball, but the months since have shown that it was an anomaly. Occasionally, you will get a game of that ilk, such is the bonkers nature of the Premier League.
Bournemouth were barely in the game when the two sides met at the start of December, and it was only some embarrassing Liverpool defending that allowed them to complete the most improbable of 4-3 wins.
Burnley and Bournemouth are Liverpool's only two league defeats of the campaign, and neither were examples of opposing sides displaying a fearlessness.
It sometimes feels as though the only way the Reds will lose is if they decide to gift three points to the opposition.
Leicester, Hull, West Brom and Watford have all tried, and failed, to stifle the Reds by simply parking the most sizeable of buses at Anfield, and the same applies to Sunderland, who came close to grinding out a 0-0 draw but were eventually breached.
Stoke did their best to adopt slightly different tactics on Tuesday, playing with two strikers, and while it worked for the opening 30 minutes or so, they still lost 4-1.
After the game, Potters manager Mark Hughes said, "I am sure a lot of other teams will look at what we did today and try to replicate it."
That sums up what a force this current Liverpool side have become. A manager gets some short-term success with his tactics, gets thrashed 4-1 and still sees it as some kind of positive. That can only bode well.
It has become clear that teams are well aware of Liverpool's fitness levels and ability to grow into a game, making obvious attempts to blow the Reds away in the early exchanges of matches, hoping to then sit on a lead.
Everton tried it in the Merseyside derby, and had absolutely nothing left in the tank from half-time onwards, and the same could be aimed at Swansea, Middlesbrough and Stoke. If it is still 0-0 after 30 minutes, and you haven't taken advantage of some early dominance, be afraid.
The most exciting aspect of all this is that it is such early days in Klopp's tenure. The speed at which this team has progressed is frightening – let's not forget that most supporters felt Liverpool had very little chance of a top-four finish this season – and it would be a mighty shock if it didn't go up another gear or two.
The Reds are not yet perfect, and may well not win the Premier League title this season, but they are the most feared team in England.
Certain rivals may be either more experienced, ruthless or better defensively, but when everything clicks, every other team in the land is powerless to stop Liverpool.
This may be perceived as arrogance by some, but as a naturally pessimistic supporter, I can assure you I am just speaking what I believe to be the truth.
Good luck to the next manager who has the guts to come at Liverpool and play their natural game. They'll need it.