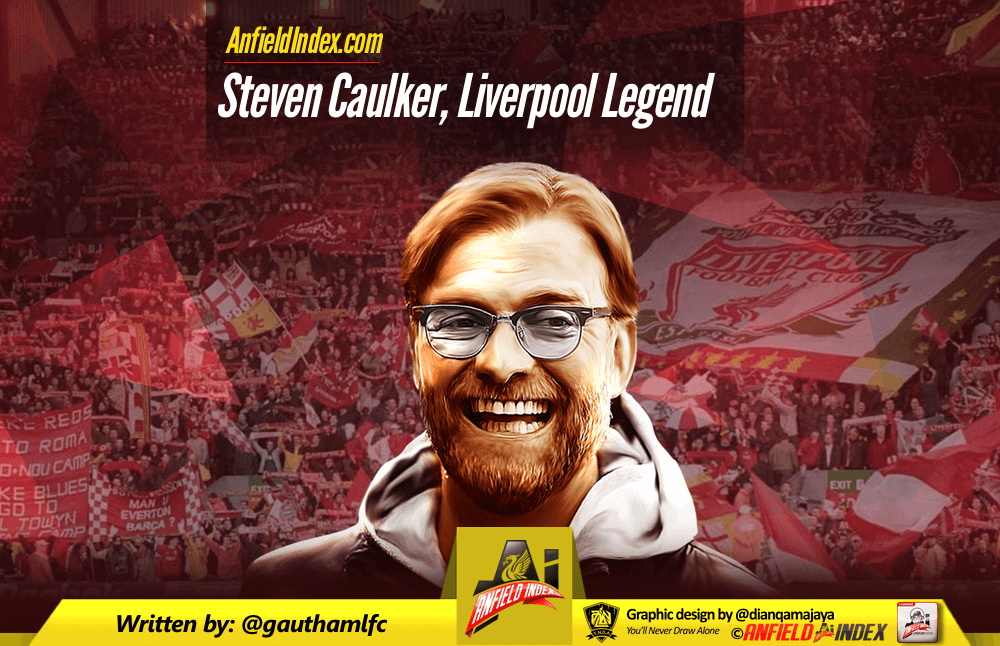 Steven Caulker, Liverpool Legend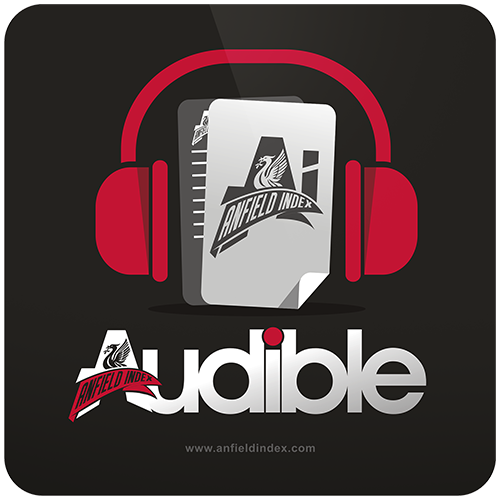 Listen to this article via @AIAudible !
On a recent episode of the In Focus podcast on Anfield Index, host Jon Buscall and guest Harinder Singh discussed and debated the concept of a Liverpool legend: what it took to be a legend, which players deserve the honour, and why some fell just short. It was difficult not to listen and be persuaded by the rational and systematic way that both Singh and Buscall approached the question.
Now for something completely different. At present, for fans of Liverpool Football Club, Steven Caulker is a few things. Here's a bit of trivia: who was Klopp's first transfer signing, one imagines Neil Atkinson asking someday on the Anfield Wrap annual quiz. He's also a bit of a punch line, given that he was signed to play as a defender on a six-month loan deal but featured instead as a striker. Caulker himself laughed at his unexpected role. "When the manager told me I was going up front," Caulker told the Express shortly after his transfer to Liverpool from Queens Park Rangers, "I was laughing because I thought he was joking with me." But there were no laughs just a few days before when Klopp discussed the Caulker move with the utmost seriousness: Martin Skrtel was ruled out for a few weeks, Dejan Lovren had a niggling "little muscle injury," he explained to James Carroll on the club's official website; neither Mamadou Sakho nor Kolo Toure were ready to play several consecutive games. So Caulker was "the best solution for us." Sure, Klopp admitted, Caulker had barely featured for Southampton, where he was on loan from QPR. But Caulker was a "good header" who could complement Liverpool's high line by guarding "the last line." It was there, in Klopp's direly modest assessment of his only immediate signing of the 2016 January transfer window, that Jürgen Klopp established Steven Caulker as a Liverpool legend.
Caulker's importance to Klopp's story in his first few months at Anfield, to say nothing of a club then still in contention for European football, the F.A. Cup, and the League Cup, has sadly little to do with Caulker himself. Indeed, after the occasional defender-cum-striker's three appearances for Liverpool, Klopp had all but forgotten about Caulker by late April. Rather, Caulker was important because he was an early but powerful statement by Klopp about how his team would conduct itself in the transfer window. As subsequent transfer proceedings suggest, Klopp knew then that the side he inherited from Brendan Rodgers was quite a way away from the finished article. But in the moment, he believed strongly in his players and, perhaps more importantly, in his coaching staff's ability to get the best from those players. "I really wait for the day when finally the transfer window closes, because I can't believe how obsessed you all are with this," Klopp chided the media this past August. "You don't believe for a second in things like improvement on the training pitch." So the fan base, clamouring as it was for the likes of the mercenary Alex Texeira, would have to settle for a cut-rate Championship defender. The acquisition of Steven Caulker was an object lesson in Jürgen Klopp's transfer philosophy wherein more is not necessarily better.

There are some important caveats of course. Klopp makes much sense in noting how the midseason transfer window inflates value and prices. So bringing in the likes of Caulker on loan to Anfield does not reflect a total repudiation of transfers. And Klopp's history as manager at Borussia Dortmund reveals that he has not hesitated to make frequent use of the transfer market. Bob Pearce's outstanding piece on the Tomkins Times, "Klopp—Reversing the Laws of Gravity" tells the story of how nine of Klopp's starting eleven for the 2013 Champions League final were acquired from elsewhere. But none were sure things when Klopp bought them. As Pearce concludes, "a) he developed his own 'big names', b) he bought young, c) he bought cheap, d) he promoted youth from within." Shinji Kagawa, whose brilliance was sadly obscured during his short stay at Old Trafford, was one fine example of points b.) and c.). Robert Lewandowski, whose radiance has only grown since arriving at Bayern Munich, is another. Yet neither of these players cost Dortmund much in the way of transfer fees. To this point, compare Dortmund's average fee per transfer in the summer of 2015, 7.5 million Euros, with Liverpool's average for that same summer, at 12.7 million for a crop that included Rickie Lambert and Mario Balotelli.
But did Klopp spend less at Dortmund because he had less? Now comparatively flush with FSG's backing and skyrocketing Premier League television contract revenue, why wouldn't Klopp throw big money at big, established, world-class talent? Here again the symbol of Caulker can be useful. Klopp could have splashed cash on a major target like Texeira but he chose not to. It simply is not his way. The Klopp approach, explained former Leverkusen man Torben Hoffmann to Sky Sports' Adam Bate on the eve of this past spring's Europa League showdown between Liverpool and Dortmund, is "savvy recruitment, quality youth development and expert coaching." The relatively big money summer transfers that came to Anfield in 2016 confirm Pearce's and Hoffmann's theories. Opposition fans chuckled at the acquisition of Sadio Mane because he had only had a few good games for Southampton before assuming a mantle of anonymity. The same accusation was thrown at Georgino Wijnaldum because he had not scored a goal away from St. James's Park — he "ghosted through games with Newcastle when they needed him most"; the Daily Mail delighted in announcing in a comically negative assessment of the player. A few months later most pundits and fans cannot imagine a starting eleven without either player and the prospect of Mane's departure for the African Cup of Nations looms large over the next month of fixtures. Even when Klopp dips into the transfer kitty he will not pursue players already established in the upper echelon of the game. The Klopp way is to find a player with proven ability and make them world-class. Add Mane and Wijnaldum — and let's not forget the transformed Adam Lallana — to a list that already contains names like Reus, Hummels, Piszceck, Gundogan, and Mkhitaryan.
So as the transfer madness again takes hold of the football world, Liverpool fans would be wise, then, to build their own mental statue of Steven Caulker with the Standard Chartered name and the Liverbird across his chest, rising alongside Christian Benteke for a header in a last-ditch attempt on goal. With every clickbait link on Twitter reporting an imminent bid from Liverpool to compete with the likes of Chelsea, PSG, Manchester City, and other profligate spenders, give yourself a mental health break, and remember Steven Caulker, Liverpool legend.