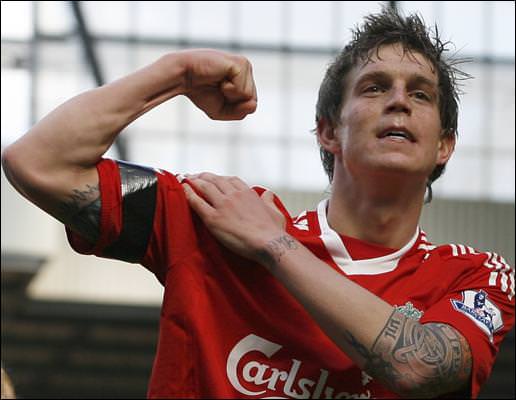 Liverpool FC Transfers: Centre Back Scouting Stats
Liverpool FC Transfers are the talk of twitter at the moment with the transfer window now in full swing and, shockingly, with Liverpool FC completing its first piece of business of the summer, it promises to be a summer to remember. However a major talking point has been of the pursuit of Blackburn Rovers' young central defender, Phil Jones. We'll be looking at Phil Jones' stats a little later on in this article. First up we'll be comparing the renowned defenders from the top three and also comparing them to Liverpool's centre backs, Daniel Agger and Martin Skrtel. We'll then look at the central defenders that are more likely to be available for transfer.
The stats for Terry, Vidic, Agger, Skrtel and Kompany are below:
Impressive stats from some of the best defenders in the Premier League and we'd be here forever writing about each and every one of them so we'll cover a few that stand out.
So all of the defenders covered in this first part did very well, especially John Terry whose tackles, ground 50-50's and aerial 50-50 win percentages were all over 70%. John Terry is the only defender in this comparison to achieve this. In fact Terry's figure of 70% wins via ground 50-50's is the best out of the ten defenders chosen. I've heard a lot of colleagues and followers say that John Terry is past it however these stats beg to differ.
Nemanja Vidic's stats are also quite impressive with him having the most frequent ground and aerial 50-50's out of the defenders in the table above. Vidic was the hardest player to dribble past as he was only went past seven times in his 3117 minutes, which are the best stats with the players compared in this article. His tackle success of 77% was looking very impressive until Vincent Kompany's 82% trumped this figure.
Vincent Kompany has been a rock for Manchester City this season. He helped them to three consecutive clean sheets at the end of the season in the Premier League and when you add the Cup Final it was four. These clean sheets pushed them to the top of the shut outs table with an impressive eighteen clean sheets. Also City's defence was the joint best in the Premier League conceding only 33 goals along with Chelsea. Kompany had a large part to play in this and his number of total tackles dwarfed all other defenders in this comparison as he managed 98 tackles. What's more impressive is that he had a 82% success rate of winning these tackles. It's been a great effort from Kompany who has really grown in stature this season. One flaw was his tendency to give away free kicks regularly so this is an area he can improve upon.
Daniel Agger's season has been stop-start but whenever he has played he's been solid. Liverpool managed to keep a clean sheet once in every two games (50% of matches played resulted in clean sheets) when Agger played, which is the best success rate out of any of the defenders compared in this article.
Comparing Daniel Agger and Martin Skrtel is what we're going to look at next. Even though Agger played less games and had less than a third of playing time in comparison to Skrtel we have worked out percentages based on the number of minutes a player has spent on the pitch and therefore the figures displayed should be a fair indication of how one performed whilst on the pitch.
So the first stat is the Percentage of ground 50-50's won.
Daniel Agger won 68% whilst Skrtel won 63%. 1-0 to Daniel Agger.
(We'll keep score for you as well).
Total Aerial 50-50's Win percentage:
Agger's win percetage was 71% whilst Skrtel's was 73%. Skrtel equalises 1-1.
Total Tackle success %
Agger 69% and Skrtel 73%. Skrtel takes the lead 2-1.
Interceptions per game (so better reading of the game)
Agger 1.9 interceptions to Skrtel's 1.6. All level again 2-2.
Minutes per defensive error:
Agger 0 (didn't make any!), Skrtel 684. See-saw match up? 3-2 to Agger.
Mins per loss of possession:
Agger 136, Skrtel 101. Agger seals it 4-2.
Mins per Foul Conceded:
Agger 109, Skrtel 80. Agger does a Fulham on Skrtel, 5-2.
So out of that little comparison made above it's clear that had Agger been fit this season Liverpool's defence would have improved considerably. Although let's not take anything away from Martin Skrtel. He's had an excellent season too and he should be given credit for playing every minute of every match in the 2010/11 season because without him, Liverpool would have struggled as Carraghar and Agger both spent time on the sidelines. Is it time to promote Martin Kelly to centre back? I think that's one for a totally separate article.
To conclude all five defenders have impressive statistics but none of them are perfect. The question is do they deserve their places at the top clubs or will the defenders in table two outshine them?
So let's onto the second statistics table, the players shown below, apart from Dawson, are more likely to be available for transfer than those compared in the first table above.
The table above compares, Man Utd bound, Phil Jones, Spurs' Michael Dawson, scouser Scott Dann, wanderer Gary Cahill and tough Ryan Shawcross. All of them have had good seasons individually even though there may have been some mixed feelings for Scott Dann who's Birmingham City won the Carling Cup but were then relegated.
Looking at the stats the best ground 50-50 win percentage was achieved by Michael Dawson who also made a few appearances for the national side this season. Only Vidic and Terry had better numbers for this statistic. His aerial 50-50-win percentage was also impressive at 70% however Agger, Skrtel and Terry were all above Dawson in this respect.
The outstanding statistic for Michael Dawson is with regards to his tackling. An 88% tackle win rate, which saw the Spurs centre back win 44 out of 50 tackles, very impressive and way ahead of the rest with Kompany next on 82%.
Further Dawson stats:
– 99 headed clearances
– a loss of possession once every two games
– a solitary defensive mistake in 2160 minutes of football
– an average of 2.4 interceptions per game
The above stats prove Michael Dawson had a season that, statistically, was very impressive.
The only flaw for Michael Dawson was the amount of times he was beaten by a player dribbling past him. He was beaten eighteen times and this was the second worst (joint with Shawcross) out of the ten defenders compared in this article.
The player that most fans have been raving about has been Gary Cahill of Bolton who has been a rock for them this season. Two statistics stand out when looking at the table above and those are Gary's possession duels  (50-50's) on the ground and in the air. Gary Cahill attempted 414 ground 50-50's and 225 aerial 50-50's, garnering an impressive total of 639 duels this season. His win percentage on the ground was 64% and in the air was 63% so it wasn't the best but the amount of involvement in each match is there to see. He averaged a 50-50 duel on the ground every 7.8 minutes and an aerial 50-50 every 14.3 minutes.
These are the most active statistics for any defender in this comparison. It must also show how important he was to Bolton, and also shows that Bolton had a lot of defending to do. If it was any other defender Bolton may have been worse off this season. Other impressive stats show that he's excellent in the air with 143 effective headed clearances, beating his rivals in this comparison easily, whilst only committing three defensive errors. There is one area that he can improve on and that is his tendency to give the ball away. According the Opta stats Gary Cahill gives the ball away every 68 minutes, which is the second worst out of the defenders compared.
Ryan Shawcross and Scott Dann's statistics are fairly similar. Apart from the ground 50-50 win % they are pretty close in numbers. Shawcross had a part to play in nine clean sheets this season which is one every four games which is a decent statistic for Stoke City. Ryan Shawcross was however more prone to conceding fouls than Scott Dann. Shawcross is guilty of the worst minutes per foul conceded statistic out of the ten defenders mentioned, with a foul conceded every 73 minutes in comparison to Dann's 100 minutes. In fact Dann's 100 minutes per foul conceded is only better by John Terry, Michael Dawson and Daniel Agger who was the least prone to concede free kicks. One point in which Ryan Shawcross excelled was his last man tackles. He has the highest successful last man tackles in this comparison with 8 last man tackles this season.
So lastly, Phil Jones, the player who has attracted interest from Spurs, Arsenal, Liverpool and, his chosen destination;Manchester United. Phil's statistics are a mixed bag for a newcomer. In his first full season Jones managed 263 ground duels averaging a ground 50-50 every 8.1 minutes (This was only bettered by Gary Cahill). He didn't manage as many duels in the air averaging an aerial 50-50 every 32.3 minutes double that of Cahill & Dawson. His tackles won percentage was also bettered by all defenders apart from Scott Dann and Ryan Shawcross so he's got a lot of improving to do yet.
Whilst he only committed one defensive error in 2135 minutes of football, the need to improve is there for all to see with the loss of possession statistic being quite a high number at 45 losses of possession during this time. This also equates to a loss of possession every 47 minutes, which is the worst out of all defenders compared. A frequent fouler too with a foul every 79 minutes as well as a tendency to get dribbled past. He has the worst stat in the ten players discussed as he was beaten 19 times this season.
The positives to his game seem to be his reading of the game with an average of 2.4 interceptions per game, a competitive spirit with a ground 50-50 every 8.1 minutes and an ability to make tackles a lot more frequently than his counterparts. He averaged a tackle every 28.9 minutes, which was the best out of the defenders covered plus his tackle success rate was 68%, which is excellent for the first year so as I said, a mixed bag for Jones but he has age on his side.
After analysing the stats for the defenders that could be available, Gary Cahill (25 years old) is the player that should be bought if he can be afforded. If Tottenham have a price for Michael Dawson, he'd also be worth investing in but at 27 years old, it would be his last major contract and maybe some clubs would not be able to justify a huge transfer fee and a lucrative contract.
Ryan Shawcross, Scott Dann, Gary Cahill and Phil Jones (sold?) are all available for transfer this summer. Based on the statistics the latter two present a lot more value for money. However Scott Dann (24 years old) may be available on the cheap after Birmingham City's relegation to the Championship which would be well worth it whereas we cannot see Stoke City allowing Ryan Shawcross (23 years old) to leave for anything less than a bumper deal.