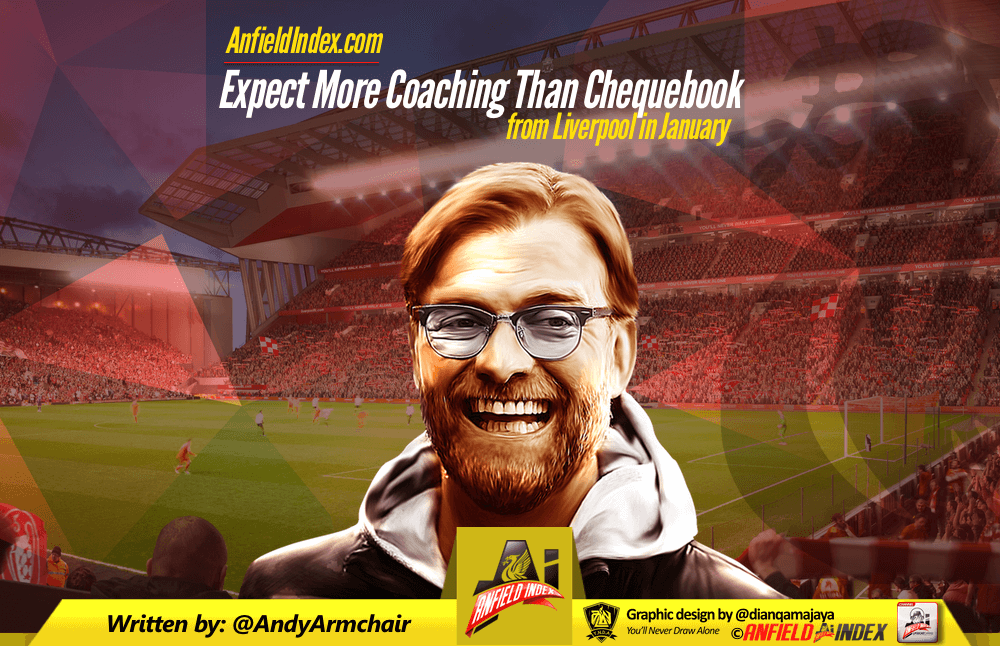 Expect More Coaching Than Chequebook from Liverpool in January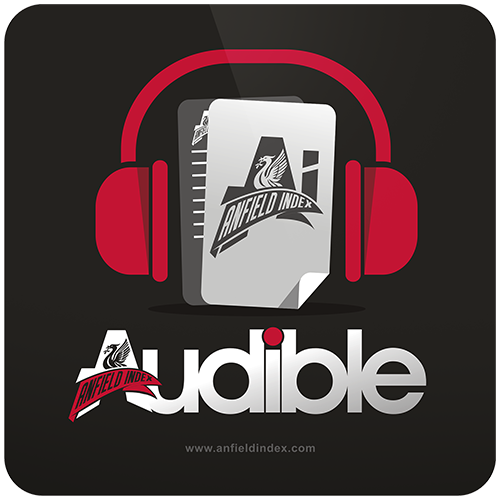 Listen to this article via @AIAudible !
January has arrived, which means another transfer window and Liverpool being the subject of multiple links that stretch the imagination. It is click-bait season for certain sections of the media and it serves to feed the frenzy of some fans, as they piece together a Liverpool XI based on players that the tabloids picked out of a hat.
It's also the time when many fans hope that their dream of seeing players such as Dejan Lovren, James Milner, Jordan Henderson, Adam Lallana and even Loris Karius disposed of and replaced by either more talented or more illustrious names. By next season, there's a fair chance that one, maybe two or possibly even three of those players I've mentioned will have been replaced as regular starters for Jürgen Klopp, but I think it's unlikely that will happen in this transfer window.
What we have in Klopp is a coach, a man who likes to work with and develop players that possess certain core qualities and a desire to improve. He never has been and probably never will be a chequebook manager and as much as he is ambitious, he will not abandon his principles. It probably means that some of us will have to reluctantly accept that players that we don't rate may continue to be picked and have a future at the club.

Looking back at the outstanding Borussia Dortmund sides under Klopp, it was not only players of fabulous natural talent. For the likes of Robert Lewandowski, Marco Reus, Ilkay Gündogan, Mats Hummels, Pierre Emerick Aubameyang, Mario Götze and Nuri Sahin, there was also Kevin Grosskreutz, Sven Bender, Sokratis, Neven Subotic and Marcel Schmelzer. Klopp and his coaching staff not only developed gifted individuals, but also utilised players less talented, but equally determined to succeed.
With the right attitude and work ethic, a little talent can go a long way – that may be something of a cliché, but there is a lot of truth to that statement, particularly under a Klopp regime.
Anyone who thinks Karius will be dumped this early because he's had a tough start to his Liverpool career isn't familiar with Klopp. To those who believe Joe Hart would be the answer to Liverpool's goalkeeping "woes", I seriously question your judgement. It is well documented just how many players have taken a year to adjust to the Premier League, so to write him off so early is premature. It may turn out that he can't adjust, but it's too early at this stage to conclusively say that, so fans should give him the chance that Klopp undoubtedly will. I saw enough of Karius in the Bundesliga to know that he has the ability to succeed. He showed agility, reflexes and shot stopping technique on a weekly basis for Mainz, as well as a level of aggression and strong distribution. His weakness was dealing with crosses, something Klopp and his staff will have known only too well and no doubt expected it to take some time and work to improve that part of his game. His strengths though are the reason why Klopp will not abandon him and certainly won't look to Joe Hart. Karius was bought to replace Simon Mignolet because his naturally more advanced starting position and ability with the ball at his feet are something that Mignolet struggles with. Hart would be like signing another (slightly better) version of Mignolet. Of course, there are no guarantees Karius will fulfil his potential at Anfield, but if he is still experiencing difficulties next year, he won't be replace by taking a backward step.
I may have digressed on Karius, but he is a good example of why Klopp will not panic buy this month, just because we are in a position to challenge for trophies. The current squad have got us this far and performed well up to now. Having said that, I think there is a possibility we may look to bolster our wide attacking options if a suitable opportunity presents itself and we may also recruit a centre-back if Mamadou Sakho and Lucas Leiva depart. However, that is more about filling a gap in the squad than improving it or upgrading individuals at this stage. That kind of work is for the summer, when preparations for the season ahead are made.
Something we, as fans, have to appreciate is the level of trust and faith that exists with Klopp and his squad of players. Not just in the team spirit that is so evident, but also Klopp's faith in his ability to manage, coach and develop his players.
Come the summer, it is entirely plausible that a more permanent option for left-back will be found, despite Milner doing an admirable job there. There's a fair chance that Lovren will be replaced and the possibility exists that Henderson could lose his place too, but none of these are certainties and there is an awful lot of football to come before then.
In the meantime, any player misgivings we may have should try to be put aside and accept that Liverpool might not do any business in this transfer window, and that we will just have to put our faith in the squad that Klopp has. We have a manager in place who is a coach and he wants to build greatness, not buy it.