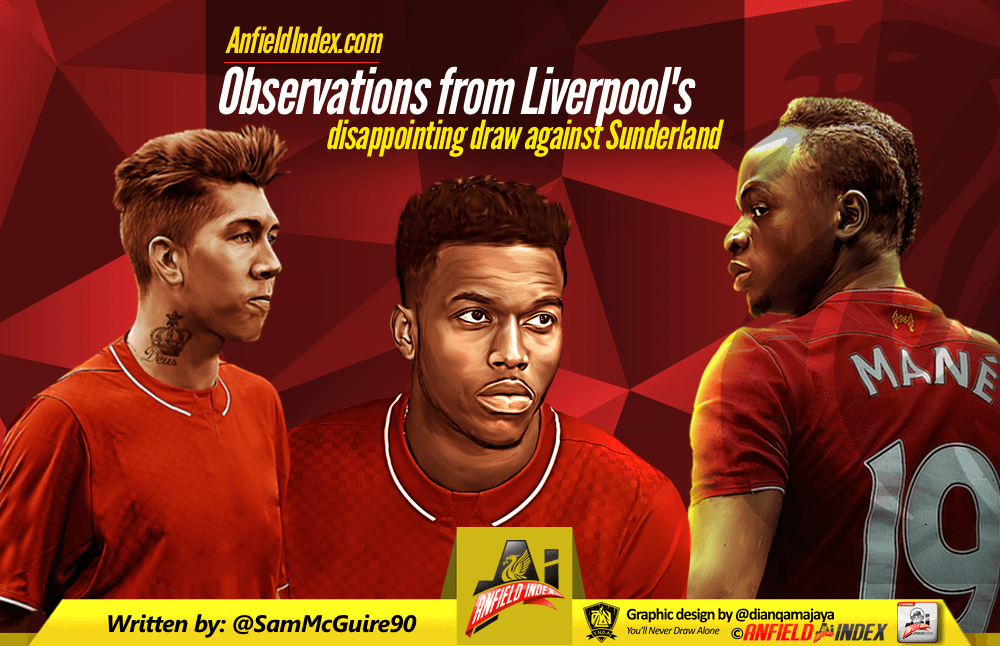 Observations from Liverpool's disappointing draw against Sunderland
Liverpool followed up their hard fought 1-0 victory against Manchester City with a disappointing 2-2 draw with Sunderland at the Stadium of Light. The Reds took the lead twice but failed to hold on and gifted the home side two penalties. Sunderland did well defensively but it was Klopp's men who seemed to lack concentration, possibly because of tiredness having played two games in less than 48 hours, and really failed to deliver. Chelsea now go into their match against Tottenham knowing a win puts them eight points clear at the summit and Arsenal can cut Liverpool's lead in 2nd to just a single point with a win at Bournemouth.
Liverpool's comfortable lead in second has vanished and it's disappointing.
A Rollercoaster of a Festive Period

Liverpool played seven matches in December if you include the match against Sunderland. They took 14 points from those games but what's disappointing is the fact that in matches against Bournemouth, West Ham and Sunderland, they held a lead but failed to see it out for the win. Turn those into wins and Klopp's men would be clear at the top of the league. No team is perfect and there will always be mistakes but it's the manner in which Liverpool collapse which is frustrating. Leading 3-1 against Bournemouth, 2-1 at home to West Ham and 2-1 against a side that has conceded seven in their last two games should be a guaranteed nine points if you have title aspirations.
Sturridge Bags Another
Daniel Sturridge looked sharp. He tested the Sunderland 'keeper Mannone on a few occasions and his goal showcased just how opportunistic he is as a striker. He's that fox-in-the-box and the clinical poacher the Reds often lack, and he showed why he still has a part to play in the season. That's the second time in the space of a week that he's reminded everybody why Klopp should keep him. Firmino has his positives as a striker but that natural killer instinct is often lacking and it's something Sturridge has in abundance. Hopefully his injury wasn't too severe.
Breaking Down the Bus
The Reds, however, did show the world they're able to score against teams who are intent on sitting deep. Liverpool breached the Sunderland backline with relative ease and if it wasn't for an inspired Mannone performance it could have been 4 or 5. There are positives to be taken from such a result but for now, while it's still raw, it's disappointing and it's two dropped points. With Manchester United and Chelsea making up two of the next three league games we really could have done without that.