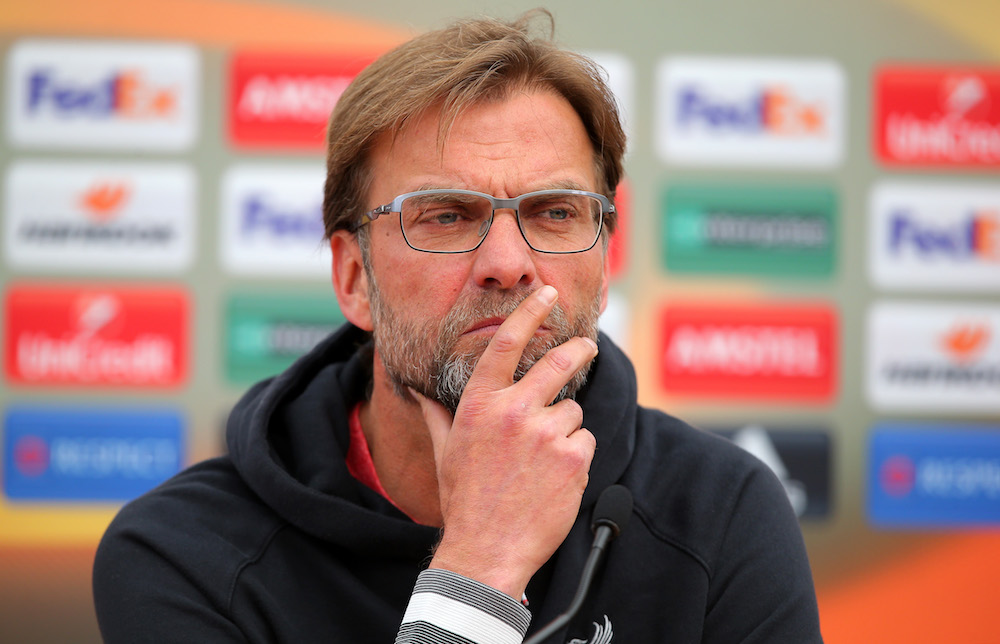 Managing Expectations: Klopp and Moyes on Yesterday's Result
Well, that wasn't very pleasant now, was it? The spirit-flattening result, the loss of precious points, the inevitable Daniel Sturridge injury and the inspired opposition goalkeeper meant we had the perfect LFC Bullshit Bingo card. However, whilst a degree of irritation and perhaps even a modicum of irrational rage were both fair reactions, almost 24 hours later we can, perhaps, attempt a little more calm appraisal. At least, we could try until we read the post-match quotes from the managers involved.
Jürgen Klopp wore his disappointment openly as he spoke with the assembled media and his irritation was also on display as he snapped at one hack and spoke about the balance of the refereeing decisions in the game. The Swabian did not have a problem with the correctness of either of the penalty calls made by Manchester's Anthony Taylor, but he did question the free kick which led to Defoe's second free strike at goal.
"We scored the second goal, felt good, [it] felt deserved, then I would say no foul, but a free-kick," insisted the Reds' gaffer. "I have seen it again and there was no contact. Then handball, 2-2, that's how it is. I must be honest, it doesn't feel good and it's not because of the point, it's because two penalties in a game… Usually what you have to do to get a penalty, to get two, that was harsh, very hard to accept. But obviously I have to accept it, so I will do it."

Indeed, the Liverpool manager's annoyance can be traced back to directly before the second penalty, when Sturridge appeared to be fouled before the break that led to Sunderland drawing level and making us already all side-eye 2017 suspiciously.
"It was for sure a 100 per cent foul on Daniel Sturridge," Klopp averred. "It was a similar situation, the 18-yard box, a free-kick. We would have had a chance to shoot the ball against somebody's arm. Obviously we didn't have the chance and then it was no contact. If you see it again, it was no contact. I saw it in the game, the fourth official saw it. The decision was not the worst mistake in the world – I don't want to say this – that's why it feels so hard."
Meanwhile, David Moyes, that bastion of traditional British values, took the opportunity to crow self-righteously about his team's display. Stung to the core by Klopp's reference to Sunderland as "the most defensive team I ever saw," after their November display at Anfield, the Scot struck a blow for beleaguered Brits everywhere when he insisted, in a way that had zero trace of xenophobia, that he would be lauded for his brilliance if only he were one of those foreign types.
"I thought we did well," simpered Moyes. "We stuck at it. We stuck against Liverpool as much as we could and tried to make it hard for them and we played well as well. I thought today the players raised the supporters by the way they got up to Liverpool, how they put them under pressure, how they pressed them. Maybe if I was a German manager, you might praise that. If I'd been German, you might praise me for doing something different."
So, that was a thing that actually happened, words actually spoken. In 2017. Sound. Sure. I'm off for a pint of wine with my mates Sam and Dave.