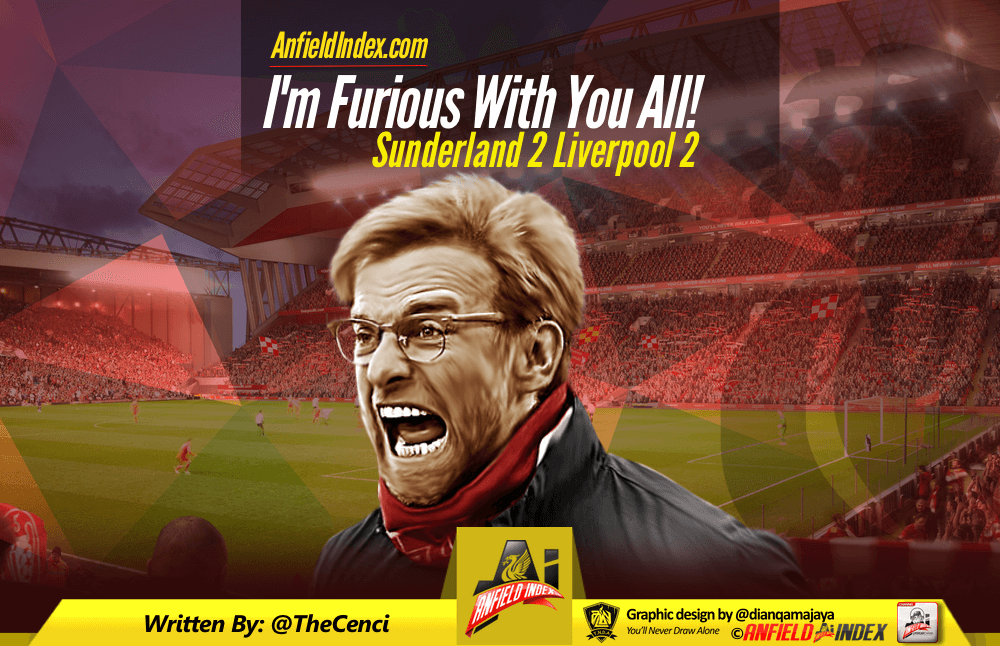 Sunderland 2 Liverpool 2 - I'm Furious With You All!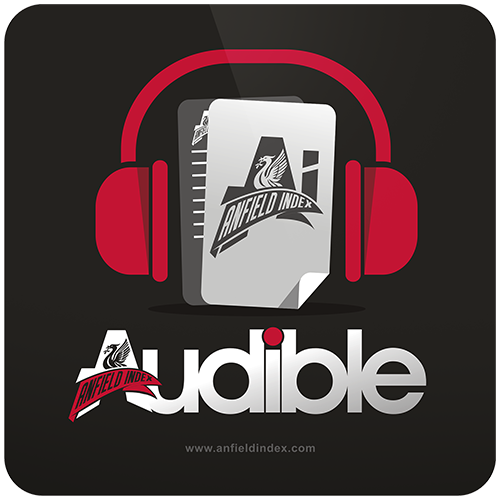 Listen to this article via @AIAudible !
Heads have gone. Absolutely gone.
Liverpool drew 2-2 with one of the worst sides in recent Premiership history and the people are furious. Come full time, Twitter and Facebook became a modern day version of George Orwell's Two Minute Hate. 'How typical of us to beat City and then not beat a Moyes side!' 'Good riddance, Lucas!' 'That's the league gone! We'll never catch Chelsea now!'
I read those words on the night of the Sunderland game (that being the week where nobody really knows what day it is) and was frankly disgusted. No, that's too weak a word. Horrified? Appalled? No, that's not it either. Some combination of disgust with an added skipload of anger thrown in. I'm furious about this, A.I readers. Incandescent.

Before I tear into you – and I do mean you – it's only fair to say that there are different moods between the 2-2 then and the 2-2 now. The blood is up directly after the final whistle and statements are more sweeping and general in tone. I've done it myself, having left a ground and declared that a player – let's for argument sake say a Norwegian left back with fiery hair – to be the 'worst footballer to have ever picked up a ball in our history and the game has been cursed since he discovered what it does' or something similar, probably with an added dictionary of profanity. Social media keeps these moments for posterity.
After a few days later when the context resolves into something resembling sense, we can look at things a little more dispassionately.
I'm still angry though. Not with the Reds, but with those statements. With you. Possibly.
I swear to any available deity that we are the biggest and most spoilt gang of cryarses to stalk the game.
Is that going too far? It wasn't the other night when dummies were being flung out of prams because we drew – drew! Not lost! – a winnable game.
'How typical of us to beat City and then not beat a Moyes side?'
Typical? We've beaten Chelsea, Arsenal, and City and, though it's a different kind of high, Everton. We've drawn against Utd and Spurs. Typical? We've lost two games this season. Lost one in 17. Typical?
Teams lose games from time to time. That's the way of things. Well, alright, Chelsea aren't really proving that just now but if they win every match between now and May then they deserve the trophy, but generally teams drop points. Even the great Liverpool sides have ran into unlikely opposition and caved in to the lower sides after beating the great and the good of domestic and European football. In 2009 we beat United 4-1, Real Madrid 4-0 and still managed to lose to Middlesbrough. Looking back further we couldn't beat Leicester for ages for some reason. Equally, we once went ten years without a win at Old Trafford. Steve Bruce's managerial record against Liverpool is downright freakish. Pulis too.
Burnley and Bournemouth are not as good as Liverpool but in their 90 minutes they had more than us thanks to a mixture of poor form or mental weakness on our part when it mattered. Again, that happens. Look at the last twenty minutes of the Bournemouth-Arsenal game for further examples. Heads go. It's only the 90 minutes that matter – not the context of the League table. In 1989 we beat Crystal Palace 9-0 in the League and then lost the F.A Cup semi-final 4-3 to them six months later.
You can live with games like that – well, I can – if the surrounding fixtures are clocking up the points. Liverpool have just gone through the busiest time in the calendar and faced a Derby, a bullying Stoke side, the richest team in the kingdom and a kick and run side 43 hours later. What's more we took ten from twelve points from them. Lost the title already? Talk sense.
It's easy to sit back and say 'back in the 80s' and offer it as some sort of wisdom but here goes. When Man City left Anfield with the points in Christmas 1981, Liverpool sat 13th in the league. We won the league. In 1986 we were miles behind Everton and West Ham. We won the Double.
Okay, the game's changed, whatever, but this is the fittest Liverpool side ever. We run more and sprint more and chase more and press more than any Liverpool side I've ever seen, but it's practically impossible to do that less that two days after we've won a high octane match such as the City game. The Reds were sluggish in Sunderland but still nearly won it. Frankly, I'm amazed we made it down the tunnel without the aid of portable oxygen tents and golf carts.
'Good riddance, Lucas.'
Oh, really? Must we? Yes, he gave a free kick which led to their goal, but that referee couldn't recognise his own family in a family photo album with the words 'This Is Your Family' emblazoned across it.
Sure, have your least favourite players – I've got mine – but it's a bit simplistic to blame him. He wasn't the one attempting a star jump in his own box at the free kick, but Sadio gets a pass as it's just one of those things. Lucas only has ten years of loyal service behind him after all.
'That's the league gone. We'll never catch Chelsea now.'
44 points from 20 games?
Yes, Chelsea are winning but the whole point about Leagues is that you can lead and throw it away (hello 2013-14) and the best title races are the ones that are chased down to the wire. They have to come to us and it only takes a Mike Dean or and Anthony Taylor mind-melt for a win to become a draw and we're back in it.
What's disappointing is the level of defeatism which greets a Christmas points total of 10/12 including a 94th minute Derby winner. If anyone's throwing the towel in with 44 points on the board with 18 games to go, what are they doing here? We've half a season to play!
The bigger issue is just what the hell Liverpool were doing on the pitch at all. Arsenal played on Tuesday and Chelsea on Wednesday so why can't we? What was the point of putting a side out who had played so recently? Okay, City had the same issue and won, but they didn't have to travel to the North East to do it. Klopp is right to point out that there isn't even the excuse of it being televised. Most of us had to make do with a lousy stream with a million adverts overlaying the screen where the 'Close' button is nothing but a link to 700 adverts. Is common sense even a thing these days? Don't' even get me started on finishing a game at 7.30pm on New Year's Eve. We won't bother getting back home to our loved ones if we don't live in the city then, shall we?
Look, we're disappointed, but the lads were knackered and it showed. Those lost two points may cost us the League, but, conversely, that gained point might be the one. THE one. The one we need in May.
This isn't over. It's not even half way to being over.
You don't surrender a war for the loss of a single battle (that we didn't actually lose). We've got 18 more of them to come and we need to shout them home, not sit back and moan through frowns and folded arms.
Preserve your stamina for the long haul. We're going to need it.