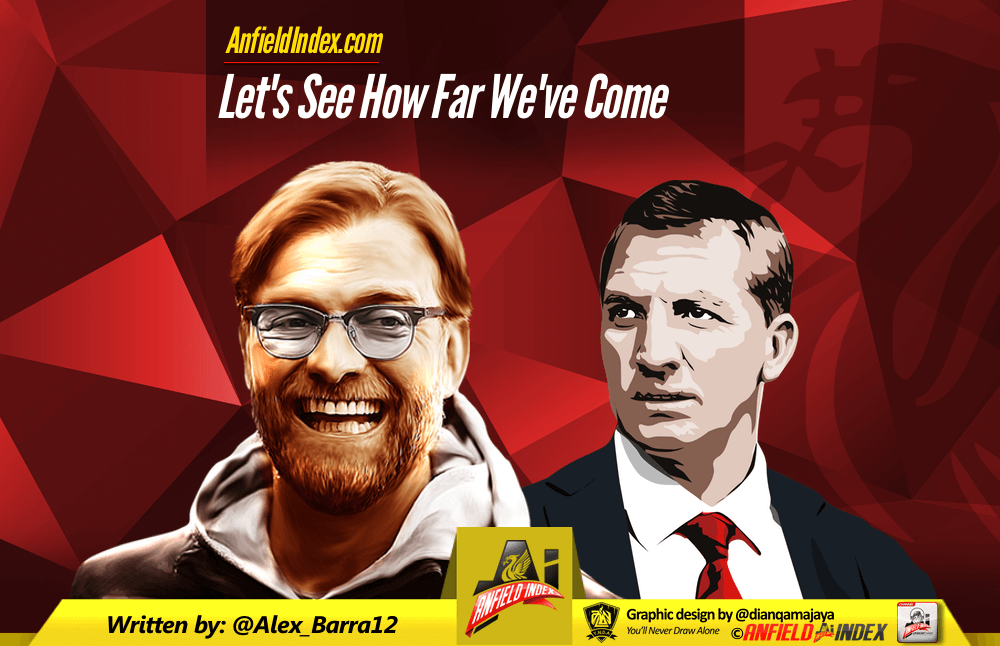 Liverpool FC: Let's See How Far We've Come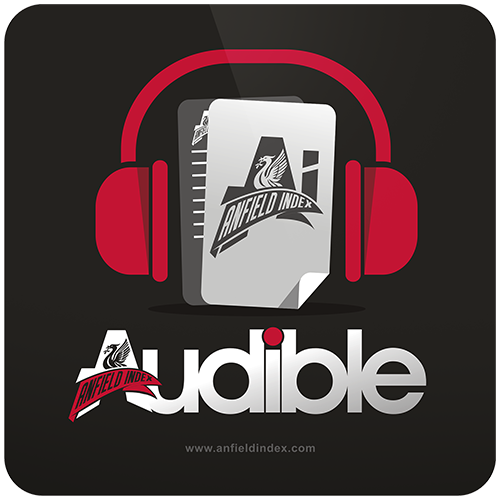 Listen to this article via @AIAudible !

Perspective is often the rarest of commodities in football.
Swept up in the bustling action of the season, results are often what matter the most. The mood of a fanbase is determined by the way their team is playing, and more importantly, whether or not they won their last three games. Winning three in a row; now that's grounds for celebration. Losing three in a row, and the mood will be one of despair. Anything in between – and it's anyone's guess, you only need to look at the mood of Arsenal fans following three disparaging results to realise football fans are a fickle bunch.
This, however, is all known information. The game is ever-changing, a results business is constantly at the behest of a lucky touch or a bad run of form. Nothing seems set in stone – just as Spurs' victory against the rampant Chelsea seemed to unravel the title race many thought was a nailed on certainty. Liverpool fans' demeanour suddenly turned from one of staunch disappointment at the failure to beat Sunderland, to a mixture of encouragement and annoyance: the Reds are now one point closer to the league leaders, hanging onto second spot in the table, and yet the point against Sunderland is all the more annoying when it could've – and should've – been three.
No matter how one feels about the position Liverpool find themselves in at the current moment, going into a set of games which could make or break the season, a bit of perspective really does show how far Jürgen's Reds have come as they enter 2017.
"Of all the words that applied to the roller-coaster ride that was Liverpool's best chance to snatch the Premier League crown in twenty-six years, none seem to be apparent in Liverpool's current situation. Instead, words like "disastrous", "crisis" and "calamity" have been expended by those unfortunate enough to see the transformation from saviour to villain."
That sentence was from an article published on Anfield Index, written by this author, titled "In the Name of Liverpool's Progress." It detailed the fall from grace that Brendan Rodgers suffered during the end of his tenure – compounded by the disaster that was a 6-1 loss in Steven Gerrard's final game in Red.
A 6-1 loss in Steven Gerrard's final game. Think that over for a moment. Think about the despair that engulfed us, the fanbase, and everything surrounding Liverpool Football Club. The management were constantly embroiled in a war of responsibility and blame: who signed who? Why did they give the name "transfer committee" to a system that every club on the continent employs? Why was it even a topic of discussion? How could a manager turn so greatly from hero to villain, all with the loss of one key player?
If you can, dear reader, take your minds back to that time. In your minds, could you have possibly imagined Liverpool would have the big, passionate German helmsmen currently guiding them to second place in the table? Could you, in your wildest dreams, even have conceived such an entertaining idea as going from 8th to title challenging, after the sequence of terrible seasons and terrible signings suffered under the previous regime? Would a European final even have been on the cards, given Brendan's terrible record in Europe? In 2013/14, Liverpool got caught up in a fairytale – and yet now this is very real, and very positive. Where once Liverpool fans had the idea of "one dreamlike season", now the club is setting up a foundation to be successful across multiple seasons.
The last fourteen Liverpool games have seen a record of 10 wins, 3 draws, and 1 loss. During that run, Klopp's side put four past Stoke and Crystal Palace, six past Watford, won a Merseyside derby in the dying stages and stayed within touching distance of a rampant Chelsea, who went on a thirteen-game winning run.
In 2014/15, the season after Liverpool got so close, Brendan Rodgers' men put four goals past a team only once. In 2016/17, they've already put four (or more) past six teams. Brendan's side went to QPR and relied on own goals from Steven Caulker and Richard Dunne to beat the London side 3-2: meaning Liverpool's most prolific goalscorers were own goals – three of them, one more than Raheem Sterling and Steven Gerrard. By the same time this season (8 games in) Liverpool had scored 18 goals: which included seven different goalscorers. Rodgers was notoriously poor against bigger sides without the presence of Luis Suarez: two losses to Manchester United in the 2014/15 season illustrate that. Jürgen Klopp, meanwhile, has 11 points against top six sides this season: more than any other manager of a top six Premier League club.
During his entire tenure, Brendan Rodgers didn't win a single piece of silverware. In Jürgen Klopp's first year in charge, Liverpool reached two finals. Brendan's tenure – as previously mentioned – was wrought with disorganisation and blame. Klopp's ship has been a stable one – with clear roles outlined, and a forward direction at all times.
Rodgers' stint was defined by the split it caused in Liverpool's fanbase. Jürgen Klopp has united that fanbase.
On January 10th, 2015, after a 1-0 win at the Stadium of Light against Sunderland, Liverpool were 8th, 15 points off of the league leaders: Chelsea.
On January 6th, 2017, after a 2-2 draw at the Stadium of Light against Sunderland, Liverpool are 2nd, 5 points off of the league leaders: Chelsea.
Perspective can be a wonderful thing.