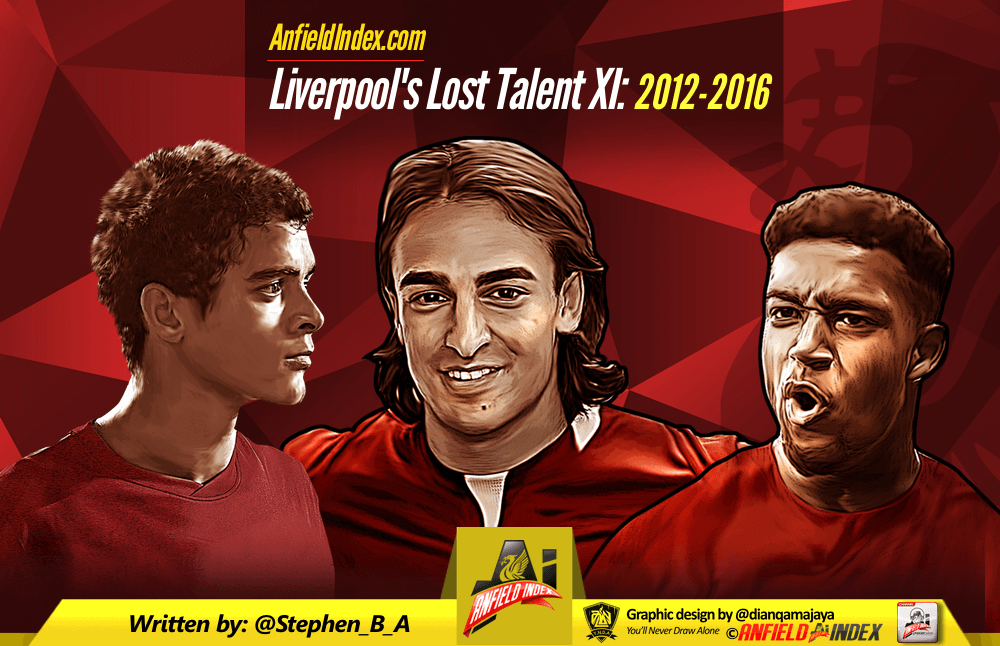 Liverpool's Lost Talent XI : 2012-2016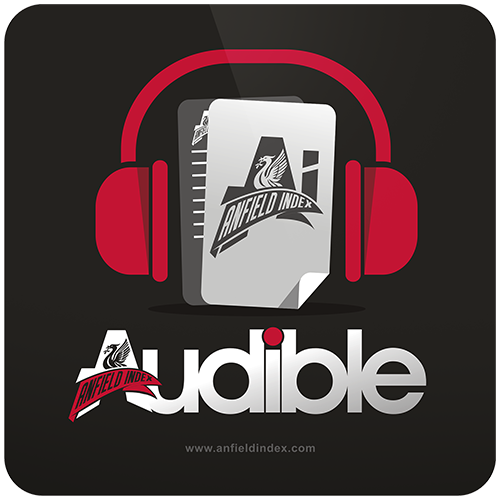 Listen to this article via @AIAudible !
Much has been said about Brendan Rodgers' time at Anfield. He was often lauded for his development of talent, both by the press and by himself. This week's news that Tiago Ilori is likely to move on to Reading   had me thinking, how much talent did the Northern Irishman waste or ignore during his tenure?
Yes, Raheem Sterling and Luis Suarez become household names, with the latter almost single handedly winning Liverpool the league. But looking back at the players Rodger's had at his disposal and it looks more and more that these two are the anomaly and not the rule.
To me this is highlighted by how Jurgen Klopp in little over 12 months has taken many underperforming players onto a new level.

We can all see how Lallana, now as a centre midfield runner, is like a new signing – he has goals, consistency and fitness not seen before. Club Captain Jordan Henderson is beginning to show that he is a fine player, leading the passing stats in the Premier League for the season so far and showing composure in his new deeper role. Even Dejan Lovren can manage a 6 or 7 out of 10 performance on a regular basis.
Looking back at our previous manager's time at the club, which players were mismanaged, loaned out or sold on who could or should be adding depth to the team by now?
Here is my Liverpool Lost Talent XI:
GK: Peter Gulacsi
The young Hungarian 'keeper was barely given a chance at Liverpool and moved on to Red Bull Salzburg for free during Rodgers reign. He went on the be their first choice 'keeper and currently resides in the top 2 of the Bundesliga for RB Leipzig.
Karius may be Klopp's long term number one, but Gulacsi could be offering competition for, or even taking, Mignolet's position in the team by now.
RB: Martin Kelly
Martin Kelly's career at Liverpool was a story of injuries and bad luck, mixed in with a few outstanding performances. Since moving on to Crystal Palace in 2014 he's proved himself a Premier League quality player.
Though unlikely to knock Clyne out of the first team, Kelly's versatility – being comfortable at centre half and playing several games at left back for Palace – he could be a good squad player under Klopp. He's strong, determined and not afraid to challenge for the ball in the air or on the ground.
CB: Andre Wisdom
Andre Wisdom may technically still be a Liverpool player, but having spent the past four years on loan playing at different clubs, for multiple managers and not in a set position, he talent feels wasted.
At 23 years old Wisdom should be a starting centre half in the Premier League and could have been a lovely fit under Klopp with pace and power. But alas, he's only played over 20 league games in a season twice – for Derby in the Championship and for a dreadful Norwich side. Wisdom will surely be off to pastures new this summer.
CB: Tiago Ilori
The London born Portuguese under 21 international was expected to be a star of the future when he signed. Looking like a cultured centre back with good footballing ability and reading of the game many fans hoped he would be the heir to Agger's throne.
The reality has been loan after loan, minimal exposure to Premier League football and at 23 years of age he still doesn't look ready for first team football in the top flight. Hopefully his move to Reading will come off and Jaap Stam can turn him into a top player.
LB: Jack Robinson
Jack Robinson's move to QPR had seemed an odd one. Following a couple of decent performances at only 17 years old Liverpool fans had hoped to see him in a red shirt for the next 15 years.
Injuries, lack of opportunities and a move to a club in turmoil have done little to help this promising players career take off. Another 23 year old who could be looking at a lower league club to restart his career this summer instead of living out his dreams as Liverpool left back.
CM: Jonjo Shelvey
Jonjo Shelvey is a funny one. The centre midfielder was explosive for all the wrong reasons – including seeing red and taking on Fergie in a United game. But his range of passing and commitment in challenges should have been developed into at the very least a squad player by now.
Instead Rodgers decided he was too much work, shipped him off to Swansea and he's now slowly developing a more mature game under Rafa Benitez at Newcastle. Missed opportunity or lucky escape, time will tell on this one.
CM: Jordan Rossiter
Seen as the next Steven Gerrard, Jordan Rossiter started his Liverpool career full of promise with long a range goal, crunching talks and a scouse accent while scoring on his debut aged 17.
Another player that could have been developed through the under 21s, more cup games and maybe some carefully planned loans. Instead injuries and ineffectual time on the bench and the young prodigy decided a move to Glasgow Rangers would offer him more opportunities when his contract expired last summer.
AM: Suso
Dani Pacheco, Joao Carlos Teixiera and Suso have all fallen foul of Liverpool managers of past, suffered injuries and been left to walk out of the door with their potential unfulfilled.
Suso was supposed to be the next academy superstar and was projected to be filling the current Coutinho role. But after a promising start injuries and Rodgers (and to be fair Coutinho) got in the way. The young Spaniard, after two years in Italy, is now starting to show his true form for Milan and has been a big part of the clubs recent resurgence in form with 5 goals and 6 assists in 17 games this season.
Imagine having the young playmaker unlocking defences from the left in Coutinho's recent injury spell or coming in from the right while Mane's at the AFCON. If anyone epitomises Rodger's failure to understand and nurture talent it's Suso.
RW: Markovic
Lazar Markovic may not have spent any time in the clubs academy, but at 20 years old he was both a signing for now and the future. Having won the league with Partizan and Benfica the confident winger come number 10 was expected to excite fans for years to come.
Lazar is, like Suso, a player who given time to adjust to the Premier League's physicality and speed and not having the weight of Suarez leaving on his back, should have been the perfect wide man for the current manager.
The reality was a manager who played him as a wing back, ostracised him during games and never fully trusted him. Throw in a couple of loans, a complete loss in confidence – judging by his pre-season performances – and a generally underwhelming time with the club and it looks like this £20m attacking midfielder will be looking at pastures new this summer.
LW: Jordan Ibe
Lauded as Raheem Stirling's immediate successor. The stronger, quicker but less developed player had the weight of his predecessor who'd exploded into the team thrust on him at too young an age to ever have a chance.
Playing first team football for Wycome Wanderers at 15 years old lead many fans to believe we had another superstar of the future on the books. But bouncing around from wing back to winger, much like Lazar Markovic and too much pressure from the fans, followed by injuries and poor coaching meant Ibe has yet to show a true end product.
The £18m deal with a buy back clause is a super piece of business by the club. If the less pressurised atmosphere and first team football at Bournemouth pays off then the club can bring one of their youngsters back. If not, then they've made good money on little more than potential and growing pains.
CF: Fabio Borini
After a summer tug of war for the former Chelsea and Roma player, Fabio Borini was earmarked as the next Dirk Kuyt. A hard working, honest forward. Someone happiest as a centre forward but who had the engine and determination to play as a wide forward hassling the opposition and tracking back in defence.
Never likely to be a super star, but surely a squad player built to play in Rodger's system. But following a broken foot, and dislocated shoulder in his first season he was sent out to Sunderland for the 2013/14 season and eventually signed for the club two years later.
Misused, unfortunate with injuries and never given a chance to play (being out on loan) the one season Liverpool were playing to his strengths – the 2013/14 season – he was doomed to fail under Brendan. Fabio could have offered a hard working alternative to Mane in January, but instead he's suffering the coaching of David Moyes…
With Jurgen Klopp at the helm, one hopes we won't look back at our current crop of youngsters the same way in years to come.
With the likes of Joe Gomez, Trent Alexander-Arnold, Ovie Ejaria, Cameron Brannagan, Harry Wilson, Sheji Ojo, and the latest Kirby graduate Ben Woodburn making waves at the club, lets hope the class of 2016/17 are here to stay. Beating the dross and winning the league for years to come.