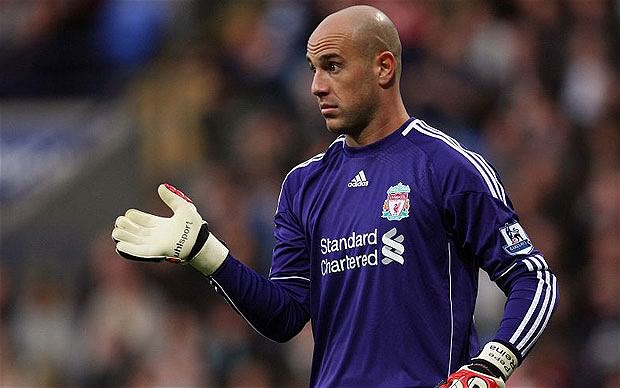 Premier League Goalkeeper Analysis – 2010/11

The man between the sticks is forgotten about far too often in football. Just look at Barcelona, the best team in the world right now. Victor Valdes may be a quality goalkeeper, but he is very rarely given the chance to prove that due to the nature of Barcelona's football. As Ian Rush famously said, "It's best being a striker. If you miss five then score the winner, you're a hero. The goalkeeper can play a blinder, then let one in… and he's a villain."
Here at Liverpool Football Club, we are blessed with one of the best goalkeepers in the game in Pepe Reina. He may not get to play for his country often due to the stiff competition for places, but whenever he plays at Anfield, he has the full support of the fans. He may make the occasional mistake, but we Liverpool fans pride ourselves in supporting our players no matter what (unless your name is Christian Poulsen, for example), and for that reason, we have always stuck by our man no matter what the press or other fans are saying about him.
But is our everlasting support reasonable, or is Reina's form not good enough to be competing with the top sides? In this article, I will compare who, in my opinion, have been the four best goalkeepers in the Premier League this season with our very own José Manuel Reina.
Firstly, let's look at some basic stats:

The first thing we must consider when looking at the above stats is that Van der Sar, the consistent United goalkeeper who had his last season, only started 33 games, while each of the other four keepers started every game this season. Therefore, when looking at Van der Sar's stats, it is important to take this into account.
Let's start with clean sheets then. While Van der Sar, Cech, Hart and Reina have seemingly similar stats here, the standout performer was undoubtedly Joe Hart of Manchester City, the England goalkeeper, with an impressive 18 clean sheets, that's almost one every two matches! Van der Sar's 14 was also impressive considering his league starts, with a lower games per clean sheet ratio than both Cech and Reina. However, on the other side of the scale, we have Ben Foster, who only managed to protect his goal 9 times over the season. Having said this though, we must remember that Foster was playing in net for Birmingham, one of the three teams that would eventually face relegation, so considering the players he had in front of him, nine is a respectable number.
Ben Foster's disappointing clean sheet tally, however, is definitely cancelled out when you see his number of saves, coming in at 93! While he conceded 55 goals this season, his percentage of shots on target that were saved are very impressive, managing to put him into joint first with Joe Hart in this category, suggesting so far that Hart may have work to do to hold onto his place in the England line-up. However, somewhat surprisingly, Reina comes out at the bottom of the bunch here, only saving 55% of the shots on target that he faced. This could either mean that he faced some outstanding shots, or that he was simply not as good as the other goalkeepers. This record cannot be put down to complacency from the defenders either, as the only two outcomes of a shot on target here were a save or a goal.
Next up, we'll have a look at how willing each of the five men were to take risks last season, and how strong they were in the air:

The first conclusion that we can draw from the above data is that Van der Sar seems to take the fewest risks, with just 35 crosses caught, zero interceptions and 14 punches, a low figure even considering his starts. However, we can also see that when called upon to make important challenges, the United stopper held a 100% record, winning all possession and aerial duels that he contested. This could be due to United's painfully solid defence, but it could just show that 'there's life in the old dog yet'.
Based on these stats, we can also tell that Reina and Cech were the two keepers that seemed to do the most in terms of patrolling their area, with almost 150 crosses caught and 50 punches made between them. However, looking at the stats for duels won, we can see that Cech had marginally more success here. Furthermore, Reina picked up four yellow cards over the season, which shows his short fuse, while Cech had an angelic record, with no cautions. The Chelsea man also made more than double the amount of 'keeper sweeps' that any other contender did, showing his desirable ability to clear the danger before it arrives, while Van der Sar only made nine such sweeps, which is perhaps indicative of his old age.
Both of the England men seem to have fairly similar stats here in terms of crosses caught and punches made. However, Foster made five defensive errors compared to Hart's two, and contended a lot more possession duels, winning a lower percentage. The reason for this, again, is most likely the fact that Foster was playing for Birmingham, which meant that he was likely left with someone else's mess to clean up, and more often than not, he was successful in doing so, showing that Foster can play to a high standard even when incredibly busy.
When we look in depth at the defensive errors, there is very little to analyse. All five keepers seemed to be very consistent, with no-one making more than five important mistakes. However, the fact that Foster topped the list here perhaps intimates that there is a reason that he is not playing for a 'big club' right now. Hart's two defensive errors set the benchmark here, a very impressive number considering he was ever-present for Man City.
Finally, I'll be analysing the keepers' pass statistics, seeing how they think about the game from an attacking perspective:

In terms of total passes, we can clearly see that Foster and Reina had the highest numbers. This is most likely due to a case of 'lack of creativity' from team-mates, with defenders opting to pass the ball back to the keeper. In Reina's case, the number is considerably lower, most likely due to Dalglish eliminating this mentality when he took charge. However, with Foster, it is clear that the defensive play was present throughout the season. When we look at pass completion though, we notice that Hart and Foster both give away possession more than they kept it through passing. This is most likely due to an attacking mentality though, and an eagerness to hoof the ball up the pitch to try and start an attack, many of which would be intercepted by opposition players. This mentality is reflected through their number of chances created, both creating two chances, higher than the figures of Can der Sar and Cech.
Now, while this number may seem irrelevant, every chance can make a difference, especially in terms of goalkeeping stats. For that reason, I think that the most impressive goalkeeper based on this set of stats was our very own Pepe Reina. This is because not only did he manage do get a higher than 50% pass completion, he also managed to create two chances, a feat which none of the others managed to achieve, which tells me that Reina is the most creative of the stoppers in question.
To conclude, it seems obvious to me that all five goalkeepers have their own strengths and weaknesses. With Van der Sar, you have an old but effective stopper. With Cech, you have a consistent risk-taker, but that can sometimes lead to mistakes. With Hart, a forward-thinking player who keeps clean sheets, but often gives away possession. Reina gives us creativity and flair, but has a tendency to make mistakes. And finally, Foster gives Birmingham strength between the posts, but the fact that he plays for a poor side is reflected in the numbers. Taking all of this into account then, this is how I would rank the keepers based on this season:
1st – Petr Cech
2nd – Joe Hart
3rd – Pepe Reina
4th – Edwin van der Sar
5th – Ben Foster
For me, figuring out first and fifth place was the easy part. Cech showed why he is a world class keeper last season in that he was willing to leave his line if it meant clearing a danger before it arrived, something that cannot be said for many others. While Cech made mistakes, so did everyone else, but Cech was far more consistent, with some impressive figures across all three of the above categories, not placing below third in any of them.
I put Ben Foster in fifth due to the fact that it is clear that although he is a top keeper, he is not yet cut out for a top team, which we can see through his creative stats especially. He definitely deserves a better team than Birmingham, but isn't quite at the level of the 'big six' clubs. A move to Aston Villa in the summer may be controversial, but I think it would be a good career choice for the ex-Manc.
Deciding how to rank 2nd, 3rd and 4th was the difficult part. In the end, I put Hart second due to his impressive number of clean sheets, and Van der Sar in fourth due to the fact that he was in the last year of his career, and it showed through his risk-taking stats, or lack of them. This left Reina to slot nicely into third.
Going back to a Liverpool point of view then, it is clear to me that in Pepe Reina, Liverpool have one of the best goalkeepers in the world. In the first game of the season, we played Arsenal, where a rare goalkeeping error from Reina in injury time caused us to drop what may have been a season-changing two points. Many fans began to question Reina's ability. However, when you consider what has gone on off the pitch, you start to realise how tough it must have been for the players, especially Reina who was abandoned by Spanish compatriot Torres, which led to heavy speculation about his future. Under King Kenny though, it seems that Reina's form has been revitalised, and we are reminded of why we fell in love with him.
Thanks for reading, YNWA