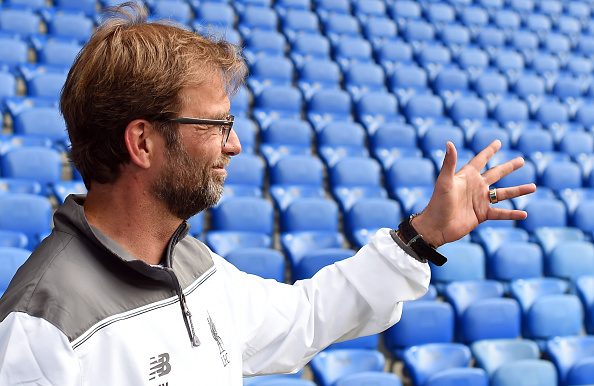 Klopp on Karius, Sturridge and Coutinho
Last night I watched Dinosaur 13, the heart wrenching tale of the world's most impressive Tyrannosaurus Rex discovery. Sue, that's what they called her, was subsequently impounded by the FBI for dubious reasons and remained in storage for years, much to the chagrin of the hapless paleontologists who'd quite literally unearthed her. Now it may be that my brain is even more damaged than I had believed, but this struck me as the perfect metaphor for how many of us Liverpool obsessives have felt about Daniel Sturridge.
On form and in condition, there is no better striker in the Premier League. None. You could keep your Costas and Agueros if we had a fully operational Studge – his balletic grace, elusive movement and lethal finishing are all one could wish for in a Liverpool number 9. Alas, these delights, like Sue, have been taken for far too long from those who would appreciate them most. Having scored and played well against Sunderland, it was crushingly disappointing, and all-too-familiar, to see the supremely gifted forward leave the field injured. Again. Not another false dawn, for the love of…
As it turns out, the damage may not have been so bad. Jürgen Klopp's language always has an unsettlingly but understandably vague quality when he talks about Sturridge but there were, at least, crumbs of comfort. Positive vibes too, on the impending return of that other outrageously talented man, Philippe Coutinho.

"Daniel didn't train until now," the bearded Swabian offered. "Probably today [he will return to training], we'll see. It depends how he feels, that's how it is. It should be possible, but I'm not sure. [Coutinho is] on a very good way but not for the weekend, and [Matip is the] same.  [Milner is] better. We were lucky, we had no proper injuries after the game so that's all good, but Millie had this little issue with the calf. We were not sure, because of the intensity or whatever, that it wasn't more, but I am pretty sure we will not take the risk with him for the weekend."
Whatever the fate of these established first team stars in the short term, the majority of liverpool fans will want to see the cups bringing opportunities for the club's impressive collection of young talent. One man who fits into that category is Loris Karius. The suspiciously aesthetically pleasing goalkeeper (Have you seen Westworld? That's all I'm saying) failed to take advantage of the early faith Klopp placed in him, but the cup competitions offer him a route back to the first eleven. What do you reckon, gaffer?
"Big chance," confirmed the manager. "[He has] trained outstandingly good. It's good to see. It's difficult to speak about things like this in public, because you make all of these things big stories – that's a little bit of the problem. But, how we said before, we cannot ignore the pressure you make. That's how it is. We have to cope with it, we have to deal with it and that's why we made the change. I was sure Loris would benefit from this step back, if you want, or step aside or whatever. Simon has done a really outstandingly good job for us since he has been playing again. Loris forces him to train on the highest level because we have two really good goalkeepers. So, it was good for him."
Lovely dig at the media hysteria? Check. Second chance for our blonde Instagram-fancying clothes horse? Check. Excellent work, Jürgen, excellent work.