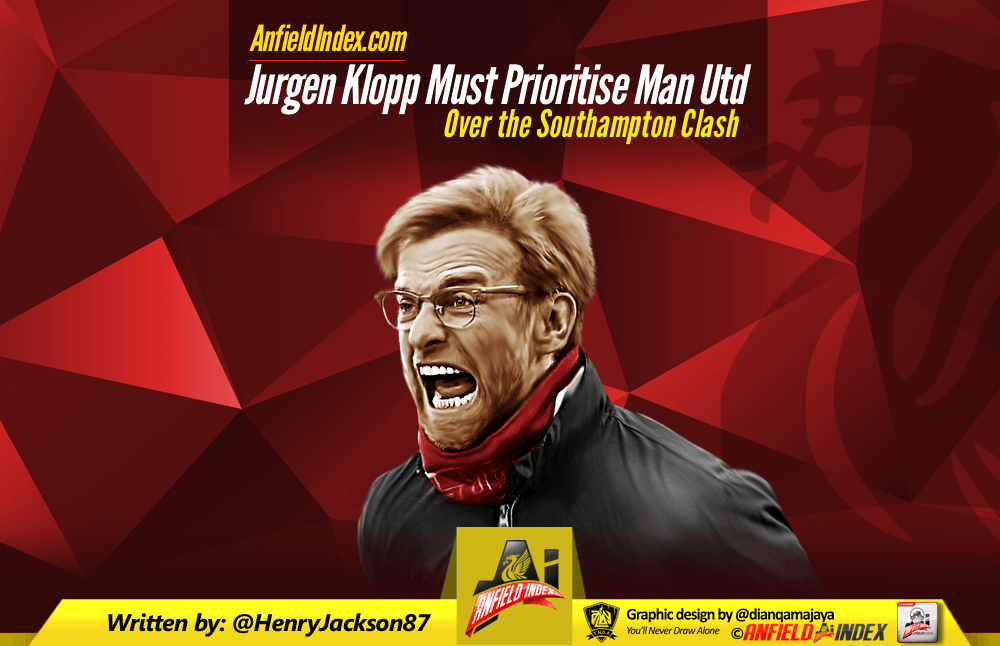 Jurgen Klopp Must Prioritise Man Utd Over the Southampton Clash
Liverpool's relentless schedule shows no sign of slowing up, and we now approach another season-defining spell in the Reds' season.
Having conquered the festive period in impressive fashion – I'm willing to fight anyone who moans about 13 points from a possible 15, just because Liverpool drew with Sunderland – it's now time for Jurgen Klopp to tackle two different competitions in four days.
First up is the League Cup semi-final first-leg against Southampton at St Mary's on Wednesday, followed by a trip to Old Trafford to face Manchester United in the Premier League and with Liverpool's squad depth perhaps not as impressive as we thought back in the summer, partly due to injuries, Klopp has the unenviable task of juggling his personnel for these two important games. In reality, however, one is far more significant than the other.

Being in a cup semi-final is always nice, and winning the competition would certainly be a huge monkey off the entire club's back, but Wednesday's clash with Saints has to play second-fiddle to United. It's all about the league this season. For those not old enough to remember Liverpool swatting teams aside with ease throughout the 1970s and 1980s, title challenges have been few and far between. The Reds huffed and puffed a bit in the mid 90s, but were too mentally weak to ever really threaten an unstoppable United side, and since the turn of the century, only 2001/02, 2008/09 and 2013/14 have ever threatened to end in title glory.
All Liverpool fans crave that holy grail, but for those under the age of approximately 40, the thought of winning the league is almost impossible to comprehend. The joy and emotion that it would bring would top Istanbul, without question, and possibly any other piece of silverware for the rest of our Liverpool-supporting lives.
This is why the Premier League takes precedence in 2016/17.
Klopp's men have got themselves into a great position this season – to be just five points adrift of Chelsea, despite their 13-game winning run, is a wonderful effort – and they cannot afford to let this challenge go out in a whimper.
Of course, there is a good chance they won't taste glory in May, but failing to because too much focus was put on Southampton in the League Cup would be criminal.
Key men must be rested for the trip to St Mary's, and with a second-leg still to come at Anfield, this is far from surrendering the tie. There is still plenty of quality outside Klopp's first-choice starting line-up, so there is no reason why a positive result still can't be gained on the south coast.
United is the one, though. It feels pivotal.
Unfortunately, Jose Mourinho has finally decided to care about being a football manager again, and has got his side playing well and enjoying the kind of luck that was unshakeable at United for over 20 years under Alex Ferguson.
I hope you treasured those dark years under David Moyes and Louis van Gaal, because with every week that passes, the more it feels as though they are an awakening force again.
With five points separating the two bitter rivals, the result of this match will have a major impact on both the title race and top-four battle. By the final whistle, Liverpool could either be eight or two points ahead of United, and depending on how Chelsea do at Leicester the day before, the Reds' deficit at the top could also be either of those margins.
Historically, Liverpool have been pathetic at Old Trafford during the Premier League years, and Klopp needs to have his team as fit, strong and prepared as possible, in order to avoid another miserable trip there.
No risking the likes of Philippe Coutinho, Roberto Firmino and Daniel Sturridge at Southampton. Keep Joel Matip and Jordan Henderson wrapped in cotton wool. Don't allow Emre Can to eat and drink heavily before the game, as he appeared to have done prior to his wretched showing Sunderland.
The thought of a key man getting injured at Southampton, or being weary against United because of starting four days earlier, is unthinkable. Mourinho won't make that error when his side face Hull in the other semi-final on Tuesday, and neither should Klopp.
Hopefully, this is the start of a wondrous period under Liverpool's magnificent German, when they challenge every year and win trophies consistently, but that cannot be guaranteed. The Reds can't rest on their laurels and assume that chances this good will happen again in the title race – the vast majority of their focus must be on ending that horrible 27-year wait.
In decades to come, nobody will talk about going out to Southampton, or even winning the League Cup, if Liverpool achieved that next month. That may not be what you want to hear, but if focusing too much on that competition ends up being detrimental to the Reds' league campaign, it will be tough to stomach.
Matches against United always feel special, but this one is particularly enormous, for so many reasons.
Let's hope a weakened Liverpool smash Saints in the semis, before their strongest, freshest team produce an emphatic victory at Old Trafford. That would represent one hell of a week.
Let's face it, though, there's only one of those two games that we truly care about.