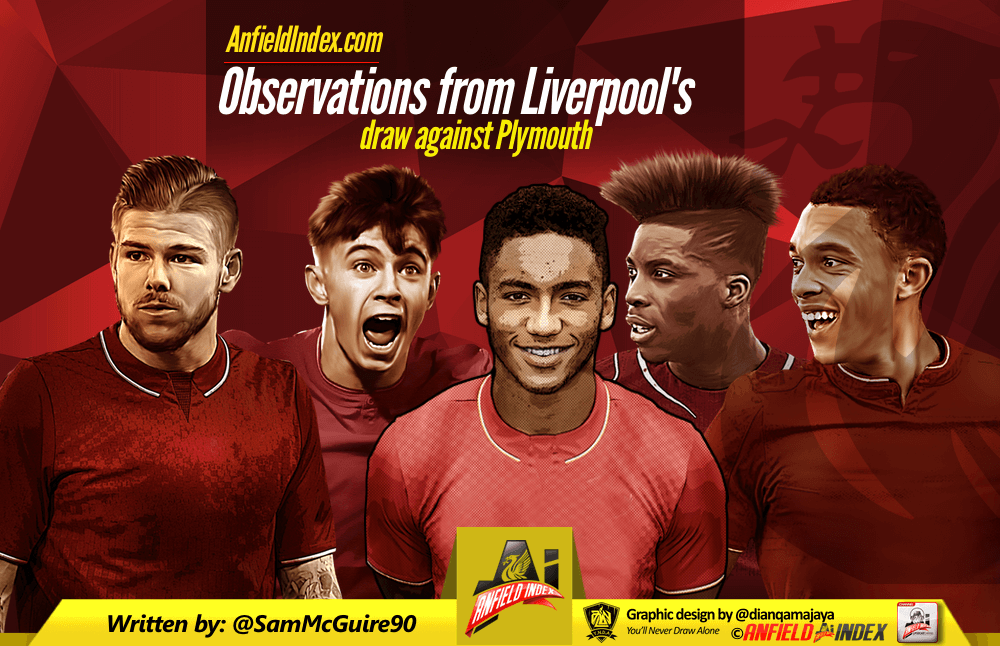 Observations from Liverpool's draw against Plymouth Argyle
A disappointing 0-0 draw at home to Plymouth means the Reds have a tricky replay to contend with in amongst an already difficult month of January. It's something they could have done without but it's our own doing after not showing enough class to finish off the League Two outfit.
Liverpool were utterly dominant but did nothing with the ball. They didn't even trouble the Plymouth goalkeeper. It was a glorified defence vs attack training session and there's now a replay to deal with.
It was just a weird match. Are there any positives or negatives to be taken? Or was it just 90 minutes of 'meh' with the occasional raised eyebrow?

Are the Kids Alright?
Jurgen Klopp fielded the youngest Liverpool starting XI in the club's history. The likes of Trent Alexander-Arnold, Ovie Ejaria, Ben Woodburn, Joe Gomez and Sheyi Ojo all got the opportunity to show why the German manager doesn't have to spend money in January.
The FA Cup throws up shocks every single year so it was important the players didn't consider this match to be a formality and fortunately they all kept their concentration. Liverpool dominated and the players didn't look out of place despite their tender years.
They showed patience against a side happy to forfeit the ball. They rarely showed any frustration. They weren't firing in shots from 30 plus yards and on the whole the team looked to carve out openings playing football the right way. It was a huge positive for their long-term development but not so much the short-term.
But just how much did we learn from the match? Very little unfortunately. These players weren't tested.
Joe Gomez's Return
However, one positive was seeing Joe Gomez starting for the first-team after over a year out. He looks the part and used the ball well but again we didn't really learn much, but at the same time do we ever learn anything from a single game in isolation? Whether or not he can challenge Lucas for the third centre-back role this season is still unanswered. But at least he's got 90 minutes under his belt.
Alberto Moreno is a Set-Piece Expert
People question Alberto Moreno's role within the squad but today he answered them. He's the set-piece expert. He seemed to be tasked with taking corners and free-kicks, and it was a surprise, but then at the same time there are so many places this could go…. It'll be a memorable sight for all when he scores a hat-trick made up of penalties and free-kicks in the return match at Plymouth.