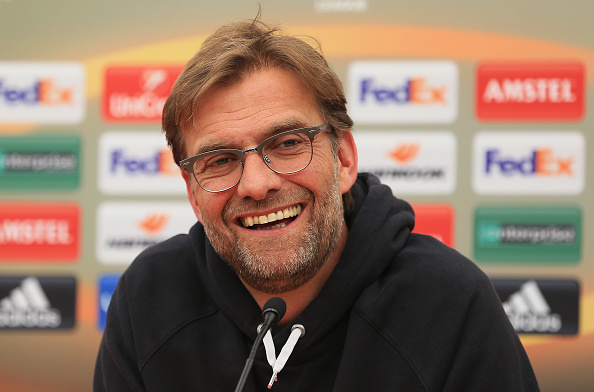 Klopp Content With The Kids
If we're all completely honest with ourselves, yesterday's 3rd round FA Cup match against Plymouth at Anfield was everything one would expect to emerge from the disorientating fug of the post-Christmas period. It was the Redmen, but it wasn't really. It was a competitive match, but it wasn't really. Jürgen Klopp was clearly on the touchline and yet also appeared to be in the stand looking decidedly non-plussed.
As Alberto Moreno jogged over to ineffectively strike his twentieth corner of the game, this scribbler slid into a stupor of indifference and odd detachment. After a promising start, imbued with the brio of youth, the match settled into a pattern of possessional dominance for a Liverpool side uncharacteristically lacking the capacity to breach the defence they faced.
The stalemate means that Klopp's men face a replay in Home Park and, much to the sheer horror of the Twitterati, ANOTHER GAME. Fitness Eggs everywhere shook their heads knowingly and wrung their hands at the impending injury crisis. Other follically challenged sorts, like myself, shrugged indifferently, reached for the last of the seasonal junk food and assumed the same bunch of youngsters would be glad of the chance to prove themselves again. The manager seemed to be calmer than most in the wake of the result.

"It was a very dominant game from my side, [but] with no real chances," he reasoned. "One or two shots, that's normal the longer the game is. But they did everything they had to do to deserve a rematch. Now we have it, yippee! Plymouth is a good place to go. It's my responsibility, the whole thing – the line-up and performance. We could have done better, 100 per cent."
Well, that's all very well Jürgen, but didn't you get it horribly wrong? Doesn't the blame for this travesty lie squarely at your feet? It's another game, man…ANOTHER GAME!
"I don't think the line-up was a mistake, but you can see it like this if you want," the German gaffer offered. "We made mistakes in the game and always with the boys, the good things they are responsible for and the bad things I am responsible for. If you want to see it [the result] in a bad way then I am 100 per cent responsible, I have no problem with that. I will take it even if they had scored a goal in the last minute. I always choose line-ups to win the game and I accept that it was not to see in all situations today, but in a lot of them it was.
"It's really important for us, having games like this where we really have to fight for the result with a different line-up. There is a long season still to go and we need to change. If you make that many changes, it doesn't make it easier for the boys – I know this – but they need this experience and now they have it so we can go on."
Ah, I see. So, we're going for the calm and rational reaction, then. A bold gambit. Personally, I'm looking forward to another opportunity to see Ejaria, Ojo, Woodburn, Alexander Arnold et al in a game where something tangible is at stake and the only real negative is the possibility that the Pilgrims' boss, Derek Adams, may wear that padded down blazer again. I mean, that thing was just…wrong.