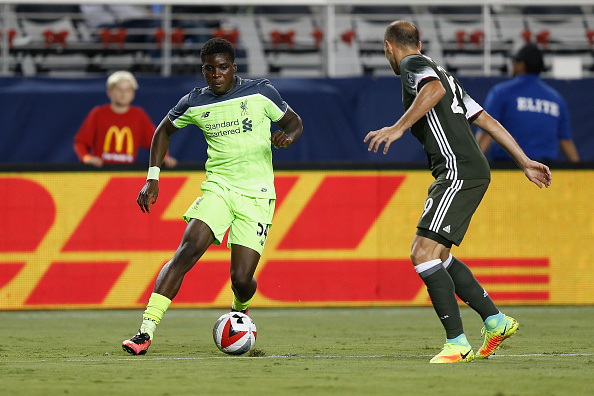 Ojo Reckons Young Reds Will Be Fine
Jürgen Klopp has just been telling the assembled hacks that Philippe Coutinho is likely to have some minutes against Southampton and that Joel Matip is close to a return and, to be entirely honest, the world seems like a better place. I'm thinking especially of those poor damaged souls I referred to in this morning's article – the OH DEAR GOD, NOT ANOTHER GAME merchants. The return of our most potent attacking threat alongside our most effective defender will be a soothing balm to the raw torment they've endured.
One of the youngsters in whom our manager placed his trust yesterday will hope that he and his fresh-faced chums will be afforded another opportunity, despite the serendipitous return to availability of the aforementioned duo. Sheyi Ojo has already known the frustration of injury setback in his young career and the chance to play for the first team will have been a glorious reward for his recent hard work in rehab.
"It was a hard time being injured," the dramatically tonsured attacker admitted. "But I'm definitely feeling stronger physically. I felt fine. All the hard work I've put in to get back to this game has been worth it. Long may it continue. As a young player, you want to break in and be getting minutes. That's my aim. If I get my opportunity, try to help the team. As a team, hopefully we can go far in this competition. It's great to be out there playing. This club is amazing and to be part of it is a great feeling. I've just got to keep working hard and if I get my opportunities, hopefully I can take them.""

Ojo, like Ovie Ejaria, Ben Woodburn and Trent Alexander Arnold, is evidence that the club is doing something very right in its development of young talent. These are all players of real promise and it stuck in the craw of this observer to hear the overwhelmingly negative response to yesterday's snooze-inducing draw. Liverpool were oddly blunt in the final third but there was a level of professionalism and competence shown by the junior members of the squad that could not be ignored.
"We had a few shots but they were getting blocked," he lamented. "A little bit more cutting edge in the final third and we'll be fine. You could see that they dropped off quite deep and allowed pressure onto themselves. It was for us to break them down. That's something we can improve on as a team next time we play them if they drop deeper. We had a lot of chances to get the goal, it just didn't happen for us."
You heard the man. WE'LL BE FINE. At least none of the nippers had to deal with the disturbing treatment Emre Can was subjected to when a Plymouth defender seemed to use the German's own armpit sweat to give him a wet willy. That, Alberto Moreno's atrocious final corner of the game, Lucas' late, long-range, this-is-never-going-in shot and that abomination of a down blazer worn by Derek Adams were the real lowlights of a game in which the honesty of youthful application was not matched by the undoubted flair they possess. Again, listen to Sheyi, we'll be fine.