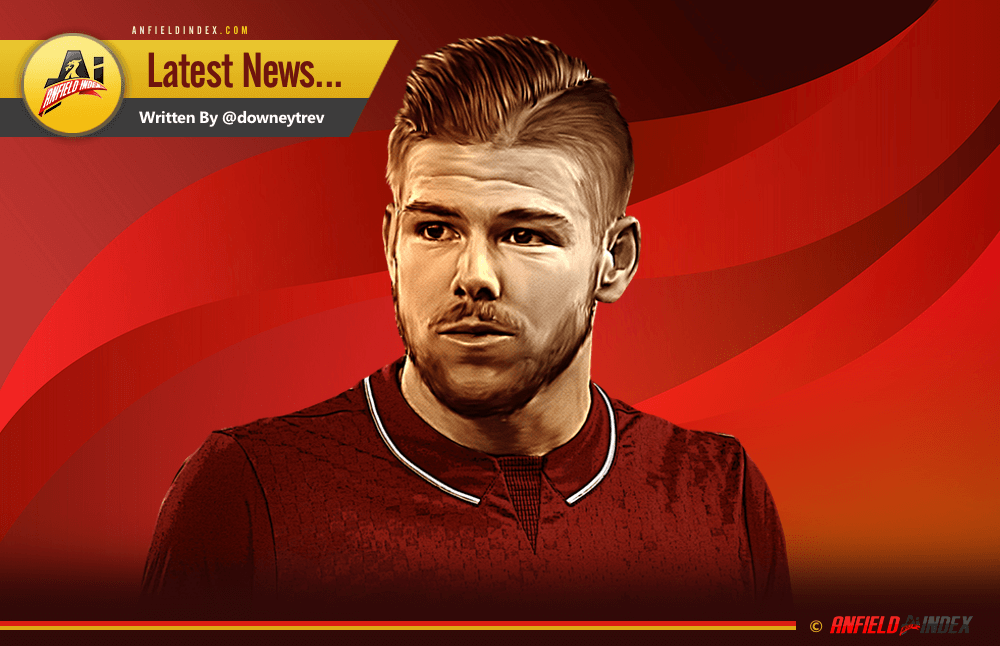 Moreno Wants A Trophy
Alberto Moreno is one of those players whose name is guaranteed to elicit a reaction whenever it is mentioned wherever supporters gather to discuss the Redmen. Those discussions are likely to be characterised by wild oscillation between two polar positions. You see, people tend to either love or loathe the Spaniard's presence in Liverpool's starting XI.
The Liverpool fans I know are never shy about making definitive pronouncements on players and Moreno has been a topic of furious debate since his arrival at the club. Advocates are enthused by the 24 year old's boundless energy and attacking instincts, while detractors tend to focus on the left back's positional failings and inclination towards ill-judged tackles. As ever, there are cases to be made for both views, with the truth lying somewhere in between.
For this scribbler, Moreno's name on the team sheet is still not as reassuring as it should be. For all his endearing daftness off the pitch and cavalier attitude on it, the defender still evokes mild anxiety when he is about the business of, well, defending. Put simply, it is always far more pleasant to watch the Uberboard fancier charging towards the opposition penalty area than it is to wince as he gallops back in the direction of his own.

The remarkable form of James Milner has further eroded Moreno's standing in the squad. The lantern-jawed utility man has, in fact, been the best left back in the Premier League according to a recent study and provided a consistency that the younger man has yet to display. However, a minor injury to Milner has afforded Moreno the opportunity to remind Jürgen Klopp of his ability and he is eager to take it. His observations about the two-legged EFL Cup semi-final against Southampton reveal a more thoughtful character than many might expect.
"If you look at the stats from most games this season you'll find that we've got more possession than a lot of the sides we play and certainly create more chances on goal," he observed. "I think that's our style of play – what we're all about is working hard, if we do lose the ball then we press high to try and get it back as quickly as possible. That's our style and that's how we approach every game, whether it's Southampton or any of our other rivals.
"What we've got to try to do is make sure it's our best version that turns up for the game at St Mary's, play our best football and hopefully we'll achieve our target, which is to win every three points that's available and on this occasion so we can get through in this competition."
Having tasted European success on a famously teary night back in his Sevilla days in 2014, Moreno is one of the few squad members who can speak with authority about what it takes to win a cup competition. Liverpool's last win was two years before that, in the 2012 league cup. It's a further 6 years back to the FA Cup of 2006. Sniffy attitudes about the comparative merit of the EFL Cup seem a little unfounded in light of that stark reality. Klopp is bringing Liverpool back to finals and back towards the top of the league and Moreno is hungry for more medals.
"Winning trophies is what everyone works for, we're all hoping and aiming – not just me and the players, but the staff, the manager, the fans – to go all the way and win what would be my first trophy as a Liverpool player," said Moreno, echoing the thoughts of Reds everywhere. "We're still involved in everything – the FA Cup, the League Cup and we're going well in the league. Our plans are going well, our work is going well as a club this season so let's hope we can keep it going."