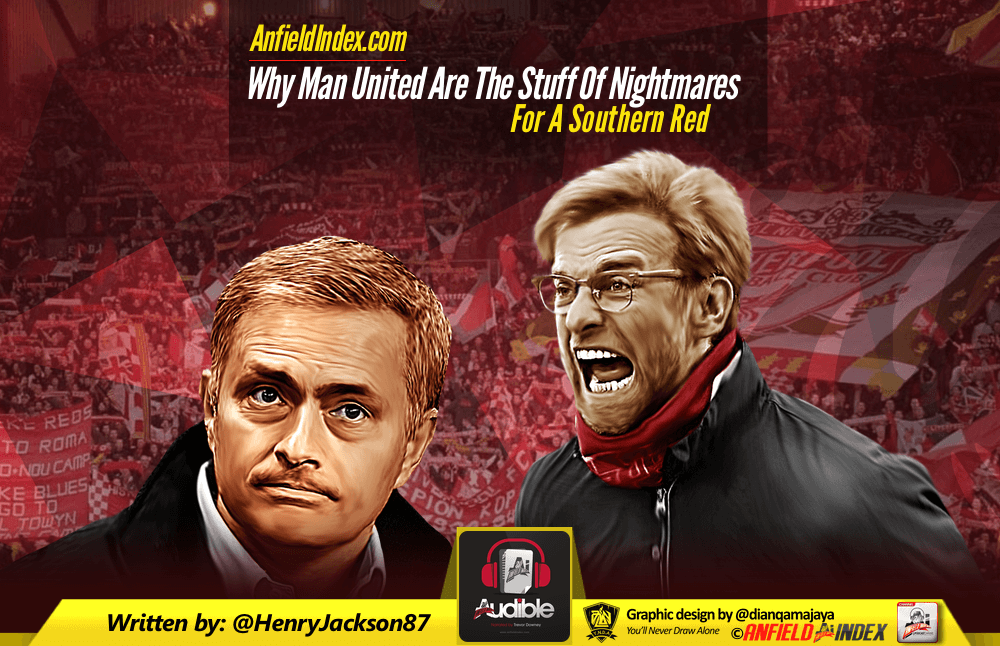 Why Man United Are The Stuff Of Nightmares For A Southern Red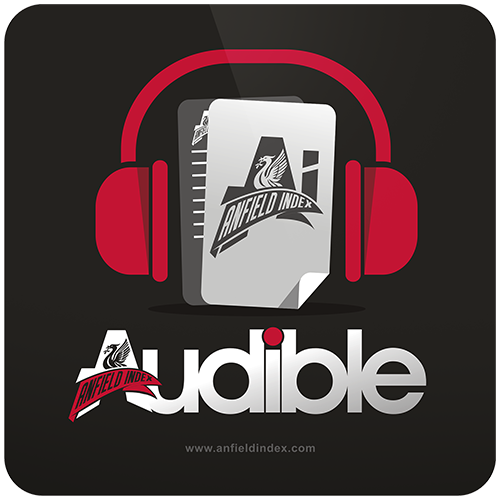 Listen to this article via @AIAudible !
January 24th, 1999. It's a Sunday afternoon that still fills me with horror, and always will.
I was turning 12 years of age the following day, and with Sky Sports still not a part of my household, my Dad took me to the pub to watch Liverpool's FA Cup fourth round clash with Man United, as a pre-birthday treat.
Not only did we miss Michael Owen head the Reds into a very early lead at Old Trafford (the traffic in leafy parts of the south east can be murder), I then had to witness one of the most depressing games of football I have ever sat through.

Gerard Houllier's side threatened to produce a win that even by the Frenchman's standards would have been gritty; until Dwight Yorke and Ole Gunnar Solskjaer popped up with two last-gasp goals to send Liverpool crashing out. United went on to win the treble, which made it even worse.
I cried a lot after that game. It hurt so much. It was an afternoon that perfectly summed up why growing up in the 1990s as a Red could be a thoroughly miserable experience.
Football literally became a huge part of my life the second United started dominating the English game. 1993/94 is the first season I can remember snippets of – the season after Alex Ferguson's side had ended 26 years without a league title. Remind you of anyone?
Predictably, youngsters want to support football teams who win stuff, so approximately seven out of every 10 football-loving kids in my neck of the woods were modelling Ryan Giggs and Eric Cantona shirts when I turned up to play for my local club for the first time.
Most of my friends (many of them are still my closest mates to this day, so I guess they're not that bad), were of the same persuasion, with their endless talk of 'Giggsy', Andrei Kanchelskis and Brian McClair driving me to distraction.
Then there was me.
Quite why I chose Liverpool I can't exactly say. My dad is a Sheffield Wednesday fan, even though his parents grew up near Merseyside and he moved to the south as a child, while my grandad was an Evertonian.
Robbie Fowler was a key reason, without question, but there was just something about Liverpool that resonated with me, following some brief flirting with Queens Park Rangers who were cheap to go and watch, and were only an hour or so from home. And Les Ferdinand was great.
It may sound lazy using all the cliches about Liverpool's history, tradition and support, but it's all true. There is something special about the club, and I recognised it even at such a young age.
Without this sounding like some sob story, (it is a bit, let's be honest), I'm not sure there has been a worse area of the country to be a Liverpool fan during the last 20 years. Ok, maybe Manchester.
Those who live in and around Liverpool have more of a day-to-day dealing with Everton fans, while many other parts of the country have cities big enough to have teams of their own. Newcastle, Leeds, Aston Villa, and so on.
If you are under 35 and grew up in the south east, however, the easy choice was United, simply because they were the best team and there were no local sides remotely of that calibre.
Now obviously, I am far from the only Red in that part of the world, but it has always been hard not to feel in the minority.
Going to the pub to watch games is a far less enjoyable experience than it would be in Liverpool itself, for example. I've been the only person celebrating a Reds goal many times, or the only one bemoaning yet another late United winner.
Arsenal, Tottenham and Chelsea also have strong followings, because London is nearby, but it is still hard to describe how popular United are in the south if you've never witnessed it firsthand.
Monday mornings at school were so often treacherous for a decade.
My mates would be drooling over the latest masterclass offered up by Cantona, Giggs, Paul Scholes and the rest, and I'd have to describe watching Phil Babb collide testicles-first with a goalpost.
Even when we won a treble in 2000/2001, I couldn't celebrate it without being told it was a "Mickey Mouse Achievement" and that United winning the title that season was much more impressive.
As I grew older, and school became a thing of the past, Liverpool-United games would be spent watching the game in horror, waiting for the flood of heartless text messages that would come my way if the Reds' most bitter rivals once again prevailed.
Every Liverpool fan on the planet loathes United, or at least they should, but this 20-odd year misery that I've experienced makes me convinced I detest them as much as anyone. This is probably not the case, but it is hard to shift that thought from my mind.
What it does mean is that any victory over them is absolutely joyous – when Andrea Dossena lobbed Edwin van der Sar in 2008/09, I fell over a wheelbarrow celebrating in the garden – but the actual 90 minutes is not an experience I can enjoy in the slightest.
This leads us to Sunday's Premier League clash between the two most successful clubs in English football history.
This one feels particularly big, doesn't it? Or maybe that's just because it's the latest episode in an endless rivalry between the two.
Win, and Liverpool go eight points clear of United and remain right in the title race. Lose, and there is suddenly just a two-point gap between the pair, and Chelsea could potentially be sailing off into the sunset.
Historically, the Reds lose games of this importance. So often down the years, they have turned up at Old Trafford and wilted under the pressure.
Rio Ferdinand's last-minute header; Javier Mascherano's daft sending off; Dimitar Berbatov's hat-trick against Roy Hodgson's shambles of a team; Anthony Martial making Martin Tyler orgasm. The list goes on.
There were, of course, the 'Danny Murphy Years', which were glorious, and wins in 2009 and 2014 made a title challenge possible, but all too often, we have been left feeling sick by this fixture.
I keep telling myself that this is a different Liverpool under Jurgen Klopp, it most certainly is, but I still cannot shake the feeling of dread ahead of Sunday's showdown. It will be with me all week.
The thought of Jose Mourinho celebrating, Paul Pogba and Jesse Lingard dabbing or Wayne Rooney breaking United's goalscoring record, which feels horribly likely, are all grim thoughts, especially because we know what it could mean for Liverpool's title hopes.
If we win, it will feel like the best victory of the season, regardless of how it is achieved. Better than Everton away, Man City at home or the wins at Arsenal and Chelsea earlier in the season.
But then maybe that's just me. Maybe you care more about beating Everton, or one of the London clubs for that matter.
I like to think that I am a friendly person, and one who doesn't take football too seriously in the grand scheme of things, but United just do something to me. No other game feels like this, and it never will.
Their enormous success during my upbringing is clearly the main reason for this, coupled with the endless mocking from those around me. While I begrudgingly respect their success, I find it impossible to like anything about them.
I'll be ashamed if a defeat on Sunday reduces me to tears like my 11-year-old self, but another unsuccessful trip to Old Trafford will ensure an evening sat in a darkened room, ignoring the untold amount of messages bombarding my phone.
Please lads, get a draw at the very worst – us southern softies are desperate.