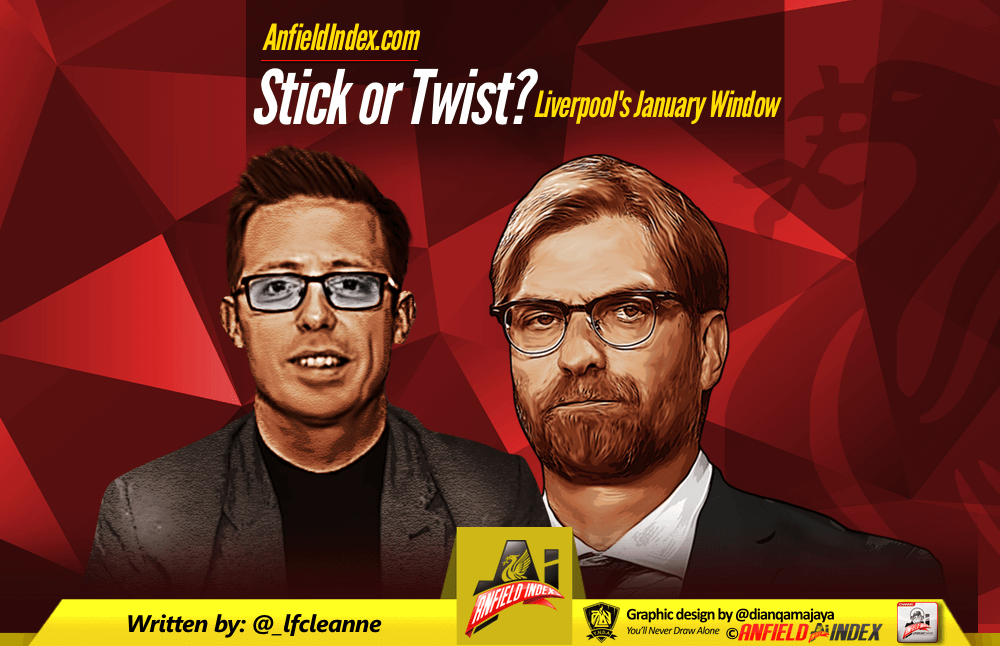 Stick or Twist? | Liverpool's January Window
There have been huge developments at the club over the last year or so, sparked by the arrival of Jurgen Klopp. In the midst of his first full season in charge, the Reds are the closest challengers to current Premier League leaders Chelsea, taking a total of 44 points from 20 games and are just five points behind Conte's side.
Despite claims that there is little value in the January window, Liverpool have proven in recent times that gems can be found midway through the season. Daniel Sturridge and Philippe Coutinho are just two names which come to mind. It can be a powerful weapon in a title race and Jurgen Klopp must decide whether to delve into the market or trust his current crop of players to continue the fight at the top.
Sadio Mane's departure to the African Cup of Nations is a bitter blow for Liverpool, given his importance to the side this season. His pace and creativity has transformed their forward line, increasing the unpredictability of their play which has consequently resulted in more goals.

Mane's direct approach to the game has stretched opposition defences and proven to be a useful tool on the counter attack. With nine goals to his name, he will be a hard man to replace while he's gone. Sheyi Ojo and Ben Woodburn were two names tipped to fill the void, but the stalemate with Plymouth provided little indication that either player is ready for the step up.
Ojo seemed reluctant to take on his man and use his pace to muster up a chance for Liverpool, while Woodburn's age means Klopp must be careful about heaping pressure on him too early. Origi and Sturridge are the best options, but even they have struggled in a wider role. They often go missing when stuck out wide – hardly an ideal scenario for Klopp.
A couple of injuries so far this season have illustrated that the squad is still pretty thin. Even with Philippe Coutinho soon to return, the Brazilian would be one of just five names who could have a purposeful role in the attacking trio. With nine games to play this month alone, Klopp's side can ill afford to fall short in such a pivotal point of the season.
However, splashing the cash in the window isn't really Klopp's forte. The German won't resort to any panic buys and spending £30-40m seems unlikely to say the least. He will only invest in players that will yield a long-term benefit for the club.
The current group of players have done extremely well, typified by their high league position. There is an argument that if Firmino, Lallana and Coutinho can remain fit for the remainder of the season, Liverpool could continue their momentum without spending. However, that is a big if and it would be a shame to see a chance at success go missing for the sake of £20-30 million.
A movement in the January window could be the difference between winning the league and falling short. An added bit of quality could provide a decisive boost to Liverpool in the coming months as they look to close the gap on Chelsea. The Londoners are likely to bolster their squad. The question remains – will Liverpool?