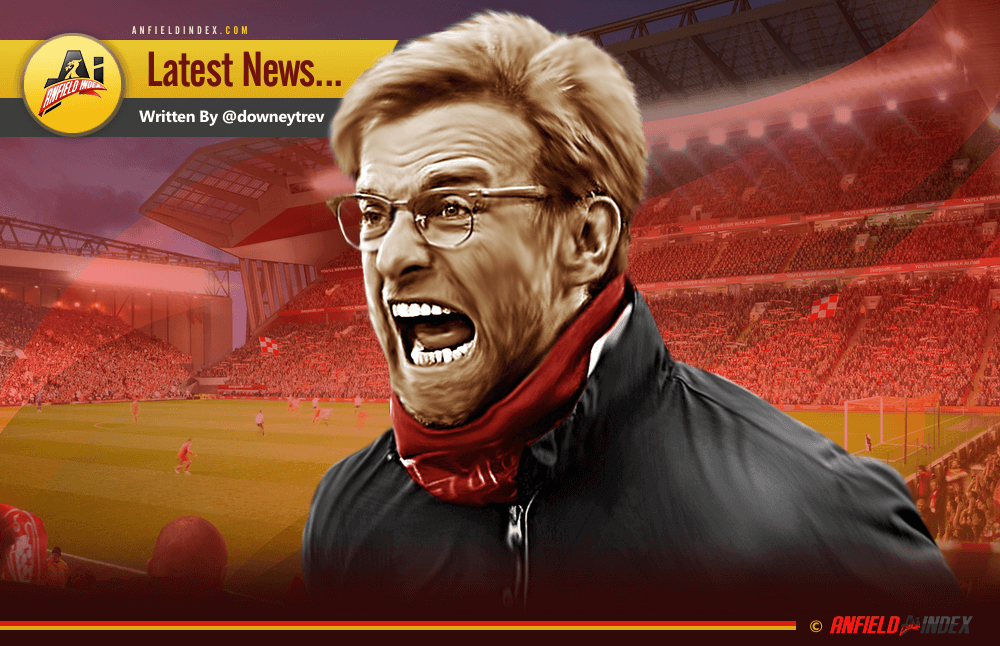 Klopp: Reds Will Strike Back
"We will strike back, we will be a different team, a different side, everything will be different at Anfield. So, for us, it's still possible to go to Wembley, and that's the target."

Jürgen Klopp
On balance, it felt like the worst 90 minutes of Jürgen Klopp's time at the Anfield helm. Obviously, the pain of witnessing the impotent, and often incompetent, staggering about of many of our established stars was exacerbated by having the unfolding shambles bathed in the greenish yellow of that luminously wretched away kit. If you were really unlucky, like Latest News was last night, you may have been reliant on social media to guide you through a portion of the match. Quite the experience, that. There are a LOT of angry sorts out there, aren't there? And don't they have a really inventive lexicon of abuse, bless 'em?
At any rate, analysis of that game is the unfortunate burden of others on Anfield Index and this scribbler will take his usual optimistic ostrich stance. It's fine. Everything will be fine. Nothing to see here. Roll on United, and so on. I know it's tempting to slip into the familiar comfort of despair, but whilst we're still placed so well in the league and alive in the other two competitions, I'd prefer to be hopeful and suggest that awfulness on the level of last night is unlikely to occur twice under our current boss. Also, Philippe Coutinho is back, which is nice.
However, if you consider me to be absurdly upbeat, wait 'til you get a load of Herr Klopp. The Liverpool boss was his usual witty self but his take on the first leg defeat had this scribbler laughing through the gloom.

"If you don't win, you don't draw, then losing 1-0 is the third best result," quipped the manager, taking positivity to previously unscaled heights. "I don't like it too much but it's still possible. This team always shows a reaction and we have to show a reaction in this cup against Southampton – but it would be cool if we could already show a reaction at the weekend because we probably need a better performance to get something at Old Trafford."
Ah yes, the game at Old Trafford. The one the whole internet is telling you Liverpool will lose if they repeat their ineptitude of last night. Like Klopp says, however, that's not very likely, is it? This team WILL react and could there be a better way to arrest the 2017 sluggishness than with a victory in the Mancs' back yard?
And what of the aforementioned Coutinho? When he took the field last night it was like some kid's big brother joined a game with a bunch of nippers. He was a class apart, even in his first minutes after a long spell out. So what about Phil's return, Jürgen?
"Good, it was nice – the best news from tonight," insisted the manager. "You could see immediately how important he is. Of course, he's not at 100 per cent but it was important for him to have half an hour, that's really important. He did well and yeah, good."
So then, we are a goal down going into the second leg at Anfield, we go to Plymouth to try to secure a 4th round FA Cup clash with Wolves, at Anfield, a win against Jose Mourinho's lot could see us closer to the summit of the league table and eight points ahead of them, "and yeah, good."