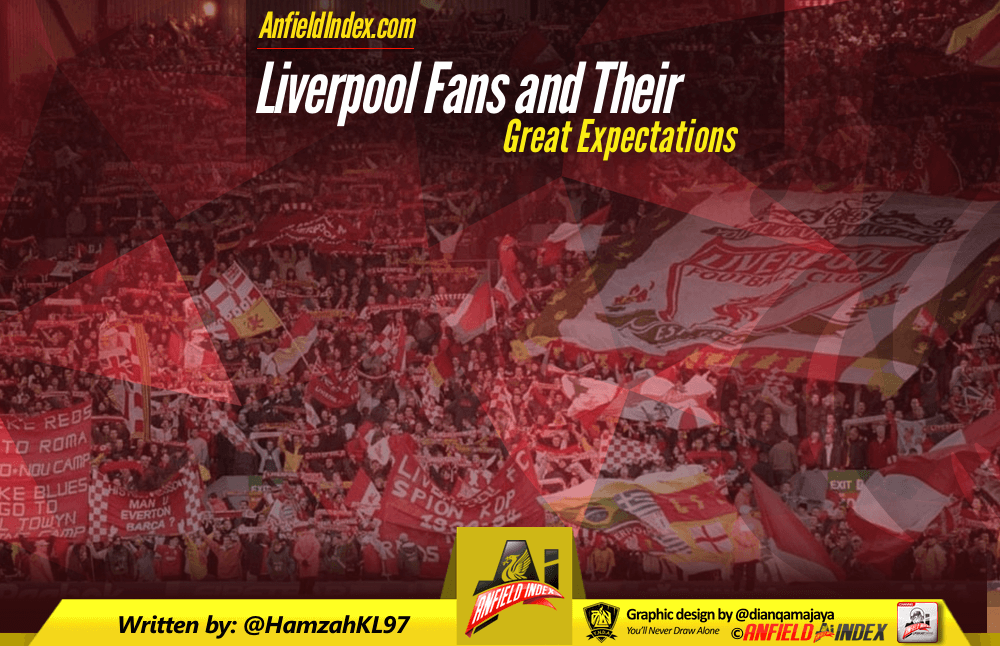 Liverpool Fans and Their Great Expectations
Southampton 1-0 Liverpool. A truly dreadful display, that could have seen the end of Liverpool's EFL Cup ambitions if not for an impressive performance by Karius, and woeful finishing on Southampton's part.
To take my mind off the defeat, I decided to watch a film, and Christopher Nolan's magnum opus was on television, The Dark Knight. Rather surprisingly I found an intriguing parallel that Heath Ledger's The Joker raised, when in conversation with Harvey Dent,
"…nobody panics, because it's all part of the plan…but when I say that one, little old mayor will die, everyone loses their minds!"
It was that last phrase, "everyone loses their minds!" that caught my attention, and is particularly applicable to Liverpool, and its fanbase.

Following the defeat to Southampton, Twitter was inundated with particularly angry Liverpool fans, criticising the performance of Emre Can, Ragnar Klavan, Lucas, Daniel Sturridge, and almost all players on the pitch, apart from Karius and the goldenboy, back from injury, Philippe Coutinho. My phone was also jam-packed full of messages on group chats, with scorned terminology such as "the honeymoon period for Klopp is over", or "Klopp doesn't know what he's doing, we've been shocking since the City game". And Radio 5live, as always, had angry callers, professing that they had the answers, and that Liverpool had to do something quickly.
If you're one of these angry fans, please, take a step back, and look at the larger picture.
Liverpool are second in the league, with 44 points from 20 games. At this point last season, Liverpool were eighth, with 30 points and a negative goal difference.
So far, Liverpool have exceeded all reasonable expectations that were harboured at the beginning of the season; Liverpool are still in the EFL and FA Cups, and are in a perfectly good position to challenge for the title, with an important fixture with Chelsea upcoming, at the end of the month.
The fans need to remember, this was a team, that by all accounts, was terrible last season. A team that was so mentally weak that they metaphorically didn't even bother leaving the changing rooms for the second half of the Europa League Final. The team is also exceptionally young and inexperienced, in terms of Champions League, or top-level competitive international experience, in semi-finals or finals, rarely any of the players have it. Furthermore, the team has been prescribed a gruelling and compressed set of fixtures this month, suffering a number of injuries to key players, such as Coutinho, Matip, and Daniel Sturridge, intermittently, who has been unable to definitively settle into a groove.
Challenging for the title, or challenging for cups is not something any team can do, it requires a settled and confident team, and any young team, such as the one Liverpool have, is bound to endure bumps in the road along the way – for the most part Liverpool have been phenomenal over the first half of the season, and no team manages to go through a season without rough patches, the important thing is that the team can learn from these tough periods, build on them and improve. This is a long-term project that Klopp is overseeing, and that is evident most clearly in how he treated the FA Cup tie with Plymouth.
This game was a source of much frustration and anger for Liverpool fans, but the fans need to look at the larger picture: Klopp was resting key players, blooding fresh, potential-filled young talents, and they largely did the right things, but were unlucky in the final third of the pitch. These things happen, it is football after all. It would have been an important lesson for the young players that played that day, and I hope to see the same team playing the replay, away at Home Park – it would be a clear vindication of Klopp's faith in his youth team, and it would provide a far greater deal of experience, satisfaction and importance to them, than Liverpool's first choice XI.
The Southampton tie was also frustrating and disheartening to watch, but for Liverpool to only be 1-0 down, with a second leg at Anfield should be seen as both a positive, but also an opportunity. Again, matches like this happen, and were far too often a recurrence both last season, and the dreadful season before that, but these types of performances are certainly occurring at a far fewer frequency than before – the team is improving, initially at a rapid rate, but now, rather steadily.
I understand that people see this season as a unique opportunity, to seize the title, before the Manchester clubs reinforce and improve over summer, to prepare for an all-out assault on the title next season. But Klopp no doubt understands that too, but unlike fans who desire immediate responses in terms of transfers or lineups, he knows the best way to nurture and build a genuinely strong team, that can overcome the biggest of obstacles, is through fostering a team spirit, collecting a group of players that genuinely wish to play for the club, and improving players that Liverpool already have. Klopp's Liverpool project is much more than making a team that can win the league this season, it's about really reinvigorating the club, from the ground up, and creating sides that can challenge for the title for years to come.
That being said, people still take issue with the performances of players, such as Emre Can or Roberto Firmino, in recent games. Can and Firmino, more than any other players, have been asked to fulfil a role in recent weeks that is unfamiliar to them. Can struggled covering for Henderson in midfield, but Henderson has been training since the very start of the season to master the no.6 position, whilst Roberto Firmino, is a fantastic player, but one who thrives as a false 9, not out wide, and has sorely missed the intelligent play of Coutinho, who responds and reacts to him better than most other teammates. Should these players really be lambasted and dropped, when Klopp has put them into positions alien to them, because other players are injured? Supporters need to relax, most players have good and bad patches over the season, and only exceptional players manage to minimise them to a select few games, but these players are young and still developing, being patient, and placing trust in these players is the way forward – yes players make mistakes, Karius, Lovren, Klavan, Lucas etc. have all made errors, but so too have Lallana, Henderson and Coutinho, three of our best performers this season.
Again, these things happen, errors are natural, but going from having a negative goal difference 20 games into the season, to being top scorers, and in second place is not. Liverpool fans should be overjoyed with the position that the team is currently in, especially considering being within reach of the top four this point would have been Liverpool's general ambitions at the start of the season. Liverpool are ahead of where they planned to be, and even with setbacks against Sunderland, Plymouth and Southampton, are still in the mix for the title and two cups.
The Manchester United fixture promises to be a character-testing fixture, with high stakes too, and whilst Liverpool fans despise losing to Manchester United, and Jose Mourinho, a victory, draw, or defeat should be remembered in context of what Liverpool FC, and Klopp's aims are for the future. There is plenty of time left in the season to catch up with Chelsea, but also more than enough time for Liverpool to drop off, and end up outside the top four – fans should be patient, and try not to be overtly reactive; the team is ahead of where we expected it to be, is still young, developing, and adjusting to both tough opposition teams and Klopp's demands.
Liverpool may have been poor in recent weeks, and whilst many see transfers as the immediate remedy for such performances, Liverpool's scintilating start to the season, and whirlwind performances should not be forgotten; if the fans give the team a bit of time and patience, they'll soon be back to their best, and even better too.
Remember, regardless of how the season pans out:
Take a step back.
Look at the big picture.
Try not to lose your minds.