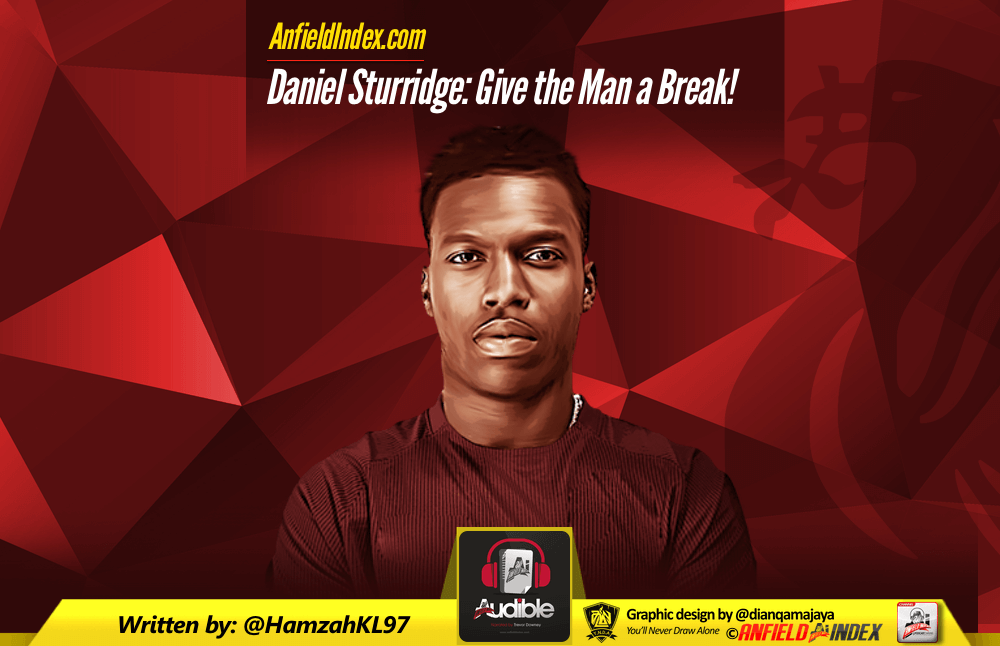 Daniel Sturridge: Give the Man a Break!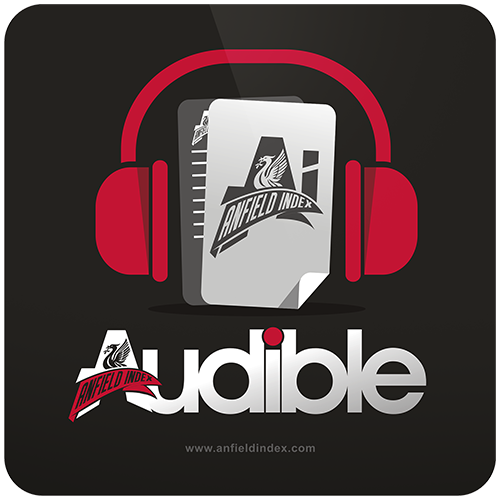 Listen to this article via @AIAudible !
In a recent interview, Daniel Sturridge claimed that he believed he was Liverpool's best striker. Yet in the comments section below the online article, a debate raged over Sturridge again, with familiar words and phrases banded around.
A select few are below:
Arrogant
Selfish
Injury prone
Poor attitude
Incompatible
Once again, Daniel Sturridge is criticised and hounded for doing next to nothing. It's about time we give this player a break.

Daniel Sturridge, since arriving to the club has, in my eyes, been a fantastic servant, and a player genuinely worthy of donning the jersey – making the no.15 his own. When he arrived, question marks were raised about his attitude and selfishness.
"He's too arrogant."
This is a player who, on his own initiative, decided to take Jordon Ibe, Raheem Sterling, Sheyi Ojo, and Divock Origi, amongst others, under his wing, during training, and tried to help develop them as players, and for Origi specifically, attempted to help him cope with his injury, after last season's horror tackle by Funes-Mori. He is known for working with other young forwards within the club, and sets a brilliant example for them in training, helping them develop, and raise their game. This is also the same player, who after away defeats, whilst some players elect to go down the tunnel straight away, goes over to the travelling fans, shows his appreciation, and hands his shirt to the young fans. He has been seen giving his shirt and kit away to fans in car parks too, when he could have easily gone away, on his own business. Yes, this is expected of "good" footballers, but a player who is "arrogant" would hardly act like this. So the assumption of arrogance is conflated with his confidence, which I shall consider later.
"But he said he's Liverpool's best striker."
My response to this is two-fold; first, factually, he is certainly Liverpool's best striker; his goals:game ratio is stellar, his finishing prowess far exceeds any player at the club, and he has won more games for us than any other current striker. Second, why would you want a player, at your club, that does not believe he is the best he can be? Confidence is absolutely vital to any top player, especially so for a striker who has had to overcome numerous injuries that would no doubt challenge the resolve of even the most resolute player. It is this attitude what Liverpool need, a player willing to push himself, to be the best he can, so the team can be the best it can.
"He's too selfish."
He's a striker. If Daniel Sturridge wasn't 'selfish', he wouldn't score goals, and Liverpool would have not won as many games as they have in recent years. A player that takes and makes his own chances should be applauded and encouraged; when Coutinho, early in his Liverpool career would cut in and take potshots from distance, the majority of the time the shot was either saved, or went wide, now he's a long-shot specialist. Why do the fans treat Coutinho different to Sturridge, when it comes to shooting? Daniel Sturridge has been criticised and questioned so many times, it's evident he feels he has a point to prove; of course he's going to shoot and try to score where he can, so he can get back into the team, start, score goals and contribute as he feels he should – no top striker worth their salt would prefer to make substitute appearances at the age of 27, and when called upon from the bench, prefer to pass off opportunities to force themselves back into the team.
"He's injury prone."
And yet time and time again, he comes back into the team, looking fresh and always willing to contribute. For some reason, Daniel Sturridge is blamed for his injuries; it's not as if he chooses to get injured and miss games; we've seen clips of him looking dissatisfied on the bench, but that's exactly what you want from your striker, an eagerness to play and score; a player content on the bench will rarely add the winning mentality a team needs to challenge at the top-level. Sturridge has had a torrid time with injuries, but his resolve is greater than those he has suffered, and he should be hailed for that, and for fighting to play for Liverpool.
"His attitude is poor."
This is a player, who as mentioned above, has worked with young players, respects the fans, and has never criticised or spoken out against his manager, despite finding himself sidelined, even when fit. How can his attitude be questioned, when other, lesser players may have voiced their frustration at finally coming back from an injury, and not being selected for big games. Even in the most recent interview he gave, he explicitly stressed how he supported the manager's decision, and noted how he would put his head down and attempt to earn a starting position permanently.
"He's incompatible with Klopp's system."
Wrong. There are some games where playing a false nine is more suitable to breaking down the opposition, but that's true of many different players – the team should be able to adapt and change in response to the different challenges it may face; but in the 2-1 victory against Chelsea this season, Sturridge started, and Liverpool scored both goals in the half that he played. Yes, against Manchester United he struggled, but which lone striker would struggle when trying to break free behind two defensive lines, and with poor service to him – the same can be said of the 1-0 loss to Southampton recently – a striker can only contribute in goals when they have the ball; there's no point blaming Sturridge for the midfield's creative deficiencies on any one day.
Why do you stick up for him?
Because I truly believe in him. He's a fantastic talent, and one who, more than anything, we can see really wants to play for Liverpool, and really wants to win titles for Liverpool. He's brought Liverpool fans joy countless times, and is a certified game winner; but I feel his struggle with injuries should be our struggle too. Getting injured is mentally crushing, and when we remember that Liverpool's anthem is 'You'll Never Walk Alone', it seems wrong to give Sturridge the cold shoulder, when he's been unlucky. Liverpool gave him a break when he struggled to get game-time at Chelsea, and Liverpool stuck with him throughout his injury troubles, after all that effort, and considering it would be near impossible to buy a player on the current market with his natural finishing prowess, it seems right to stick with Sturridge, through thick and thin.
Ultimately, it's about time the fans got off Sturridge's back, and encouraged him to take a shot first time, or sang a song about him. Because you'd be hard pressed to find a player so genuinely committed and resolute as Daniel Sturridge, and one who will make the difference when it counts.