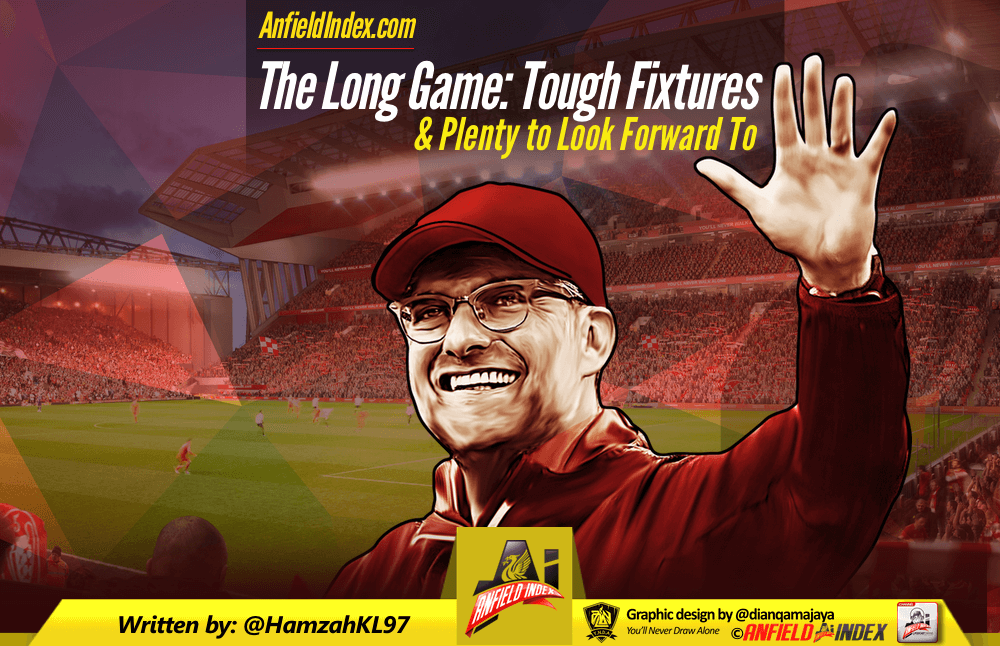 The Long Game: Tough Fixtures & Plenty to Look Forward To
Dropping points at Old Trafford is always a bitter pill to swallow, especially so in the manner that Manchester Utd scored: late, and with the help of a useless linesman. Regardless, it's very much onto the next one for Klopp's Liverpool who face a series of tough fixtures over the coming weeks.
In Liverpool's next eleven games, they have one cup semi-final, another FA Cup replay, and fixtures against Chelsea, Spurs, Arsenal, Manchester City and Everton. That being said, looking at Liverpool's last eight Premier League fixtures, that appears a much more forgiving schedule.
Right now, Liverpool sit in third position in the Premier League table, 7 points behind Chelsea, and with a goal difference deficit of 5. Yet, there's plenty of positives to be taking forward; despite the inadequacies of FIFA in communicating Matip's eligibility to play, he is expected to return to the first team soon, whilst both Karius and Mignolet look to be playing well and Phillipe Coutinho's return to the first team looks to have occurred at the perfect moment, with him picking up exactly where he left off before getting injured.

After drawing with United, many fans were rightly disappointed, and some, arguably, overreacted, stating that Liverpool's title challenge was over. What Liverpool fans need to realise though, is that Liverpool are in a fantastic position to finish the season very strongly, but the most important aspect for Liverpool now, is to keep pace with the other title challengers. The fixture against Chelsea appears a must-win, but Chelsea are due to play Arsenal, Manchester City and United, before the end of the season, so drawing the game, would not necessarily be the end of Liverpool's title ambitions, as neither was the draw against Manchester United.
Fans should take pride in that the Liverpool performance was strong, out playing Manchester United at times, and creating two chances that really should have been put away. The commitment from the team was immense, but most telling was the reaction of the players on the pitch, and that of Klopp and Lovren in the post-match interview – they were totally and visibly disappointed, but more than anything, that pays testament to the character and desire of the team; this is not a team that will keel over as the season moves towards its final phase.
As noted earlier, Liverpool's last 8 Premier League games include Bournemouth (H), Stoke (A) West Brom (A), Crystal Palace (H), Watford (A), Southampton (H), West Ham (A) and Middlesbrough. Of course, these games could all prove to be tough, the Premier League still remains an unpredictable league, but Klopp's influence really looks to be taking hold, and the mental shift in the team has gone from one that is weak, and prone to lapses, to one that looks resolute and firm.
With the return of Philippe Coutinho, who appeared to linkup and rejuvenate,  Roberto Firmino, who seemed to have dropped off in previous games, during the Manchester United tie, Liverpool look very much like they are on the rise again, full of confidence, despite a few setbacks in recent weeks. Additionally, with Mané set to return in February at the latest, and a fired-up Daniel Sturridge, ready to prove a point, the signs are in place for a strong finish to the season.
We should look at the home fixtures against Chelsea, Arsenal, Spurs and Everton with optimism rather than trepidation; this Liverpool team can go toe to toe with any team in the league in a punch for punch match, whilst the 1-0 victory over Manchester City highlighted a defensive resolve that is often understated and under appreciated. These are tough fixtures, but the nature of so many coming slick and fast, is that momentum can be built up very quickly, and any amends for poor performances can also be hastily made.
The team is getting stronger as we progress through the season, and if previous seasons are anything to go by, an upturn and improvement is due. Over the next few weeks, Liverpool may come under pressure, and may lose games, or drop points that they should not, but all of this has to be understood alongside how other teams are performing; keeping pace with rivals until the home straight should be the priority, with Liverpool certainly of the quality to put those aforementioned teams in the last 8 fixtures of the Premier League season to the sword, if the title depended upon it..
Admittedly, it is easy to get disheartened, in such a tough title race, but we can be sure the second wind will come and that Liverpool will rally when the time is right. Liverpool fans should try not to get caught in the moment or carried away by a single loss or draw, but rather take it easy, and have confidence in both Klopp and his squad, that they can make the difference when it counts.