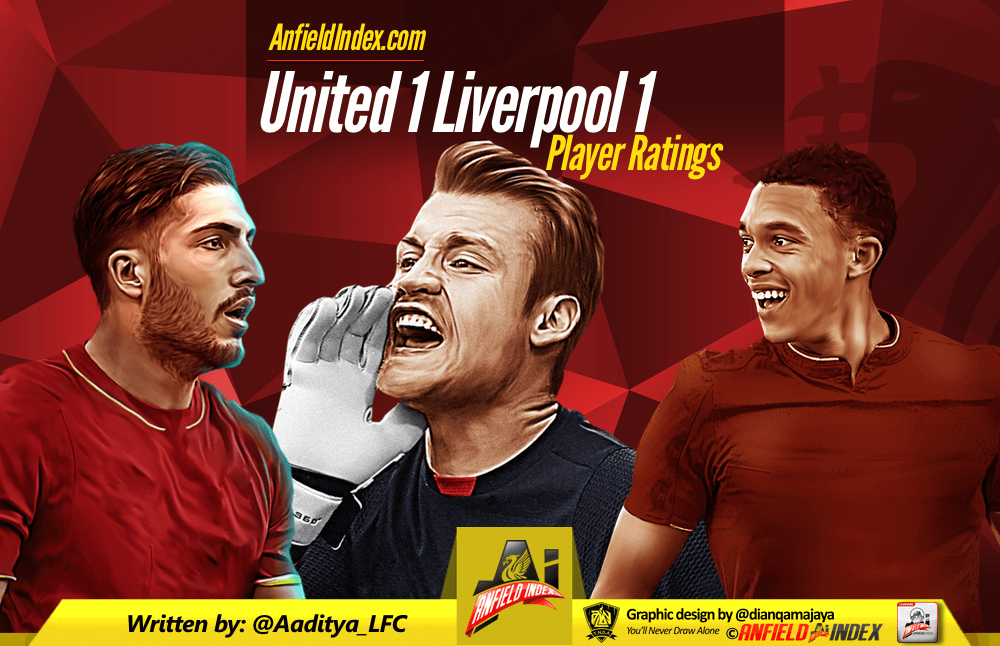 Manchester United 1 Liverpool 1 - Player Ratings

It wasn't like the game at Anfield earlier this season. It was a Liverpool vs United game that lived up to its billing. Yes, it was short of quality on a few occasions, but the pluck and frenzy of a derby was there for all to see.
Zlatan Ibrahimovic's late header cancelled out Milner's first-half penalty, but Liverpool will be disappointed not to have shut the game out as they had plenty of chances before Zlatan popped up with the equaliser.
Here's how each player fared for the Reds.
Simon Mignolet – 9
Terrific game for the Belgian. He was decisive and strong, and his reflexes were at their peak. Two saves stand out – the one from Zlatan's free-kick in the first half shortly before he saved when he was one-on-one with Mkhitaryan.
Trent Alexander-Arnold – 7
Could there be a bigger trial-by-fire for an 18-year-old making his first Premier League start for Liverpool? It was a stern examination for the young man and one that he came out of unscathed. He held his own, filling in for Nathaniel Clyne at right-back, as he stuck to his task brilliantly.
Dejan Lovren – 7
Most things he had to do, he did. But the problem with Lovren is that even when he is having a good game, he is capable of making a mistake or two. He showed that in the first-half as his weak back-pass to Mignolet was almost pounced on by Zlatan.
Ragnar Klavan – 6
Klavan was solid. He won most aerial balls. There were one or two lapses in concentration that could have proved costly though.
James Milner – 8
James Milner did what James Milner does. He battled hard at left-back. He gave Mkhitaryan no joy in the first-half. He put in some really testing crosses from set-pieces too, which was a pleasant change. What was not a change was the way he tucked away his spot-kick.
Jordan Henderson – 7
Liverpool missed their captain in the last few games. He might not be the stereotypical defensive midfielder, but what he is, is important to this Liverpool side. He showed that today as he imposed himself on Paul Pogba.
Gini Wijnaldum – 7
He was full of energy and his defensive work deserves applause. Going forward, he kept the ball moving well and used possession superbly. But unlike two weeks ago against Man City, he floundered in front of goal. One header went high after he created the chance with his movement but the big chance was in second-half stoppage time. All he could do was tamely hit it into De Gea's hands.
Emre Can – 6
He was rather clumsy in possession at times, but full marks to him for the effort and the running.
Adam Lallana – 6
As quiet as he has been in a game all season. Herrera must be credited for being so solid against him, but sometimes Lallana didn't help himself as he tried to be too cute for his own good.
Roberto Firmino – 5
Awful. His decision-making was bad, he didn't dribble well and misplaced a fair few passes. In truth, he seemed to be a couple of yards behind the game.
Divock Origi – 6
Again, he tried hard, but on a lot of occasions he found himself isolated on the left wing, meaning he often gifted the ball straight back to Valencia or Jones.
Substitute
Philippe Coutinho – 6
Lil' Phil made a difference. He set up Firmino for a big chance that he hit straight at De Gea, and in general his passing was on point. Encouraging signs for Klopp, as the Brazilian continues his return to full fitness.