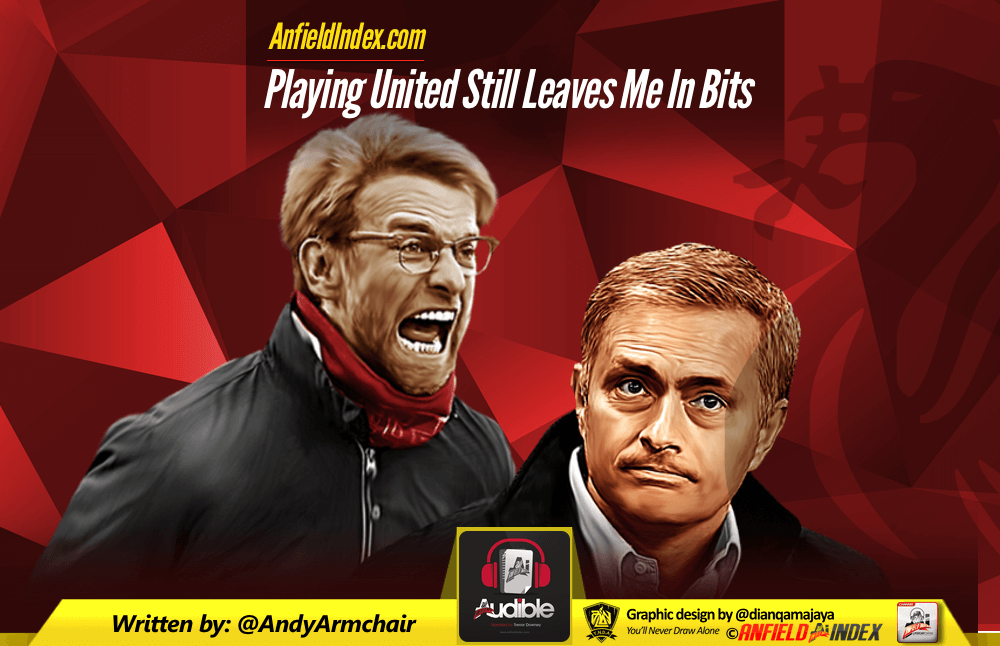 Playing United Still Leaves Me in Bits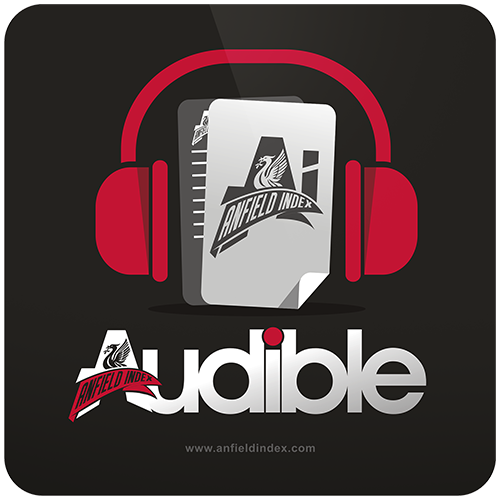 Listen to this article via @AIAudible !
I hate playing United, me. I love beating them, that bit is fantastic and gives me a sense of satisfaction that is difficult to explain. The losing part pretty much goes without saying, especially with our old mucker Jose in charge of them now, but I just hate playing them. Maybe it's down to my blood pressure resembling a thermometer in the Nevada dessert at midday before the game even kicks off – the word tense doesn't come close. I don't mind admitting I am a bag of nerves from the first whistle until the last and that was certainly the case at the weekend.
I've been a Liverpool fan for over 30 years and, apart from feeling old by saying that, I can assure you that my burning desire to beat them and match day nerves are not a product of Sky Sports' hype machine, because I felt like that when we were the best team in the land and dominating English football. I still recall my joy at Peter Beardsley bagging a hat-trick at Old Trafford in 1990; my favourite player scoring three against what I saw as our fiercest rival. Perhaps the fact that I've always had friends and work colleagues who are Manchester United fans has played its part on me over the years.
Whatever the causes, I am stuck with the symptoms and I don't think there will ever be a cure for my acute 'playingunitedphobia'.

What didn't help me on Sunday was Michael Oliver and his seeming reluctance to caution United players for persistent fouling, studs through the shin tackles or Steven Segal-esque twisting headlocks. Hashtag headlock may yet become a thing for Adidas – isn't sports marketing great? The penalty decision and Martial's denied claim apart, I think the kindest way I can put the performance of referee Michael Oliver was that he gave the home side the benefit of any doubt throughout the game. His decisions were a frustration, rather than an effect on the outcome because the offside that led to the equalising goal was the linesman's error, not the referee. That's not a moan, just an observation.
They didn't help my nerves, I can definitely say that much. Neither did Dejan Lovren in the first half, from the limp back pass to Simon Mignolet that was almost intercepted, to him rushing into midfield to allow Paul Pogba to run through and thankfully put his effort wide. His opening 45 minutes were more anxious than me, but to his credit, he did have a good second half. In fact, before we took the lead, it was a very indifferent 20 minutes from the whole team. Trent Alexander-Arnold had an uncomfortable start, which could be expected from a player so young being thrust into such a big game, but grew into the occasion and the match. The shining light of the defence was undoubtedly Mignolet though, and other than him being slow to react to that poor back pass from Lovren as well as deciding to roll the ball out to the edge of his box in injury time, he was faultless.
One of the observations I made when we played Middlesbrough was how Jordan Henderson dictated the game by constantly moving the ball. His return definitely made a difference to the midfield and how effectively and efficiently they operate. Sam McGuire wrote a piece on Anfield Index before the game about the return of Henderson and how many have only realised his contribution to the team during his recent injury absence. Sam was right, absence does make the heart grow fonder in respect to Henderson and the captain marshalled his midfield well at Old Trafford. Emre Can, who has been the subject of intense criticism for some below par performances this season, had an impressive game. He has not hit the heights of last year and has some improvements to make in his game, but his display at Old Trafford will surely help his confidence and hopefully see him rediscover his best form in a marauding role that suits his attributes better than the holding one.
Whilst the midfield soothed my tension levels and the efforts of Roberto Firmino and Adam Lallana invigorated my adrenaline, Divock Origi was a cause of frustration. He is a player I like, but his rawness is still evident and his inability to hold up play and retain possession did nothing to relieve the pressure on the midfield and defence, let alone me and my twitching. The introduction of Philippe Coutinho was a timely one, suddenly the team had a viable outlet and United had something different to think about. Like Henderson, the absence of Coutinho had an impact on how the team operated and to see both back was a source of comfort.
Although the equaliser should never have happened because of the offside, it started with Ragnar Klavan inexplicably shying out of a tackle; a disheartening sight as well as an odd one from such a physically imposing guy. In the end, it was disappointing not to see out the game and claim the win, regardless of anything that wonderful human-being Mourinho decided to suggest afterwards, with his big wooden spoon in the Sky Sports pot.
My nervous system breathed a sigh of relief at the final whistle, not for the result because I can't tell you how much I wanted us to score a winner with the last kick of the game. No, the relief was because the tension is anything but pleasurable. Having said all that, I'd love nothing more than to beat Jose and United at Wembley for the League Cup, even if the tension takes another year off my life!