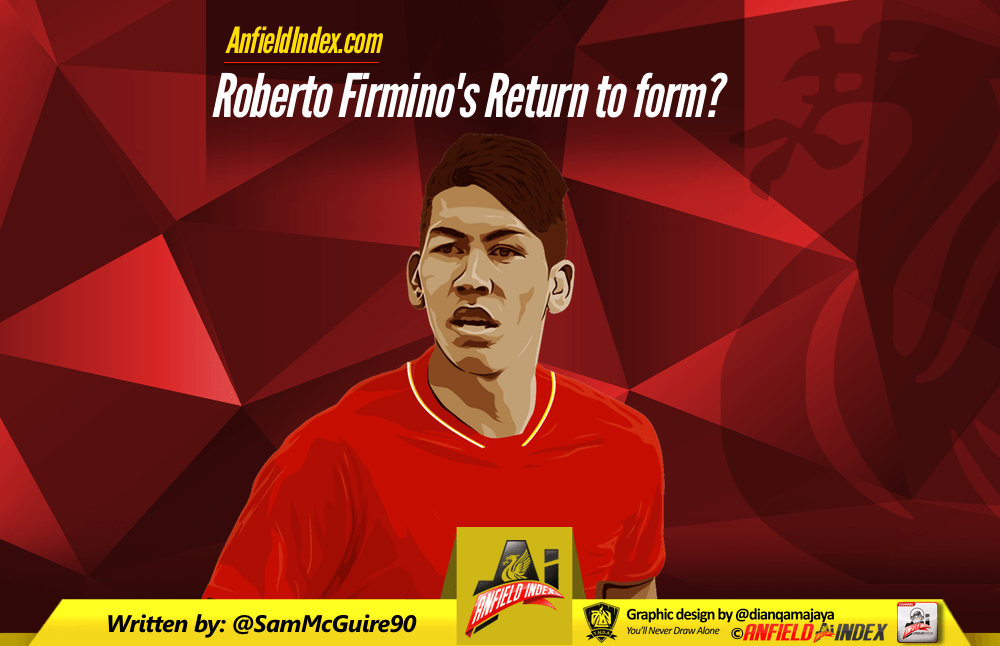 Roberto Firmino's Return to Form?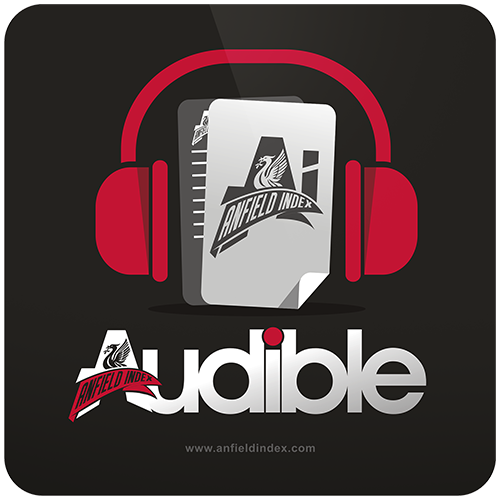 Listen to this article via @AIAudible !
It was going to happen eventually wasn't it?
Fans were going to start to question the point of Roberto Firmino after his early season form inevitably dropped off. It felt like deja vu and the start of the 2015/16 season repeating itself all over again.
You can't say it hasn't been coming though.

The former Hoffenheim player scored three goals and grabbed five assists in his first 11 matches and there was a hope he'd finish the season with 20 goals and 10 assists. But he has just the one goal and two assists in his last 11 starts for the club and his form appears to have petered out a little.
Frustration has begun to creep in and fans are getting impatient with the 25-year-old.
However, his form hasn't just inexplicably fallen off a cliff. A change in position and a shift in the system have both played a part in this decline in output, which is often overlooked when fans are criticising the Brazilian.
Philippe Coutinho's injury meant Firmino was moved from a number nine position into the attacking left position. Over the same period Liverpool were without Adam Lallana too. That's two members of the fantastic four missing with another one of them playing a completely different role with different responsibilities.
The fantastic four being – Firmino, Coutinho, Lallana and Sadio Mane, who just seemed to have an understanding from the off. They all complimented one another and their strengths just seemed to be a perfect mix of movement, pace and ingenuity.
Now I know a £21million attacker should be able to function in a tweaked attacking position but it's not FIFA or Football Manager. Starting on the left on the attack automatically limits him because there's only one way he's going to go and that's inside. He's by no means predictable but it does mean the opposition find it easier to defend against him.
The same could be said for Coutinho but his guile means even though he's destined to cut inside he still manages to do it and the opposition are unable to prevent it. This differs from Firmino who seems to excel when he's able to move into space from central areas.
You could also say the same thing happened with Lallana. As part of the attacking three on the right he looks fairly average but when he's central he looks dangerous. It's about positioning the players in the correct areas of the pitch so they can do the damage.
So, there's a story behind his drop off in goal involvement but that's not to say as soon as he returns to a central position that early season Firmino won't return. He showed flashes of it against Manchester United when Jurgen Klopp opted to use a variation of a 4-4-2 system.
Firmino against United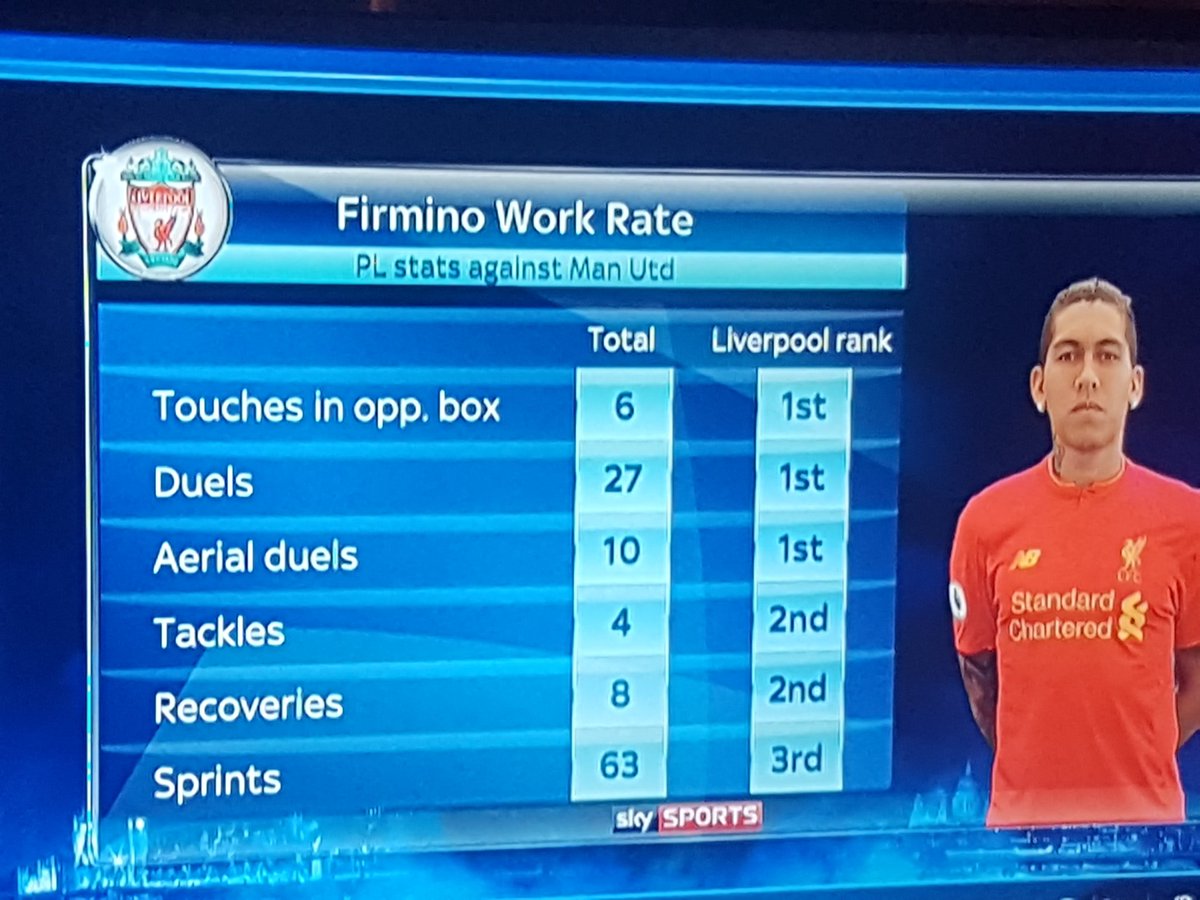 Liverpool were at their best when Firmino was leading the line and it's no coincidence that since he's been moved to a wide area the team haven't looked as defensively solid. Of course, missing the likes of Coutinho, Lallana, Emre Can, Wijnaldum, Henderson and Matip hasn't helped either but those absences shouldn't detract from just how vital a defensive attacker, which is how you can describe Firmino, is to the Liverpool team.
The Reds showed against United just how resilient they can be in a performance which showed a lot of graft, work rate and tenacity as the away side looked to stop United playing. Firmino was the leading man and he seemed to excel after being restored to a central role.
You can tell he started off life as a defensive midfielder. He's so intelligent off of the ball and his defensive positioning always seems to be spot on. It can be coached but if it's already embedded into a player it makes lif
e so much easier. It's understandable why Klopp loves him.
Examples of this against United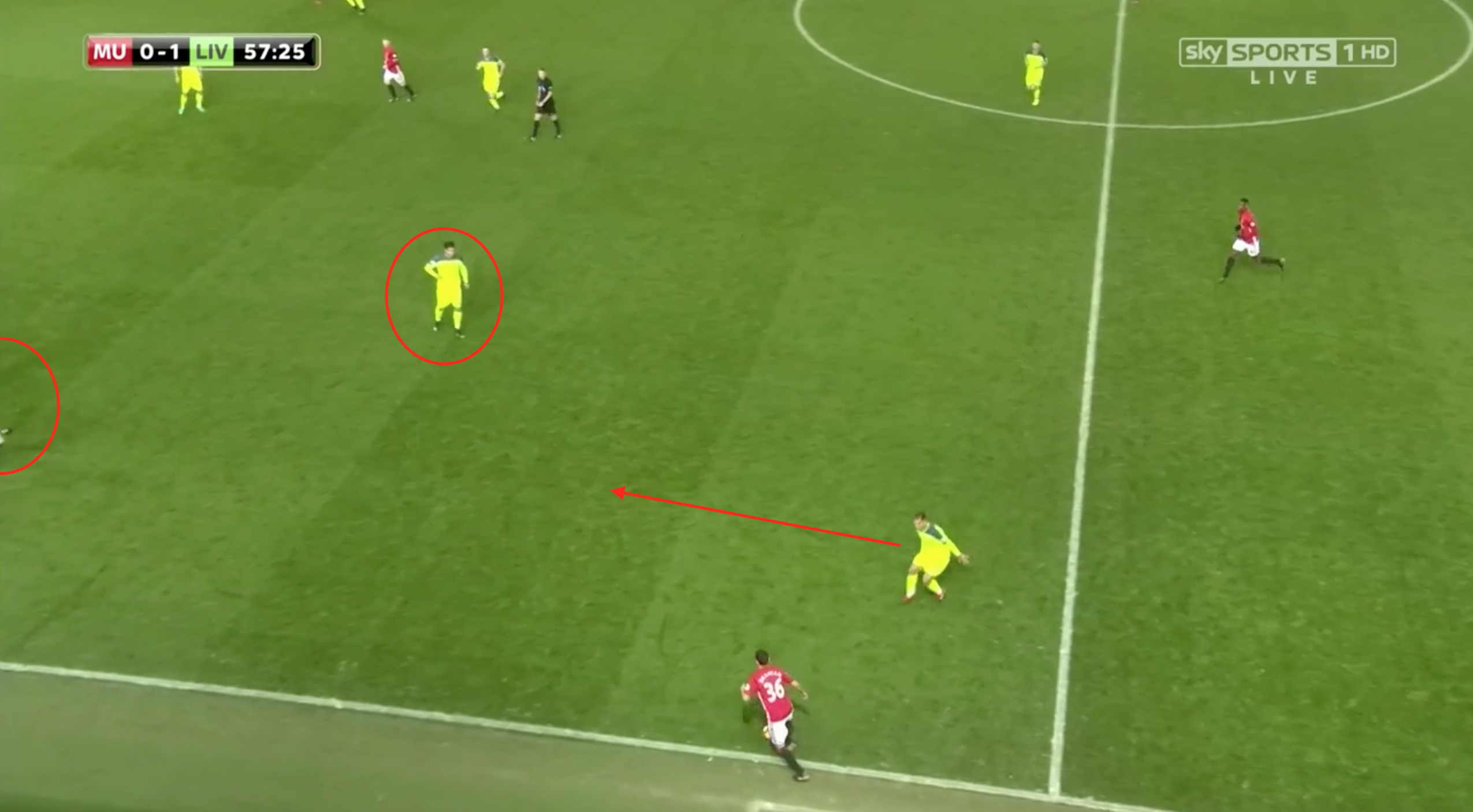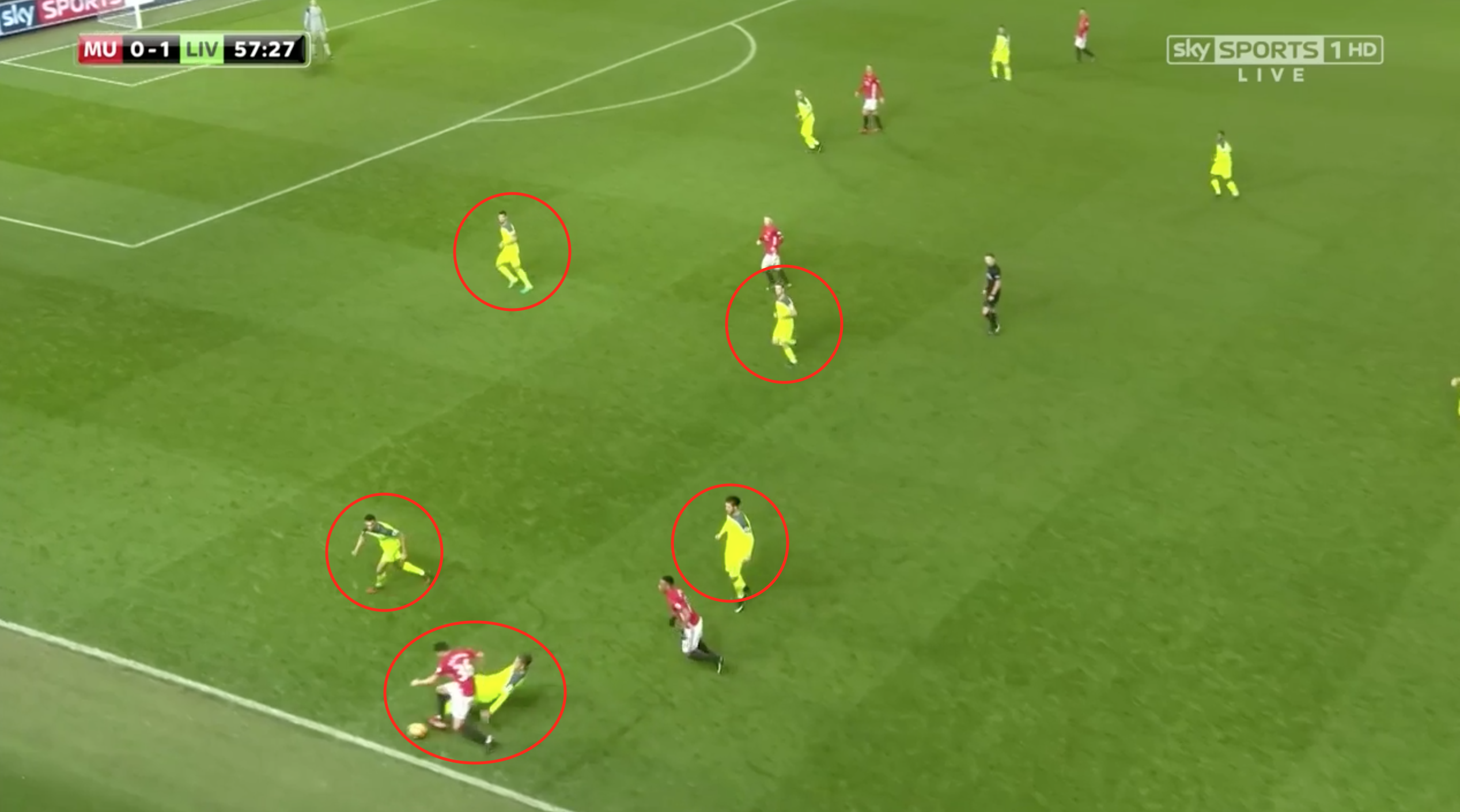 Paul plays the ball to Matteo Darmian in the first picture and the Italian left-back is pressed by Firmino. If you look at the positioning of his body though you'll note he's not just running at the United man and looking to rush him into playing the ball. Instead it's a refined approach of sorts which sees him linger to prevent the easy pass back to Pogba which would see the world's most expensive player have a lot of space to drive into.
It's subtle but it's so effective.
Firmino gives Darmian the one option which is to go down the line into an area where Liverpool have more bodies and are likely to be able to put a stop to the attack. That's exactly what happens.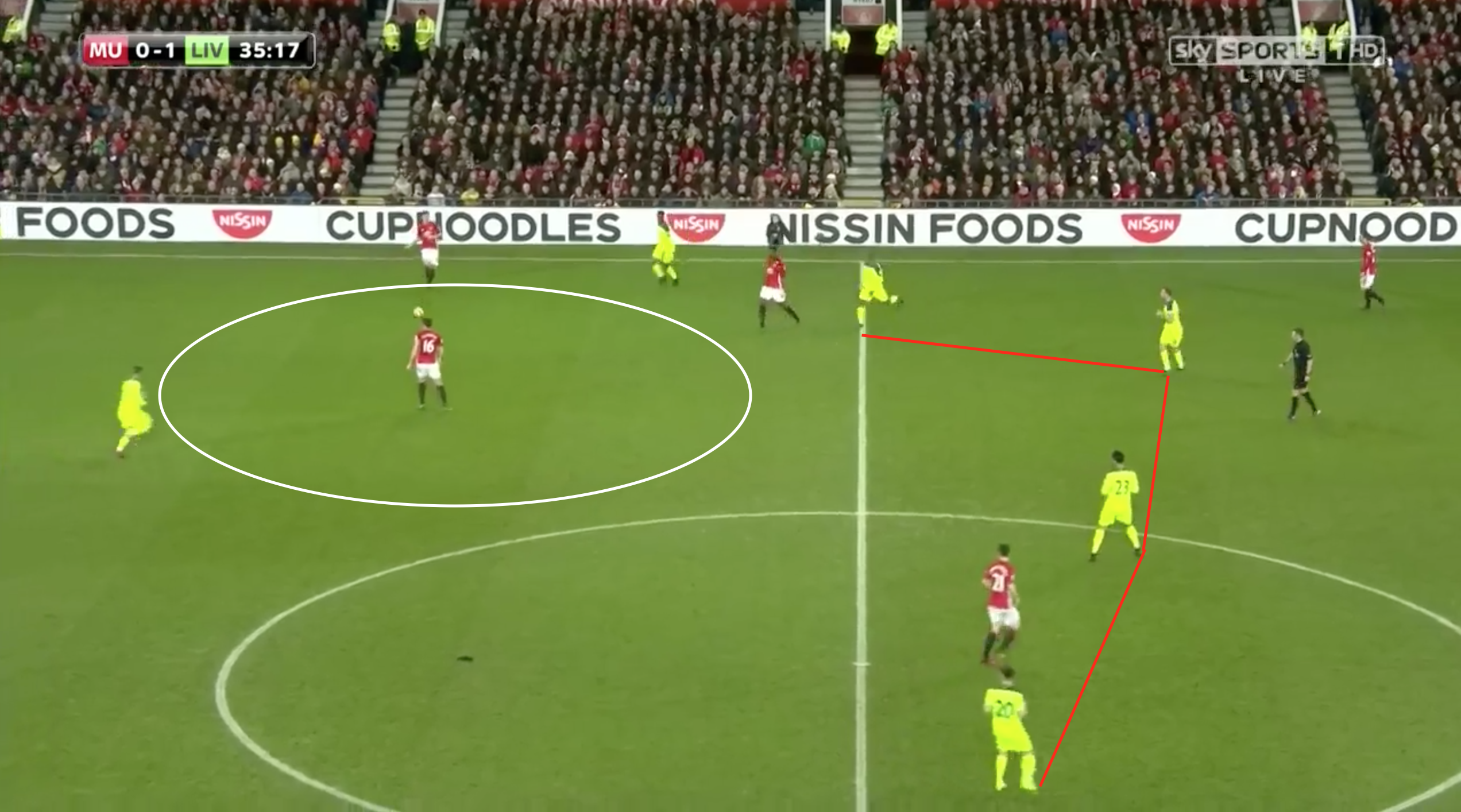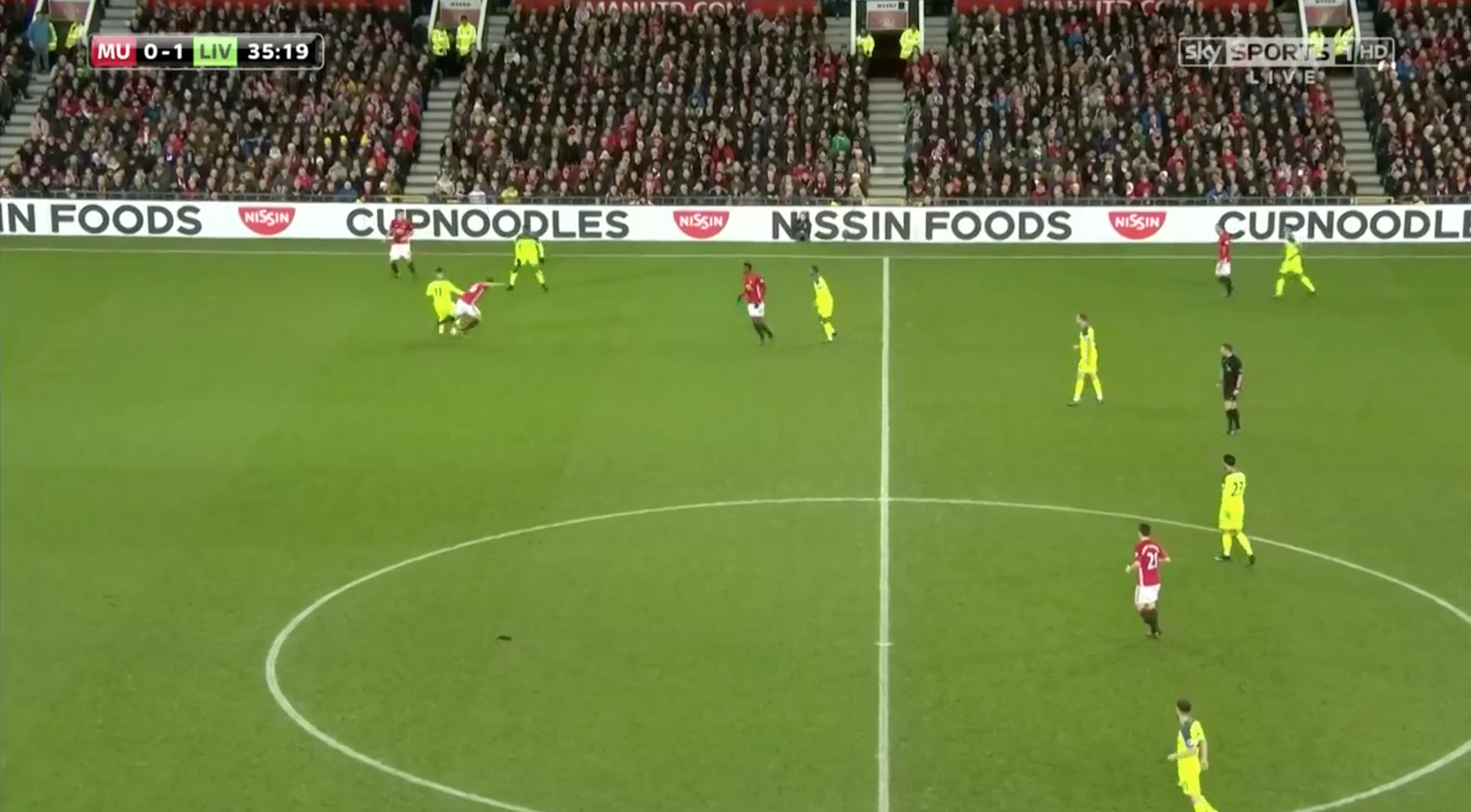 This time around it's Carrick getting the Firmino treatment. The ball is played to the former Spurs midfielder and as he receives it he's in quite a lot of space. This isn't a good situation for Klopp's side with Carrick being described as the metronome in the United side. Giving him too much space and time on the ball can only end badly.
Firmino rushes back from an attacking position and the ref awards United a soft free-kick. But it showed he's aware enough to spot potential danger and put and end to it.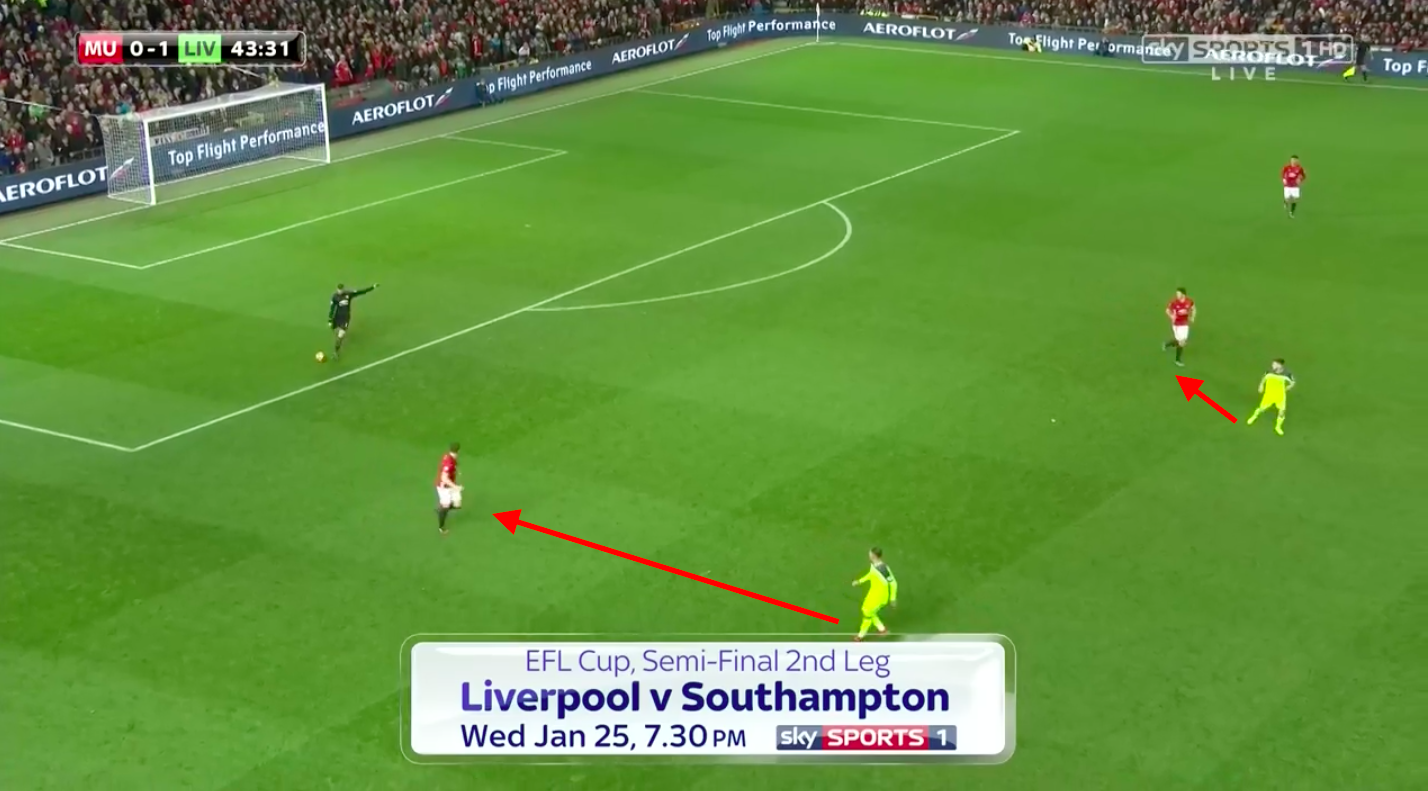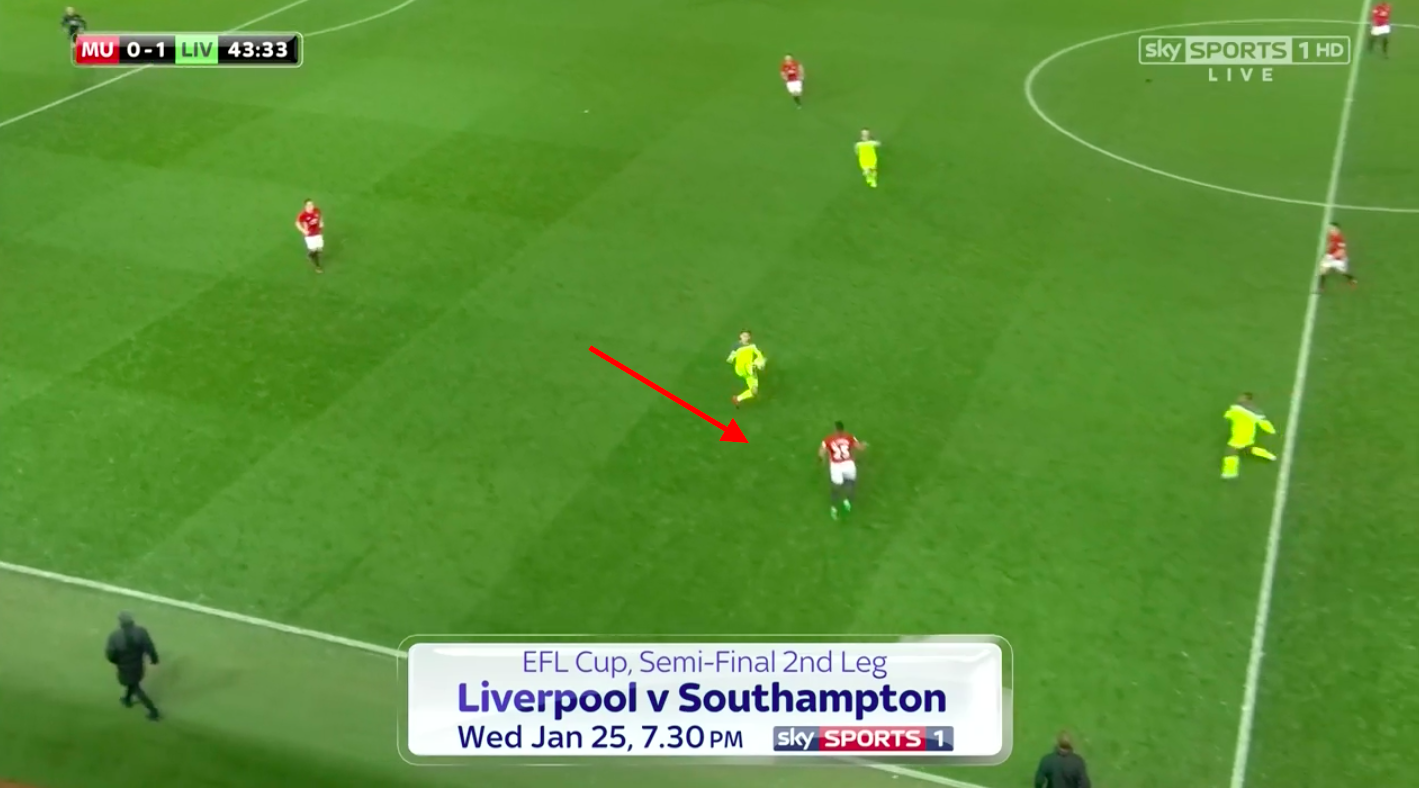 In the above two pictures it's all about his positioning. David Dea Gea has the ball at his feet and has plenty of passing options. However, Lallana pushes onto Carrick which takes him out of the equation and Firmino positions himself so he's able to press Jones if the ball is played to the centre-back or close the space down if De Gea opts to play the ball long to Valencia.
The 'keeper opts to go with the second option and Firmino intercepts the ball before it reaches the United right-back. It's unfortunate that Wijnaldum couldn't bring the ball under his spell otherwise Liverpool had the chance to counter. All because of Firmino's off the ball intelligence.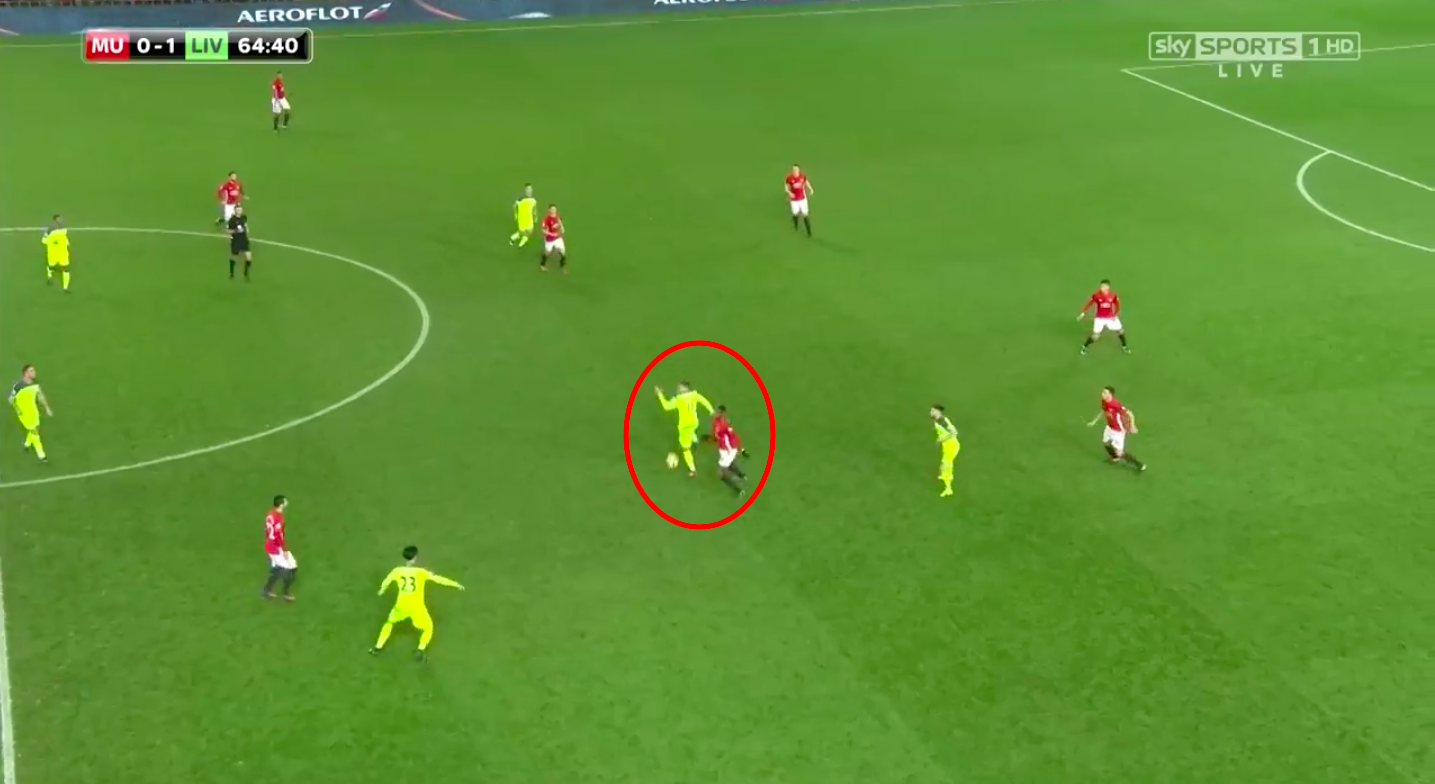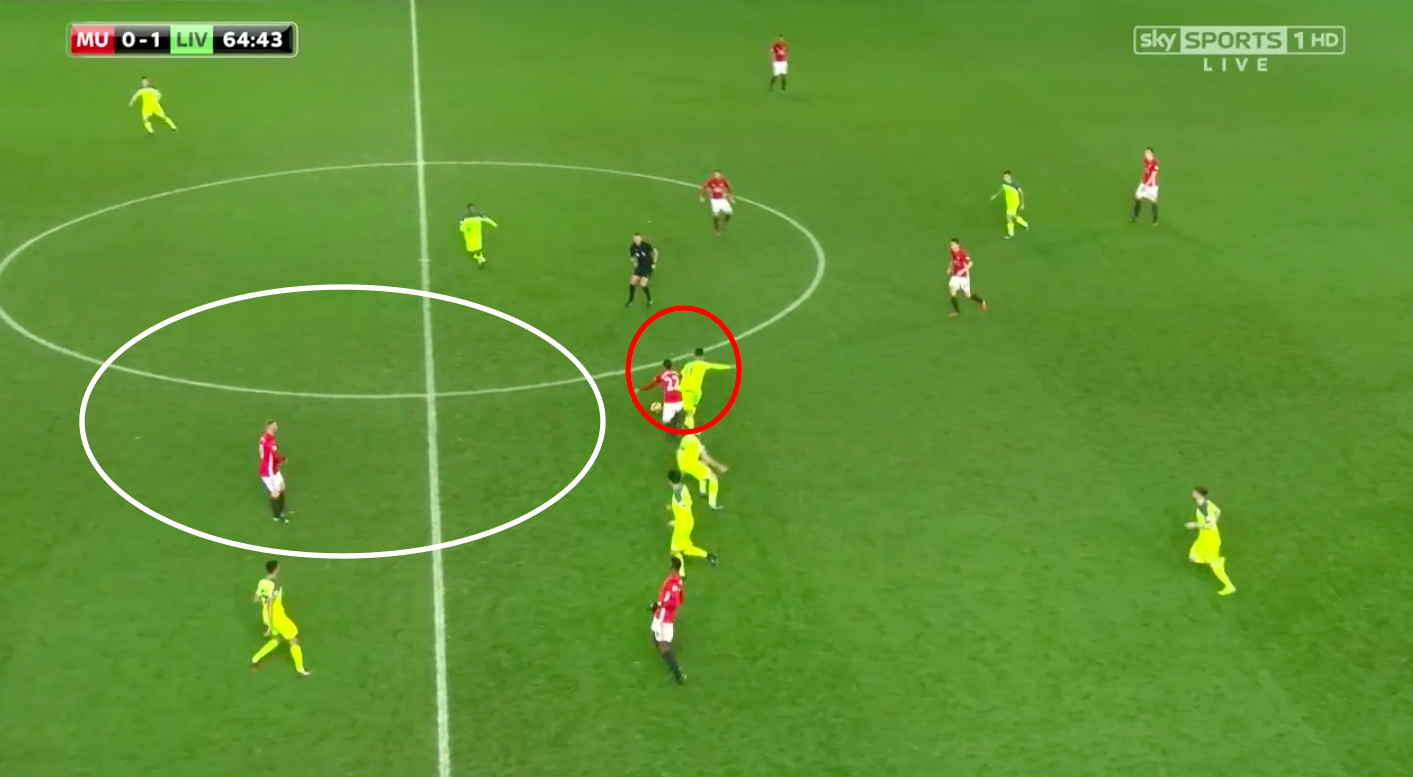 Pogba beats Firmino in the air and in the first picture it looks as though Liverpool are well placed for the second ball. But it doesn't quite work out that way. Pogba beats Can to the ball and pokes it to Henrikh Mkhitaryan. The former BVB star then evades Jordan Henderson and suddenly United have beaten the press from centre-midfield and there's space to play in behind and Rooney is unmarked as shown by the white circled.
But Firmino, who lost the header, hasn't given up. He chases Pogba until the Frenchman releases the ball and then sets his sights on Mkhitaryan before dispossessing him and getting Liverpool on the attack.
Now that Coutinho is back to full fitness Firmino could well find himself back in a number nine role and that can only benefit both the player and the team. He looks at home there now. So maybe it's best we reserve any criticism until he's underperforming in that position?