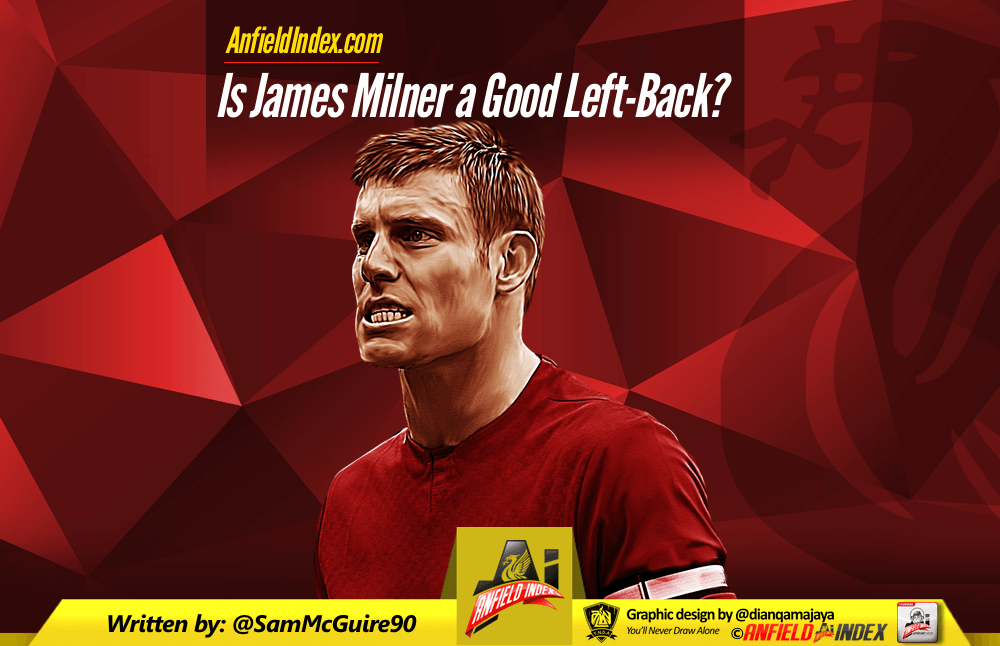 Is James Milner a Good Left-Back?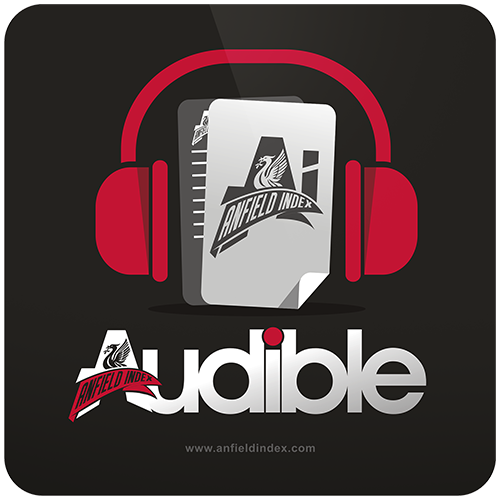 Listen to this article via @AIAudible !
The above gif is how Twitter responded to the piece of work CIES Football Observatory published online that claimed James Milner was the second best full-back in Europe. The exploding truck in this instance is the Liverpool fanbase.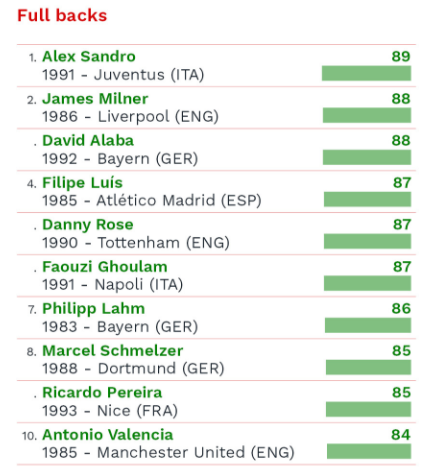 The Liverpool fanbase is no stranger to chaos and disorder. It's civil war on a daily basis. Debates and arguments are an everyday occurrence and this live grenade, which is exactly what the piece was, just gave one set of fans a whole load of ammunition to use.
They did just that.
It all had a "*Insert insult* haha, you thought James Milner couldn't play left-back. You know nothing about football" sort of feel to things.
This is where things get complicated though. Is James Milner really a good left-back or is he a good left-back for Liverpool? Because these two questions are completely different and not being able to differentiate between them is how the problems start.
The 31-year-old versatile player is by no means a good traditional left-back. He doesn't keep the width and he's forever cutting inside. He's a bit reckless when it comes to making tackles, he's slow to stop crosses getting into the area and is occasionally caught ball watching. Finally, the opposition have a lot of joy when directly attacking him. For context, he's dribbled past 1.5 times per 90 minutes compared to Clyne's 0.4.
But luckily for Milner, the requirements of a Liverpool full-back aren't those associated with a traditional full-back. That's exactly why he's been such a success there so far this season.
Klopp even alluded to this earlier on in the season when asked about Milner in his new role: "It was not a big surprise for us – not because we are geniuses, only because we already knew him and knew how we wanted him to play from the position."
The Liverpool full-backs' role in the team is to take up the position as a wide midfielder. Not a winger but not a wing-back if that makes sense.
They're the ones tasked with keeping the width for the team, which then allows the wide forwards the freedom to drift inside and do their thing in areas they are dangerous in.
A few things to remember here: this season Liverpool play a patient game. Their build up is measured and they look to work the opposition by moving the ball all over the pitch. Jordan Henderson drops in to play as almost a third centre-back and the starting centre-backs push out into full-back positions to cover for the advanced Clyne and Milner. The Reds like to make passing diamonds. So, for example, Henderson, Lovren, Can and Milner will occupy the left hand side of the pitch and they'll work the ball around to carve out space to exploit. Then, as the play advances, the next passing diamond will be Can, Milner, Coutinho and Firmino.
So the full-backs see a lot of the ball, especially Milner on the left as he's the one to feed the ball into Coutinho.
It's why he's attempting more passes at left-back (58 per 90 minutes) than he did in central midfield last season (49.1 per 90 minutes). Not only that, even though he's attempting more passes his pass success rate has jumped from 77.4% to 82.8%. It would be easy to claim a lot of his passes are simple five yard passes to Lovren or Henderson but you'd be mistaken. Milner attempts a lot of risky passes in an attempt to break the defensive lines and get Liverpool onto the attack.
It's cutting in onto his favoured right foot which allows him to execute the majority of the incisive passes he completes.
Klopp would have known when putting together his system for the season that the left-back would see a lot of the ball and they'd need to not just be comfortable with it but effective with their choice of passes too. Milner is literally a central midfielder playing as a full-back and he's seeing more of the ball than most midfielders in the league.
Milner's Impact at Right-Back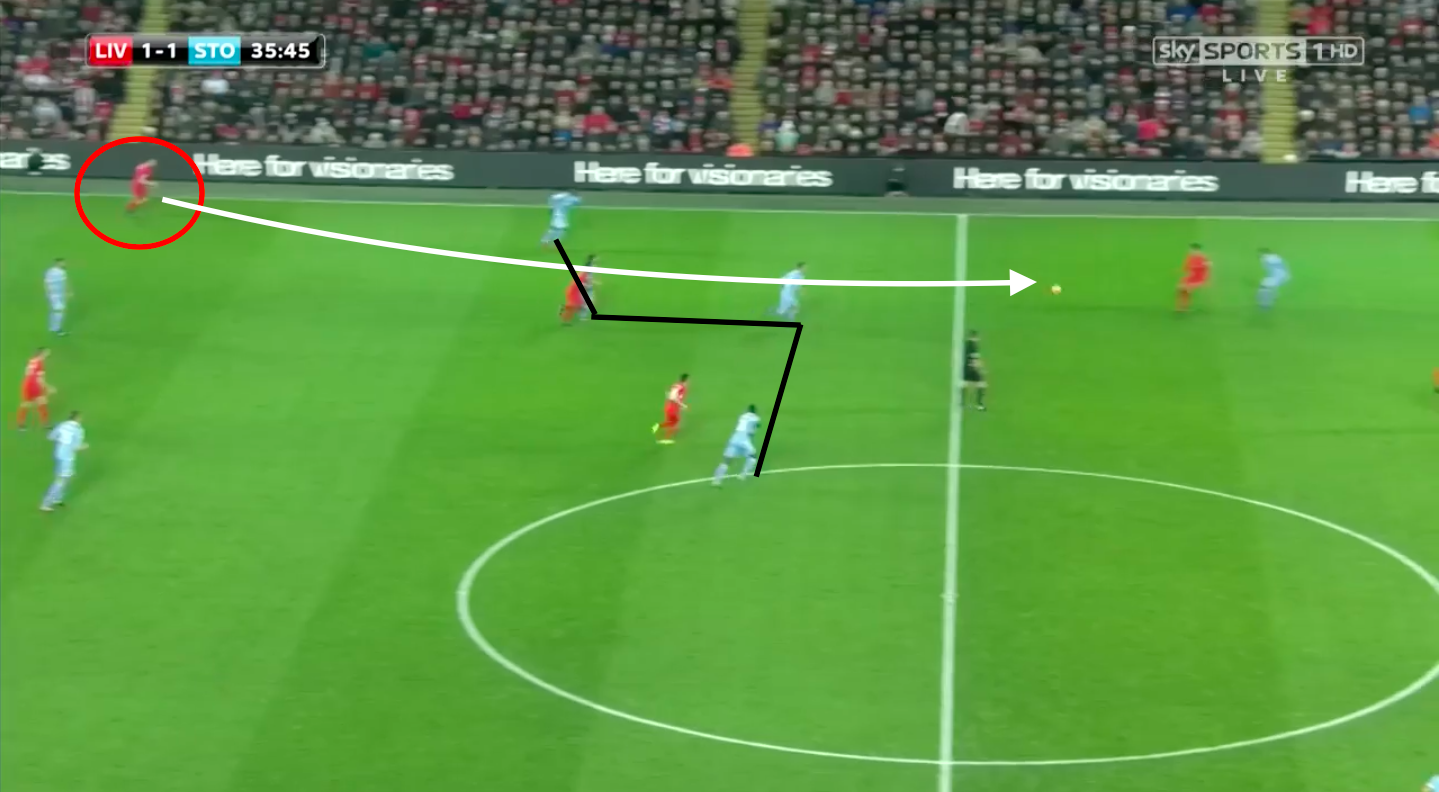 Stoke caused Liverpool a lot of trouble with their press and in the picture above you see the away side with plenty of men forward as they look to force Liverpool to go long. However, Milner picks the ball up on the left and plays a right-footed pass into Roberto Firmino. It's a pass that looks simple enough but at the same time it takes out six Stoke players and get's the ball to the feet of a Liverpool forward. He's progressive in his play.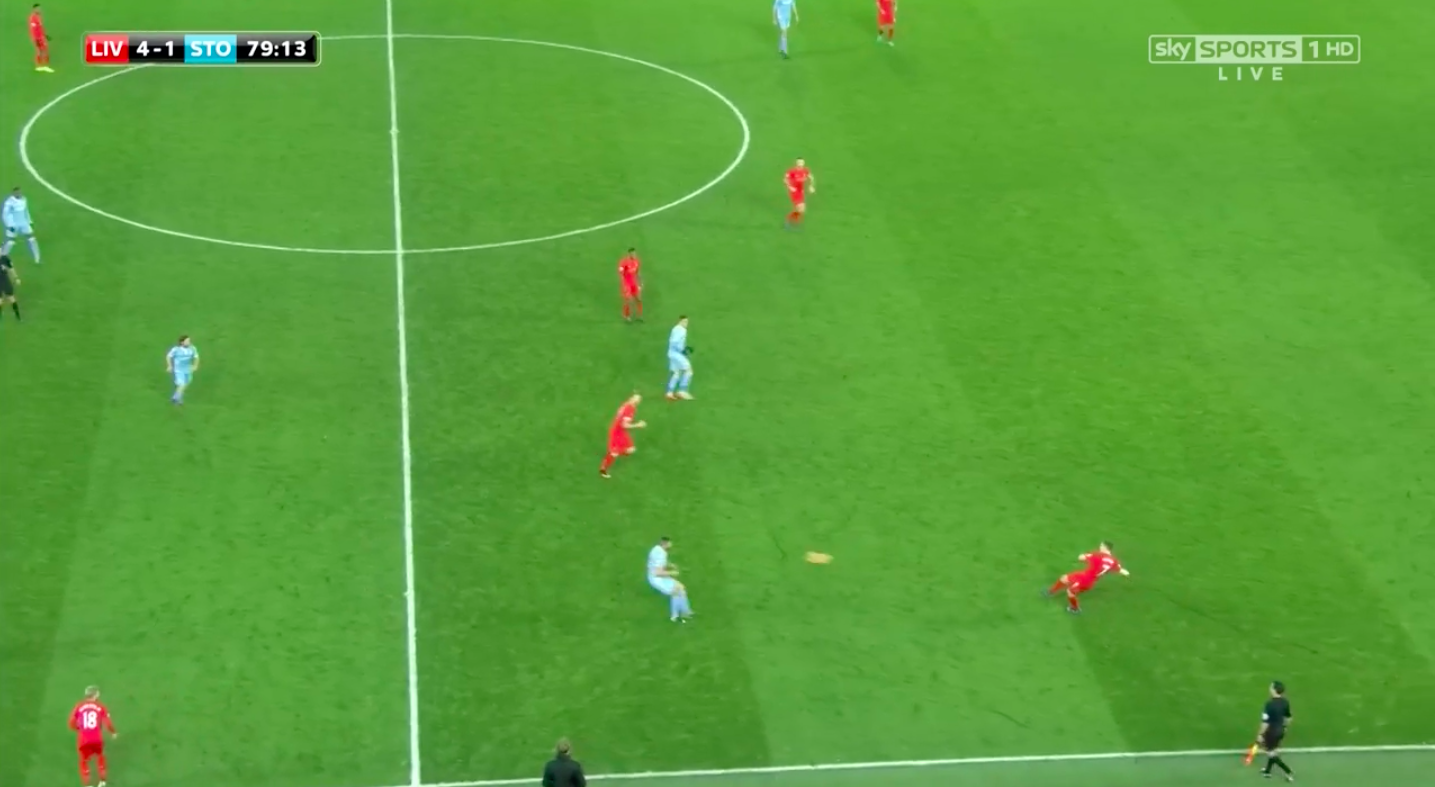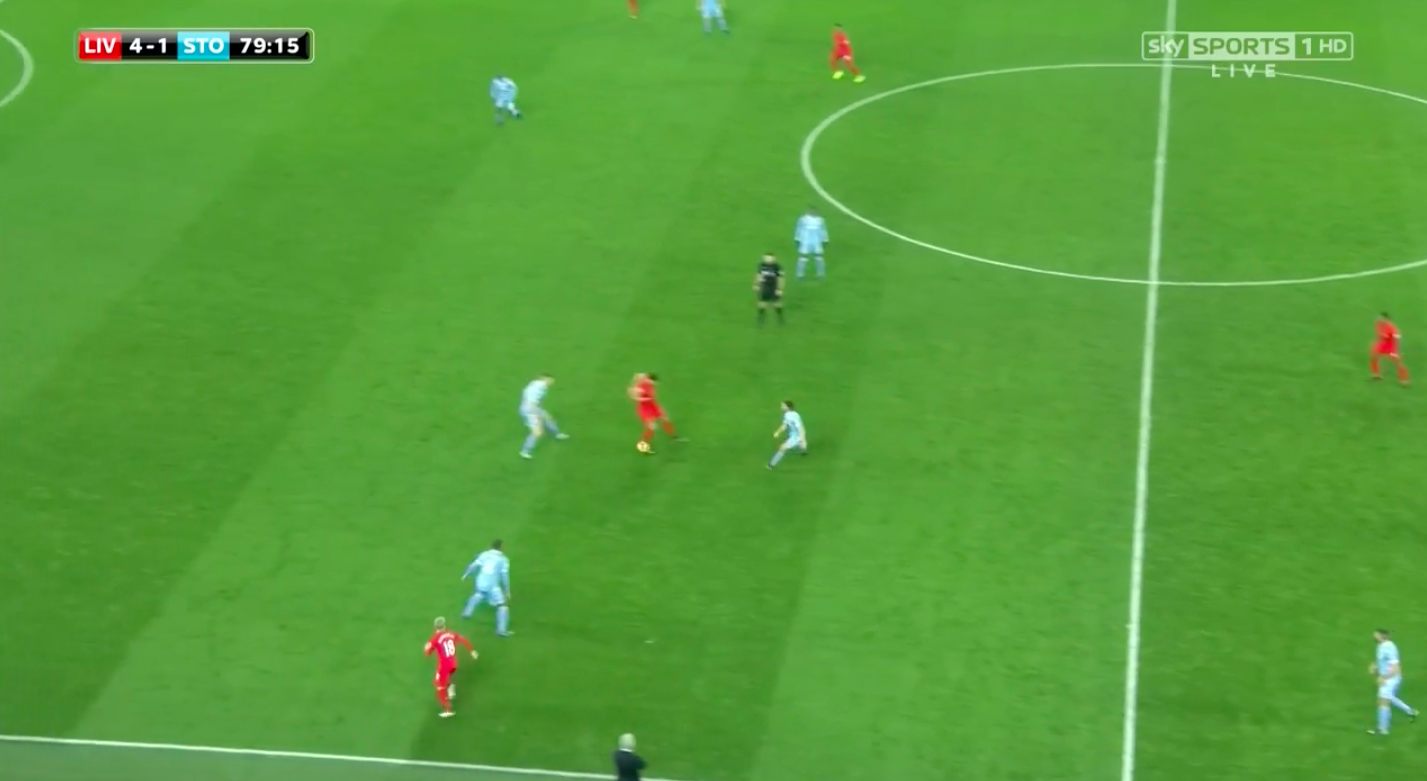 Against Stoke again, it's 4-1 at this stage but the scoreline doesn't take anything away from the quality of the pass that Milner is able to play. He plays the ball to the feet of Emre Can and with just a single pass Liverpool are in on the Stoke defence.
Fortunately for the away side, Shawcross tackles the German before he's able to release Alberto Moreno but this opportunity only arises because Milner is able to not only spot the pass, but make it. It's by no means easy and has to be perfectly weighted to avoid the lunging Joe Allen who attempts to intercept it.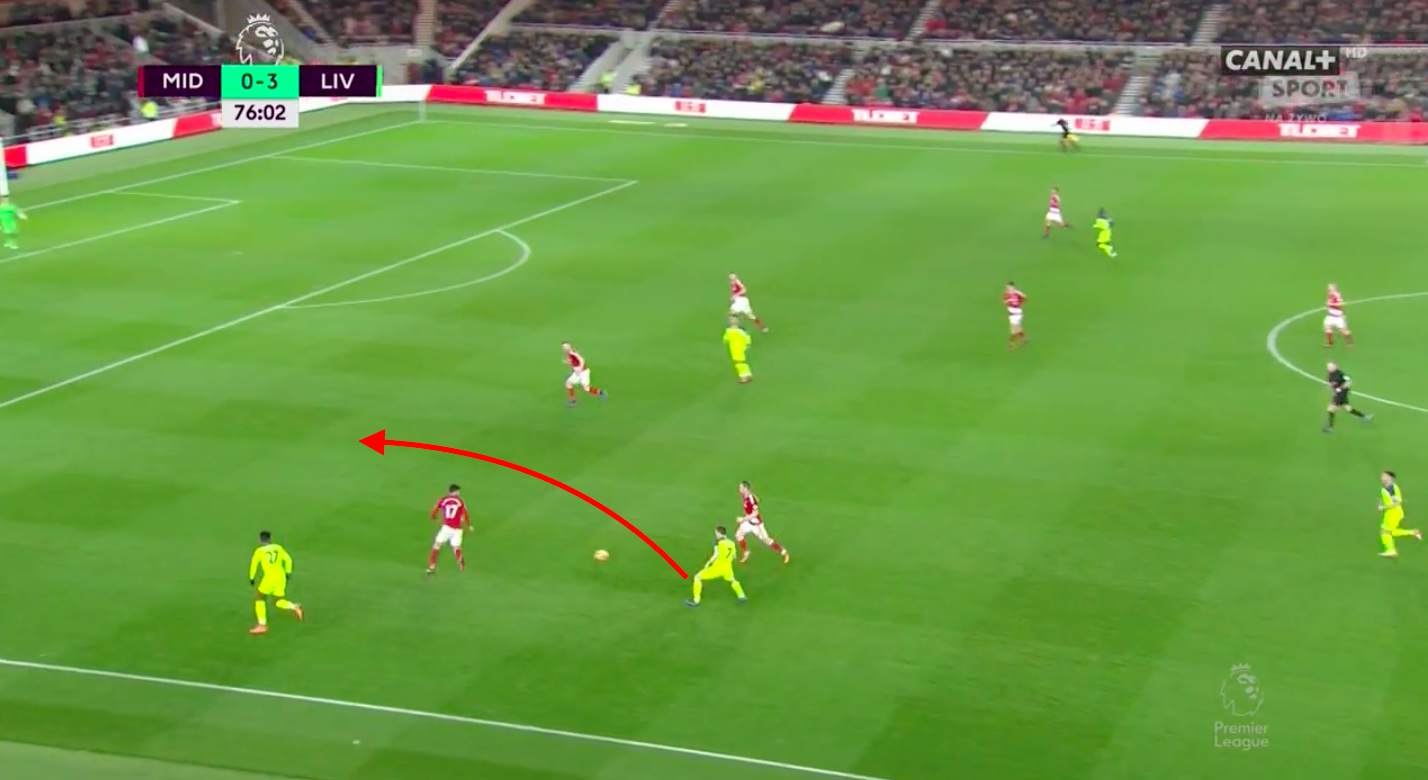 This time Against 'Boro and again it's something that many may overlook. He picks the ball up in the first picture and has three players to his right that he could pass to. All are in space and all can drive forward and get Liverpool onto the attack. However, Milner takes it upon himself to progress play for the away side.
He drives into the space and waits for both 'Boro players to be giving him the attention before threading a pass through to Origi and it gets the Belgian in behind the home side's right-back.
Calling him the second best left-back in Europe is pushing it but he's perfectly suited to play that role in the Liverpool system and that's what matters.