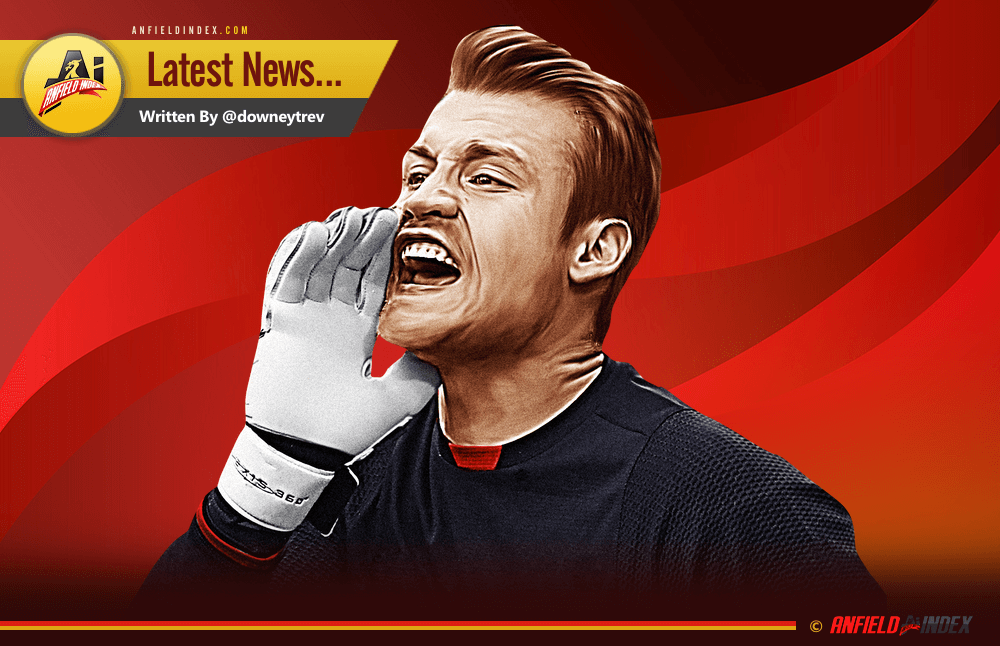 Mignolet: Everyone Chips In
Recently, Latest News has been succumbing to an innate desire to ramble but every so often one of Liverpool's finest has so much to say for themselves that the bulk of this column will be their words and you, dear reader, are spared the meandering nonsense and anecdotal piffle that often greets the wary click of your mouse.
This morning is such an occasion, for in an interview with the Liverpool Echo, Simon Mignolet, that figure of so much fan 'discussion,' has been holding forth on the merits of this current Liverpool side as compared with the Luis Suarez-led title challengers of 2013/2014. Well, I say title "challengers," but in effect, that team, for all the joy they gave us, ultimately proved to be title bottlers, magnificent nearly-men, beautiful losers.
With Jürgen Klopp's side ending the last campaign in a vaguely embarrassing eighth position, very few envisaged that they would sit in second place at the turn of the year, having played some of the most exhilarating football witnessed in the top flight in recent campaigns. How has this been achieved?

"We have a really good team," is the Poirot-like deduction of our Belgian net minder. "There are similarities with 2014 because we grew into the season and gained momentum and experience. But the difference between now and then is that in 2014 we were reliant on the individual qualities with the likes of Stevie [Gerrard], Studge [Daniel Sturridge] and Luis Suarez. Now the danger comes from the whole team. The strength is within the whole team. We defend and attack as a team. There isn't one main goalscorer. Everyone chips in.
"That's very important because opponents have to set up in a different way," he elucidated further. "They can't just say, 'we need to look after Luis Suarez'. It is always better to have a good unit than being reliant on one or two players. Now it's about the system and that's probably a better basis to go forward. We still have a very young squad. We are in the semis of the League Cup, we're still in the FA Cup and we're up there challenging for the Premier League title. Let's see what we can achieve with this group."
Let's see, indeed. But what of 2017 to-date? With Liverpool winless in four games now since the New Year's Eve victory over Manchester City, how does the recently restored first team 'keeper assess the draw at Old Trafford, for example?
"It is a massive step if everyone is disappointed when you draw 1-1 at Old Trafford," he opined. "They threw so many long balls at it and it is always sore when they score. They had a bit of luck. First, it comes off the post, then it comes off the bar. That is the only way they could score. It is a sour feeling. But we played well. They threw everything they could at us. We still created chances on the counter-attack but unfortunately, we couldn't score the second goal, which would have killed the game."
It's hard to argue with Mignolet's take on the match and Latest News can feel the hackles rising again at the loss of those two points but perhaps, as the custodian says, the reaction will be more important than the result. With 17 games remaining, 10 of which are at Anfield, there should be cause for optimism, surely?
"There are a lot of games to be played," Mignolet confirmed. "The Premier League is a long season and there are a lot of tests still to come. We just need to stay calm and focus on the next game. There are six clubs up there. Everybody has the same objective. We are just taking it step by step. People said when Philippe [Coutinho] went out of the team it was going to be a big blow but we dealt with it. Sadio [Mane] has gone to the Africa Cup of Nations but we have more than enough players to help each other out. We have to get as many points as we can and fight until the end."
If Liverpool are indeed fighting "until the end," there will be very few fans that can have any justifiable gripes. For most of us, the happy zone is simply being in the mix when the trophies are doled out, especially that ugly golden-crowned monstrosity.