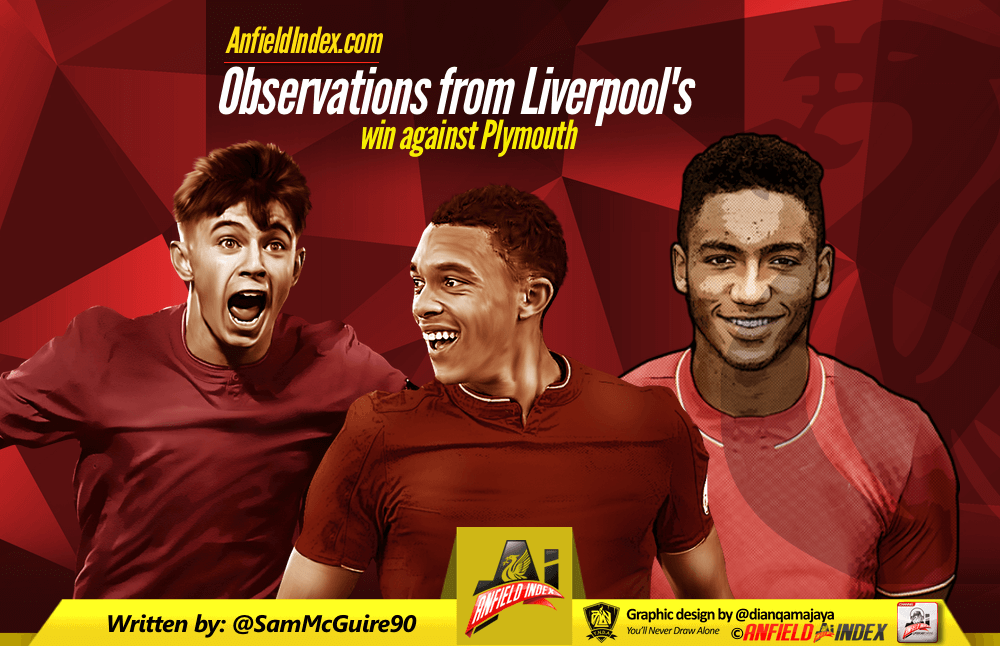 Observations from Liverpool's win at Plymouth
Liverpool made hard work of it but they're through to the FA Cup fourth round. A Lucas Leiva header – yes, the Brazilian scored, pick yourself up off the floor – was enough to secure a 1-0 win over Plymouth but it was by no means comfortable. The home side had chances to score and clipped the outside of the post with a great effort in the second-half.
You should never be negative when you've won, because that's the important thing, but Jurgen Klopp picked a strong XI and probably would have liked to witness a more convincing win.
However, a win is a win, and we now face Wolves at the end of the month. It's a match that will see Conor Coady return to Anfield so the FA Cup narrative will be strong.

So instead of rueing missed opportunities and underwhelming performances let's have a look at the positives from the win.
Trent Alexander-Arnold
Just a couple of days after putting in an impressive performance against Manchester United, Trent Alexander-Arnold was once again one of the standout performers. The right-back supported the attack well but excelled defensively with some intelligent positioning and vital clearances. The commentator joked about Klopp having a difficult decision to make when Clyne returns from injury because it's clear the former Southampton man is first choice. However, if the local lad continues to impress on a regular basis he may oust Clyne and make the right-back spot his own. It's a positive for sure.
Ben Woodburn
Ben Woodburn played in a slightly more withdrawn role in stages during the match but didn't look out of place. His quick feet, intelligent movement and ability to carry the ball forward got Liverpool on the attack a number of times. It was encouraging to to see a player of his age being so progressive and taking on the responsibility, even though Philippe Coutinho, Divock Origi and Daniel Sturridge were all playing. At times he had the right idea but couldn't execute the pass but that will come with experience and regular first-team minutes.
Minutes for those returning from injury
Joe Gomez and Coutinho got important minutes under their belts on the way back from injuries. The Brazilian has now played a combined 90 minutes in matches against Manchester United and Plymouth meaning he should be up to full speed before the Reds face Chelsea at the end of January. The sooner he's back to his magical best the better. Gomez looks like he needs more playing time before he's ready to be a first-team regular but it's to be expected. A difficult 90 minutes against this Plymouth side won't have done his development any harm.