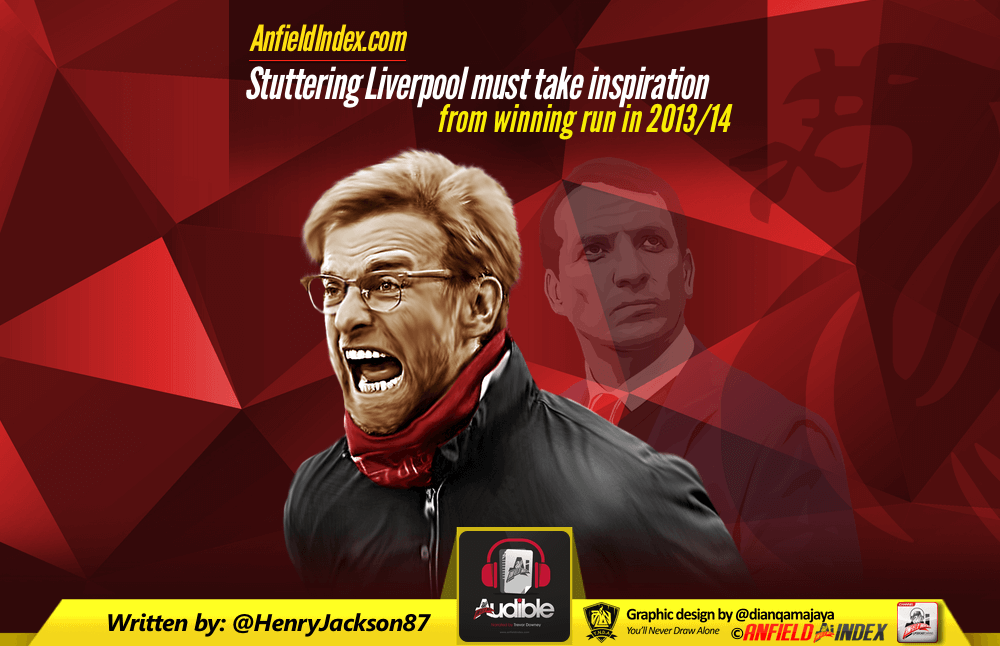 Stuttering Liverpool must take inspiration from winning run in 2013/14
That Swansea defeat hurt a lot – everything about it.
To see such a talented team play with such a lack of belief and creativity was tough to take, especially when their chances of title glory were still alive.
It ensured Liverpool's rocky start to the year continued, Chelsea's 2-0 win over Hull widened their lead over the Reds to 10 points. It is getting closer to the point of no return.

Despite this, we must keep reminding ourselves that there is almost half of the season remaining, with so many points still up for grabs. As many as 48, to be exact.
Should you be losing faith in Liverpool's assault on a first ever Premier League title, look no further than their best recent attempt, in 2013/14.
Back on 12th January 2014, Brendan Rodgers' Reds beat Stoke 5-3 in a thrilling contest, with Luis Suarez and Daniel Sturridge unsurprisingly amongst the goals. It was a win that kept them five points adrift of leaders Manchester City, and fourth in the Premier League table.
At that point, there wasn't a wave of optimism surrounding Liverpool winning the league – certainly not as much as at times this season – but an element of hope still remained.
They followed up that result with a disappointing 2-2 draw at home to Aston Villa, thrashed Everton 4-0 and drew 1-1 at West Brom, leaving the Merseysiders eight points behind new leaders Arsenal. As we speak, that is only narrowly worse than the Reds' current outlook this season.
What happened next shows exactly why this season's race is a long way from run, as Liverpool went on a relentless spell of form, winning 11 matches on the bounce. That included a 5-1 mauling of Arsenal, a 3-0 victory at United, a 4-0 drubbing of Tottenham and a frankly ridiculous 6-3 win at Cardiff.
Liverpool were suddenly odds-on favourites for the title, and Arsenal's eight-point gap that had been deemed "too much" was long gone.
In fact, by the time the Reds won the last of their 11 game in a row, at 3-2 triumph at Norwich, Rodgers' men were 10 points ahead of the Gunners. An 18-point swing in just over two months.
We all know what happened next in those final few matches, unfortunately, but it was a run of form that shows anything is possible in the Premier League, as long as you stay in the hunt.
Chelsea may look ominous at the moment, and are understandably the resounding favourites to prevail in May, but there is a long way to go.
Liverpool have had a harder opening 22 games than any of their rivals, and while no game in the Premier League is a walkover – Swansea proved that, unfortunately – the Reds' upcoming fixtures look no more daunting than the 11 they won back-to-back three years ago.
Chelsea, Spurs and Arsenal all visit Anfield, which could go either way, while trips to Hull and Leicester shouldn't be too difficult, given their respective troubles. Even the trip to City doesn't look particularly frightening.
Gaining ground on Chelsea is going to be hard, but it is far from the impossible task that some are claiming it is. This does, of course, entirely rely on Klopp's men remembering how to play football again.
For all their fantastic form, this Chelsea outfit is still not a vintage potential Premier League champion. They are not as faultless as Jose Mourinho's Blues of the mid 2000s, and they don't possess the attacking relentlessness of Arsenal's "Invincibles" or countless United sides.
Do Chelsea merit being where they are in the table? Absolutely. Are they unstoppable? Absolutely not.
Producing anything like that 2013/14 run will be a tough ask, but this Liverpool side are more than capable of it, contrary to what many will be saying after that Swansea farce.
Once Philippe Coutinho and Jordan Henderson are back in full swing after injury, and Sadio Mane returns from the Africa Cup of Nations, the Reds have every chance of hitting their stride to devastating effect.
We saw what they were capable of earlier in the season, when their first-choice team was available, but they have not been afforded that luxury since Coutinho hurt himself against Sunderland back in November.
With no European football to worry about, Klopp will have endless time on the training ground to mastermind a memorable second-half of the season, and we will soon start seeing the team go up a gear.
It is a shame that Chelsea have managed to build such a lead – imagine the title and top-four battle if they had four or five points fewer – but they don't have the title wrapped up just yet.
Were Liverpool in their situation, our fans would still be understandably nervy, and we have seen so many times over the years that big leads can evaporate in no time.
In terms of all-round quality and calibre of manager, the Reds' class of 2016/17 edges its 2013/14 side – if they can win 11 on the spin, so can this lot.
Avoid injuries and keep a settled starting lineup, and this side is capable of something special. Just try and forget that Swansea game ever existed.